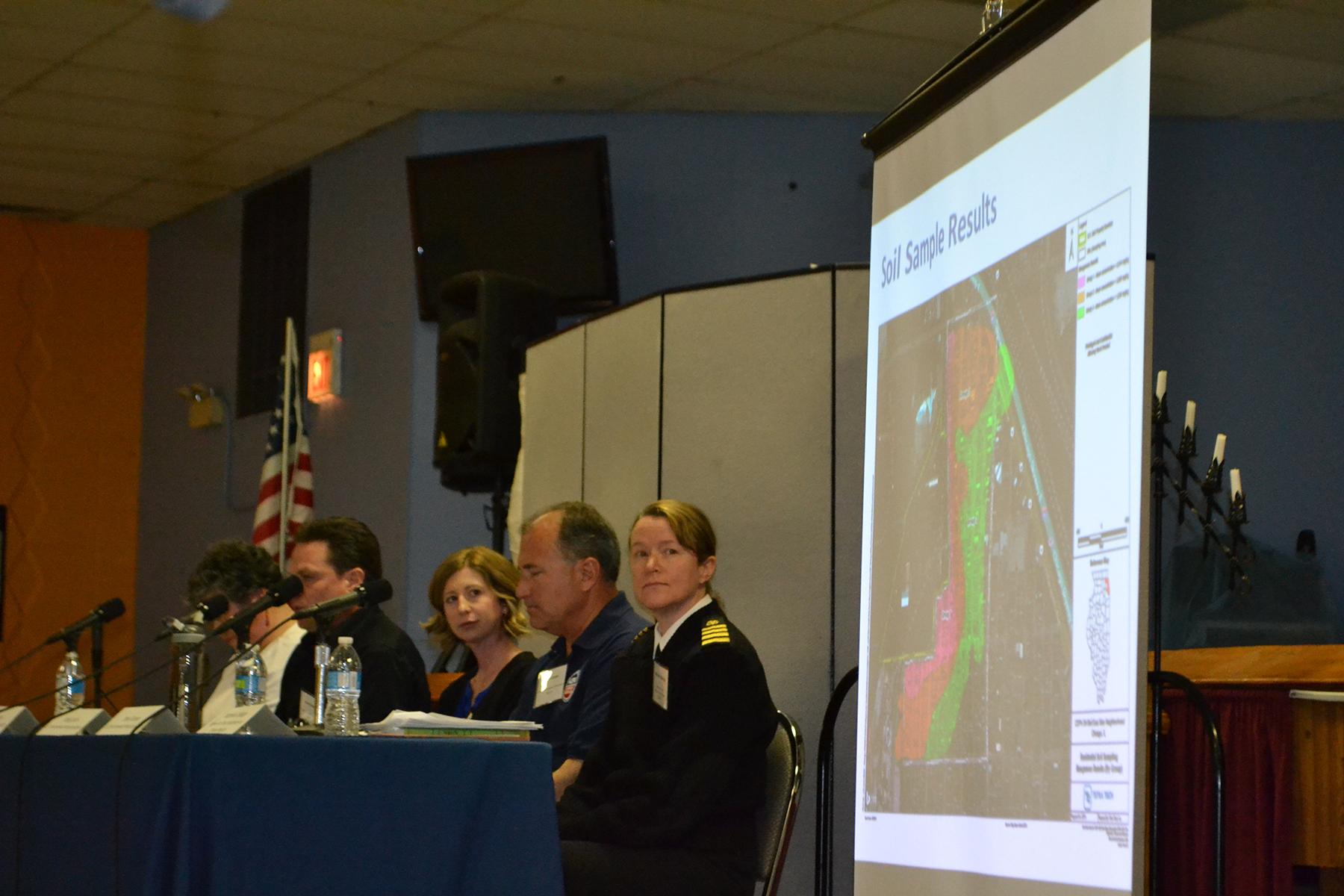 Federal and city public health officials speak before Southeast Side residents during a May 10, 2018 meeting to address concerns related to manganese exposure. (Alex Ruppenthal / Chicago Tonight)
The U.S. Environmental Protection Agency continues to seek permission from homeowners to test the soil in their yards as part of its investigation into elevated levels of potentially brain-damaging manganese released from industrial sites on Chicago's Southeast Side.
The EPA is set to host an open house this week during which Southeast Side residents will be able to meet with agency officials and sign up to have their yards tested, according to the agency's website. The event is scheduled for 4 to 7 p.m. Thursday in the gymnasium at Matthew Gallistel Language Academy, 10347 S. Ewing Ave. (See this EPA flyer for more details about the event.)
During a public meeting last month, EPA officials said the agency would aim to collect soil samples from 70 properties in the area. As of this week, an EPA spokesperson said the agency has received permission to conduct testing at 26 properties and has collected soil samples at 23 of those properties. 
"EPA began sampling the week of May 21 will mail sampling results to property owners as soon as those results are available," the spokesperson said. "The timeline for completing sampling depends on obtaining signed access agreements."
An essential part of the steelmaking process, manganese is a heavy metal that can cause Parkinson's-like symptoms at high exposures.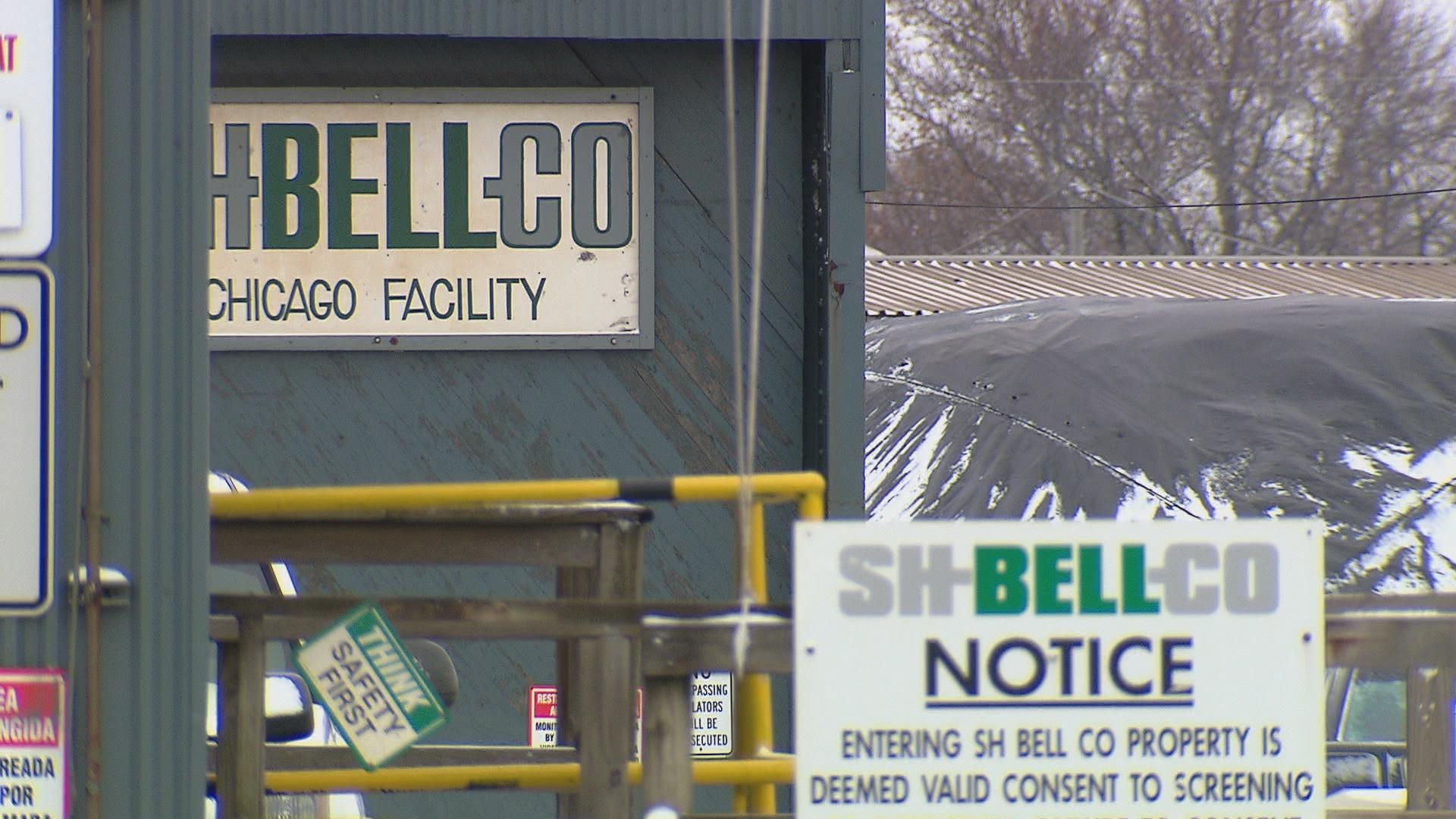 More: Read our full series on manganese on Chicago's Southeast Side
---
Southeast Side resident Jade Mazon said EPA staff were recently observed knocking on doors in the neighborhood as they search for homes to test. (EPA confirmed that staff visited homes in the area on May 31.) But given the potential dangers associated with manganese exposure, Mazon and other community members want the agency to increase its communication with residents.
"We haven't heard anything from the EPA," said Mazon, a member of the advocacy group Southeast Side Coalition to Ban Petcoke. "We believe they need to make more of an effort to keep us in the loop. We're getting more and more questions and concerns from the community members."
Residents' fears were heightened last month when the city announced results from testing that showed high concentrations of manganese in soil throughout the area. Of 27 properties tested by the city, 20 showed manganese levels higher than a screening level of 1,600 parts per million used by the Illinois EPA. And samples from three properties indicated levels in excess of the EPA's emergency removal threshold for manganese, which is 5,500 parts per million.
The most contaminated sample measured at 13,000 parts per million, more than double the EPA's emergency removal threshold, according to the city.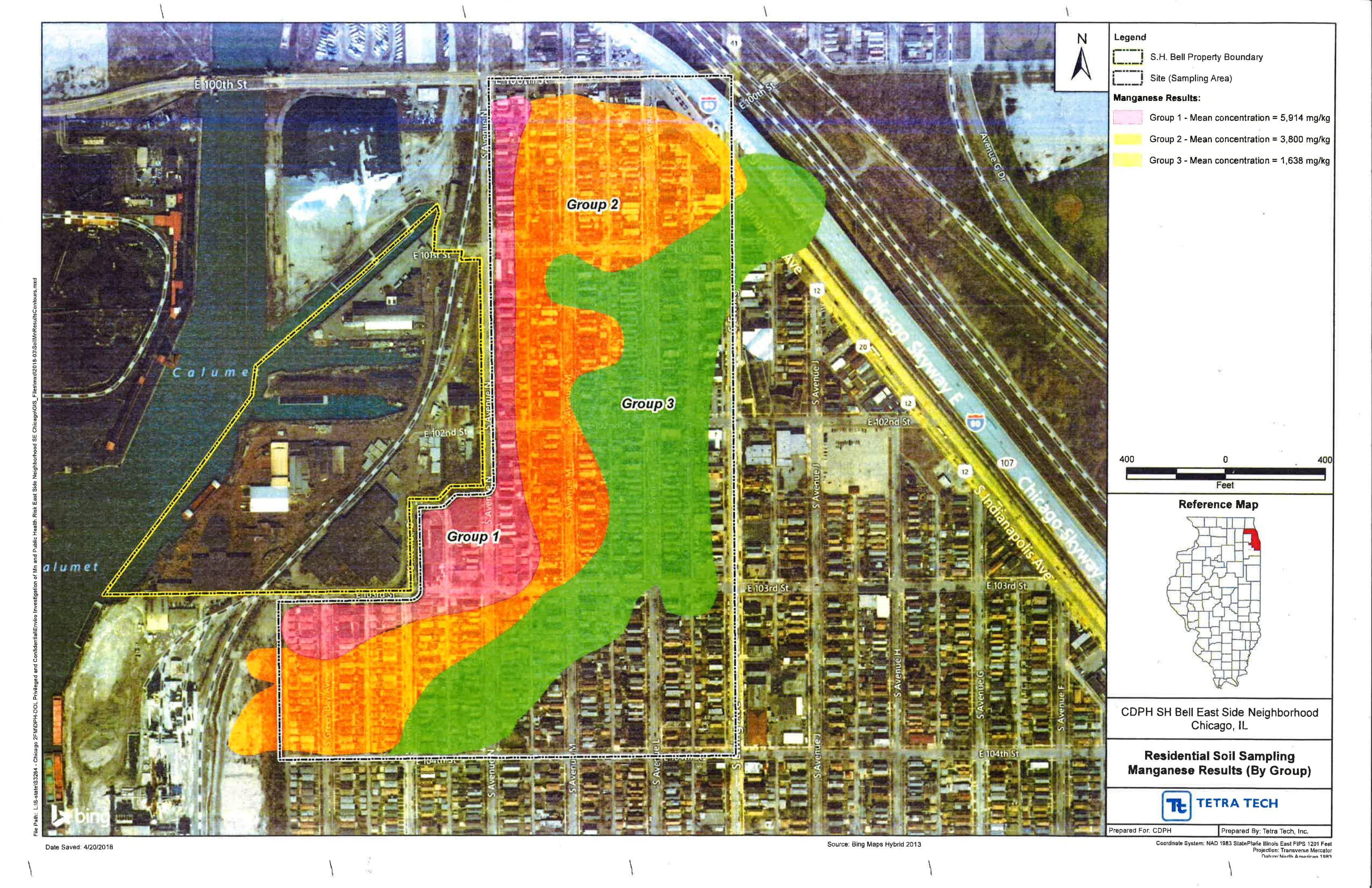 Click to enlarge: A map shows results of soil testing to detect levels of manganese on the Southeast Side. (Chicago Department of Public Health)
In announcing plans to conduct its own testing in the neighborhood, the EPA said last month that it would need one week to finalize a testing plan, and that it would take about three weeks to analyze samples once they are obtained.
Based on the results, the EPA could then decide to dig up and replace soil in highly contaminated yards.
"We're looking at areas where it's most likely that the dust would have been deposited," said Steve Faryan, EPA's coordinator for the project, during last month's public meeting.
In response to the high manganese levels found during the city's soil testing, CDPH officials said residents should take several precautions to limit their exposure, such as taking off their shoes before entering their homes and cleaning floors and countertops regularly to remove dust that could contain manganese.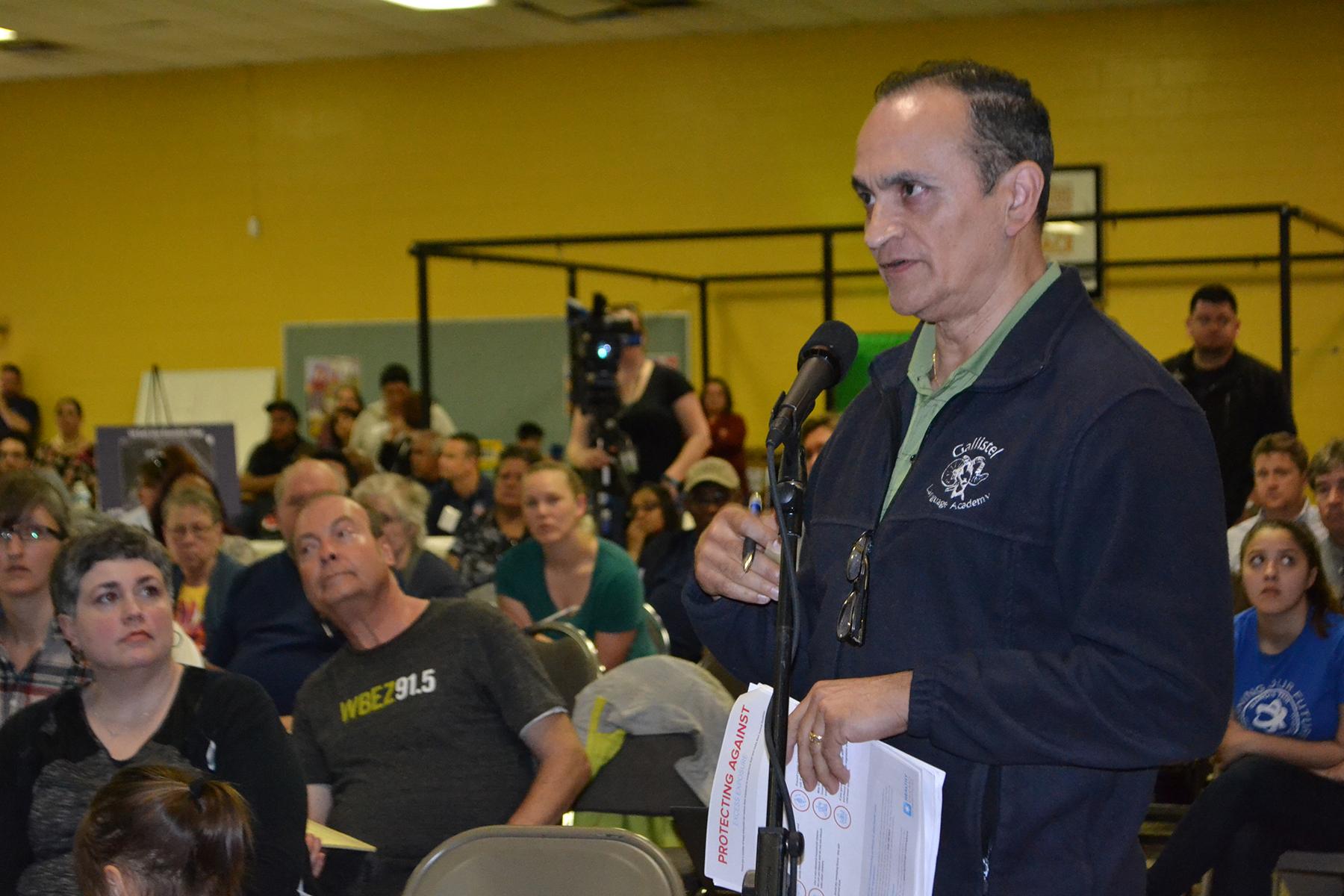 Southeast Side resident Jose Garza addresses a panel of public health officials May 10 during a meeting on the community's exposure to manganese. (Alex Ruppenthal / Chicago Tonight)
The heavy metal is handled by at least four companies that operate in the area, including S.H. Bell Co., which the EPA cited last year with violations of the Clean Air Act for releasing high levels of manganese dust into the surrounding neighborhood. The Pittsburgh-based company was required to install air monitors at its Chicago facility as part of a settlement reached with the EPA over previous Clean Air Act violations.
In May, the EPA requested information from another Southeast Side storage facility that, like S.H. Bell, had resisted requirements for installing air monitors. The company, Watco Transloading, handles 650,000 tons of steel, alloy and related materials, 29 percent of which contains manganese, according to company documents filed with the city.
In its letter to the company dated May 15, the EPA stated that Watco is required to install filter-based monitors that measure emissions of manganese and other metals.
Note: This story was originally published June 12. It has been updated to include a statement from the EPA.
Contact Alex Ruppenthal: @arupp | [email protected] | (773) 509-5623
---
Related stories:
'You Have to Protect Us': Residents Speak Out About Manganese Pollution