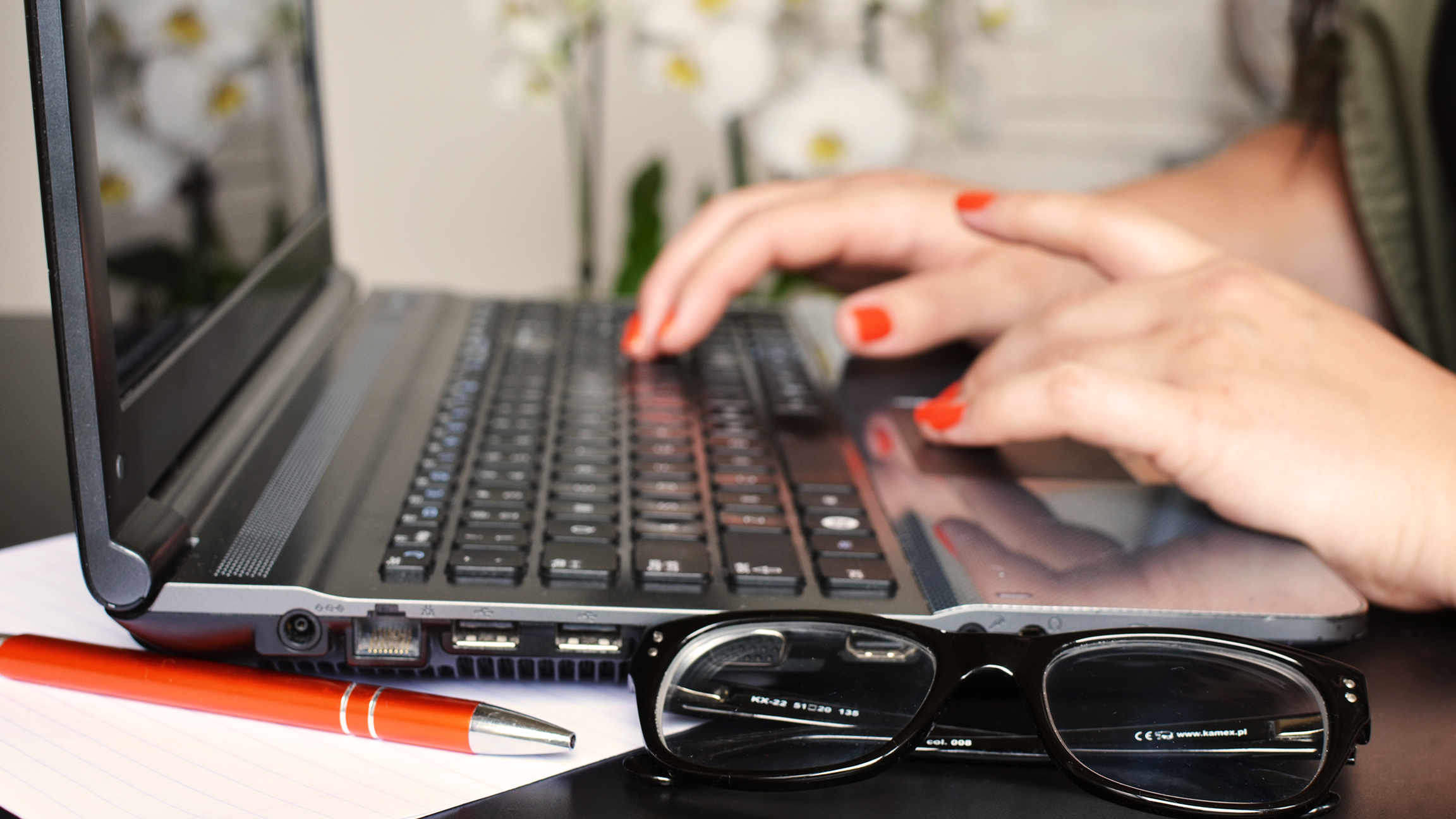 Consumer watchdogs are warning residents across Chicago and beyond to be on the lookout for lottery scams that cost residents tens of millions of dollars in the last year alone.
Nearly 500,000 people across the U.S. and Canada reported losses totaling $117 million stemming from these types of scams in 2017, according to a new report from the Better Business Bureau.
"Sweepstakes, lotteries and price scams are the most serious and pervasive scams today that the Better Business Bureau has witnessed," said Steve Bernas, president and CEO of the BBB of Chicago and Northern Illinois.
"It has to end today and the Better Business Bureau hopes it will end today."
Most victims highlighted in the report are between the ages of 60 and 75, and were in a position where they expected their income to decline in the near future following a "serious negative life event," like a divorce, job loss, serious injury or death in the family.
Despite the reported totals, Bernas believes the actual amount of money lost through these scams could be much higher, estimating that only about 1 in 10 victims actually report what happened.
Lottery and sweepstakes scams are among the most prevalent in Illinois each year, according to state Attorney General Lisa Madigan, who noted these types of schemes are regularly included on her office's annual list of top consumer complaints.
But these scams are also unique in that they can be run through various channels, including phone calls, social media, text messages, pop-up ads and physical mailers.
"It boils down to this: You're going to get a call, you're going to get a letter, you're going to have something pop up on social media and it's going to tell you that you are a winner," Madigan said.
"And everybody wants to be a winner and everybody wants something for nothing and everybody wants to believe that they are going to get a new car or they are going to get a million dollars."
That's what happened to Marcinia Dean, a scamming victim from Marseilles, Illinois. She and her husband, Robert, had avoided a previous run-in with a Facebook scam, but when a man purporting to be with Publishers Clearing House told her she had won $10 million and a Mercedes-Benz, she jumped at the chance to blindly wire a $200 fee to collect her "prize."
"Thank God (wire transfer service) MoneyGram stopped the payment and I got my money back," Dean said Tuesday, "or I would have been out the last money that we had to live on."
Victims like Dean are typically asked to send money via wire transfers or prepaid gift cards, which are treated like cash, making it extremely difficult to recoup lost dollars.
"They prey on people in their 50s, 60s, 70s, 80s – it doesn't matter," Dean said. "They'll prey on you and they'll convince you that you won and that they're coming to your house. And they never show up."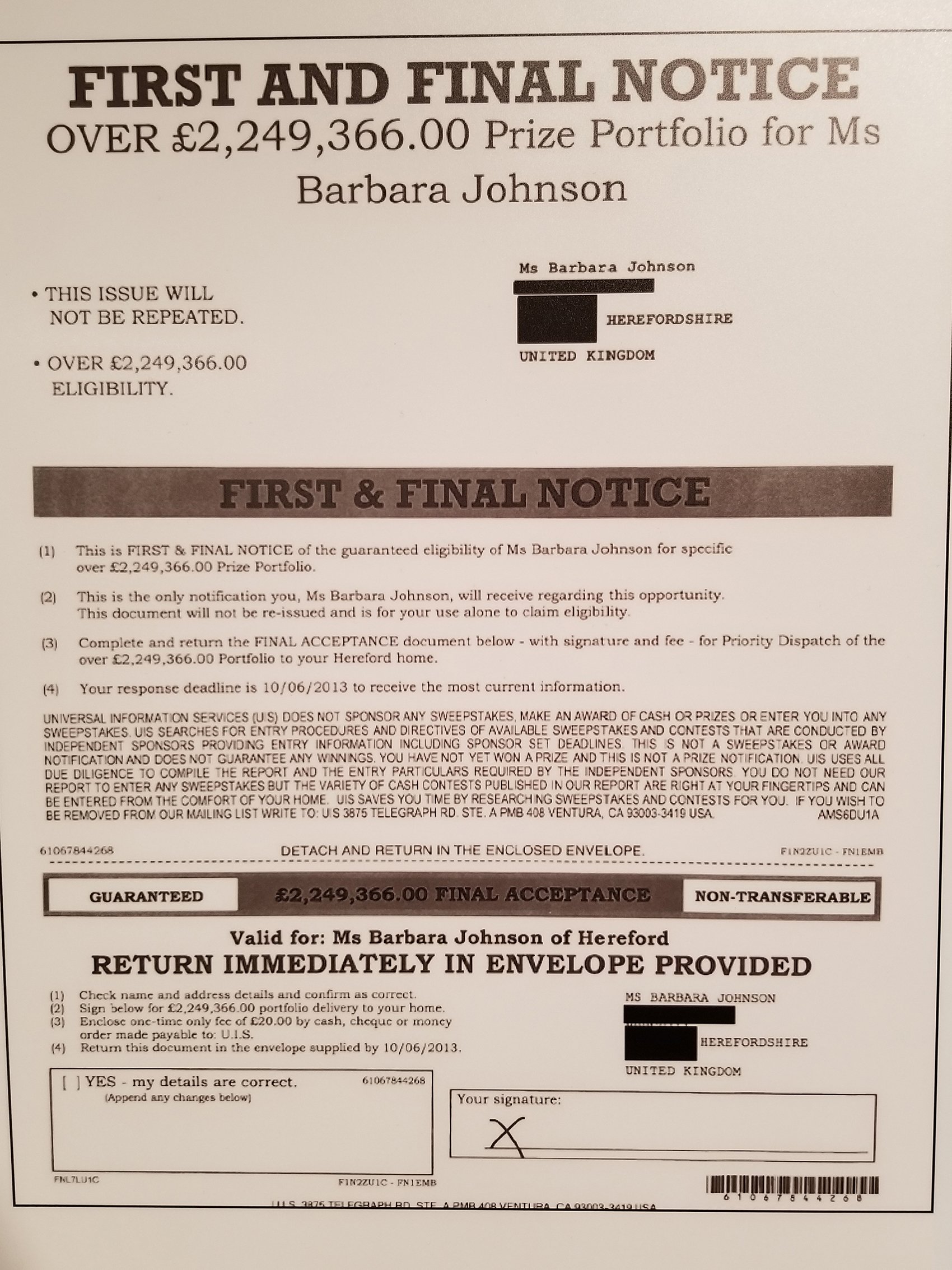 A copy of a scam notice sent to a woman informing her she had "won" more than two million British pounds. (Matt Masterson / Chicago Tonight)
Madigan highlighted a similar case her office learned of last week in which a 70-year-old woman downstate believed she had won a car and $4.5 million. Instead, she ended up losing more than $10,000 trying to claim prizes that didn't exist.
On the same day the BBB released its report, the Chicago Police Department issued an alert notifying the Chinese community of a scam wherein victims receive a call that appears to be from the city's Chinese Consulate's office.
The victims are then accused of being involved in criminal activity and told to wire their money to a bank in Hong Kong to prove their innocence. The call, of course, is not from the consulate and victims have been left with "little or no money," according to the CPD.
All of these scams have grown more sophisticated over time. Fraudsters will send receipts or certifications that appear to be from legitimate outlets like banks or the BBB in order to convince victims they aren't being scammed.
Dean received pictures of the car she'd "won" and Bernas said he'd heard of a case in Tennessee in which scammers sent an entire safe they said was filled with cash to a woman's home, but told her she needed to send money before she'd get the keys to open it.
And that's the giveaway, Bernas said: Scammers will always ask for money up front where legitimate lotteries and sweepstakes will not.
"It's a simple message, unfortunately it's not heeded by consumers," he said. "They continue to give away thousands and thousands of dollars … and it's not going away. It's increasing."
Contact Matt Masterson: @ByMattMasterson | [email protected] | (773) 509-5431
---
Related stories:
BBB Warns Online 'Catfishing' Scams on the Rise
BBB Stresses Vigilance After Card 'Skimmers' Found on Chicago ATMs
Report: Online Puppy Scams Target Thousands of U.S. Pet Buyers