As if the pandemic wasn't hard enough, people now have to consider if the testing site they're going to is legit. The CEO of the Better Business Bureau says if a COVID-19 testing site asks for a credit card or your Social Security number, that should be big a red flag.
"Some of them are just bad businesses they're not getting their data right they're not doing the testing right. Then you have the scammers that are taking a lot of information from them like their Social Security number there's some people who are being charged. Some of these consumers come to us telling us are being charge for expedite service," said Steve J. Bernas, president and CEO of the Better Business Bureau (BBB) of Chicago & Northern Illinois. Bernas said suspicious testing locations have been identified and they've shared information with the government.
The reality is, it can be confusing to understand if a site is real or not. Illinois Attorney General Kwame Raoul has also received numerous complaints about the influx of pop-up sites showing up all across the state. He says people need to check if testing sites are licensed and regulated.
"There's going to be pop-up sites that may in fact use a legitimate Laboratory, but it's important to ask who they're using as their laboratory and to make sure that laboratory is certified. It's called CLIA Certified. The Centers for Disease Control and Prevention actually has a list of CLIA certified laboratories," Raoul said.
Raoul also says that this is a national challenge as the country navigates the latest omicron COVID-19 surge and people scramble to find testing sites.
Many of these pop-up sites are appearing because of a lack of city and state run sites, sparking calls for those sites to return, including from Ald. Maria Hadden (49th Ward)
"Since 2020 your elected officials myself and others have been asking for public testing sites. We've had to organize a lot of testing sites we were lucky to have great health partners. But this reliance of just a pop-up anyone who can license a business through the website and get a connection with the lab I don't think it's appropriate and I to think as we're entering this phase where aren't seeing an end and see that testing is a part of us being able to live. I think the government really needs to step up to make sure we have good legitimate sites," Hadden said. 
While some sites may be stand alone, others are chains.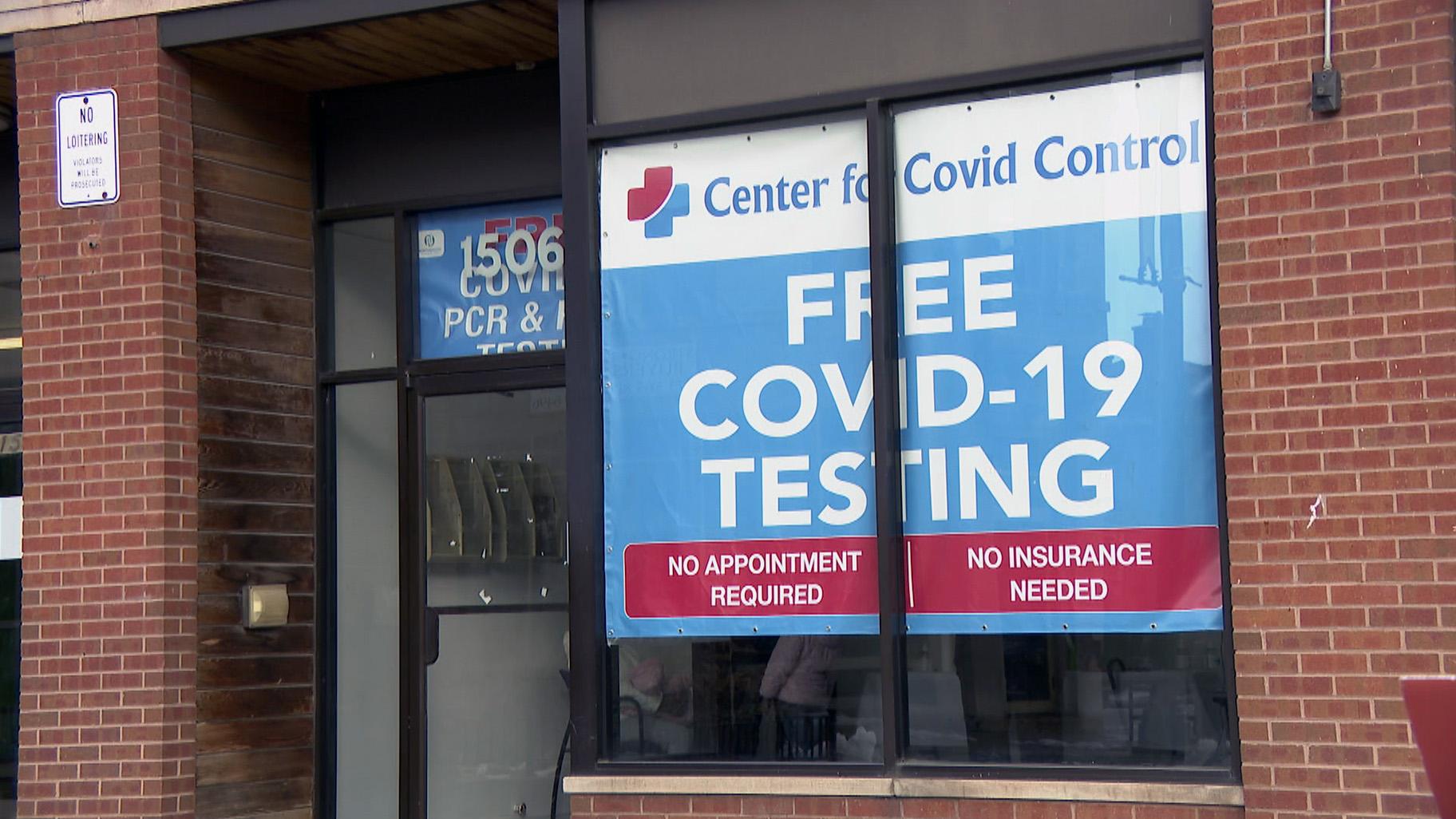 The Center for Covid Control is temporarily closing all their locations. (WTTW News)
A testing organization called The Center for Covid Control, which operates hundreds of testing sites around the country and has an "F" rating with the BBB. There's a location in the Rogers Park area that was operating this morning and people were going in. WTTW News also went into other locations in the neighborhood where they did ask for a driver's license number. Some of these testing sites were operating from an auto repair shop and massage parlors. 
Ann Lundy, chief operating officer from Access Community Health Network, says they run six testing sites and at this point it's important for people to spend some time doing research to protect themselves. 
"The advice I would give to individuals out there who really want to choose a testing site is that really look for one that is managed and staffed by medical professionals that's really key these are lab tests and they need to be administered by certified professionals," Lundy said. 
The surge in cases has caused some labs to be backed up, but it's vital to ask questions when walking into a COVID-19 testing location. 
Your best bet is heading to the Illinois Department of Health and the CDC where they have a list of verified COVID-19 testing operations. But Bernas predicts this is going to be a problem until the government puts out a stronger plan to shut down phony testing sites. 
"I've seen things like this happen in my career of 34 years. Every industry has bad actors but unfortunately this seems to be released simmering and go into a boiling point on locally but nationally, so we're concerned about it I believe it has to be more government oversight," Bernas said. 
The Center for Covid Control is temporarily closing all their locations. They say it's to retrain their staff. But the move comes amid investigations into the company.
---