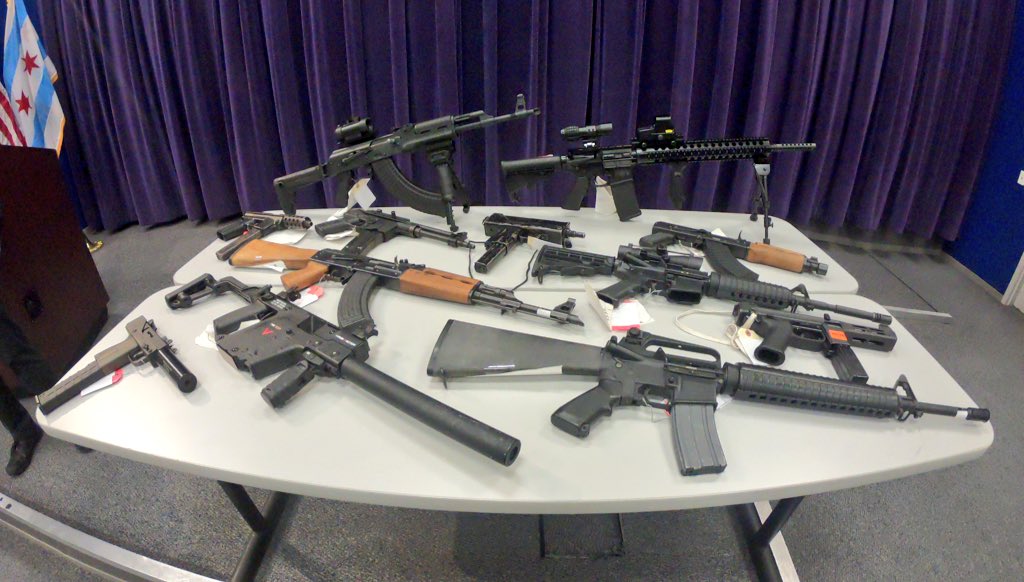 An array of assault weapons recovered this year by the Chicago Police Department. (Chicago Police Department / Twitter)
After recovering its 100th assault weapon this year, Chicago Police Department Superintendent Eddie Johnson is renewing his call on Springfield to pass comprehensive gun reforms.
Johnson on Thursday said his department has seized 106 "high-powered assault" weapons so far this year, marking a 34-percent increase over the same time period last year, while also touting 14-straight months of gun violence reductions in the city.
"That just goes to show you how many illegal guns get out here on the streets of Chicago," he said during a press conference at CPD headquarters Thursday morning. "Until we do a better job of holding these gun dealers accountable for illegal sales … we're going to continue to see that."
The Illinois General Assembly passed the Gun Dealer Licensing Act earlier this year, putting in place new regulations requiring gun sellers to pay for a state license and train employees. But Gov. Bruce Rauner later vetoed that bill, saying it could threaten small business owners, and legislators last month opted against a potential override, meaning a new bill would have to be drafted for any changes to be enacted.
All told, Johnson said his department has recovered, on average, nearly one firearm per hour through the first five months of 2018. The superintendent on Thursday also announced the CPD will re-launch its gun buyback program later this year, offering $100 for each firearm residents turn in.
But he said his department still needs help in limiting gun violence.
"This is an all-hands-on-deck issue," Johnson said. "We need everyone to lend a hand, including our lawmakers, who have a real opportunity to help us hold gun offenders accountable and stem the flow of these weapons into our communities."
Chicago saw fewer shootings and homicides in 2017 over 2016, but the city still topped 600 killings for only the second time since the early 2000s.
There have been more than 150 recorded homicides in the city this year to date, according to city data, which marks a drop of about 20 percent over the same time last year. But shootings and homicides typically rise into the summer as warmer weather brings more people outside.
This past week, which saw daily temperatures rise into the 70s and 80s, marked the deadliest stretch of the year with more than 80 shootings and nine homicides in Chicago. To combat this trend, Johnson said certain areas of the city will see increased police presence as temperatures continue to rise.
"The warm weather doesn't sneak up on us, it happens every year," he said.
Contact Matt Masterson: @ByMattMasterson | [email protected] | (773) 509-5431
---
Related stories:
Gun-Rights Advocates Beat Back Effort to Regulate Illinois Gun Dealers
Parkland Shooting Survivor Wants Fresh Focus on 'Never Again' Movement
City's Top Cop on Crime and Policing in Chicago
Emanuel: Rauner Abdicated 'Primary Responsibility' With Gun Dealer Veto