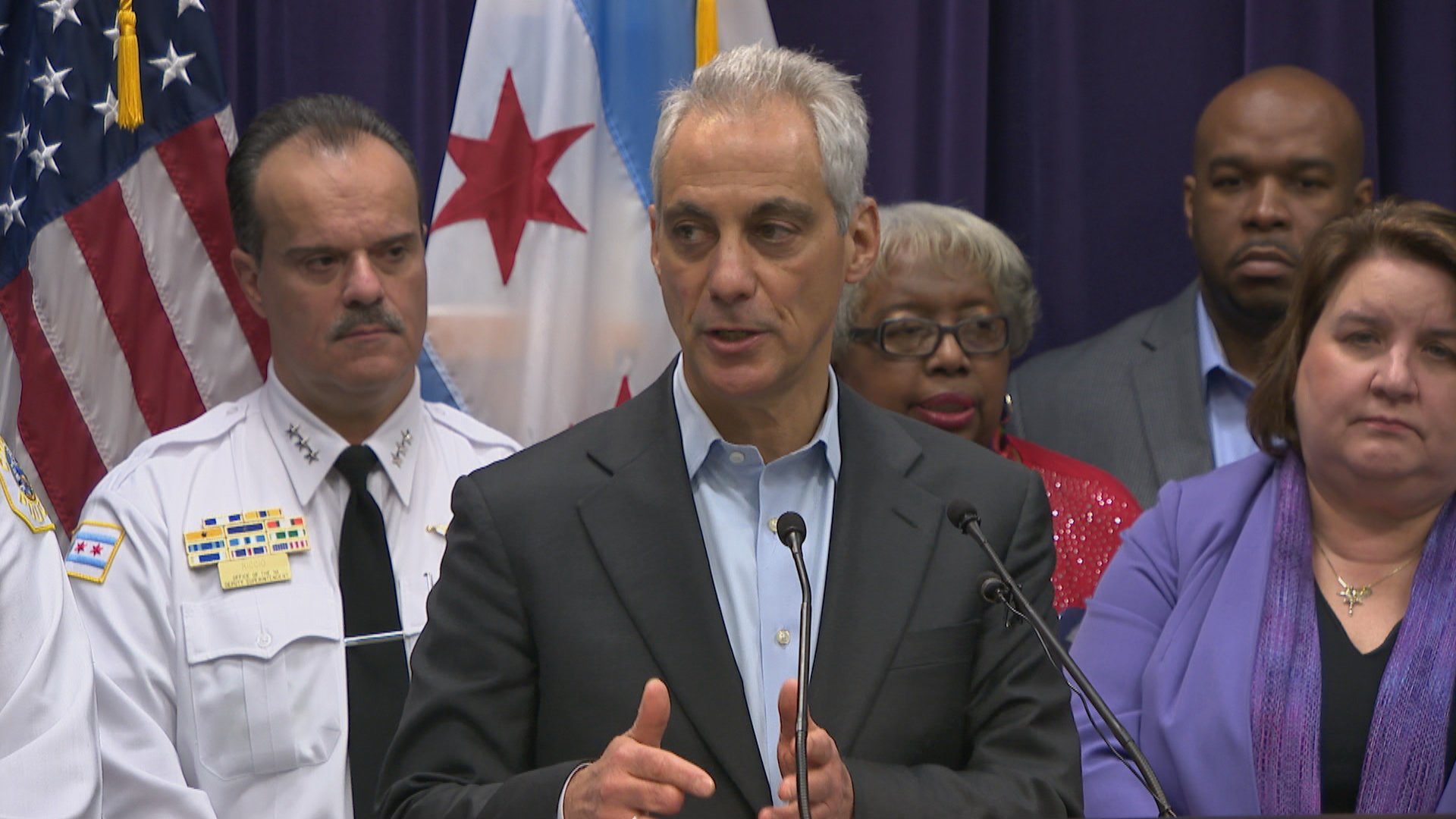 Mayor Rahm Emanuel speaks about the gun dealer licensing bill during a press conference on March 13, 2018.
Advocates of a bill aimed at strengthening state gun dealer regulations continue pushing for its passage, even after it was vetoed by Gov. Bruce Rauner.
City leaders including Mayor Rahm Emanuel and Chicago Police Department Superintendent Eddie Johnson joined Cook County State's Attorney Kim Foxx and members of the Illinois Coalition Against Gun Violence in calling on state legislators to override the governor's veto of Senate Bill 1657.
Emanuel was particularly critical of Rauner during a press conference Monday morning, claiming the governor only vetoed the bill to win political points with conservatives leading up to last month's contentious primary race against state Rep. Jeannie Ives.
"While he was focused on his primary election, his primary responsibility was all of us," Emanuel said. "He abdicated that with this veto."
Rauner narrowly won the primary, earning 51.4 percent of Republican votes.
The bill is among a handful of Illinois state reforms legislators have drawn up following the shooting deaths of 17 students and faculty at Marjory Stoneman Douglas High School in Parkland, Florida.
If passed, it would force gun dealers to pay $1,000 for a five-year license and requires additional employee training and video surveillance of gun dealerships. Advocates say it would also eliminate straw gun purchases, in which someone purchases a gun only to sell it to criminals.
But Rauner said the legislation was too "onerous" and would jeopardize thousands of small businesses statewide.
"The core issue is not which guns to legally ban or regulate," Rauner said in his veto message last month. "We have ample proof that such narrowly focused legislative responses make for good political cover, but they do little to stop the illegal flow of guns into Illinois or prevent people from committing thousands of crimes in our state each year with illegal guns."
Gun dealers are already required to be licensed through the federal government.
Emanuel repeatedly called the bill "common sense" changes and pointed to the support it garnered from both sides of the aisle as it passed through the state House and Senate with bipartisan support. He also pointed to the governor's apparent hypocrisy with regard to government oversight after signing a bill last year regulating catfish sales at restaurants.
"When he signed that legislation, it was OK from a regulatory standpoint from government," Emanuel said. "But when it came to gun sales – not preventing them, but having some oversight, just like Chicago does – to the gun stores and gun dealers in Illinois, it was too burdensome."
Johnson said his officers recovered 40 illegal guns in Chicago over the weekend and have already taken in more than 2,000 to date this year.
He pointed to the February shooting death of CPD Cmdr. Paul Bauer in calling for stricter gun legislation to keep illegal weapons out of the hands of criminals. A four-time felon is charged with first-degree murder in that case.
"It wont bring back our loved ones or Cmdr. Bauer," he said, "but it's the least we can do to show their families that we will always remember them and we're fighting for their memory."
Contact Matt Masterson: @ByMattMasterson | [email protected] | (773) 509-5431
---
Related stories: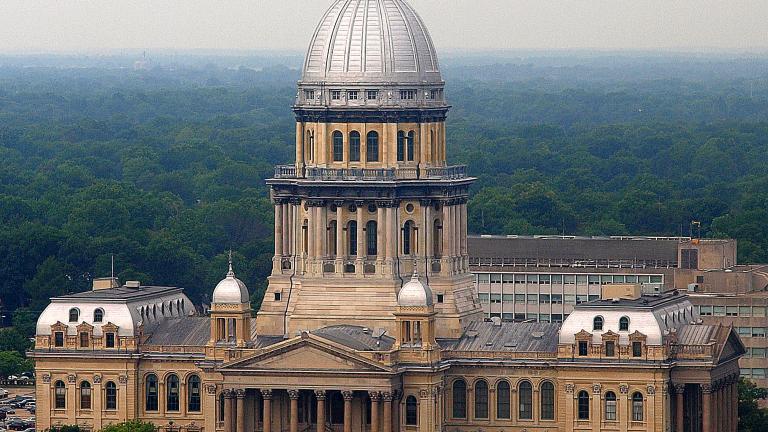 Rauner Vetoes 'Onerous' Gun Dealer Licensing Bill
March 13: A bill that would have placed more regulations on gun dealers goes down with the stroke of a pen in Springfield.
---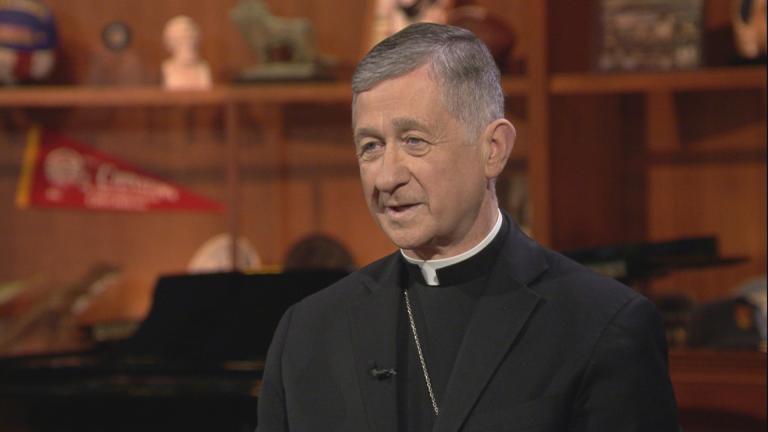 Cardinal Blase Cupich Addresses Gun Violence, Legislation
March 5: Cardinal Blase Cupich was one of the most prominent voices in Springfield last week calling for tighter gun laws. He joins us to talk about gun violence and gun legislation as well as immigration and school closings.
---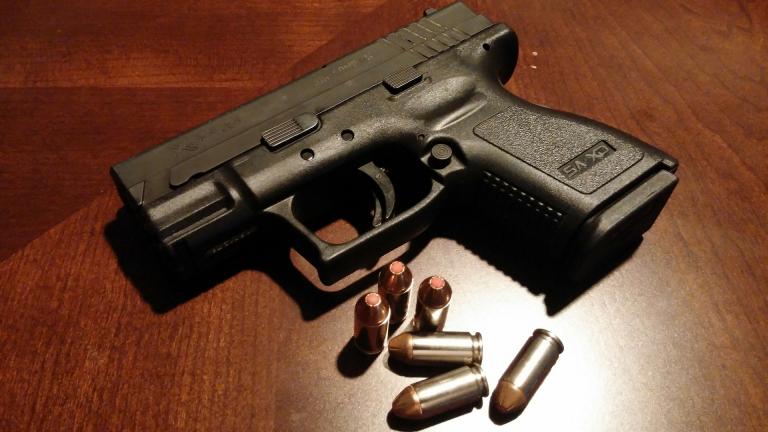 Illinois Lawmakers Vote to License Gun Dealers
Feb. 28: As students in Florida returned to class for the first time since a gunman opened fire at their Parkland high school, Illinois lawmakers advanced a series of gun control measures in Springfield.
---