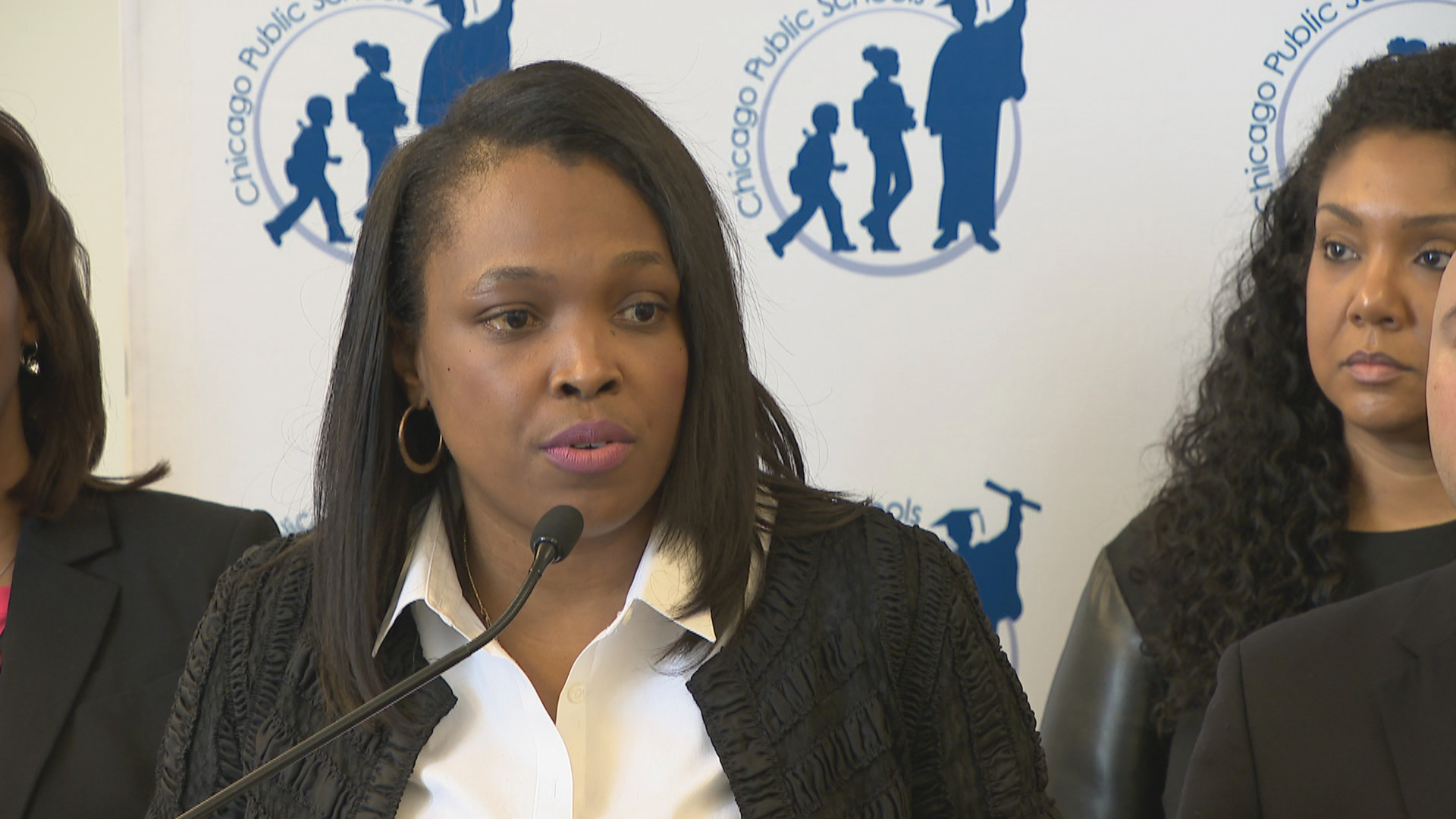 Chicago Public Schools CEO Janice Jackson speaks about the district budget on April 17, 2018.
Chicago Public Schools CEO Janice Jackson knows the public's trust in the district needs to be repaired after a state investigation into its special education programming, but she's asking for community support as they attempt to fix "systemic problems."
Jackson pledged to right the wrongs state education officials highlighted last week in findings released following a first-of-its-kind inquiry into the district's special education offerings.
"You should know that getting this right is one of my top priorities and in the near future, we will be finalizing additional steps to strengthen our special education program," she said during Wednesday's Board of Education meeting.
"I don't think we ever had the 'glory days' of special education in Chicago or in the country. What I will say is you will not find another CEO who is more committed to making sure we get this right."
In its investigation, the Illinois State Board of Education reported finding "systemic problems" resulting both in denials and delays of special education services to CPS students. ISBE also said CPS' policies and procedures hindered educators' and families' efforts to advocate for those services.
One concern highlighted deals with the district's electronic computer system for creating Individualized Education Plans (IEP) for each special education student.
A student's IEP team of teachers, counselors and parents would often need a principal or district representative, who may or may not have a special education background, to override the pre-filled or auto-populated fields in the form.
The district says it will add new special education funding in the upcoming school year. That's after creating 65 new special education-related positions late last year.
But special education advocates say that doesn't go far enough after years of staffing cuts. They called for the investigation last year following a WBEZ report that revealed CPS had used outside auditors to limit both its special education funding and services last year.
CPS says it too called for ISBE to look into its practices, but the advocates contend it was their doing.
"If you're here now, you've got to talk about the history that's happened here and what's happened in this room and the room in the other building. It's really, really unfortunate," Joy Clendenning, a CPS parent and managing director of the education advocacy organization Raise Your Hand, said during the board meeting.
"Just waiting for some recognition of what's been going on here month after month, year after year. It's hard to move forward without some truth."
When another speaker again claimed CPS had nothing to do with calling the ISBE inquiry, a frustrated Jackson appeared to mutter "this is so stupid."
#cpsboard Two parents tell me they heard Jackson say, "This is so stupid" while @chicagospedpac was speaking. https://t.co/fpXNCasbpy

— Raise Your Hand (@ILRaiseYourHand) April 25, 2018
---
She again reiterated that CPS did ask ISBE for the review, saying that if the district is to improve, both CPS officials and the community need to work together.
"I know that it's going to take time, I know the trust has been broken, but I also think if we intend to fix anything, we have to continue to work together and there has to be some show of good faith on both sides," Jackson said. "It just can't be this villainization of every single thing we do. We all are really trying."
Brandis Friedman contributed to this report.
Contact Matt Masterson: @ByMattMasterson | [email protected] | (773) 509-5431
---
Related stories:
With Budgets in Hand, CPS Principals Planning Ahead
ISBE Announces Hearings on CPS Special Education Practices
Chicago Students Call for Gun Reform in Massive Walkout
CPS Board Votes Unanimously to Close 4 Englewood High Schools
CPS Board Approves Janice Jackson As New CEO
---