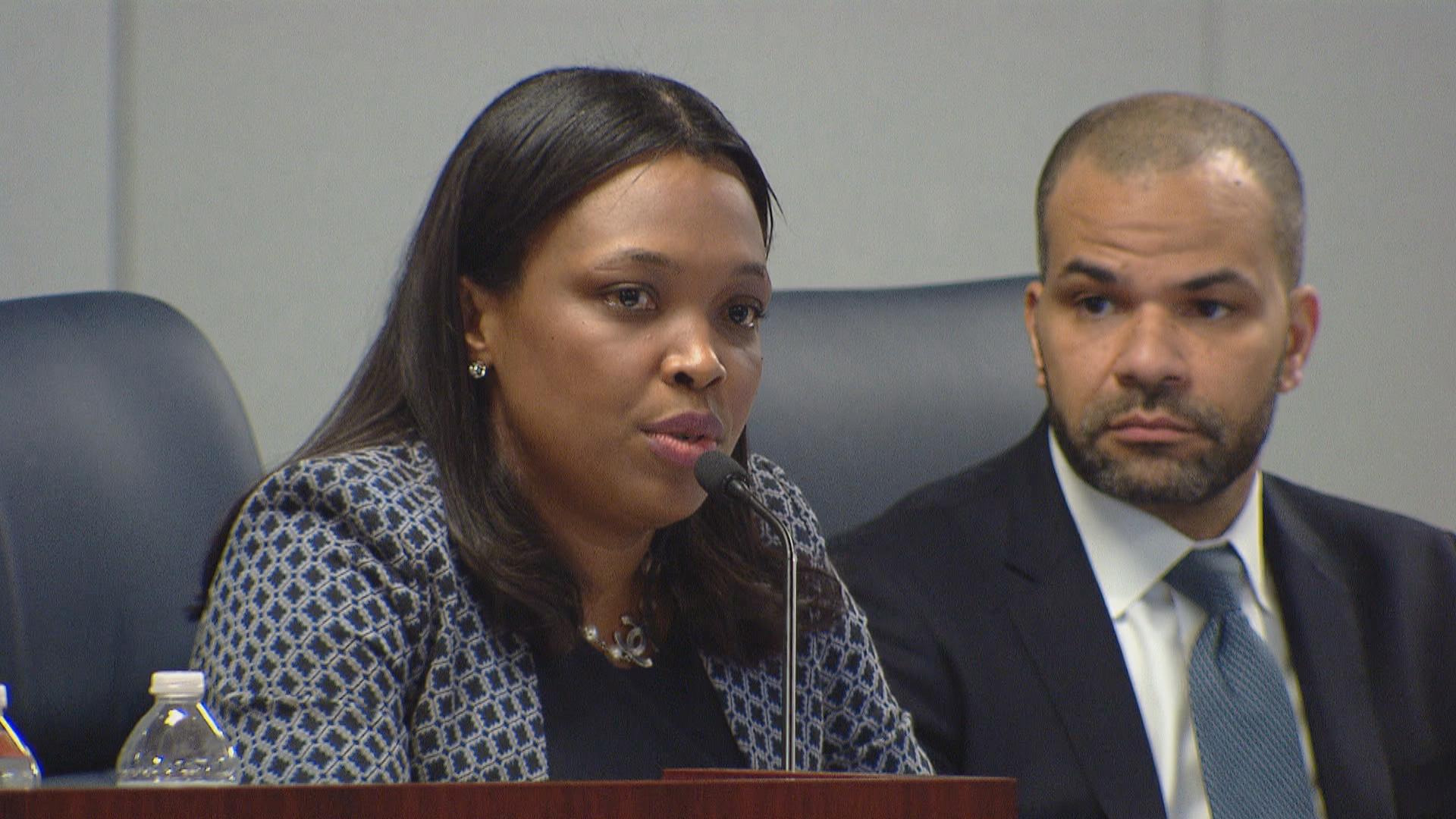 Janice Jackson identified three commitments in her first public comments to the Board of Education since her appointment as Chicago Public Schools newest leader: continuing academic progress, finding financial stability, and improving the public's trust in the school system.
Jackson was named as the district's full-time CEO on Wednesday after handling the position as an interim chief for the last month.
"Know that as I transition I am prepared to continue to the positive momentum the district has made academically, but also address some of the more topical issues, and also more difficult issues, that our city faces," she said, mentioning specifically the upcoming school actions, district enrollment and special education reforms.
"While we may disagree sometimes on policy and how to get there, we do agree on one common goal: ensuring that children receive the best experience possible in our schools."
The board unanimously approved Jackson's appointment as the new full-time schools chief in its first meeting since former CEO Forrest Claypool resigned last month. LaTanya McDade, who has filled Jackson's seat as the district's new chief education officer, was also approved Wednesday.
"As Chicago's students continue to shatter national academic records and make unprecedented progress in and out of the classroom, nobody is more qualified or capable to continue to support their success and lead the district into the future than Janice," Mayor Rahm Emanuel said in a statement.
But one of Jackson's first decisions as CEO has already come under fire.
The district called an early morning public hearing to discuss a policy change that would allow the Board of Education to hire a former member just 30 days after their board term comes to a close.
This change was necessitated after Jackson appointed former board member Arnie Rivera as the district's new chief operating officer earlier this month. 
"I can think of no one better suited for this position," Jackson said. "Mr. Rivera has a unique combination of effective and relevant experience that are invaluable to building on our success as a school district."
Jackson said Rivera had not sought out the position, and was only willing to take it because of her request, adding that he has "nothing to gain" by taking the job because the board has offered a salary equal to what he is currently being paid.
But the Illinois state school code bars the board from employing its former members for a full year after their dismissal or resignation. Due to that rule, the board on Wednesday requested the state shorten that timeline, a change that would be effective only until the end of the 2018-19 school year. Rivera resigned just this month and would have to wait until next January to take over as COO under the current rules. 
The former board member began his CPS career in 2004 working as a teacher at the Disney II Magnet School before moving into positions as a district budget director and Mayor Emanuel's deputy chief of staff for education, prior to his board appointment last year.
Rivera was also described as a key bargaining member during recent rounds of negotiations between CPS and the Chicago Teachers Union in both 2012 and 2016.
But the request has sparked some concerns over the ethics of this move – particularly after Claypool resigned just last month for his role in what was described as a "full-blown cover-up" during an ethics investigation into the district's former general counsel.
Deb Hass, a CPS parent and member of the grassroots organization Raise Your Hand, said the district's attempt to "maneuver around the law" invites concerns over a possible conflict of interest.
CTU Vice President Jesse Sharkey went out of his way to praise Rivera's credentials, but added that it's time for this new leadership team to separate itself from administrations of the past.
"This is not an ethical check on him, it's an ethical check on you as the board," Sharkey said. "This is a new administration, and that administration needs to draw a clear line to break with the unethical practices of the past."
Still, more than a dozen aldermen, education advocates and district principals heaped praise on Jackson, Rivera and McDade – a trio of former educators – describing the new district administration as a "dream team."
"I just can't express how excited I am for the first time," Sullivan High School Principal Chad Adams said. "I've been in this district since 2002 and it's just an exciting time for us as principals that we are going to have leadership that understands children and cares about children."
Contact Matt Masterson: @ByMattMasterson | [email protected] | (773) 509-5431
---
Related stories: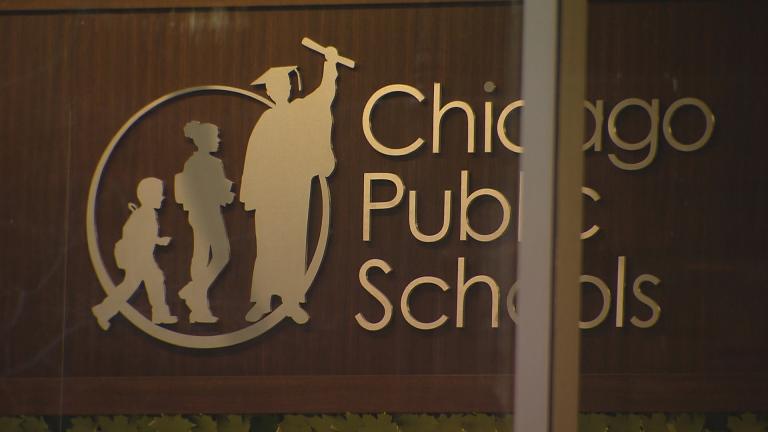 Janice Jackson Picks Board of Education Member for CPS Leadership Team
Jan. 10: Janice Jackson Picks Board of Education Member for CPS Leadership Team
---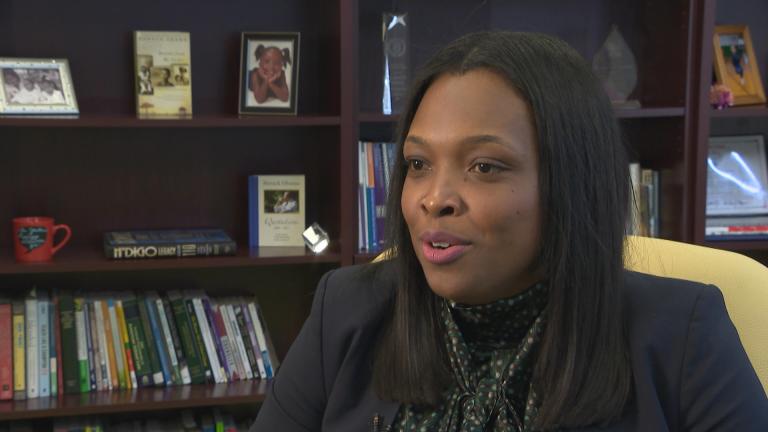 Janice Jackson Shares Her Vision for Chicago Public Schools
Jan. 3: Chicago Public Schools students return to the classroom next week, but the district's new chief executive officer is already at her desk, planning for the rest of the school year, and the future of CPS.
---
CPS Acting CEO: Improving Parent Engagement 'A Top Priority'
Jan. 2: Chicago Public Schools' new leader Janice Jackson announces plans to hold community meetings throughout the city this spring in the hopes of sparking an open dialogue about the district's biggest needs.
---