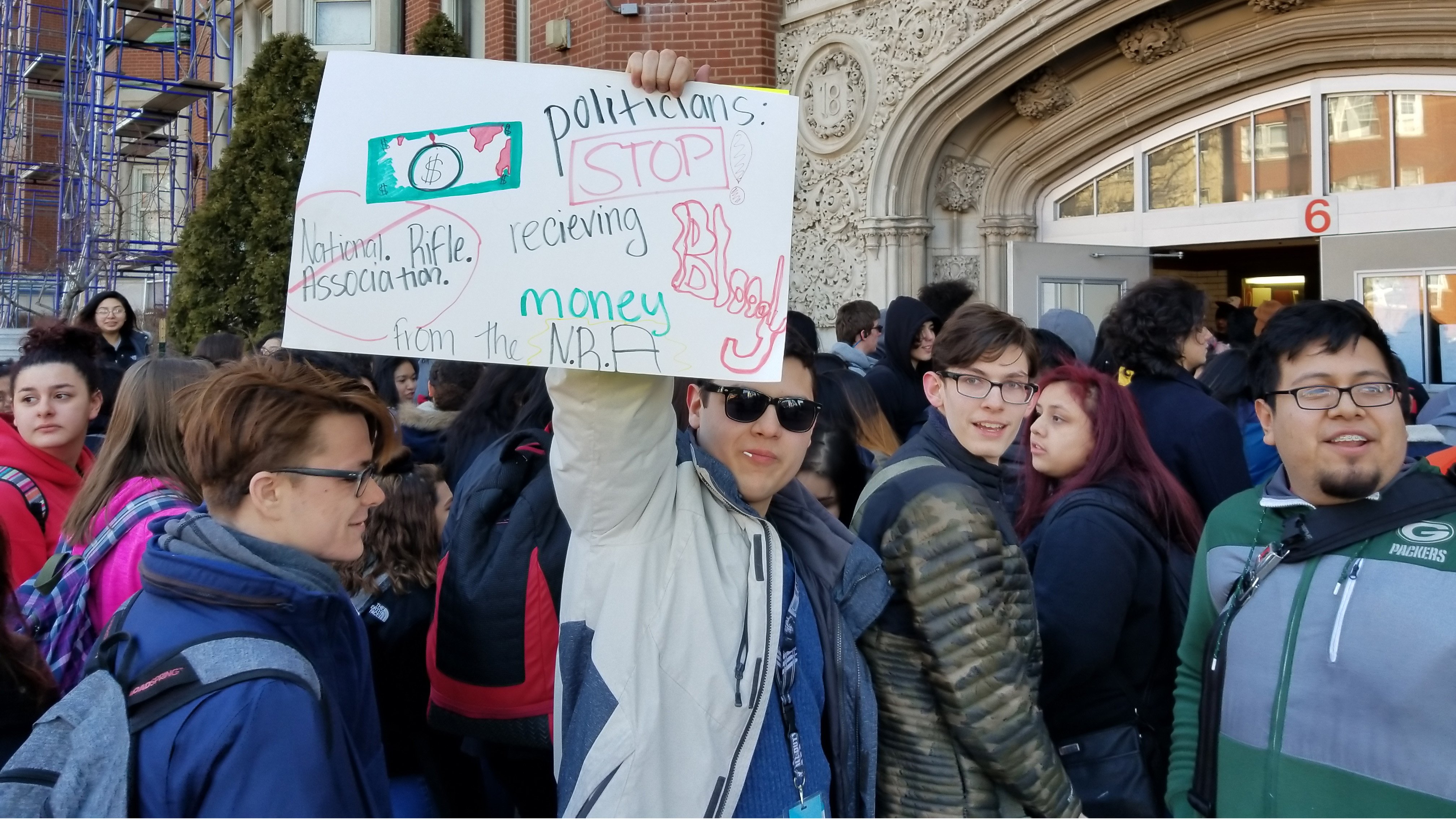 Students at Lake View High School joined their peers across the city and the nation Wednesday in a walkout protest demanding an end to gun violence. (Matt Masterson / Chicago Tonight)
Hundreds of Lake View High School students left their classrooms Wednesday morning and poured onto Ashland Avenue, demanding an end to gun violence as part of a nationwide protest one month after a gunman killed 17 at a school in Parkland, Florida.
The Lake View students joined thousands of their peers from public and private schools across the city in the 17-minute walkout, with each minute representing a life lost at Marjory Stoneman Douglas High School during a shooting on Feb. 14.
Related: No Discipline for Students Participating in Protest, CPS CEO Says
At Lake View High School, students held an assembly and shared their thoughts on gun violence at an open mic before heading outside, where they held signs denouncing the National Rifle Association and led chants including "We call BS" and "No more silence, end gun violence." Chicago police officers on the scene used squad cars to block off one lane of Ashland Avenue as the students marched around their school building.
Hundreds of students at Lake View High School marching down Irving Park during national school walkout pic.twitter.com/xjPgsuE46f

— Matt Masterson (@ByMattMasterson) March 14, 2018
---
"No more silence, end gun violence" pic.twitter.com/xVadlHwEN0

— Matt Masterson (@ByMattMasterson) March 14, 2018
---
The walkout is part of a larger, national protest calling on lawmakers to pass stringent gun reform laws, including a ban on assault rifles, upping the minimum age to purchase firearms and requiring more in-depth background checks.
Survivors of the Parkland shooting have led the charge in calling for these demands. After the shooting, Marjory Stoneman Douglas students formed a gun control organization called Never Again MSD and staged protests demanding change.
"I can't say people are going to suddenly toughen gun laws or get rid of guns, because it's probably not likely going to happen," said Ellasandra Campos, a freshman at Kelly High School who organized her school's walkout. "We live in America – our Second Amendment, it's literally all they're defending – but I just hope it brings attention to our struggles."
Elsewhere in the city students attempted to block traffic and at least one student was reportedly arrested by Chicago police, though it appears she was later released without charges. CPS administration had encouraged participation in the walkouts. CEO Janice Jackson called the protest a "crucial moment in our country" and said students who take part would not face any discipline for doing so.
Marlenne Garcia, a sophomore at Hancock High School, helped organize a walkout at her school, which she said would operate more as a vigil for the victims in Florida. But she also hopes people take notice of the impact gun violence has had in Chicago.
"I feel like it doesn't even phase us that not everywhere has as many shootings as there are here," Garcia said. "We don't understand that that shouldn't be something we have to go through.
"It's more something we talk about during lunch or during class. We never realize how crazy it is."
A group of students from Brighton Park neighborhood high schools met in the Daley Center Plaza on Wednesday afternoon to speak out against increased school security measures they feel only serve to criminalize students.
They also turned in a list of demands to the mayor's office, calling on City Hall to properly fund CPS schools in black and brown communities, reverse school closures and add counselors and social workers for students.
"As of now we need change in our community, we need change in the way our system is working," student Jacqueline Hernandez said. "The government wants to implement more security in our schools, but that is not effective."
In the wake of the Parkland shooting, President Donald Trump made a call to train and arm some school teachers with firearms, hoping they could stop potential shooters – a plan Jackson and Mayor Rahm Emanuel have called "absurd." Others have sought to add metal detectors or armed resource officers inside schools.
Many Chicago students don't want to add more guns or officers inside schools, saying it makes the school environment feel more like a prison.
"I know a lot of kids, when they're walking down the hallway and see a police officer, they tense up," Garcia said. "To us it seems like it's a good intention, but it's very misleading because they don't understand what we need is really counselors and people who will listen … we need resources, we need computers, we need new books."
Contact Matt Masterson: @ByMattMasterson | [email protected] | (773) 509-5431
---
Related stories: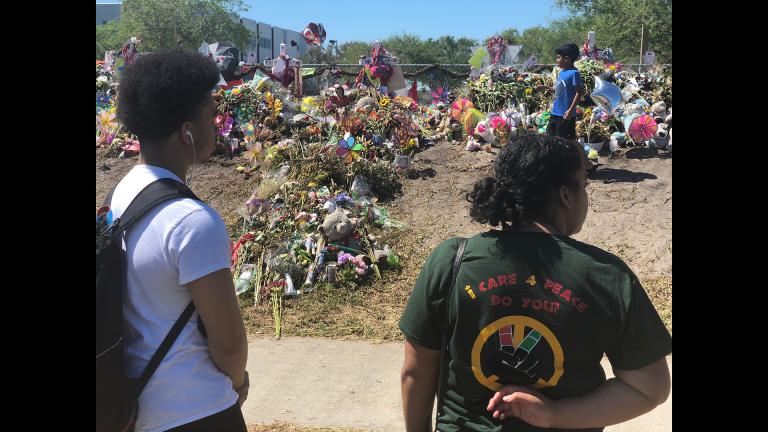 CPS CEO: No Discipline for Students Participating in Protest Wednesday
March 13: Students from dozens of schools across the city are planning to take part in a 17-minute walkout Wednesday morning, with each minute representing a life lost during the Feb. 14 mass shooting at a Florida high school.
---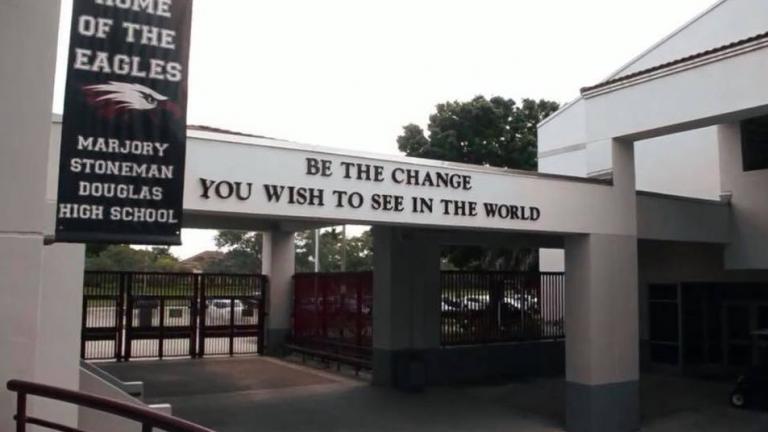 Marjory Stoneman Douglas Alumni Host Benefit for 'March for Our Lives'
March 6: A benefit on March 18 on Chicago's Near North Side to will raise funds for the March 24 event, which will coincide with marches across the country calling for gun reform in the U.S.
---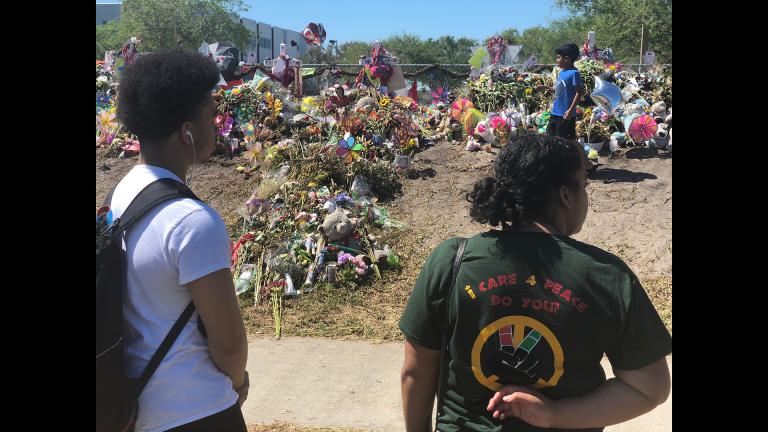 Chicago Students Talk Gun Violence with Parkland Shooting Survivors
March 6: Chicago students and activists spent Saturday afternoon at the Florida home of a Parkland shooting survivor and her classmates to discuss the impact gun violence has had on their lives.
---