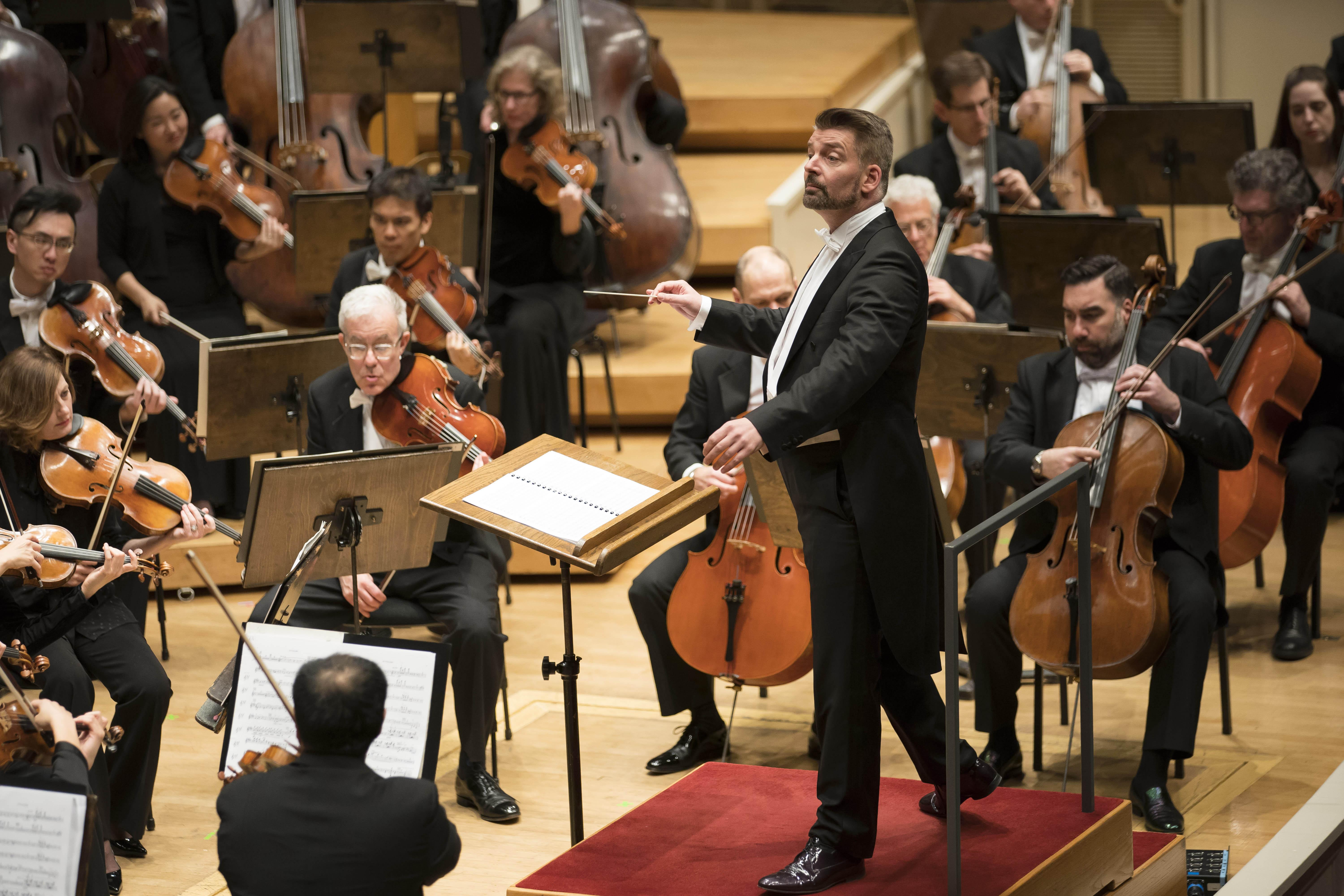 Guest conductor Matthias Pintscher leads the CSO in Ravel's orchestration of Debussy's "Saraband and Danse." (Photo © Todd Rosenberg)
Speak the name "Maurice Ravel" and the most immediate response is sure to be "Bolero," his ever-popular 1928 piece that displays the gifts of a master orchestrator with a bold sense of the power of repetition. But in many ways that single piece has eclipsed the full beauty and sonic invention of the French composer's other work, including "Daphnis and Chloe," his "choreographic symphony" created for Sergei Diaghilev and his Ballets Russes which debuted in Paris in 1912, just a year before Stravinsky's legendary "The Rite of Spring" took its audience by storm.
The concert now being performed by the Chicago Symphony Orchestra and Chorus – with the German conductor-composer Matthias Pintscher in flawless command of a program he was invited to lead after Charles Dutoit became embroiled in charges of sexual harassment – is sure to serve as a vivid reminder that Ravel's genius was far more complex and aurally visionary than a single "hit." 
Guest conductor Matthias Pinstcher leads the Chicago Symphony Orchestra and Chorus in Ravel's "Daphnis and Chloe." (Photo © Todd Rosenberg)
It always is a bit precarious to connect musical innovations of a period with those in the visual arts. But the work of both Debussy and Ravel (whose personal interactions are chronicled in juicy detail in Phillip Huscher's program notes), suggest the gauzy atmospherics of the impressionist painters, as well as the bold color and ritualistic drama of the post-impressionists. And listening to the three works on the CSO program – Ravel's translucent orchestration of Debussy's brief "Saraband and Danse (Tarantelle styrienne)," as well as his 1930 "Piano Concerto for the Left Hand" (with its subtle hints of jazz influence by way of the composer's 1928 visit to Harlem with George Gershwin), and the haunting archaic-inflected but very modern "Daphnis and Chloe" – it is almost as if both composers magically found a way to translate light and color into sound and in many ways anticipated the birth of cinema and film-scoring.
Debussy's Ravel-orchestrated work begins with a delicate, dreamy, floating quality and then takes on a hint of the exotic in the more frenzied dance sequence that has harps, tambourine, tam-tam and other percussion instruments adding texture and spice to the overall lightness and sweep of the work.
Close your eyes as French pianist Jean-Yves Thibaudet gives his tour de force rendering of Ravel's "Piano Concerto for the Left Hand" and you would swear both his hands were sweeping up and down the keyboard. The only suggestion of this being a work solely for the left hand (it was commissioned by Paul Wittgenstein, brother of the famous philosopher Ludwig Wittgenstein, whose right arm was amputated after a wartime injury), can be heard in the low, moaning sound of the orchestra at the very start, followed by the lower register flourishes of the first piano solo.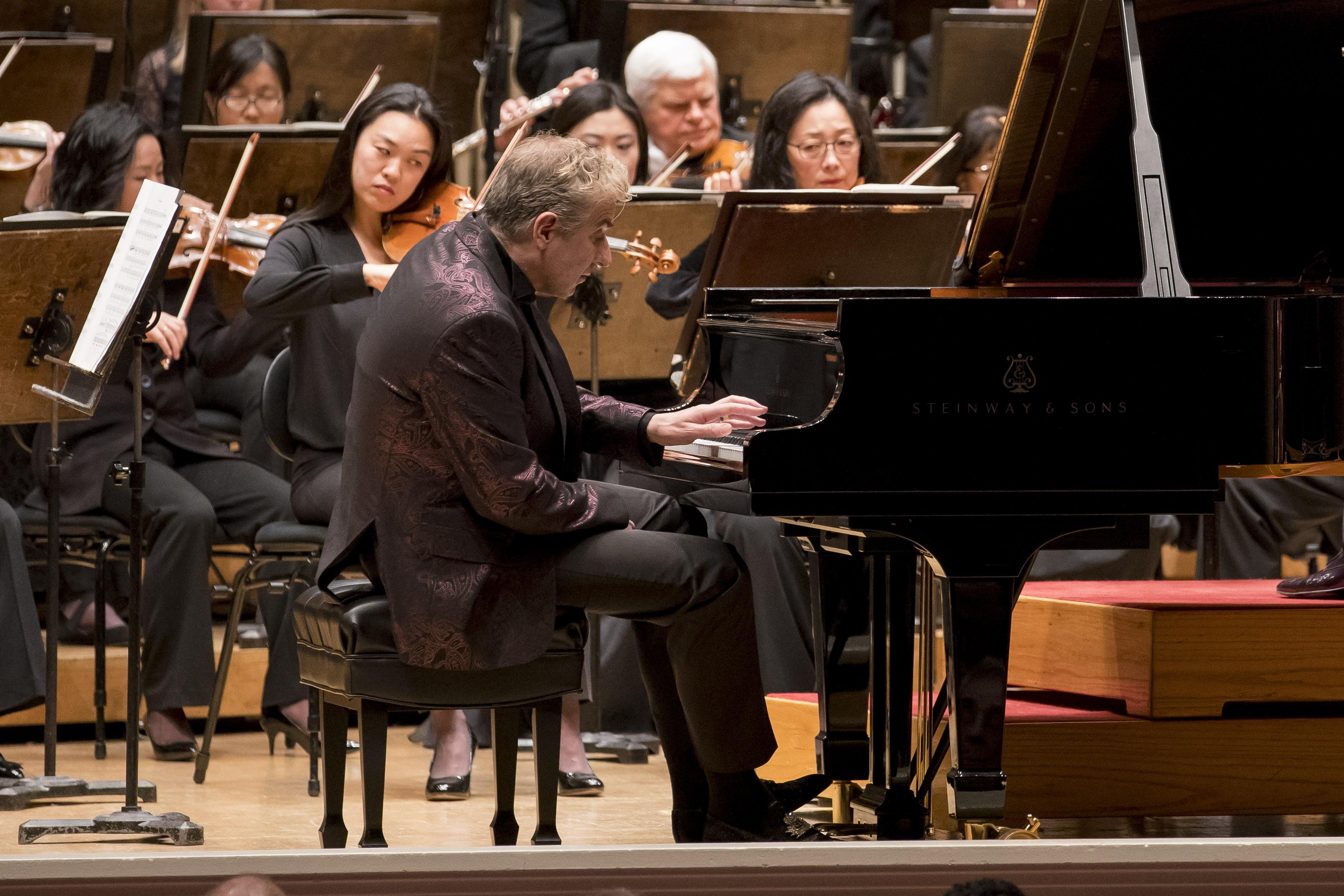 Jean-Yves Thibaudet is soloist in Ravel's "Piano Concerto for the Left Hand." (Photo © Todd Rosenberg)
The work is full of fast-paced mood and stylistic shifts, alternately melancholy and probing, with a march-like rhythm at one moment and a crazy dance rhythm in syncopation with the full orchestra the next. Thibaudet, Pintscher and the orchestra were in perfect synchrony throughout, with hugs all around during the bows.
The concert's second half was devoted to a rapturous, full-scale rendering of "Daphnis and Chloe," with the added luxury of the presence of the CSO Chorus in just the latest showcase of its brilliance during its 60th anniversary season.
The mythic story behind the work is one of innocent young rustic lovers, an incident of jealousy, the arrival of pirates, Chloe's abduction and her ultimate reunion with the shepherd, Daphnis. None of this really matters. It is just the excuse for a ravishing sonic journey that begins with the most distant emergence of voices (the chorus sings no words, but just conjures waves of gorgeous sound at several crucial moments throughout), as the orchestra weaves a work that can conjure a bacchanalia as deftly as the sweeping curves of a flock of birds.
Guest conductor Matthias Pintscher congratulates pianist Jean-Yves Thibaudet following their performance of Ravel's "Piano Concerto for the Left Hand" with the CSO. (Photo © Todd Rosenberg)
Every section of the orchestra is fully deployed in ingenious ways, with two harps, an exquisite flute solo by principal flute Stefán Ragnar Höskuldsson, celesta, and a platoon of percussionists on everything from drums, triangle, tambourines and crotales to wind machine joining to spin a diaphanous curtain of sound.

The concert will be repeated on April 7 at 8 p.m. and April 10 at 7:30 p.m. at Symphony Center, 220 S. Michigan Ave. For tickets ($30-$218) call (312) 294-3000 or visit www.cso.org.
Follow Hedy Weiss on Twitter: @HedyWeissCritic
---
CSO Debuts Fascinating New Piece, Celebrates A Heavenly Massing of Voices
CSO, Muti and Soloists In Eloquent Conversation with Mozart
Blistering Grand Opera 'Sweeney Todd' at Theo Ubique's Tiny Storefront
---