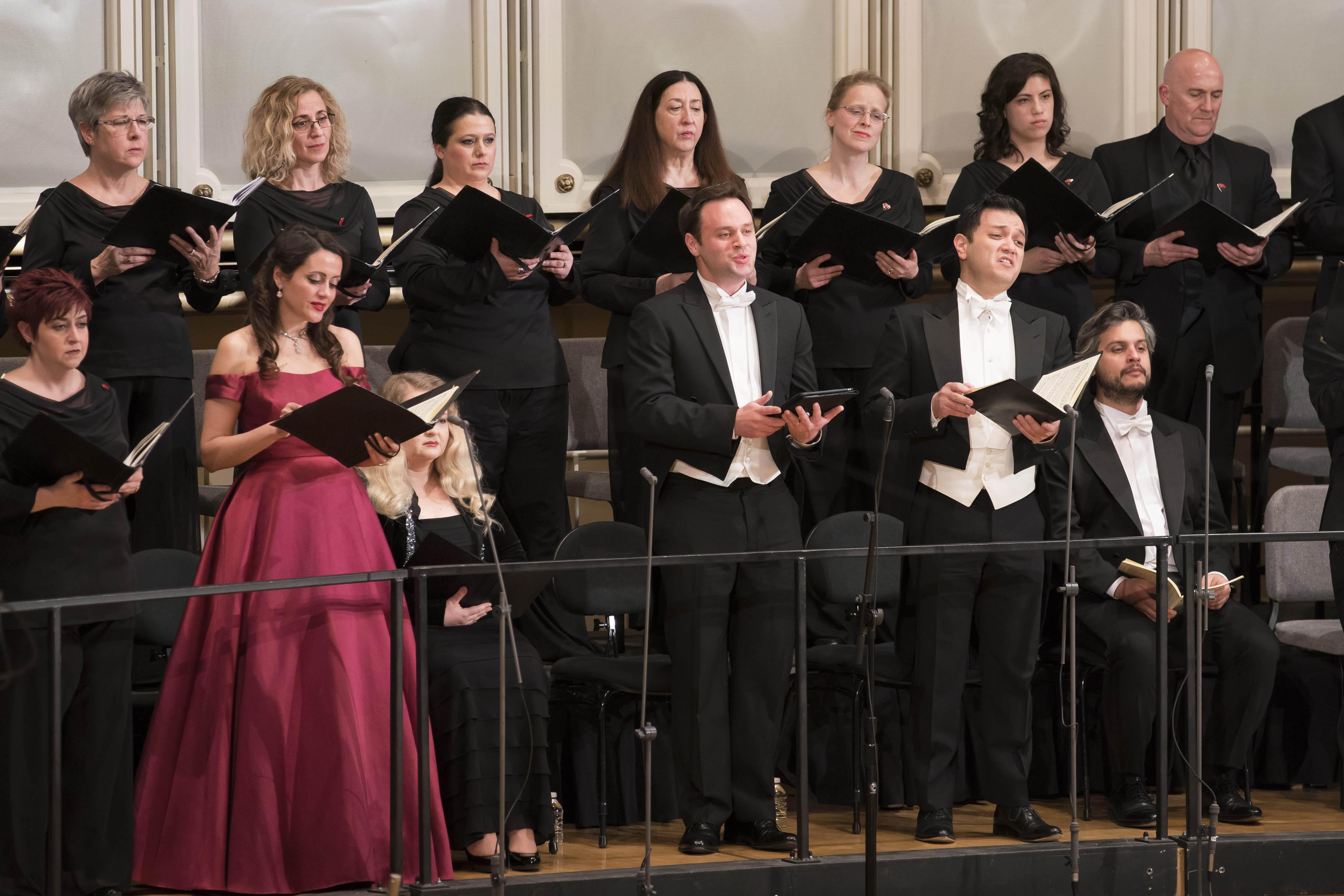 From left: Soprano Amanda Forsythe and tenors Paul Appleby and Nicholas Phan are soloists in Schubert's "Mass in E-flat Major" with the Chicago Symphony Orchestra and Chorus. (Credit: Todd Rosenberg)
The human voice is a remarkable instrument. And when the 115 heavenly souls of the Chicago Symphony Chorus gather on the stage of Symphony Center in a seamless pairing with the musicians of the Chicago Symphony Orchestra, something extraordinary happens.
And so it did on Thursday evening as Maestro Riccardo Muti (in league with Duain Wolfe, the chorus' superb director) joined forces for a jewel-like performance of Schubert's "Mass No. 6 in E-Flat Major," and simultaneously celebrated the 60th anniversary of the magnificent chorus itself. In the process they suggested why, for many, the concert hall can be as wholly transcendent a place as any house of worship.
In addition to the Schubert work the concert included a fascinating world premiere – "Three Lisel Mueller Settings" – whose composer, Max Raimi, just happens to play in the CSO's viola section. Drawing on a trio of fierce, haunting poems by the Lake Forest-based, Pulitzer Prize-winning Mueller (who arrived in the U.S. at the age of 15, after her family fled the Nazis, and is now 94), the piece, a CSO commission funded by the Chicago's Poetry Foundation, is a work of brilliantly orchestrated sonic beauty.
Also on the program, and serving as a spirited opener, was the Overture to Carl Maria von Weber's 1826 opera, "Oberon," the tale of the fairy king familiar from Shakespeare's magical romantic comedy, "A Midsummer Night's Dream." At once dreamy and wild, with a beguiling use of the horns and winds, it moves easily from lyrical passages to big bursts of excitement that carry you on a wild wind. (It is worth noting that Weber died later in 1826 and that Mendelssohn wrote his initial rollicking take on "Midsummer" in the same year, perhaps as an homage.)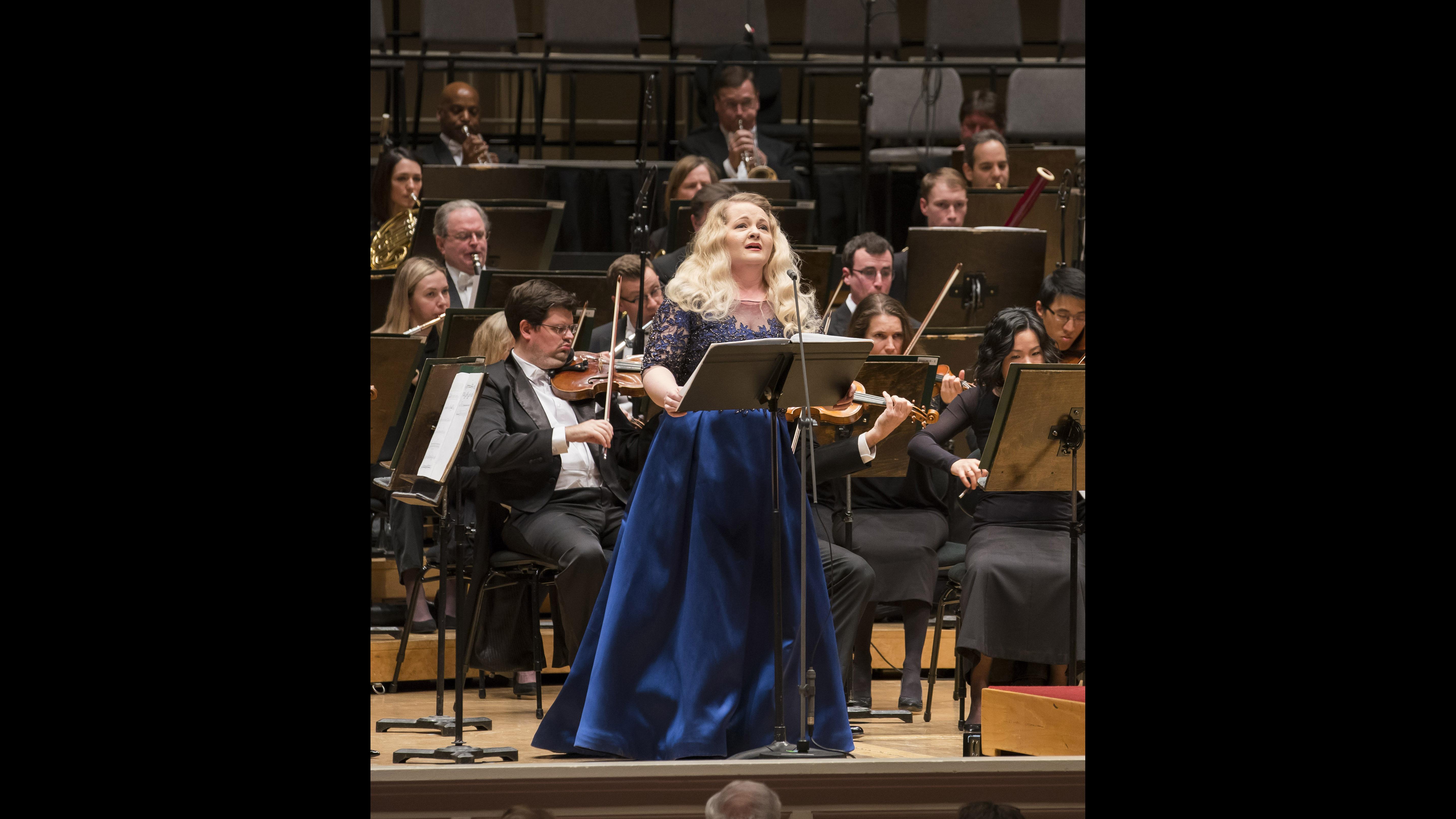 Mezzo-soprano Elizabeth DeShong in the world premiere of "Three Lisel Mueller Settings" by Max Raimi. (Credit: Todd Rosenberg)
The Raimi piece, for solo mezzo-soprano (Elizabeth DeShong) and orchestra, takes its inspiration from three concise but stunning Mueller poems: "The Story," a scorching tale of a broken marriage; "An Unanswered Question," evoking the inner life of a Tasmanian aboriginal woman cruelly put "on display" in Victorian-era London; and "Hope," which Mueller defines as "the singular gift we cannot destroy in ourselves."
What is most astonishing about Raimi's work is his audacious, highly original deployment of the full spectrum of the orchestra, with particular attention paid to the thrilling, wonderfully original use of a percussion section that includes everything from cymbals, wood block, tambourine, triangle and drums to a lead pipe struck with a hammer. As powerfully modern and subtly dramatic as Mueller's poems, Raimi's score is less a literal "setting" than an abstract landscape against which the stories she tells can unfold.
But here's the rub: While DeShong's rich, low, commanding voice is unquestionably impressive, often – perhaps because of the density of her own sound, or perhaps because of the dark magic of the music – Mueller's words are often indecipherable. And unless you have read the poems ahead of time (they are printed in the program), their meaning is frequently lost.
Nevertheless, this is a riveting new work, played with immense virtuosity by the orchestra. And it should not only enjoy many subsequent performances, but should generate additional commissions for this mightily gifted composer.
Finally, the Schubert "Mass," a work of transcendent beauty and gentle grandeur notable for its total lack of bombast or pomposity. The passion here is rooted in the heart, and the sense of exaltation is infused with an otherworldly sweetness, a lilting grace and an aura of calm punctuated by great swells of emotion generated by the altogether ravishing harmonies of male and female voices in every register, plus the sounding of horns and timpani.
Adding their voices to the mix (especially in the Credo and Benedictus sections) were five formidable soloists, including DeShong and the vivid and mellifluous soprano, Amanda Forsythe, along with tenors Paul Appleby and Nicholas Phan, and bass Nahuel Di Pierro.
The exquisite synchrony between orchestra and chorus in this performance was a glory all its own, with Muti clearly reveling in the restrained yet distinctive gravity and light of the drama unfolding, and in the final prayer that pleads, "Lamb of God, who taketh away the sins of the world, grant us peace."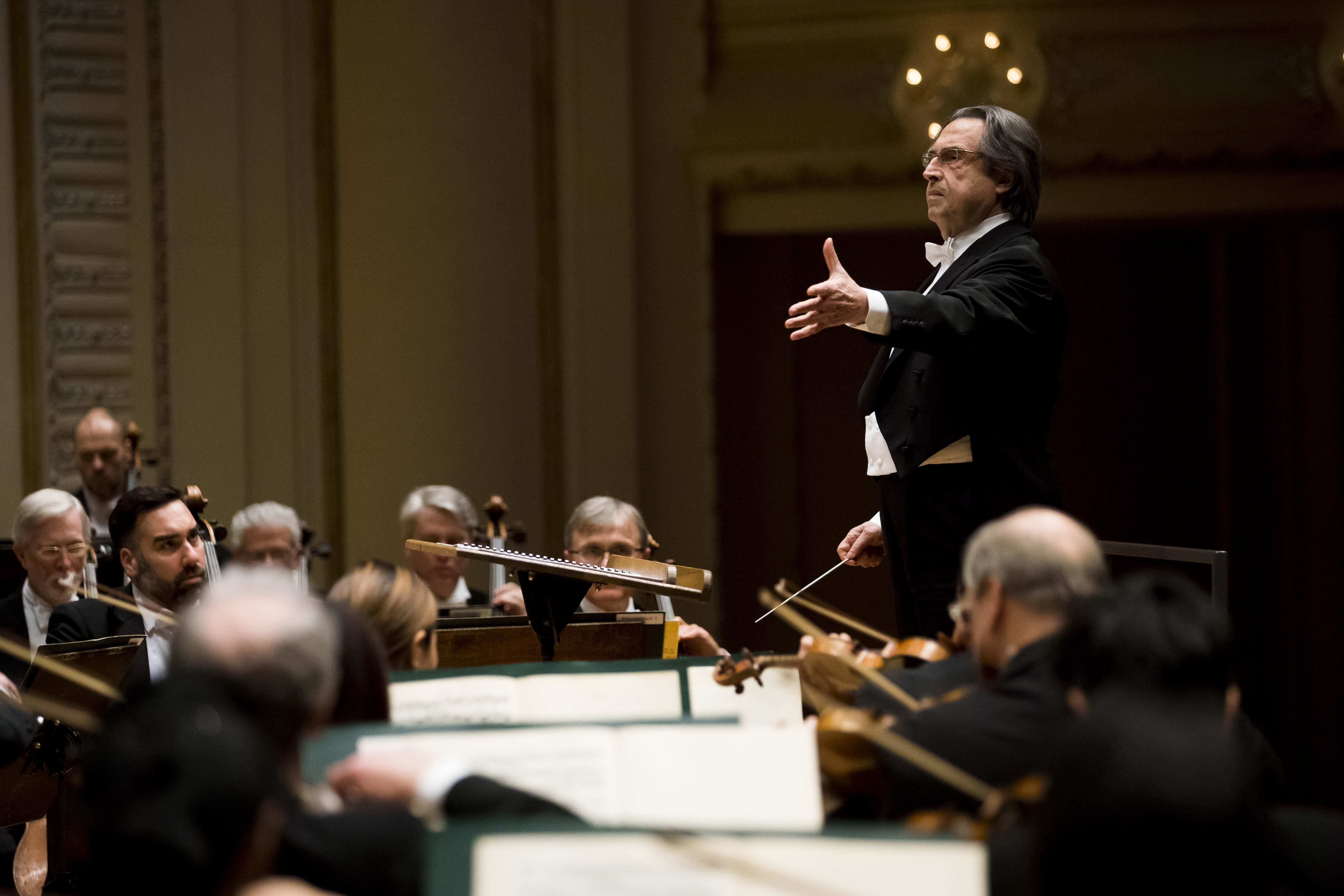 Music director Riccardo Muti leads the CSO in Weber's Overture to "Oberon." (Credit: Todd Rosenberg)
'An Enemy of the People' a Tragic, Comical Political Farce of Our Times
CSO, Muti and Soloists In Eloquent Conversation with Mozart
Blistering Grand Opera 'Sweeney Todd' at Theo Ubique's Tiny Storefront
---