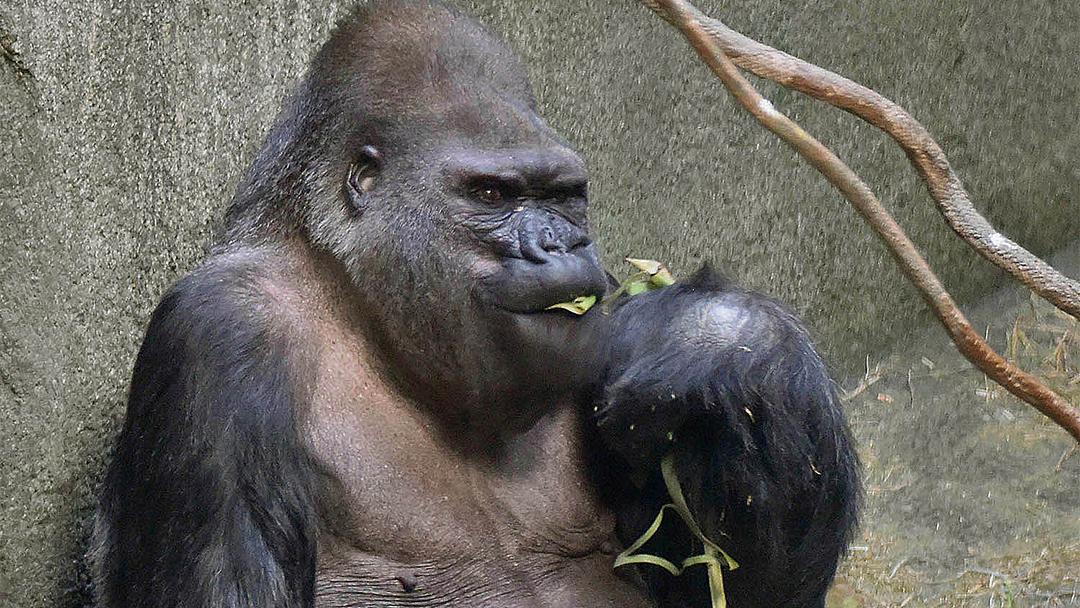 Ramar, a 50-year-old western lowland gorilla, was euthanized Thursday at Brookfield Zoo. (Courtesy Chicago Zoological Society)
Brookfield Zoo's oldest animal, a beloved 50-year-old western lowland gorilla named Ramar, was euthanized Thursday after suffering from diminished bowel function, zoo officials announced.
After animal care staff reported several weeks ago that Ramar was not eating, veterinary staff performed tests that revealed a partial blockage of his bowel and stomach with plant material from his normal diet. This caused diminished bowel function that is common in older gorillas, the zoo said. 
Staff helped Ramar manage the pain, but during the gorilla's recovery, his overall comfort became a major consideration. Based on his quality of life, staff determined that euthanizing Ramar was the most humane decision.
"It's not an easy decision, and knowing it's the right decision doesn't make it hurt any less, but everybody's fully confident that this was the most humane decision and that this was the best way for Ramar's legacy to end," said Amy Roberts, curator of mammals for the Chicago Zoological Society, which manages the zoo.  
Ramar's keepers described him as confident, calm, self-assured and inquisitive, Roberts said. He was also protective of his offspring and even his keepers, whom he would watch interact with guests on a walkway outside his habitat. 
"And if they were approached by a guest that approached them kind of quickly, he would come to the top of his habitat and display at the person approaching his keeper – the typical gorilla display of pounding his chest," Roberts said.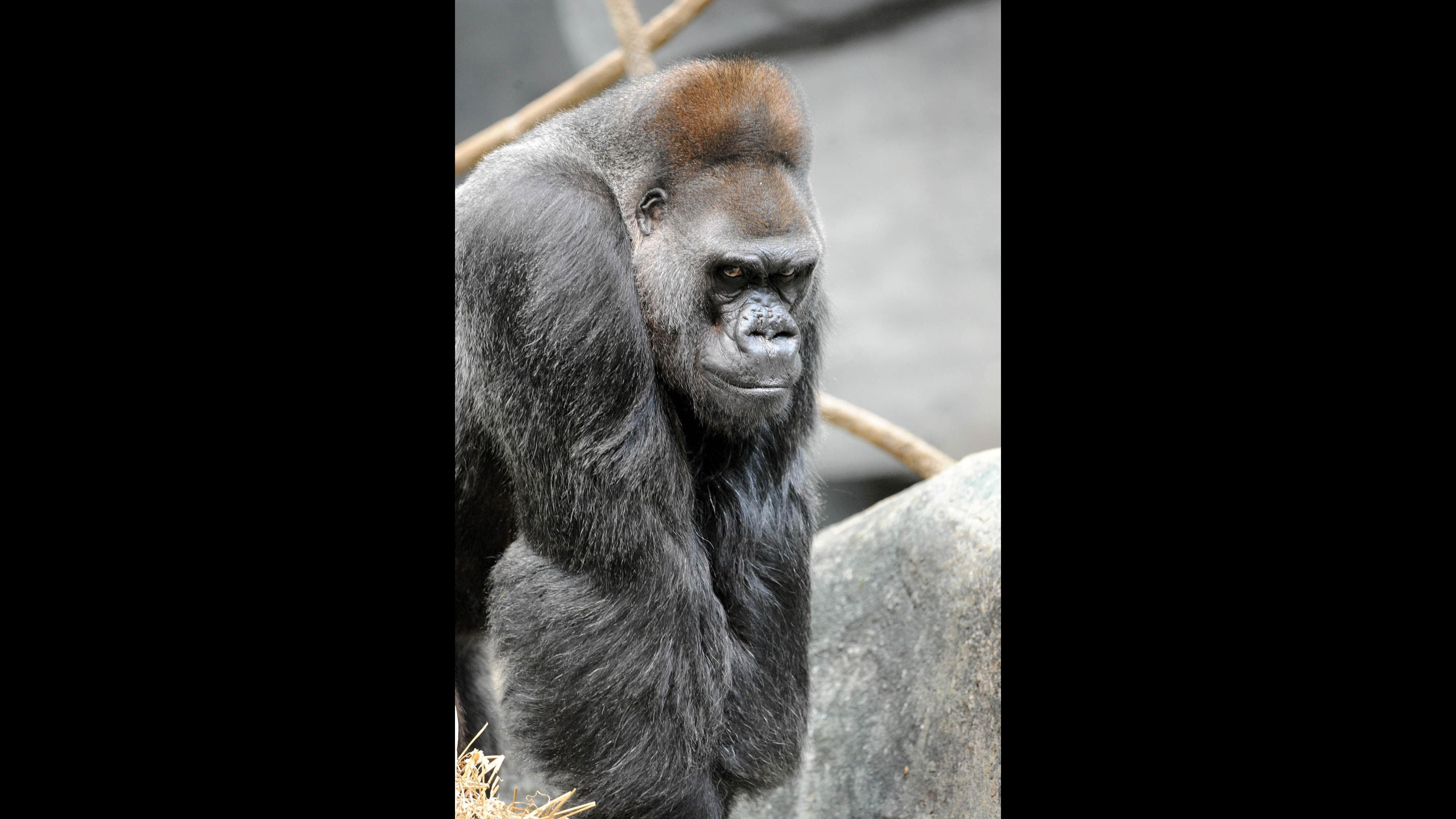 Ramar in 2009. (Courtesy Chicago Zoological Society)
At age 50, Ramar was the second oldest male western lowland gorilla living in a North American zoo. He far outlived the median life expectancy for male gorillas in such settings, which is 32.
After being orphaned in the wild, Ramar was brought to the U.S. in 1969 and raised by a human family until age 6. He was then acquired by North Carolina Zoo in 1974 and later spent time at zoos in Philadelphia and Miami.
Ramar arrived at Brookfield Zoo in 1998 at age 30 on a breeding loan and quickly became a favorite among staff and guests, zoo officials said. He was the zoo's dominant male gorilla (known as a silverback) for 13 years. While at the zoo, he sired three offspring: a son, Nadaya, with Baraka in 2001; a daughter, Kamba, with Koola in 2004; and another son, Bakari, with Binti Jua in 2005.
Ramar seemed to enjoy playing with his offspring, often letting them take food out of his mouth, Roberts said. 
"Sometimes the way he played with them he would almost make his body into a slide and [they] would climb up him and slide down his body," she said.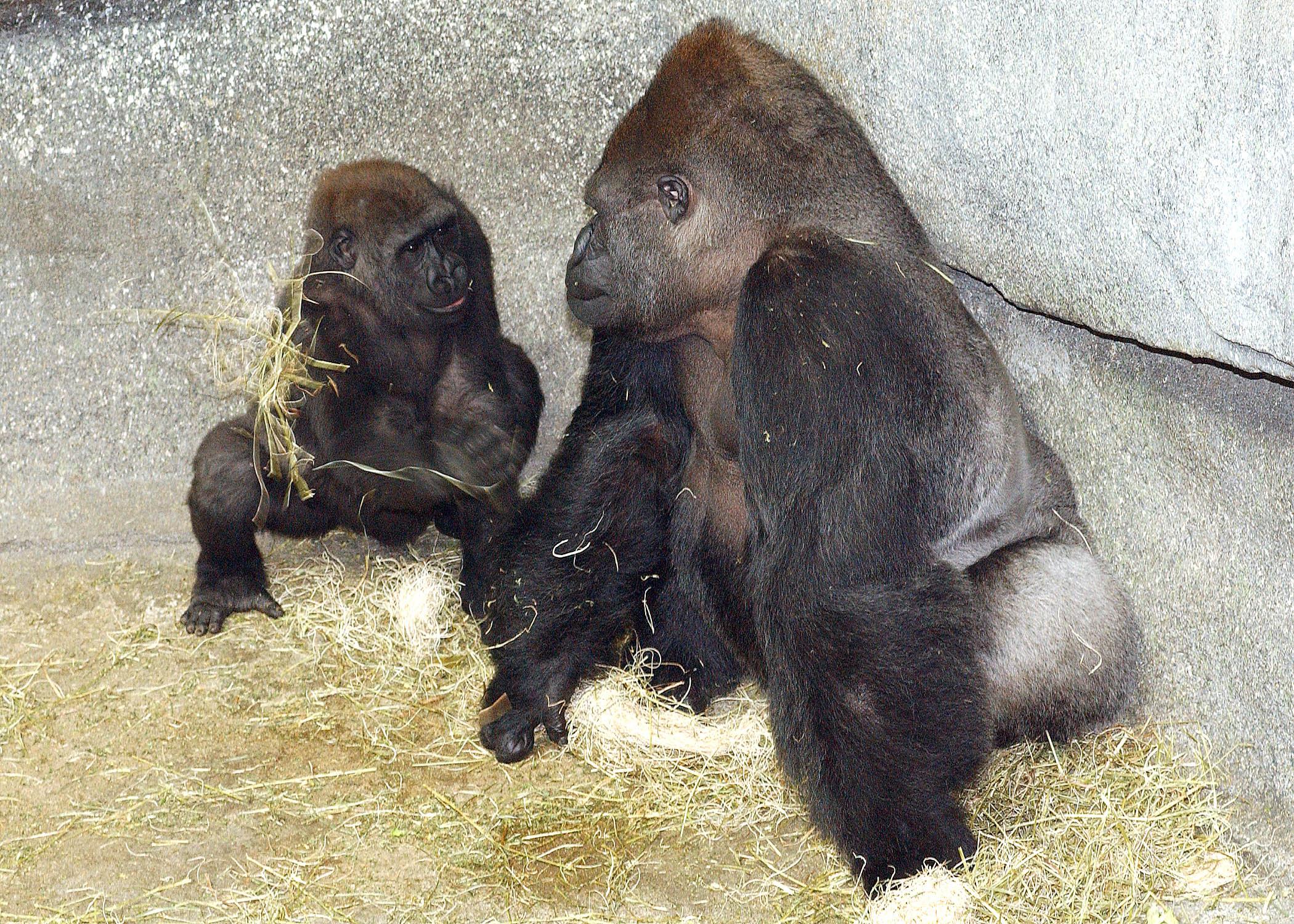 Ramar and son Nadaya in 2005. (Courtesy Chicago Zoological Society)
In 2012, the zoo placed Ramar in "semi-retirement" after he was challenged by his then 10-year-old son Nadaya, which resulted in the need for a new group leader. A similar scenario would have occurred in the wild, according to the zoo, with an older silverback eventually being replaced by a younger, more assertive male gorilla.
After the move, guests were still able to see Ramar in a separate habitat more suitable for him to move around given his age-related ailments, which included degenerative diseases of the heart and knees.
Animal care staff taught him a range of exercises to keep his joints limber, including presenting his shoulder, arm, foot and opening his mouth during physical therapy sessions.
Last year, doctors conducted an arthroscopic examination of Ramar's knees to remove tissue of meniscal and anterior cruciate ligament tears and reduce inflammation associated with his arthritis. He also received injections of a synthetic joint lubricant and platelet-rich plasma, both of which improved his mobility.
Chicago Zoological Society veterinary staff prepare Ramar to undergo two procedures last year to address age-related periodontal disease and degenerative arthritis in his knees. (Kelly Tone / Chicago Zoological Society)
During the same procedure, a veterinary dentist helped zoo staff treat a periodontal disease affecting several of Ramar's molars.
"For several years now, we have been able to intervene and manage Ramar's chronic conditions that have allowed him to live comfortably with little to no pain," said Bill Zeigler, senior vice president of animal care for CZS, in a statement. "Even though the advancement of veterinary medicine in professional care has allowed animals in zoos to live longer than their wild counterparts, there comes a time, like in Ramar's case, that we aren't able to stop the progression of age-related ailments."
Western lowland gorillas are listed as "critically endangered" on the International Union for Conservation of Nature and Natural Resources Red List.
Roberts said Brookfield Zoo's Ape Awareness Weekend, which is scheduled for this weekend, will also include a tribute to Ramar. 
Contact Alex Ruppenthal: @arupp | [email protected] | (773) 509-5623
---
Related stories: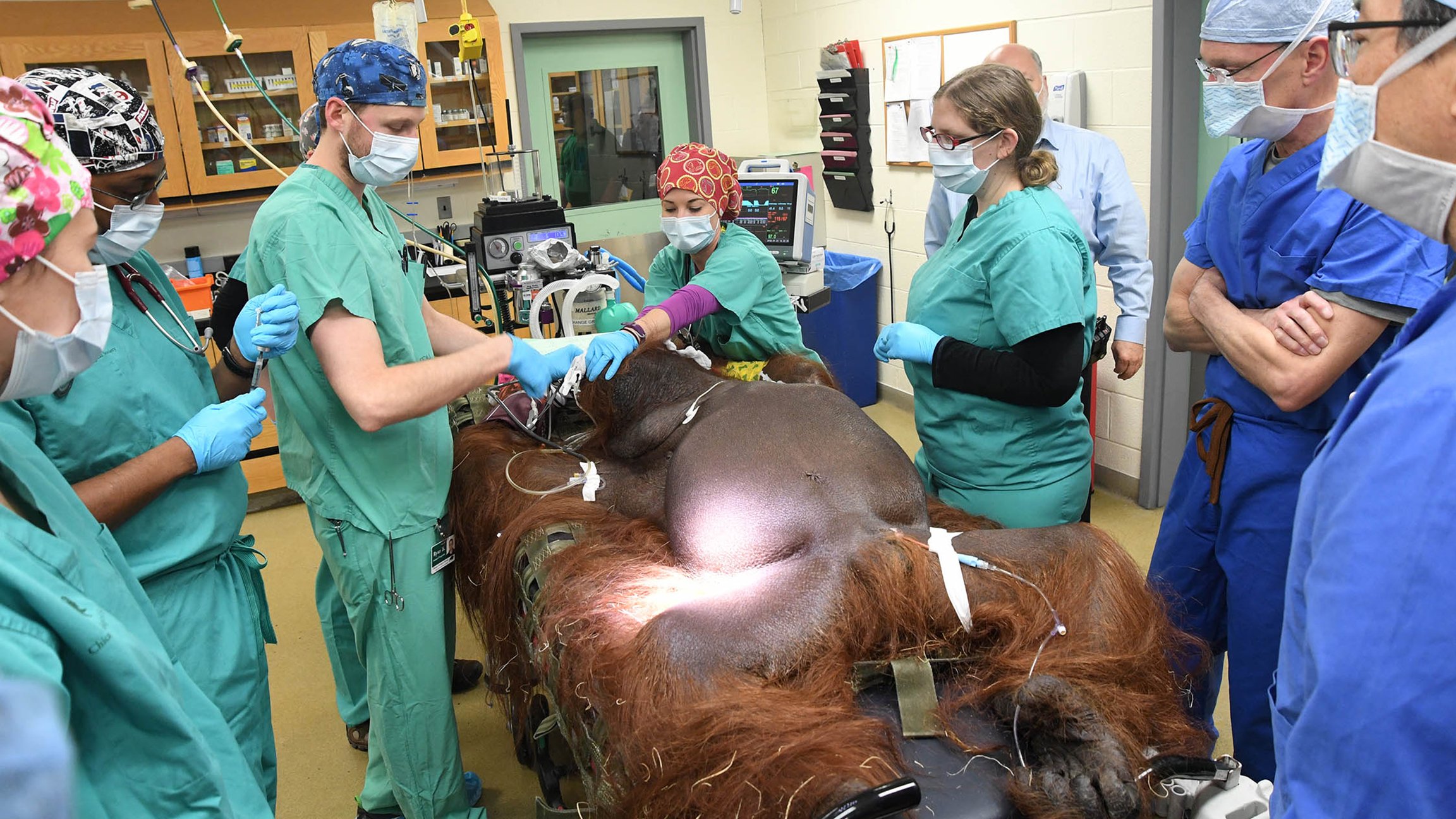 Orangutan Undergoes Emergency Appendectomy at Brookfield Zoo
Feb. 13: Ben, a 40-year-old orangutan at Brookfield Zoo, underwent an emergency appendectomy last month after veterinary staff discovered a ruptured appendix.
---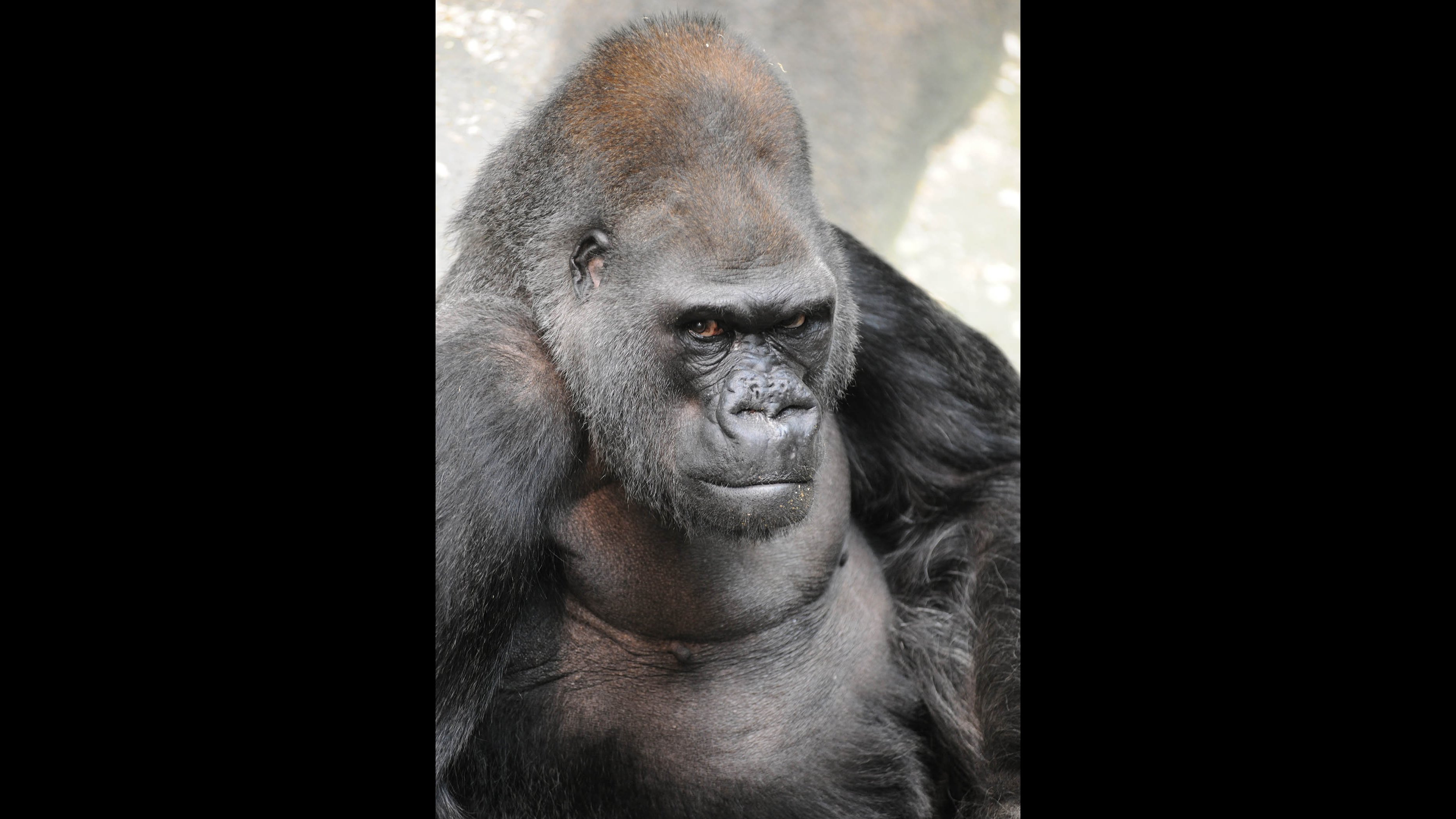 Brookfield Zoo's Oldest Animal Turns 50
Jan. 22: Ramar, one of the oldest gorillas in the country, celebrated a milestone birthday this month with a frozen "cake" filled with fruit and raisins.
---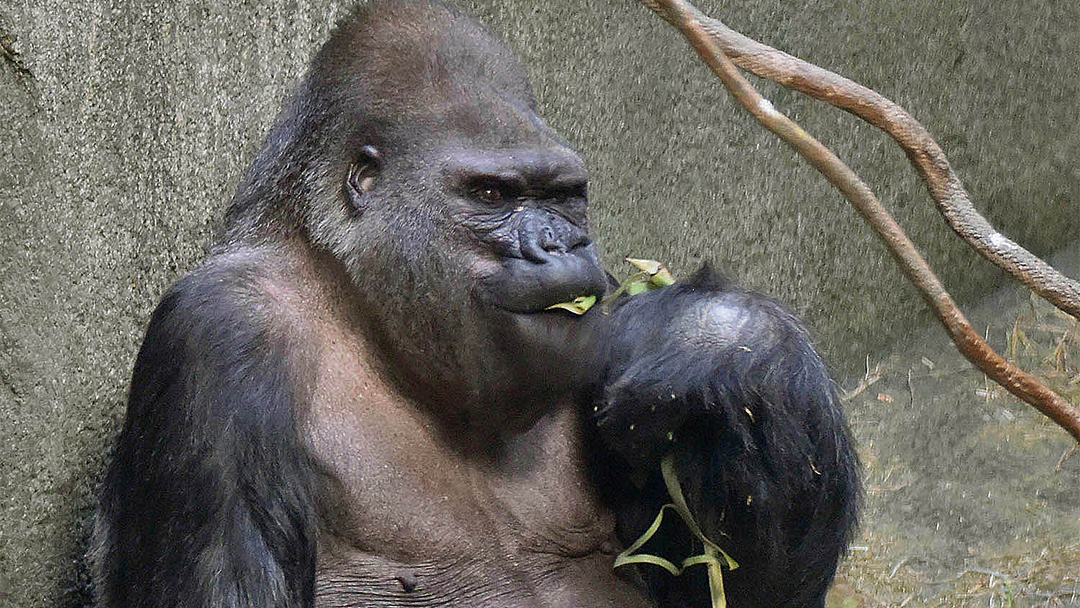 Brookfield Zoo's Oldest Animal Gets Knee Scope to Treat Arthritis
July 3: Like many humans approaching their elder years, a 49-year-old western lowland gorilla named Ramar has been dealing with knee pain.
---