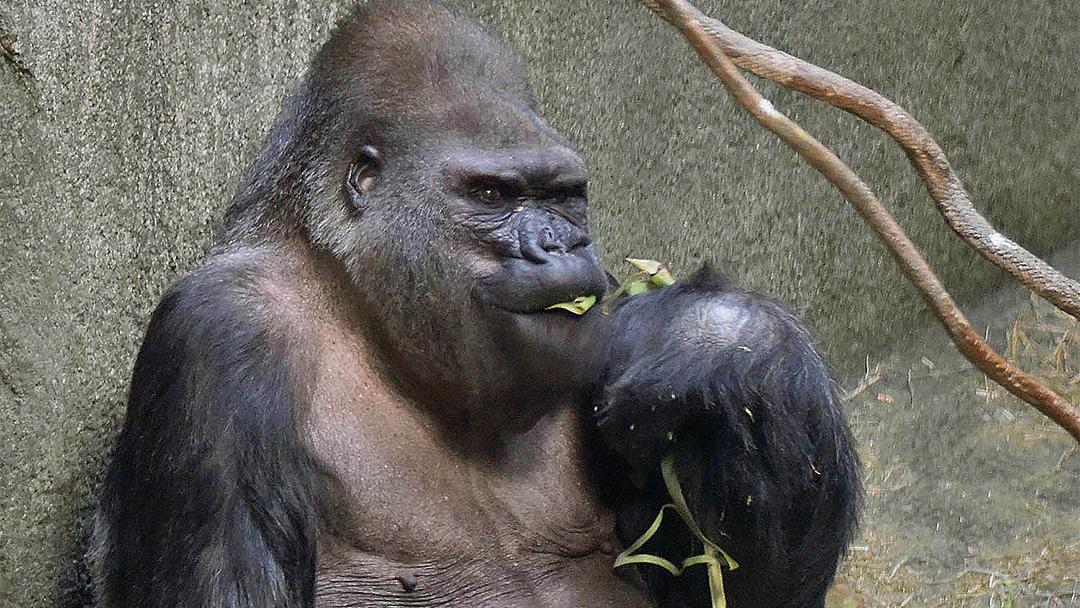 Ramar, a 49-year-old western lowland gorilla at Brookfield Zoo. (Courtesy of Chicago Zoological Society)
Like many humans approaching their elder years, Brookfield Zoo's oldest animal, a 49-year-old western lowland gorilla named Ramar, has been dealing with pain in his knees.
As animals in zoos or under other professional care live longer, they are also experiencing many of the same age-related ailments that aging humans face, including the degenerative arthritis that has slowed Ramar.
For several years, Ramar has been receiving Celebrex and Lyrica, the same pain relievers prescribed to humans, to help keep him comfortable. But last week, the veterinary staff at the Chicago Zoological Society took advantage of a dental procedure scheduled for Ramar to address the gorilla's aging knees.
On Thursday, veterinary dentist Stephen Juriga of River Heights Veterinary Hospital assisted in treating a periodontal disease affecting several of Ramar's molars. At the same time, orthopedic surgeon Mukund Komanduri from MK Orthopaedics helped CZS' veterinarians in performing an arthroscopic examination of Ramar's knees.
Chicago Zoological Society veterinary staff prepare Ramar, a 49-year-old western lowland gorilla at Brookfield Zoo, to undergo two procedures to address age-related periodontal disease affecting several of his molars and degenerative arthritis in his knees. (Kelly Tone/Chicago Zoological Society)
The minimally invasive procedure allowed staff to remove tissue of meniscal and anterior cruciate ligament tears and reduce inflammation associated with Ramar's arthritis. After the exam, Ramar received an injection of a synthetic joint lubricant and platelet-rich plasma in each knee, both of which are shown to help humans with arthritis issues.
"Similar to the care provided to an elderly person with degenerative arthritis, our goal is keep Ramar active and comfortable," said Michael Adkesson, vice president of clinical medicine for CZS, which operates Brookfield Zoo, in a press release. "Today's care will provide immediate and significant benefits."
Ramar plays an active role in his own treatment. Animal care staff have taught him a range of exercises to keep his joints limber, including presenting his shoulder, arm, foot and opening his mouth during physical therapy sessions.
"Keeping Ramar and all of our animals comfortable and active during the golden years of their lives is of great emphasis for our team," Adkesson said.
Ramar, who arrived at Brookfield Zoo in October 1998, has sired three offspring: two sons (Nadaya and Bakari) and a daughter (Kamba).
In addition to being the zoo's oldest animal, Ramar is one of the oldest western lowland gorillas in North American zoos. Western lowland gorillas are listed as "critically endangered" on the International Union for Conservation of Nature and Natural Resources Red List.
Follow Alex Ruppenthal on Twitter: @arupp
---
Related stories: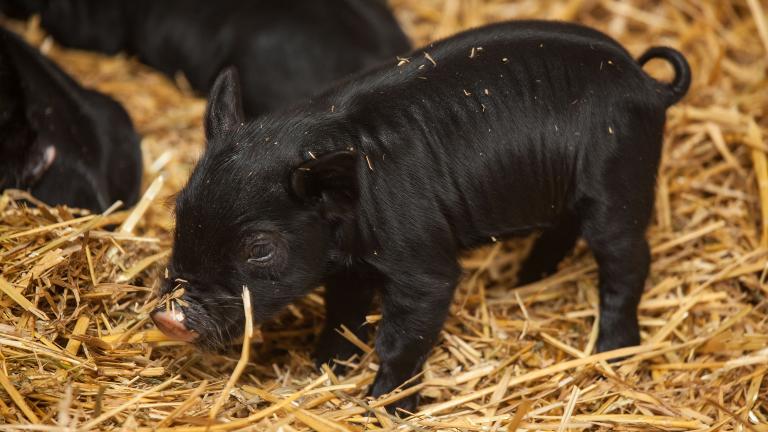 Piglets Born to American Guinea Hog at Lincoln Park Zoo
June 16: For the first time in two years, Lincoln Park Zoo welcomed the birth of piglets. Visitors can see the seven baby pigs, along with their mother, at the Farm-in-the-Zoo exhibit.
---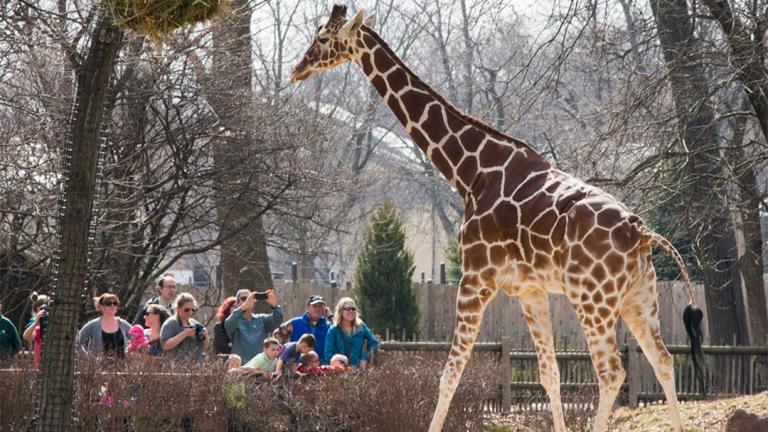 Giraffes Wear 'FitBits' to Measure Activity Rates at Brookfield Zoo
June 13: Customized activity monitoring devices are helping Brookfield Zoo staff study sleeping patterns and other behaviors in giraffes.
---
Shedd Aquarium Team Cares for Abandoned Sea Otter Pup in Alaska
June 2: On a mission from Chicago, two Shedd Aquarium staffers have been providing around-the-clock care for a sea otter pup rescued in Alaska.
---