Get ready for lots of construction at O'Hare for the next several years.
City Council on Wednesday approved a massive $8.5 billion expansion plan that will result in modernized terminals and more gates. The vote was one of several big-ticket items on the plate at City Hall, with aldermen tackling competing proposals on police oversight.
The O'Hare proposal passed City Council with flying colors. And with the project now ready to get off the ground, the city released more details, saying it expects to create 60,000 jobs and grow the capacity at the airport to 100 million. The city on Wednesday also unveiled more mock-ups of the plan, which calls for an expansion of Terminal 2, with two satellite terminals and an underground tunnel connecting them. This will become the new international hub terminal. The current international terminal – Terminal 5 – will be expanded with more gates and it will become a domestic terminal with Delta and other airlines as primary carriers.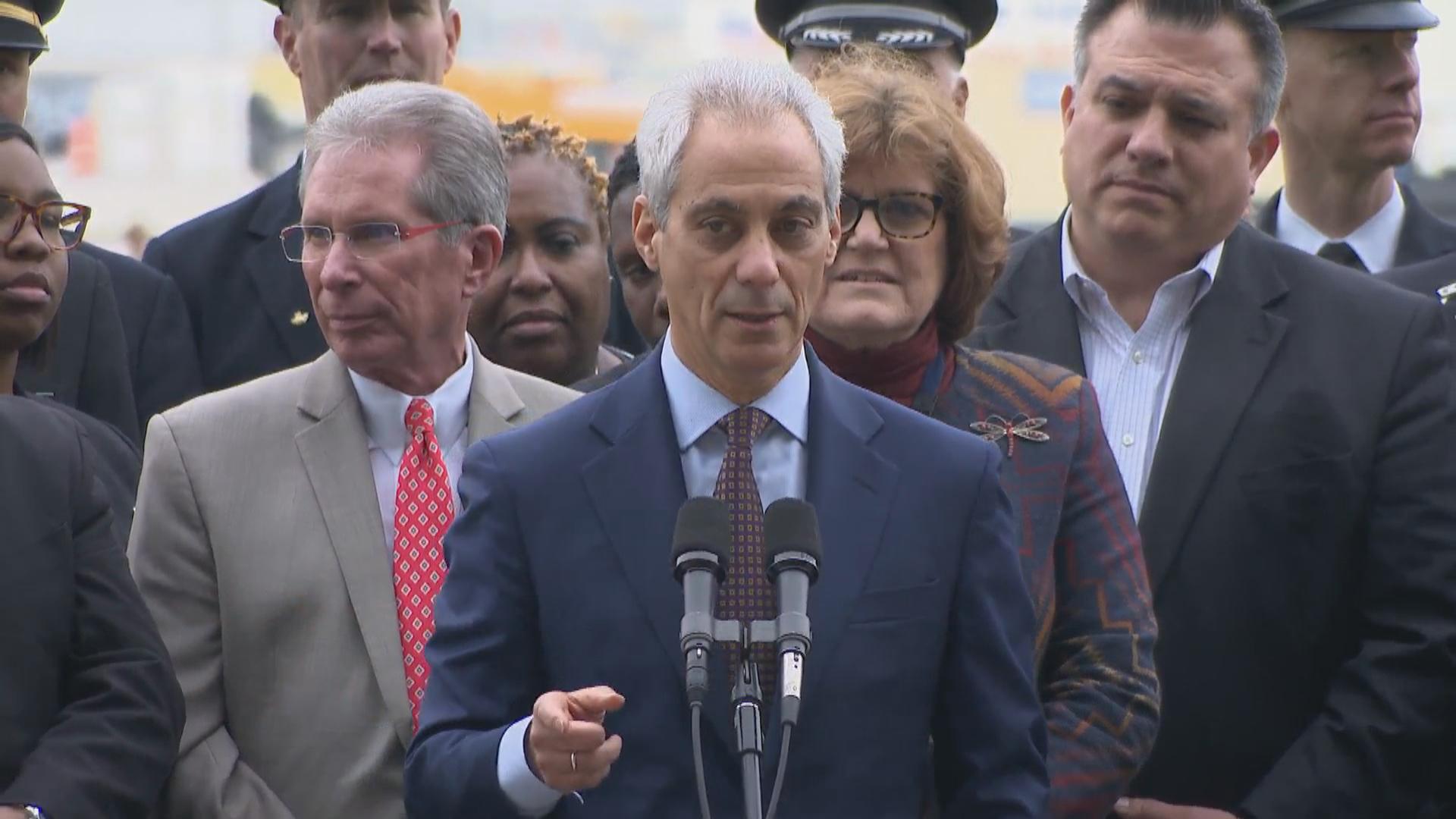 "In signing this agreement today, we are securing and strengthening Chicago's future," Mayor Rahm Emanuel told media at O'Hare International Airport on Wednesday, March 28, 2018.
Emanuel and executives from United and American Airlines officially signed the agreement Wednesday afternoon. Remember, American was a holdout – they felt the deal was giving an unfair advantage to United – but then all sides made peace at a last-minute deal to speed up the opening of three new American gates. On Wednesday, it seemed like a distant memory.
"I want to express our special thanks to the mayor who listened to our concerns and worked creatively over the last 19 months to design a new airport and new agreement that would work for all people," said American Airlines Executive Vice President Steve Johnson.
Johnson shared the stage with public officials including Emanuel and United CEO Oscar Munoz – a top competitor.
"If there's one thing the airlines can agree on, which isn't often, but it's that airports make a difference," said Munoz. "And when you have the kind of facilities that they're building here in Chicago, the second city will have an airport that is second to nowhere else in the world."
The big thing on the minds of aldermen throughout this process has been that three letter word: j-o-b. Who's getting the contracts? A new aldermanic oversight committee will have power to police whether or not minority and female-owned firms are getting their fair share of the pie.
"There's obviously going to be plenty of jobs and work to go around, we want to make sure it's held in a fair manner and all groups can participate," said Ald. Mike Zalewski, chair of City Council's Aviation Committee.

Police oversight
Also on Wednesday: action on a pair of police oversight issues. A coalition of community groups helped draft an ordinance for a new police oversight agency that would be made up of all non-police civilians. They would have a say in the policy of the police department, and as it stands now, the power to possibly fire the police superintendent.
"It's not community control of the police department, that's not what we're looking for," said Ald. Roderick Sawyer, a co-sponsor of the ordinance. "I want the superintendent to run the police department without any unreasonable constraints based upon community input, not community control."
An alderman closely aligned with Emanuel introduced his own competing version that would be far more watered down, and denied that it was an attempt to circumvent Sawyer's ordinance.
"Their version is going to be heard as well," said Ald. Ariel Reboyras. "We're going to try and work on it so we can try and come up with one comprehensive plan."
This oversight body would be in addition to the Police Board and COPA, which is the agency that investigates police misconduct. Speaking of – COPA has a new leader: Sydney Roberts, a former state inspector general and current head of the Illinois Secretary of State police. There is some concern that the role should go to someone not tied to any police. But Reboyras, the alderman of the committee that stands to confirm her appointment, says she fits all the requirements.
"She was an inspector general, so she's seen the good points and not so good points and made decisions. She understands what her role is and what she wants to do in the city of Chicago.
Roberts would take over for Sharon Fairley who stepped down to run for Illinois attorney general.
Follow Paris Schutz on Twitter: @paschutz
---
Related stories:
City Council Approves Ordinance Banning Future Manganese Operations
United, American Lobby Alderman on $8.5 Billion O'Hare Plan
City's Goals for O'Hare Expansion Include More Gates, Competition
---