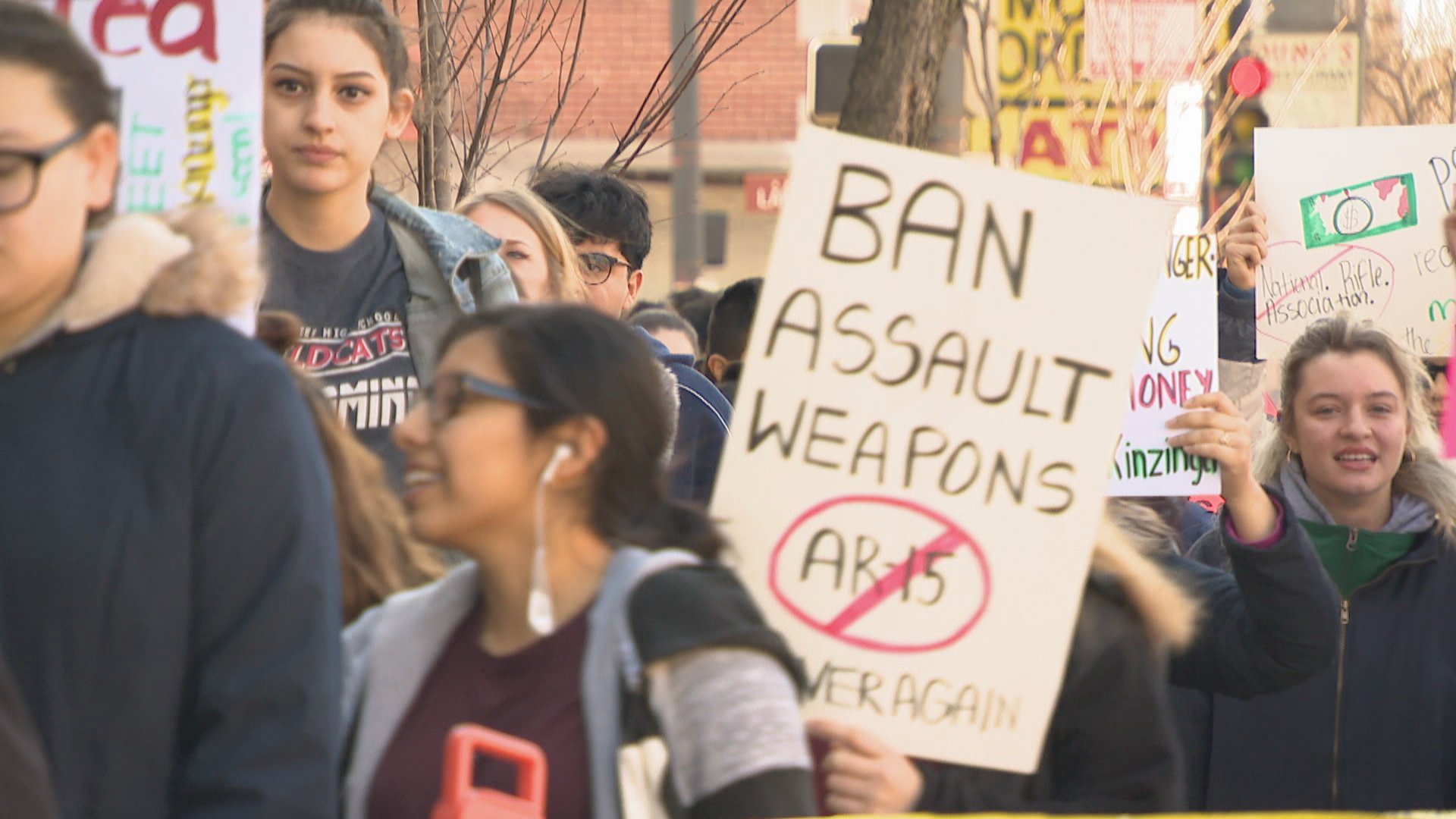 Students march outside Lake View High School on Wednesday, March 14 in a call for strict gun law reforms. (Chicago Tonight)
Mya Middleton knows what it feels like to stare down the barrel of a gun.
Two years ago, the Chicago native, then a freshman at North Grand High School, was running an errand for her mom, walking from her home in the Austin neighborhood on the West Side to a local grocery store to pick up a few household items.
"I'm grabbing cough medicine and chips and Sprite and all this," she remembers. "Finally I get into line, and the guy in front of me all of a sudden gets upset because he didn't have enough money to pay for the things he wanted to buy.
"So he gets out of line and starts trashing the store."
Middleton tried to ignore the situation and continued on. She paid for her items and was heading for the exit as the man ripped items from the shelves and shoved carts around the store.
"I check out, get all my stuff and go, and then there was a loud scream – and I turn around because I'm by the door at this time – and I see him grabbing a bunch of stuff and putting it into his jacket," she said.
"He looked at me and started coming toward me. I couldn't move. I was paralyzed. All I saw was a pair of dark pants coming toward me. He pulls out this pistol and places it directly in my face and tells me … 'If you say anything, I will find you.'
"And then he left."
This weekend, Middleton and nine other student members of After School Matters, a Chicago nonprofit offering after school and summer programming to local teens, will travel to the national March For Our Lives event in Washington, D.C. The student-led demonstration is expected to draw tens of thousands to the nation's capital in a call for gun control legislation.
Middleton has been asked to speak at the event, where she'll share her experience.
"I just want the government to realize we're upset. We're mad (the government isn't) doing anything," she said. "We're tired of being pushed away and we're tired of just being people's faces on the news for only 10 minutes and then it all goes away the next day.
"They really need to put a stop to this before it gets worse."
Hundreds of similar marches are set to take place Saturday in cities throughout the U.S. – including Chicago – and beyond.
The gatherings come just over a week after tens of thousands of students led classroom walkouts at schools in Chicago and across the country in a demand for stricter gun laws. Some of those same students are taking part again this weekend in Chicago's Union Park, along with speakers from Young Urban Progressives, Black Lives Matter Youth, Global Majority Youth and Kids Off the Block.
Like the student walkouts, this weekend's rallies come in response to the mass shooting that killed 17 people last month inside Marjory Stoneman Douglas High School in Parkland, Florida. Student survivors of that attack have become vocal gun reform advocates, regularly criticizing both the National Rifle Association and the legislators who support them.
Following the Parkland shooting, President Donald Trump pushed for arming more teachers, hoping they could stop potential shooters. Others have sought to add metal detectors or armed resource officers inside schools.
An officer inside a Maryland high school was reportedly able to locate and stop a school shooter earlier this week. Days before that, an armed teacher inside a California high school accidentally fired his weapon, injuring one or more students.
Many Chicago teens say they don't want more guns in schools and feel increased security measures make those environments feel like a prison. They see the march as a "beginning step" and hope to educate people about the ongoing effects of gun violence.
Chicago march organizers say they hold arms manufacturers and dealers accountable for the city's "plague of preventable gun violence," and blame neighboring states with lax gun laws for making it easier to bring weapons into Illinois. Other marches are planned in Downers Grove, Glen Ellyn and Vernon Hills.
"The March will allow us to bring attention to the unjust equities in how gun violence is treated in America and the need to help the entire communities who are experiencing trauma from gun violence," Marley Rosario, student organizer of March for Our Lives Chicago, said in a statement. "The March will show that it is time for a change – and student voices are leading this movement."
Too many of us have been affected by gun violence in school. We refuse to live in fear. We must put an end to this. Sign the petition here: https://t.co/j2PTXghy2j #MarchForOurLives pic.twitter.com/F0Betx1qOd

— March For Our Lives (@AMarch4OurLives) March 17, 2018
---
Now 16 years old, Middleton's experience in that Austin grocery store left a lasting mark. For a time, she had trouble leaving her home to go anywhere but school and even now suffers from nightmares where she relives the incident.
"There are days where I can still see the gun vividly in my face and his dark jeans and his jacket," she said. "I still remember the day, it was very cold, and I still get chills. I can be very hot and all of a sudden my body will just turn frigid and I'll get cold just thinking about it."
Middleton turned to writing as a coping mechanism, pouring her thoughts and fears from her past onto paper. She's now a member of After Schools Matters' creative writing program and said this outlet has helped her deal with the trauma.
As she heads to Washington, Middleton wants her story to inspire others to share their experiences so more people can understand the impact of gun violence in Chicago and across the country.
"When I speak I want them to know I understand their pain. I cry with you, I scream with you," she said.
"I want them to know I'm here with you, and like you I want our story to be shared and I want it to be vocally known that yes we are upset, yes we are mad, yes we are growing increasingly scared by the fact that we could be wiped out entirely if government doesn't take action on this."
More than 10,000 people are expected to join in the Chicago rally according to the event's Facebook page. The event begins at 11 a.m. in Union Park Saturday followed by a march around 11:45 a.m.
Contact Matt Masterson: @ByMattMasterson | [email protected] | (773) 509-5431
---
Related stories: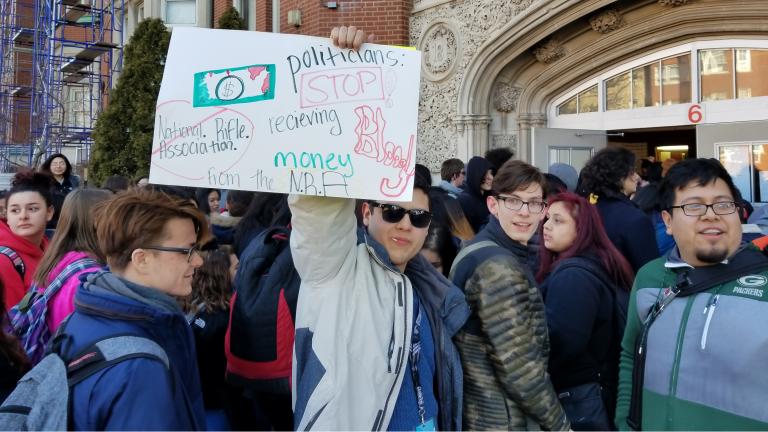 Chicago Students Call for Gun Reform in Massive Walkout
March 14: Thousands of students from Chicago schools, including Lake View High School, joined in the nationwide protest held one month after a shooting left 17 dead inside a high school in Parkland, Florida.
---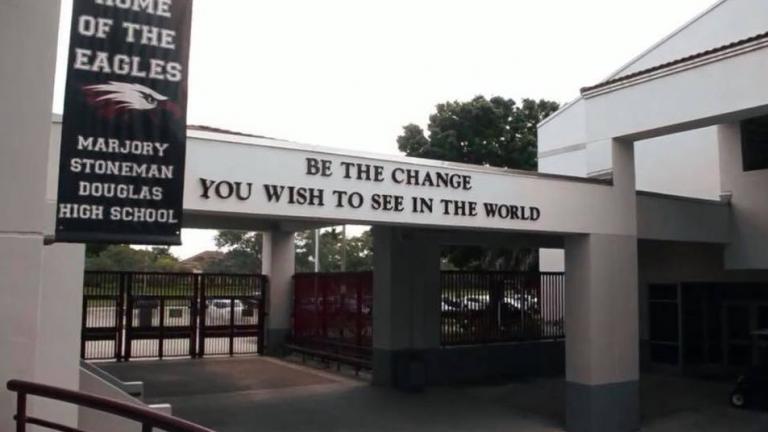 Marjory Stoneman Douglas Alumni Host Benefit for 'March for Our Lives'
March 6: A benefit on March 18 on Chicago's Near North Side to will raise funds for the March 24 event, which will coincide with marches across the country calling for gun reform in the U.S.
---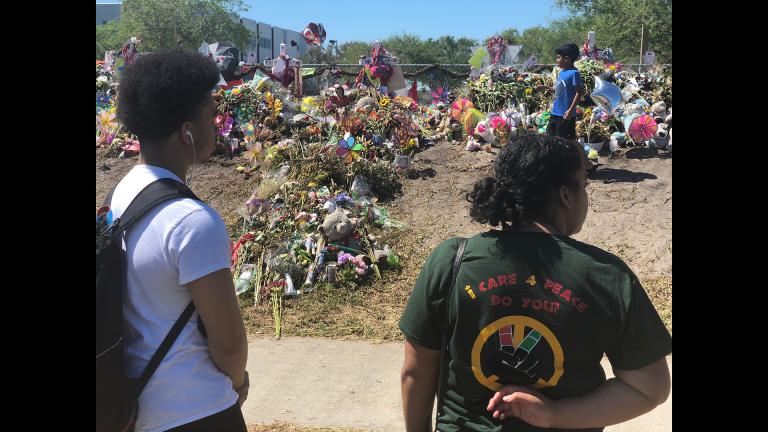 Chicago Students Talk Gun Violence with Parkland Shooting Survivors
March 6: Chicago students and activists spent Saturday afternoon at the Florida home of a Parkland shooting survivor and her classmates to discuss the impact gun violence has had on their lives.
---