Chicago teens hold a three-minute "die-in" at City Hall on Monday, June 11 in remembrance of Maurice Granton Jr. and others killed by the Chicago Police Department. (Matt Masterson / Chicago Tonight)
Teens from across Chicago joined survivors of the Parkland high school shooting and local activist groups Monday to speak out against gun violence and call for justice days after a man was shot and killed by a Chicago police officer.
The students filled the second floor of City Hall holding signs and mock gravestones with the names of men and women shot and killed by Chicago police, including Laquan McDonald, Quintonio LeGrier, Bettie Jones and Maurice Granton Jr. – a 24-year-old man who was shot and killed last week as he ran from Chicago Police Department officers.
"I want justice for my brother. We just left the funeral home picking out a casket for my brother. He's not coming back," Granton's sister Joanna Varnado said through tears Monday afternoon. "He was a good person."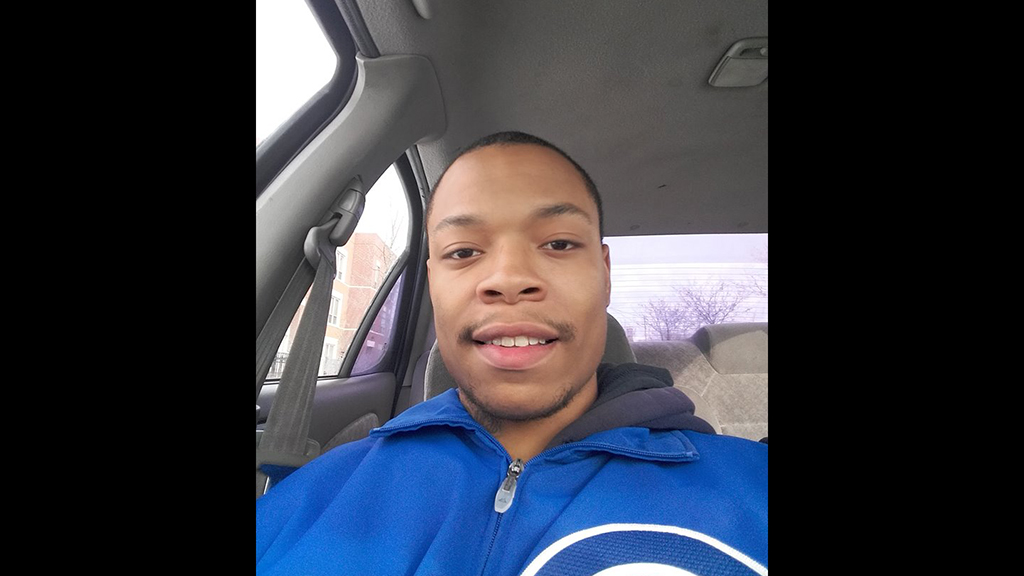 Maurice Granton (Facebook)
Granton was fatally shot in the back Wednesday evening following what the CPD described as an "armed encounter" with officers in the 300 block of east 47th Street on the South Side. Officers were there conducting a narcotics investigation, according to a preliminary CPD statement, when Granton fled on foot.
The officers told Granton to stop, at which point they say he produced a weapon. One officer then fired three shots, killing Granton.
Police recovered a firearm at the scene, but Granton's family contends it didn't belong to him and says he was unarmed.
"He was just a really good person," said Latayshia Shaw, the mother of Granton's two young children. "He was a terrific father, I can't even explain how much he did for our girls."
A day after the shooting Chicago police released security video that apparently shows Granton holding a semi-automatic handgun before the shooting that officers later recovered.
UPDATE; Video prior to last night's officer involved shooting shows offender holding what turned out to be a semi automatic handgun that was later recovered by officers. pic.twitter.com/6nTI90CFsm

— Anthony Guglielmi (@AJGuglielmi) June 7, 2018
---
The Civilian Office of Police Accountability released a statement that same day saying it had reviewed footage from the responding officers' body-worn cameras and interviewed several witnesses as part of its ongoing investigation.
"We are in the early stages of this investigation; more interviews and other investigative steps are necessary before a conclusion can be reached," the office said in its statement last week. "COPA is committed to conducting a full, thorough and objective investigation and we seek the community's cooperation and patience to allow us to be guided by our principles of integrity, timeliness, independence, and transparency."
CPD spokesman Anthony Guglielmi has said the body camera footage will eventually be released, though it's COPA that determines when exactly that will occur. The officer involved in the shooting has been placed on routine administrative duties for 30 days and the department says it's conducting a comprehensive use-of-force investigation.
The teens also held a three-minute "die-in" Monday in remembrance of Granton and others killed by the Chicago Police Department, and spoke out against a $95 million police and fire training academy that's been proposed for the city's West Side. That building would reportedly include a new shooting range and swimming pool.
"Black students get suspended at a rate three times higher than white students," said Alex Wind, a Marjory Stoneman Douglas High School student who has become a vocal anti-gun activist after a classmate killed 17 people inside his school in February.
"That is an issue. That is a problem that needs to be fixed and a $95 million police academy is not going to fix that issue. It is only going to make worse."
Local teens say Mayor Rahm Emanuel should instead put that money toward bolstering mental health facilities and Chicago schools, especially after the city decided to close four Englewood high schools.
"People are getting killed by police officers and instead of properly investing into these communities … he's just going to build a place where they can go swimming once in a while," Woodlawn teen Alycia Moaton said. "I don't think that's a safe thing. We don't feel safe."
Contact Matt Masterson: @ByMattMasterson | [email protected] | (773) 509-5431
---
Related stories:
Chicago Police Seize 100th Assault Weapon This Year
Gun-Rights Advocates Beat Back Effort to Regulate Illinois Gun Dealers
Parkland Shooting Survivor Wants Fresh Focus on 'Never Again' Movement