A group of Chicago teens traveled to Washington, D.C., to participate in the March For Our Lives rally Saturday calling for gun control legislation. The event drew hundreds of thousands to the National Mall.
Among the participants were 11 teenagers from After School Matters, a nonprofit which provides Chicago youth with various afterschool and summer programming.
Mya Middleton, 16, from Chicago's Austin neighborhood was invited by event organizers to speak about her experience of coming face-to-face with the barrel of a gun at the age of 13.
"Guns have become the voice of America and the government is becoming more negligent by this predicament by the day," Middleton said to a sea of attendees Saturday. "Join me in sharing my pain and my anger. Help us by screaming to the government that we are tired of crying for help to a group of people that have turned their backs to us, despite their reassurance of making our country safer."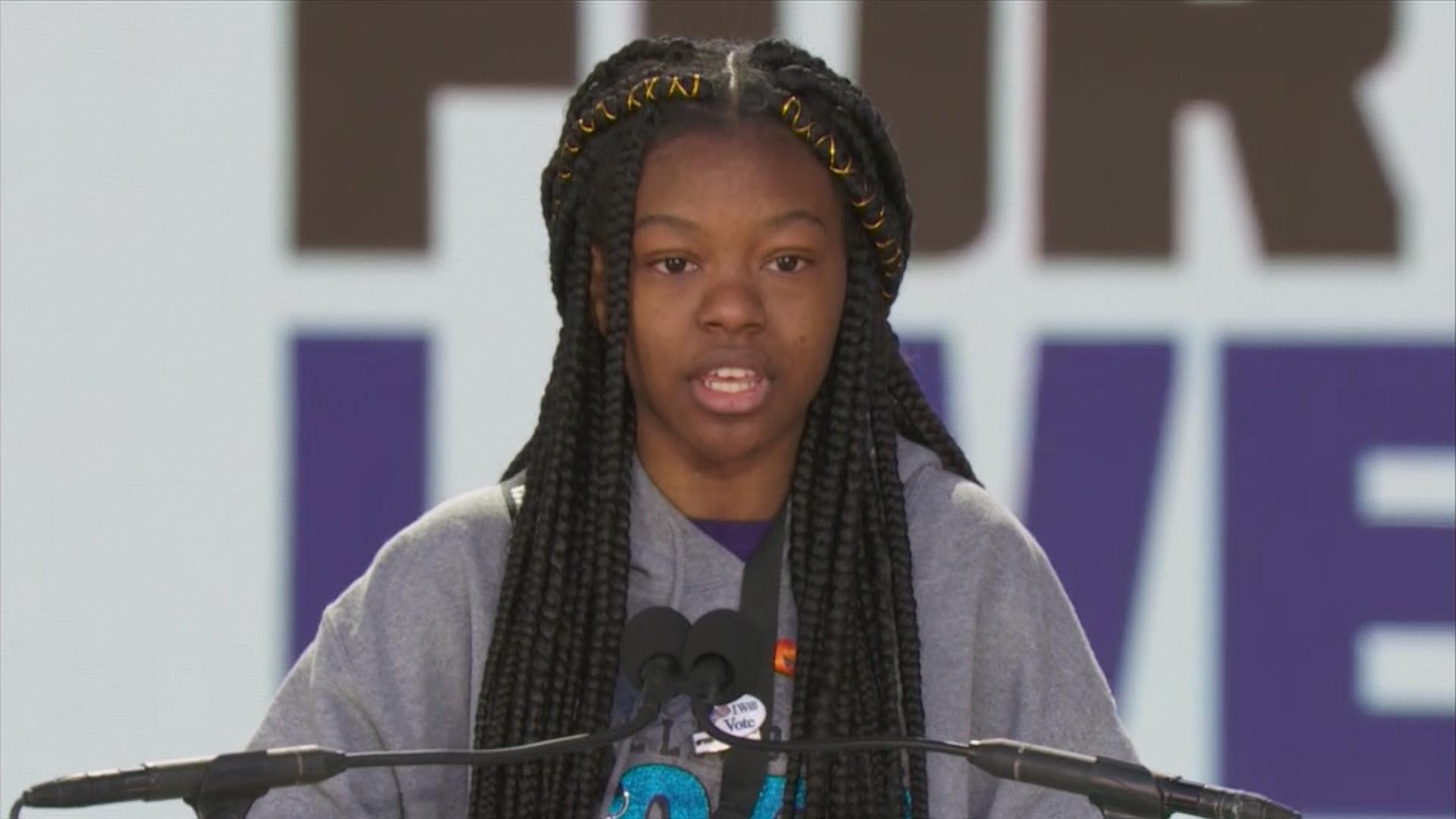 Chicago student Mya Middleton, 16, speaks at the March For Our Lives in Washington, D.C., on March 24, 2018.
Carl Woods, 17, who lives in Roseland, also attended the rally and said the experience helped him realize the power of the student-led gun control movement sparked by a mass shooting at a Florida high school Feb. 14.
"I really enjoy being a part of history in the making and seeing how powerful the youth can be and how amazing it is when everyone gets together to do things," Woods said Monday. "I'm seeing how impactful we're going to be in this future election."
Woods said two years ago, just after summer break started, he received a call that one of his friends and classmates at Urban Prep Academy in Englewood had been shot and killed. 
"I had to end up going to that funeral and seeing him there and seeing all my friends there together was very sad and emotional," Woods said. "It was the first time I had to deal with gun violence. Having someone close to me being shot and killed dramatically affected me."
While the weekend protests in D.C. and across the U.S. were sparked by the shooting in Parkland, Florida, Woods said the everyday gun violence plaguing Chicago is sometimes overlooked.
"We shouldn't be prone to this because it's not something that happens everywhere you go," said Woods, who aspires to study law at UCLA and one day preside over a reality courtroom TV show. "It's very heartbreaking to hear that things happen on an everyday basis here. There's a lot we can do to avoid this, like using gun control laws in place to stop these killings.
Middleton and Woods join us to discuss their experiences at the March for Our Lives and their plans to continue advocating for gun control.
Follow Evan Garcia on Twitter: @EvanRGarcia
---
Related stories:
Chicago Teen to Victims of Gun Violence: 'I Cry With You, I Scream With You'
Chicago Students Call for Gun Reform in Massive Walkout