As the saying goes, there's no rest for the weary.
Not for weary, undoubtedly bone-tired Gov. Bruce Rauner and newly minted Democratic nominee J.B. Pritzker, both of whom were back on the campaign trail bright and early Wednesday morning.
Nor will voters weary of incessant campaign ads and attacks get any reprieve.
Rauner and Pritkzer both debuted fresh ads Wednesday—Rauner used Pritkzer primary rivals Sen. Daniel Biss and Chris Kennedy "in their own words" to slam Pritkzer, while Pritkzer uses news reels shaming Rauner for "four years of failures" as governor.
Both men have the personal wealth to do it.
Rauner's a billionaire, or close to one anyway; Pritkzer spent about $70 million of his $3-plus billion fortune on the primary alone. 
How much more he'll spend is unclear; it may be limitless. In an interview Wednesday with Chicago Tonight, Pritkzer wouldn't share whether he's set a personal spending cap on his campaign, which he's committed to entirely self-funding.
"Wresting control of this state from Bruce Rauner is the highest priority and the people of Illinois are worth it," Pritzker said. "We need campaign finance reform in Illinois. We need to overturn Citizen's United. We need to change the system. But the person who stands in the way of that is the guy who started in December of 2016 (Rauner) writing himself a $50 million check to his campaign and then accepting tens of millions of dollars from the Koch brothers network during this campaign, as he has over the last three years. We've got to follow Sen. Paul Simon's advice, which is: If you want campaign finance reform, go fight for it. But you can't unilaterally disarm while the Republicans are coming after you with all their money."
While the millions Rauner spent on ads vilifying primary challenger state Rep. Jeanne Ives as an acolyte of Democrat Michael Madigan may have helped him squeak out a win in Tuesday's primary, they're getting in the way of his attempts to bridge the deep divisions within GOP ranks.
Rauner—once feared by Republican lawmakers and revered by party faithful for reenergizing the party in 2014—bested Ives by less than 3 points.
The governor, who told Chicago Tonight his schedule was "too packed" to be on the program the day after the primary, told WGN-News on Wednesday morning that he would work to bring disenfranchised conservatives back into the fold.
"Now is the time for us to unite, to come together, on the things we can agree on," Rauner said, mentioning lower taxes, job growth and term limits for legislators. "I respect the various points of view. I don't focus on social issues. They divide us at a time we need to unite to fix our economic problems. And my focus is on unifying everyone, Republicans and independents and reform-minded Democrats."
Rauner said though he had not yet spoken with Ives, he "looks forward" to visiting with her.
"Primaries are divisive," he said. "Now is the time to move past that."
Ives is showing no interest.
Though she'd previously said she would vote for Rauner should she lose, her husband will not, according to Ives spokeswoman Kathleen Murphy.
"I don't know why she would talk to him," Murphy said, citing Rauner's ads, his giving a victory speech Tuesday before calling Ives and sending "slimy political operatives" to "disparage her and her conservative supporters."
"He lies with every breath he takes apparently," Murphy said.  "Why would she trust or believe anything he has to say?"
Murphy said Ives is spending time with family, doing the laundry, regrouping.
Pritzker shouldn't have the same trouble coalescing Democrats.
Rauner, however, is casting Pritzker as a Madigan cog and a tax cheat, citing a Chicago Tribune investigation into Caribbean shell companies in Prtizker's name.
Prtizker on Wednesday told Chicago Tonight that the Tribune "got it wrong," and in its reporting failed to include portions of forms that showed that he had not created the companies.
Pritkzer says it's as he's always said: Trusts set up generations ago by his ancestors are controlled by a banks that makes investments; instead of personally taking distributions from them, his portion goes to straight to charitable organizations.
Pritkzer said he is not considering repatriating the money.
"No, I think, that, again, because they're all dedicated to charity, it would have the same effect. Everything goes to these charitable organizations whether it's medical research or expanding school breakfast or doing things that I think are really good for people in Illinois and across the nation, and I'm proud of that."
Pritzker said the amount saved by the trusts because they're offshore is negligible, because taxes are not paid on charitable contributions.
When asked, then, what the purpose having the trusts offshore serves, Pritkzer said "I didn't create them, they were created generations ago."
Voters, apparently, are unconcerned.
Pritkzer dominated, winning all but four of Illinois' 102 counties.
Despite holding a press conference Wednesday to characterize Rauner as a "failure," he says he wants to run a campaign focused on "kitchen table" issues, such as working for a public option for health care, making college more affordable and legalizing marijuana in Illinois. Pritzker wants to pay for services with a graduated income tax—something which would require a constitutional amendment, as currently the constitution explicitly requires a flat rate.
Pritkzer was unwilling to give specifics about what brackets or rates he'd implement should legislators pave the way for a progressive tax structure.
"We need to pass a constitutional amendment. In order to get that passed, we need to make sure that we've negotiated with the legislature what the rates ought to be, and then we'll present all of that to the voters, and then we'll get that constitutional amendment passed," Pritkzer said.
He likewise downplayed the possibility of putting the amendment question before voters in November's election, given that it would require a super-majority of both chambers of the General Assembly.
Democrats hold a supermajority in the Illinois Senate, but miss that threshold by four in the House.
While it's possible Democrats could win the necessary 71 House seats in November, it's also possible Republicans take a bite into Democrats' majority, which would make it more difficult to get a progressive tax question on the ballot in the 2020 election cycle.
Follow Amanda Vinicky on Twitter: @AmandaVinicky
---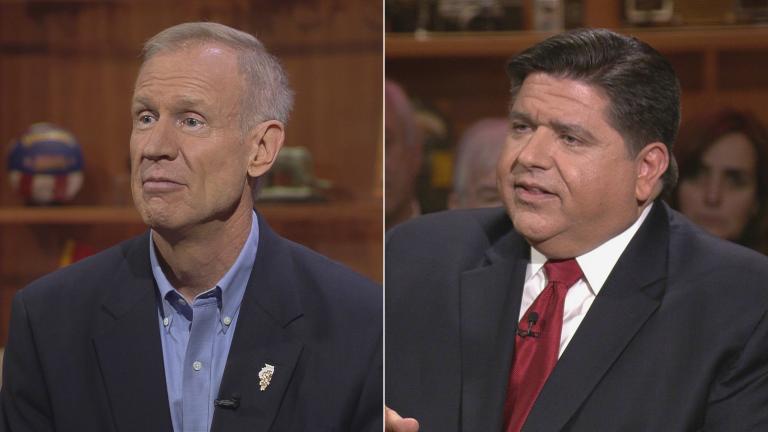 Battle of the Big Bucks: It's Pritzker vs. Rauner for Illinois Governor
March 20: Brace yourselves, Illinois residents. The matchup between Gov. Bruce Rauner and venture capitalist J.B. Pritkzer virtually guarantees incessant campaigning and political ads leading up to the Nov. 6 general election.
---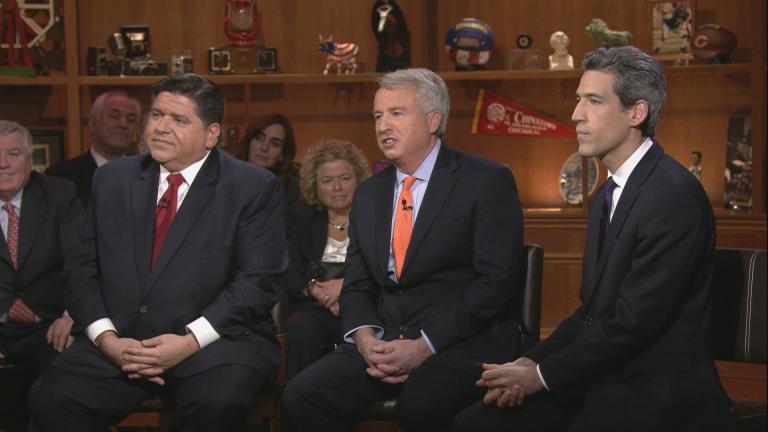 Pritzker's Offshore Holdings Under Fire in Final Governor's Race Forum
March 14: Democratic gubernatorial front-runner J.B. Pritzker came under intense scrutiny during an hourlong candidate forum Wednesday on "Chicago Tonight" – the final such event before the March 20 primary election.
---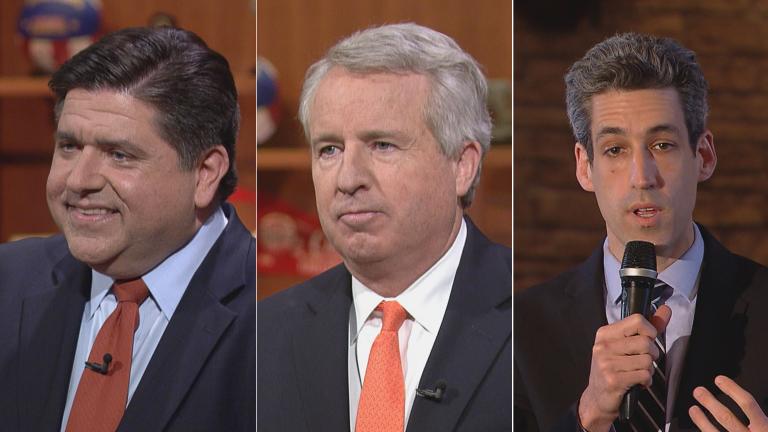 2018 Governor's Race Forum: Democratic Candidates
March 14: In their final meeting before the primary, the top three Democratic candidates for governor explain why they should represent their party in November. J.B. Prizker, Chris Kennedy and Daniel Biss join us.
---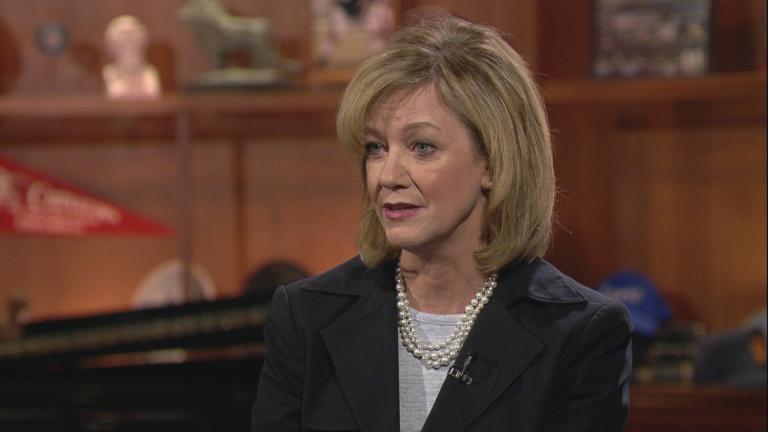 2018 Governor's Race Forum: Republican Jeanne Ives
March 13: State Rep. Jeanne Ives is running an insurgent campaign to challenge Gov. Bruce Rauner in the Republican gubernatorial primary on March 20. Hear about her campaign and plans for the state in our full video.
---