Primary election day arrived in Illinois with a record number of voters in Chicago and suburban Cook County having cast early ballots.
The Chicago Board of Elections says a total of 109,029 pre-election ballots were cast over the nearly four-week period that began on Feb. 21 and ended Monday – the longest early voting period the city and Cook County have ever had. The city tally included 4,179 grace period ballots, late registrations and updates of existing registrations.
The record turnout represents "more than double the numbers from 2010 and roughly triple the numbers from 2014 (midterm elections)," according to Chicago Board of Elections spokesman Jim Allen.
Cook County Clerk David Orr said suburban turnout was the highest for a midterm election with over 100,000 early votes cast.
But election officials warned that early voter enthusiasm may not be an indication of turnout on Tuesday. A spokesman for Orr said 86,559 out of 1.5 million registered suburban voters had cast ballots by 11 a.m. Tuesday. Officials say the number is consistent with recent midterm primary elections but still ahead of the 2014 race.
Polls are open in the state until 7 p.m.
Cook County says only minor problems were encountered at a few precincts Tuesday, such as a political worker in Niles Township who was within 100 feet of a polling place and a card activator not functioning in Oak Park. 
One campaign, however, was sounding an alarm on what they characterized as "election manipulation." Cook County assessor candidate Andrea Raila says her campaign began receiving alerts Monday evening from election judges in suburban Cook County that their election packets contained green sheet notices stating Raila "is disqualified and a vote for her will not count."
Related: Chaotic Cook County Assessor's Race Under Cloud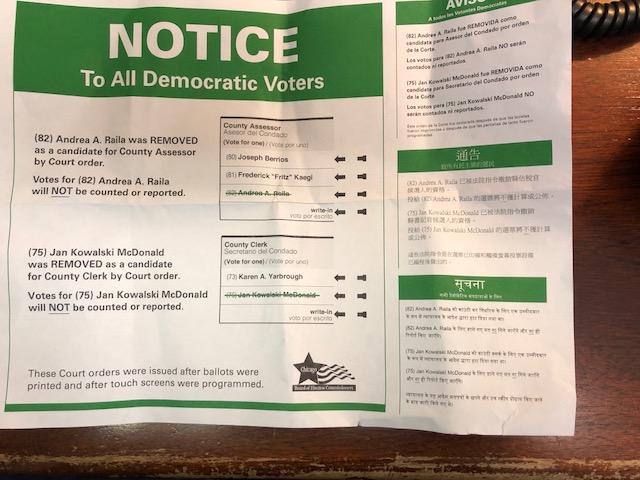 The notice stating a vote for Andrea Raila for Cook County assessor would not count.
Raila, who is running against incumbent Joseph Berrios and asset manager Fritz Kaegi, has been on and off the ballot over the last month as her nominating petitions were challenged in court. Last Wednesday, a three-judge appellate court panel determined she was qualified to be on the ballot. But until then the green sheet notifications stating the contrary were distributed to early voters.
Cook County Assessor's Race: Andrea Raila in the Running After All
A spokeswoman for Raila said several representatives of the campaign, including the candidate herself, "went on a tour of polling places (Tuesday) morning. Numerous polling places had the green sheet notices stating Andrea Raila is disqualified and a vote for her will not count — The notices were placed on judges tables, being handed out, and even posted on the wall."
A spokesman for the Chicago Board of Elections told Chicago Tonight they received reports of the green sheets at a "few precincts" and that they had "addressed it." According to the CBOE, election judges got a replacement pamphlet that only warned voters that Jan Kowalski McDonald, a candidate in the race for Cook County clerk, was removed from the race. (She was challenging Karen Yarbrough for the seat.) "They were supposed to hand that out, not green one," said a Cook County spokesman.
Shortly after 11 a.m., Chicago election precincts received a text from the elections board stating, "Please remove all green and white notices and signs that reference Raila. Do not give these out to voters." Raila is scheduled to hold a news conference Tuesday afternoon to address the issue.
Nick Shields, a spokesman for Orr, said his office had not received any complaints regarding Raila notifications.
---
More primary election coverage: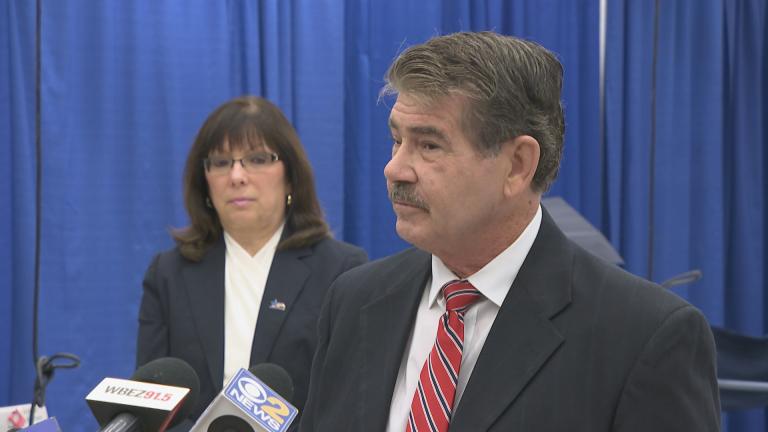 Early Voting Surges in Chicago and Suburban Cook County
March 19: The Chicago Board of Elections says nearly 86,000 city residents cast ballots between Feb. 21 and March 18, surpassing the number of early voters in the 2010 and 2014 midterm primary elections combined.
---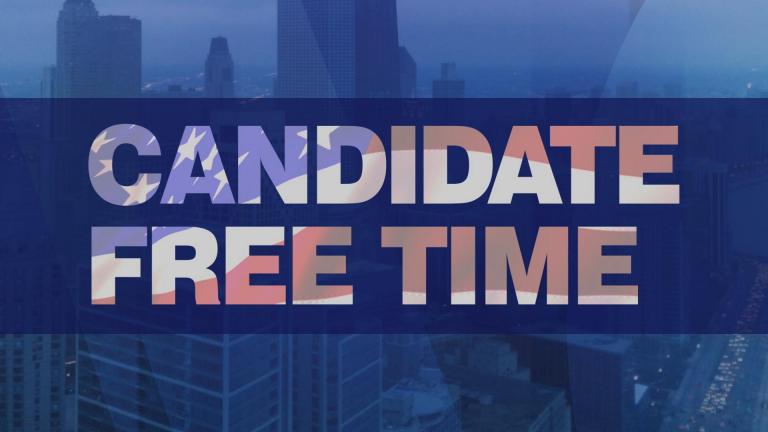 2018 Voters' Guide to the Cook County Primary
WTTW's 2018 Voters' Guide to the Cook County Primary is an online resource designed to inform voters about the candidates running for office in the March 20 election. Learn more.
---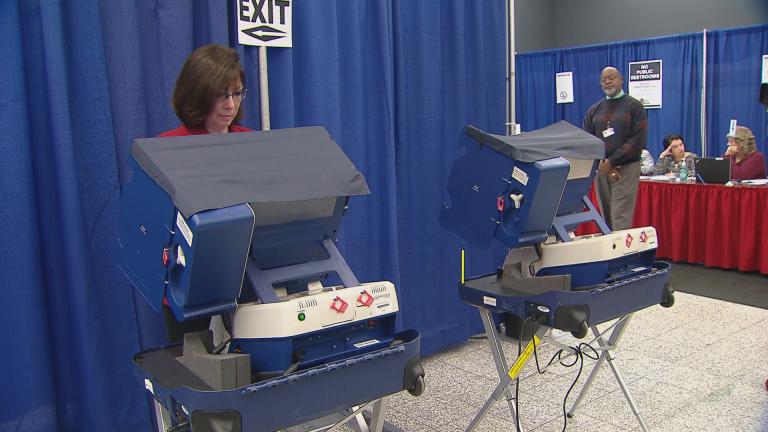 Early Voting for March Primary Gets Underway, Though Ballot Issues Persist
March 5: Illinois voters can begin casting their votes in a series of heavily contested primary races, as early voting began in earnest Monday.
---