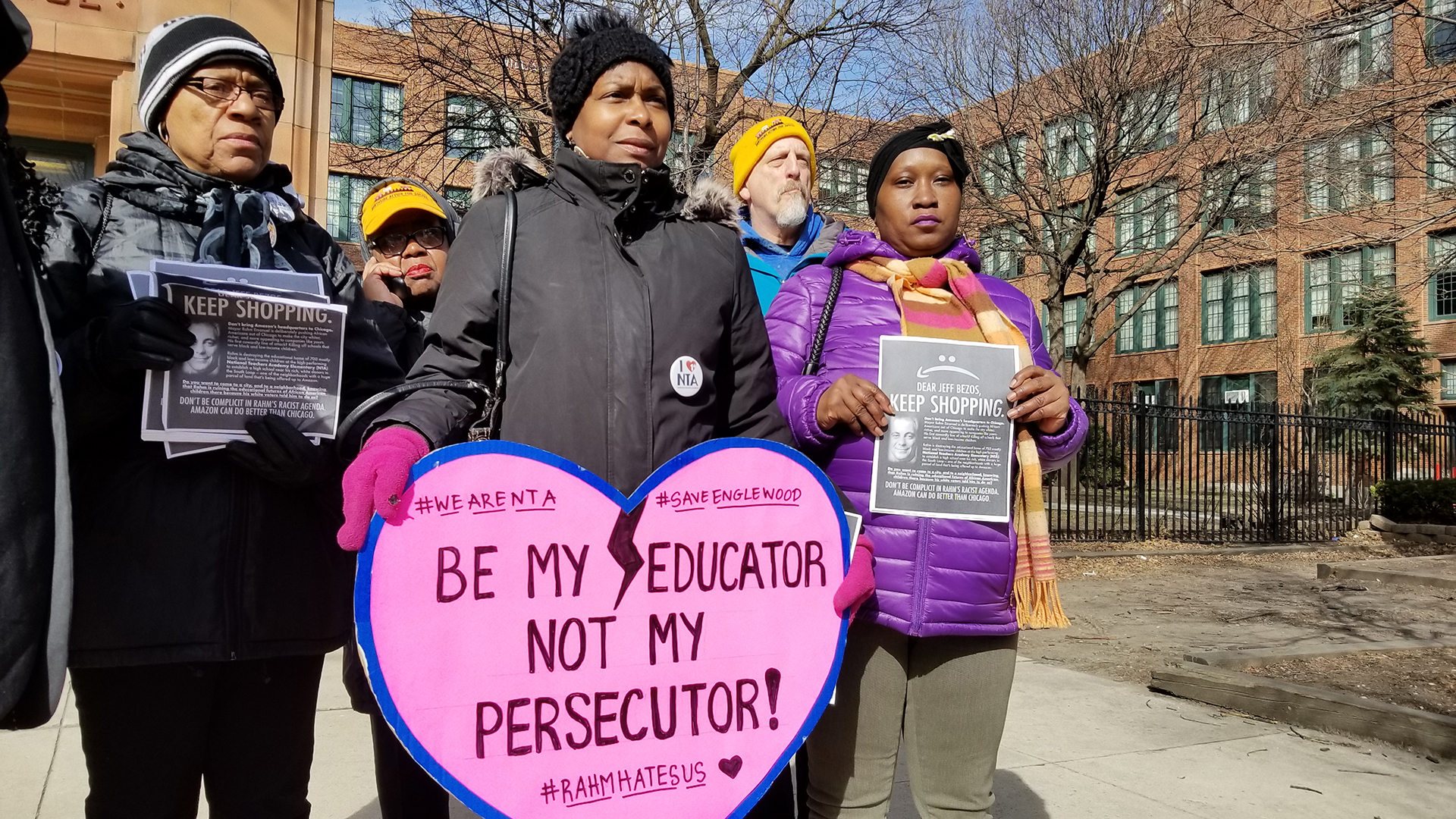 Parents and activists say they will oppose Chicago's pursuit of Amazon's second headquarters unless the city decides against closing a handful of public schools.
Community organizers opposing a new wave of school closures criticized Chicago's pursuit of landing Amazon's second headquarters, saying minority residents are being pushed aside to make way for the tech giant.
A small group of parents and activists gathered outside Wells High School on Monday morning to launch a "No Amazon" campaign, calling out Mayor Rahm Emanuel for a series of recent school closures, and warning Amazon CEO Jeff Bezos to steer clear of building his new headquarters in Chicago.
"We are saying we don't want Amazon in Chicago as long as the mayor of this city refuses to invest in our neighborhoods," said Jitu Brown, a local activist and national director of the Journey for Justice Alliance.
The Board of Education voted last month to shutter four Englewood high schools and transition a high-performing South Loop neighborhood elementary, the National Teachers Academy, into a high school in the coming years.
Those moves were highly contentious, which some decrying the action as being racially motivated, given the large African-American population in all five schools. Chicago Public Schools officials have said the moves aren't based on race, but rather specific enrollment issues, such as under-enrollment in Englewood and overcrowding in the South Loop.
Brown and other activists criticized Chicago's candidacy as a potential site for Amazon's second headquarters, saying city and state leaders can offer up an incentive package reportedly topping $2 billion to bring the largest internet retailer to the city, but won't spend to properly fund its own schools. They're calling for a sit-down meeting with the mayor and a reversal of the school closings.
"No longer will we sit here and wait for him to choose a school to invest in, choose a school not to invest in and it's based on the wealth of the children in the school, it's based on the wealth of the parents and it's based on whether or not he feels he needs to gentrify the area," said Anika Matthews, a parent of an NTA student.
CPS has countered that it has invested in these schools and amended its transition plans to ensure current students are able to graduate before their schools close.
Chicago is one of 20 North American cities being considered for Amazon's HQ2, which could bring with it the possibility of tens of thousands of jobs and a $5 billion price tag.
One of the sites Amazon officials reportedly investigated during a Chicago visit over the weekend was a 62-acre lot in the South Loop. Matthews said that site could instead be used to build a new high school so NTA could remain as an elementary.
The planned school closures are the district's first following a five-year moratorium it put into place in 2013. Brown was among the leaders of a 34-day hunger strike in 2015 that helped keep open Dyett High School in Washington Park, something he referenced while saying parents and protesters plan to "escalate this campaign."
"I want to remind folks that in order to save Dyett High School three years ago, parents had to starve their bodies for 34 days," he said. "That's who this mayor is. In order for us to save Walter Dyett High School, we had to starve our bodies for 34 days."
But does that mean another hunger strike could be in order to save these schools? Brown wouldn't go quite that far.
"We are supporting the families that are directly impacted. So whatever the families that are directly impacted are prepared to do, we are prepared to support," he said.
"What we're seeing from the young people and some of the parents, particularly from NTA and Harper, is a real determined fight back. So I don't know what that will look like in the future, but I will say folks are not prepared to give up."
Contact Matt Masterson: @ByMattMasterson | [email protected] | (773) 509-5431
---
Related stories: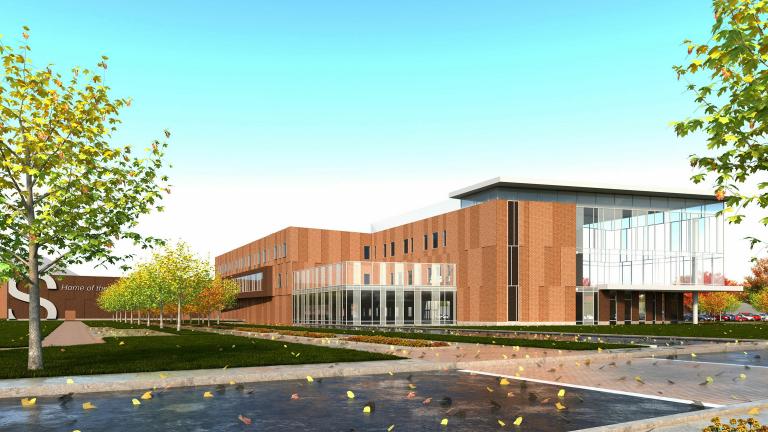 CPS Board Votes Unanimously to Close 4 Englewood High Schools
Feb. 28: Plans for a new Englewood high school have been at the center of fierce debate for months. Wednesday's vote marks the first wave of neighborhood school closures within the district since it shuttered 50 elementary schools in 2013.
---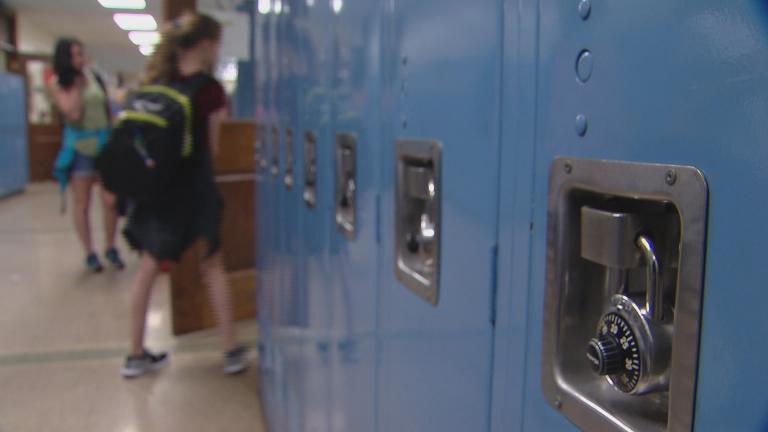 Declining CPS Enrollment Could Lead to More School Closings
Nov. 27: With CPS enrollment down by 32,000—and the school-closing moratorium coming to an end—is another wave of Chicago school closings possible?
---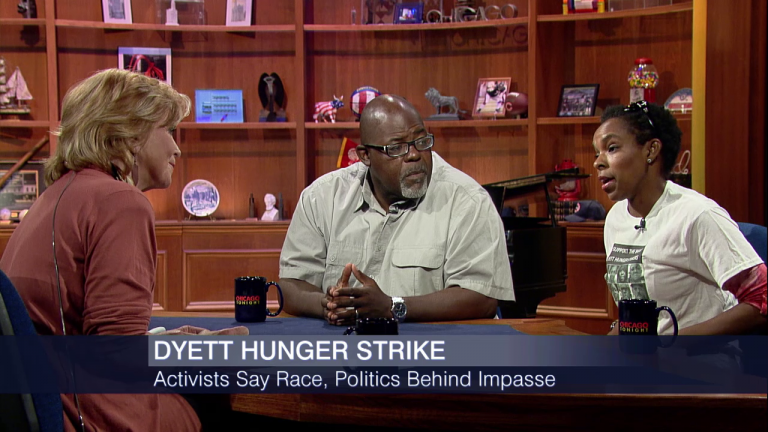 Dyett High School Hunger Strike Continues, Despite CPS Announcement
Sept. 16, 2015: It's day 31 of the Dyett High School hunger strike and there's still no sign of a deal that could end the standoff.
---