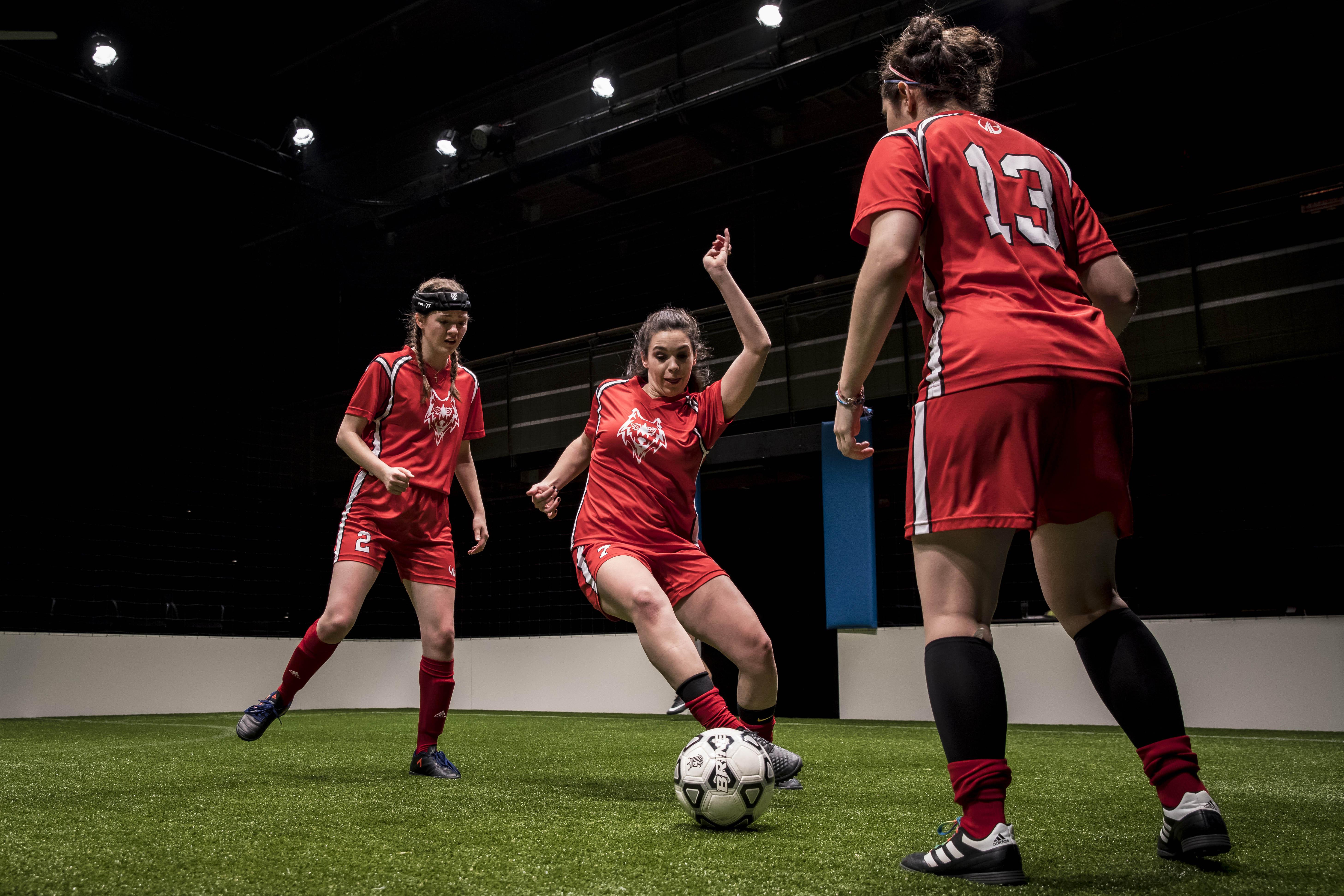 Taylor Blim (No. 2), Natalie Joyce (No. 7) and Mary Tilden (No. 13) in "The Wolves" at Goodman Theatre. (Credit: Liz Lauren)
Talk about ideal timing. 
Barely a day after the Goodman Theatre opened its Chicago premiere of "The Wolves," Sarah DeLappe's mind-boggling, tour de force mix of verbal and physical athletics and teen angst, the U.S. women's ice hockey team defeated arch-rival Canada to win the 2018 Olympic gold medal in what sportswriters are describing as the greatest game in women's hockey history for this country.
The nine high school girls who play on the soccer team in DeLappe's unspecified suburban location suggest what it takes to be part of any gonzo sport, even when not on an Olympic level. In fact, these girls would be thrilled just to get to the nationals (with Miami the wished-for destination), or to be singled out and pursued by visiting college scouts.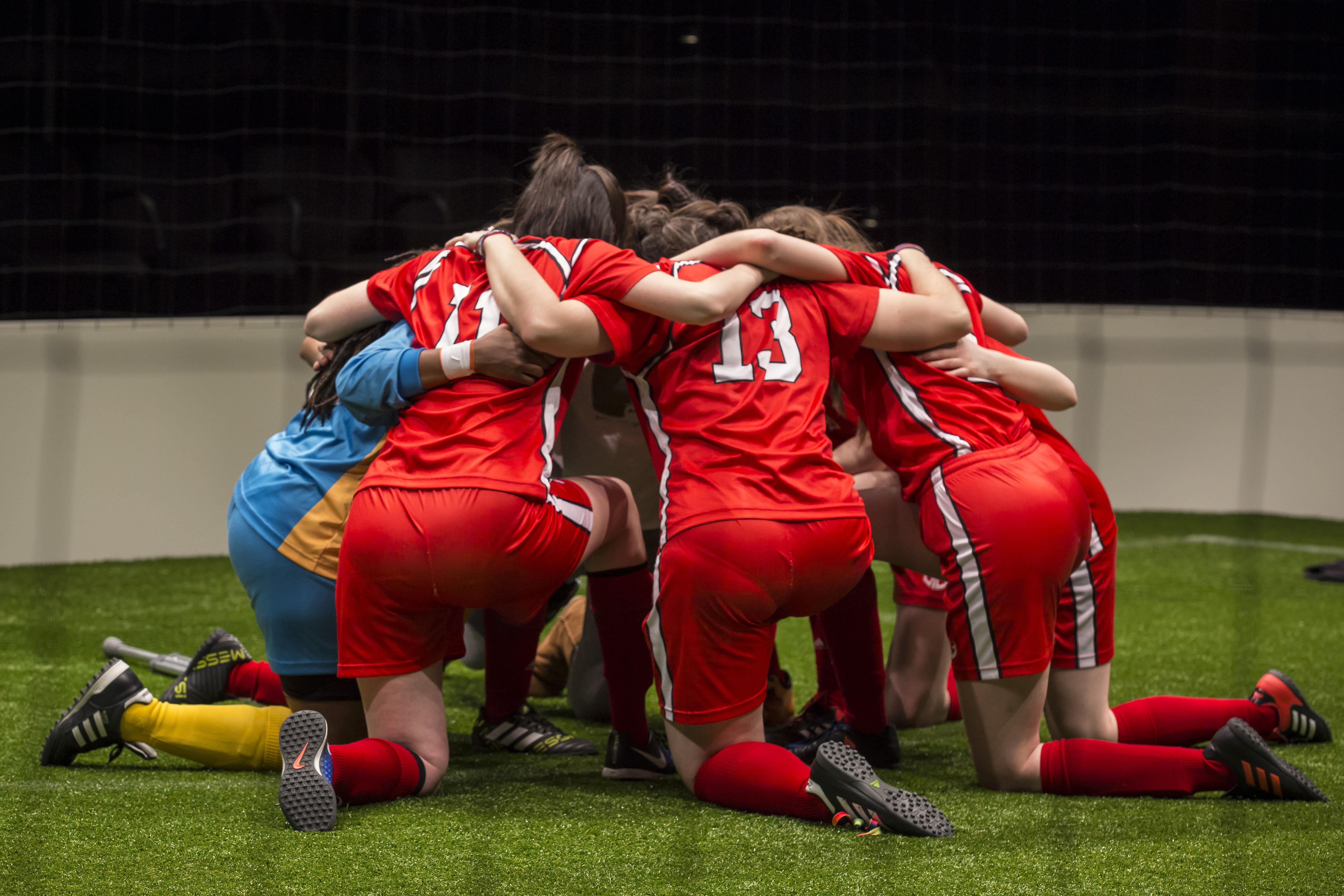 The cast of "The Wolves" at Goodman Theatre. (Credit: Liz Lauren)
But that is not really the primary focus of "The Wolves." Rather, it is about the world beyond the wire-enclosed, AstroTurf-covered soccer arena where they practice— and where they engage in almost nonstop motion while simultaneously venting with a steady stream of "mean girl" taunts, rage and pain (much of it in continually overlapping dialogue) followed by varying degrees of remorse.
While you soon begin to identify these girls by the numbers on the backs of their bright red jerseys, you also get to know them by their various personality quirks, disparate temperaments and secrets, and by the levels of their innocence, experience, education and competitiveness.
There is the macho-like team leader; the gifted outsider who has traveled the world with her mother and lives in a "yurt" (the subject of a running joke about confusing that word with "yogurt"); the over-achieving goalie prone to repeated vomiting episodes; the bulimic girl who knits things for charity; the girl of mixed American and Armenian heritage mistakenly dubbed "an immigrant"; the brainy girl who wrestles with ethical issues as she considers the jailing of a nonagenarian Khmer Rouge tyrant.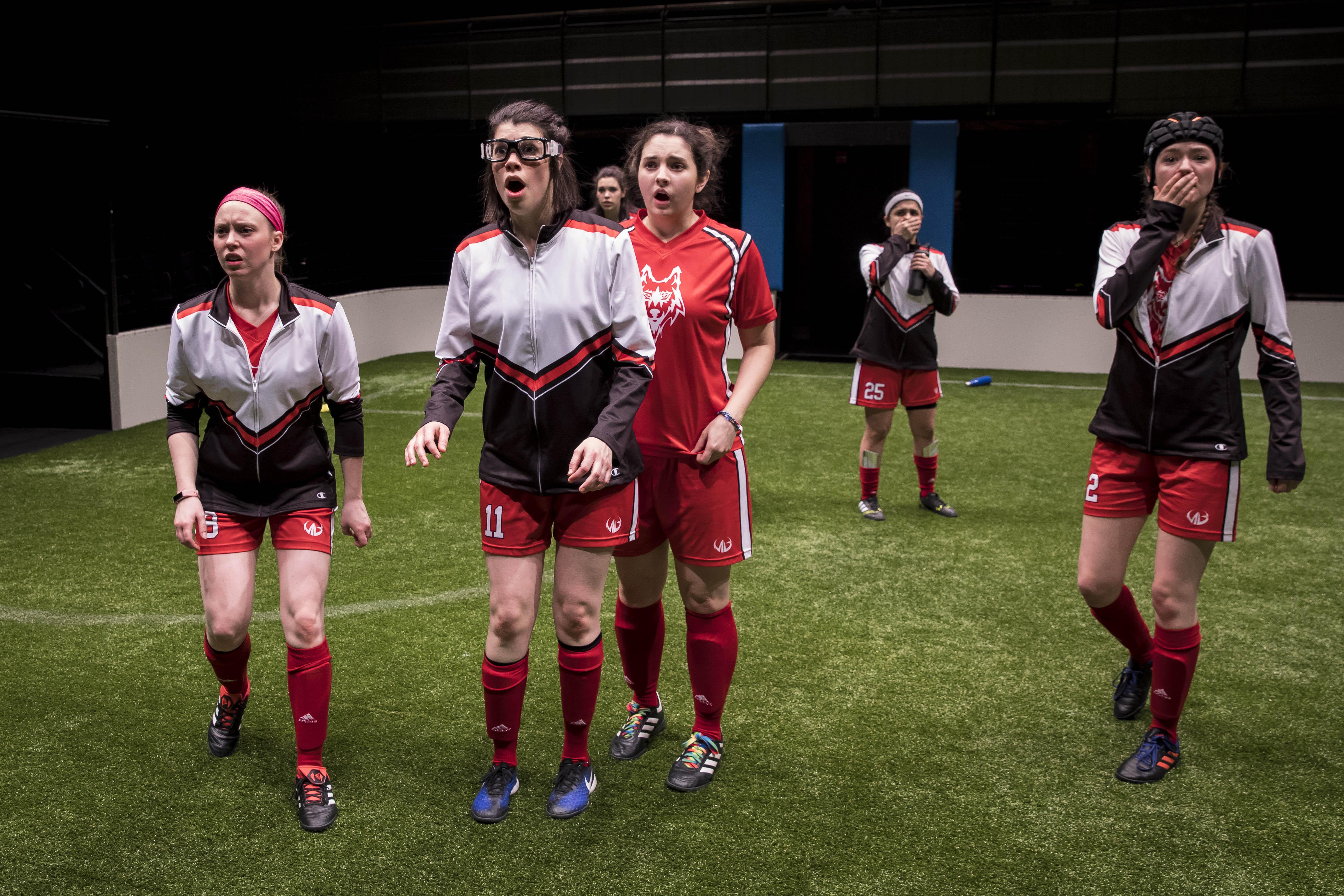 Cydney Moody (No. 8), Sarah Price (No. 11), Natalie Joyce (No. 7), Mary Tilden (No. 13), Isa Arciniegas (No. 25) and Taylor Blim in "The Wolves" at Goodman Theatre. (Credit: Liz Lauren)
And there are matters of menstrual periods, port-a-potty horrors, sexual encounters, an abortion, the inevitable serious injury, the various levels of acquaintance with death, and more. (At moments DeLappe seems to be using her characters as mouthpieces, but for the most part they are true to themselves.)
It's doubtful male athletes talk so much or so intimately as these girls do. But a question looms (and it's one that affects many movies about ballet dancers, too): Is everyone who pursues this activity basically screwed up, or is it simply that they find the discipline, skill and drive for perfection involved in mastery immensely satisfying? 
Under the direction of Vanessa Stalling (who previously demonstrated her gift for "choreographing" a story in "United Flight 232"), the aerobically gifted ensemble here consistently dazzles with its ability to stay in near-constant, hard-driving motion with a ball while also talking up a storm. And they must be named: Erin O'Shea, Angela Alise, Isa Arciniegas, Taylor Blim, Aurora Real de Asua, Natalie Joyce, Cydney Moody, Sarah Price and Mary Tilden, with Meighan Gerachis making a brief but moving appearance in the play's final moments.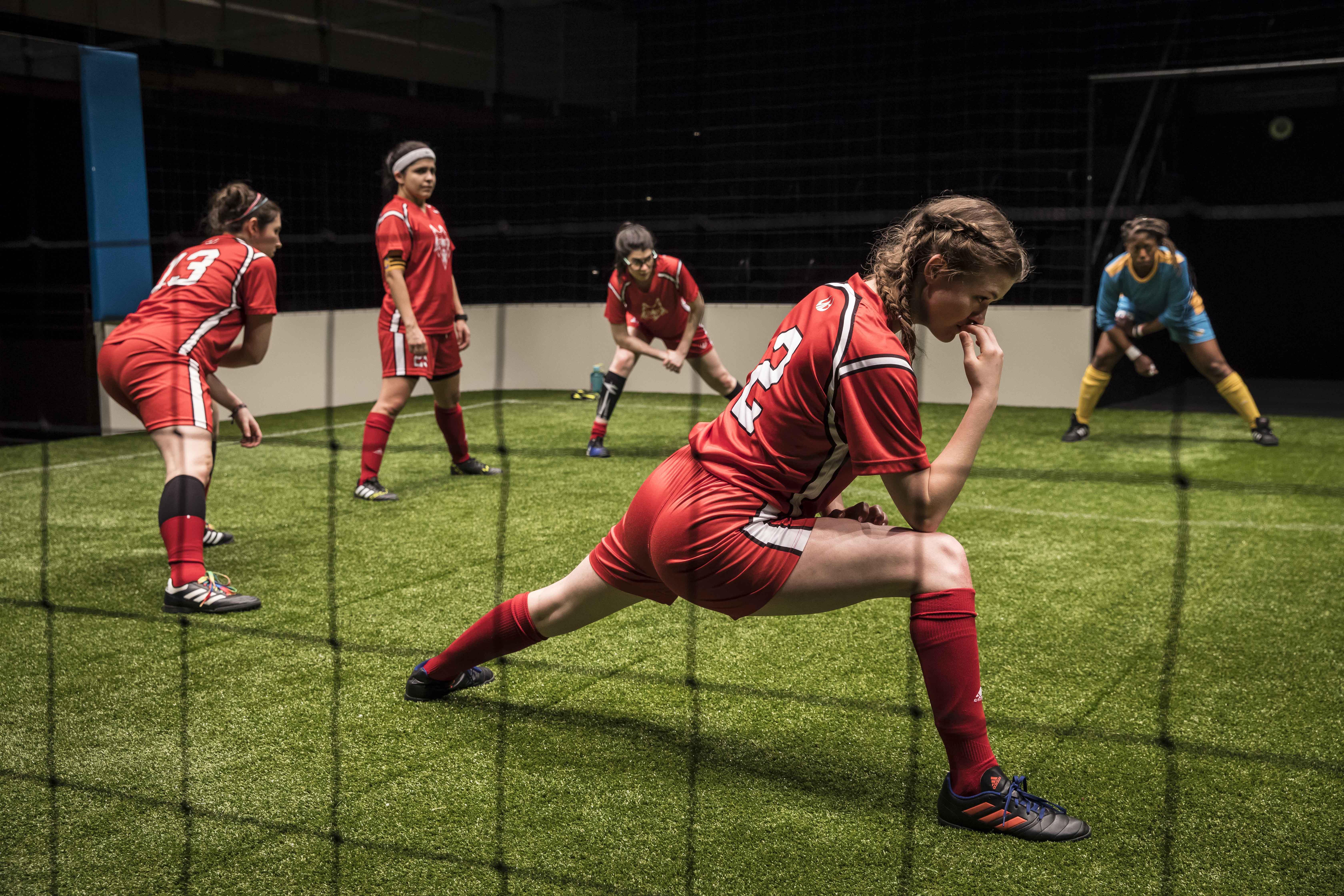 Taylor Blim (No. 2), Mary Tilden (No. 13), Isa Arciniegas (No. 25), Sarah Price (No. 11) and Angela Alise (No. 00) in "The Wolves" at Goodman Theatre. (Credit: Liz Lauren)
As always, designer Collette Pollard's set works a brilliant architectural reconfiguration of the environment. Here (with fine lighting by Keith Parham, and sound and music by Mikhail Fiksel), she turns the Goodman's Owen Theatre into a caged-in arena with a section of bleacher seats that allows the team to play fast and loose with its soccer balls and tempers.
Go "Wolves."
One final note: It is only fitting here to give a loud cheer for Title IX, the 1972 law that assured equal opportunity in sports at educational institutions receiving federal funds.

"The Wolves" runs through March 11 at the Goodman Theatre, 170 N. Dearborn St. For tickets ($10 - $47) call (312) 443-3800 or visit www.GoodmanTheatre.org. Running time: 95 minutes with no intermission.
---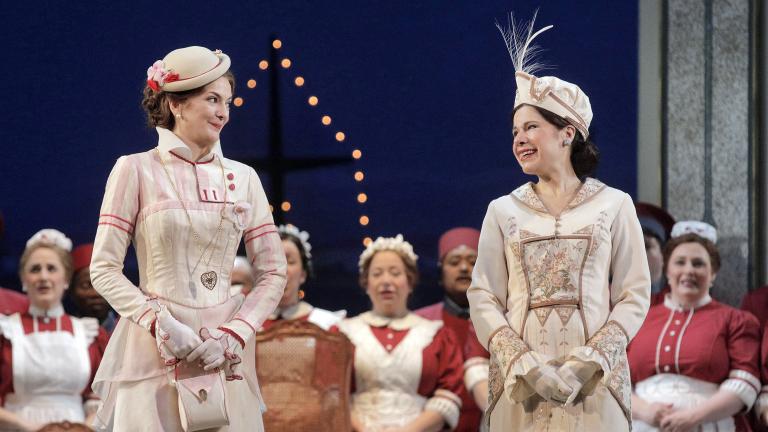 In Lyric's 'Cosi,' a Spirited Toast to the Imperfections of the Heart
Feb. 20: The production of "Cosi fan tutte" now at Lyric Opera of Chicago is a beauty. And in its playful but unquestionably bittersweet exploration of love, fidelity, betrayal and the unreliable nature of both men and women, it could easily have been written yesterday.
---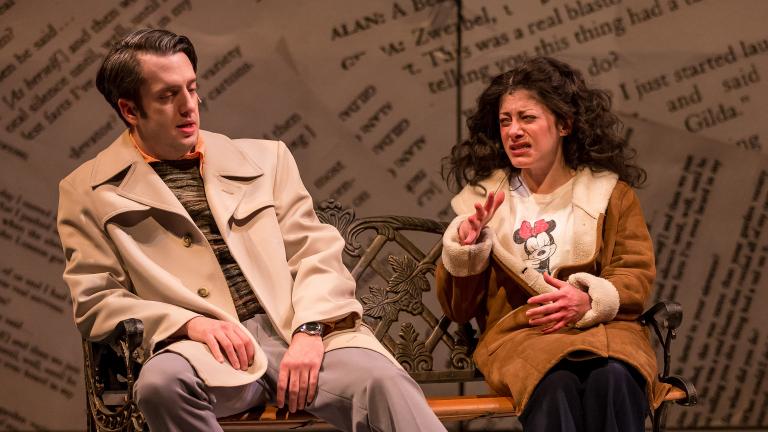 In 'Bunny Bunny,' Tapping Into Gilda Radner's Sad Clown
Feb. 15: You will catch only a brief glimpse of the big explosion of hair, but in "Bunny Bunny" at Mercury Theater Chicago you will fully feel the manic energy and rapid-fire comic responses of Gilda Radner.
---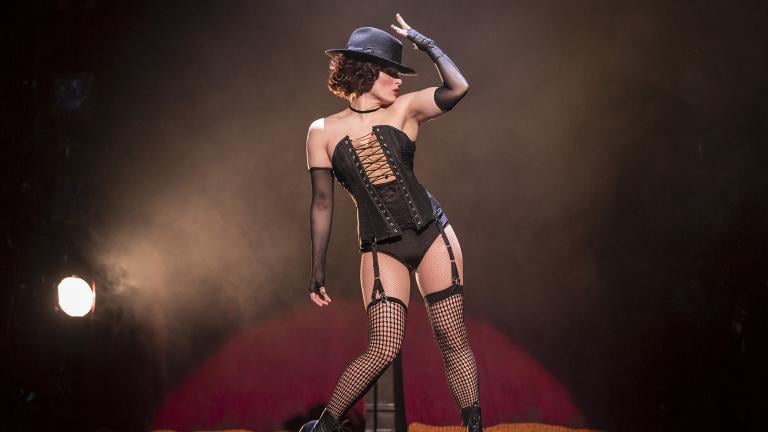 Historical, Personal Mesh to Stunning Effect in Paramount's 'Cabaret'
Feb. 12: In Paramount's revival of the 1966 musical, director-choreographer Katie Spelman not only finds a perfect balance between the personal and political, but fully captures the flamboyant decadence of 1930s Weimar Germany without exploiting the pure shock value of its sexual antics.
---