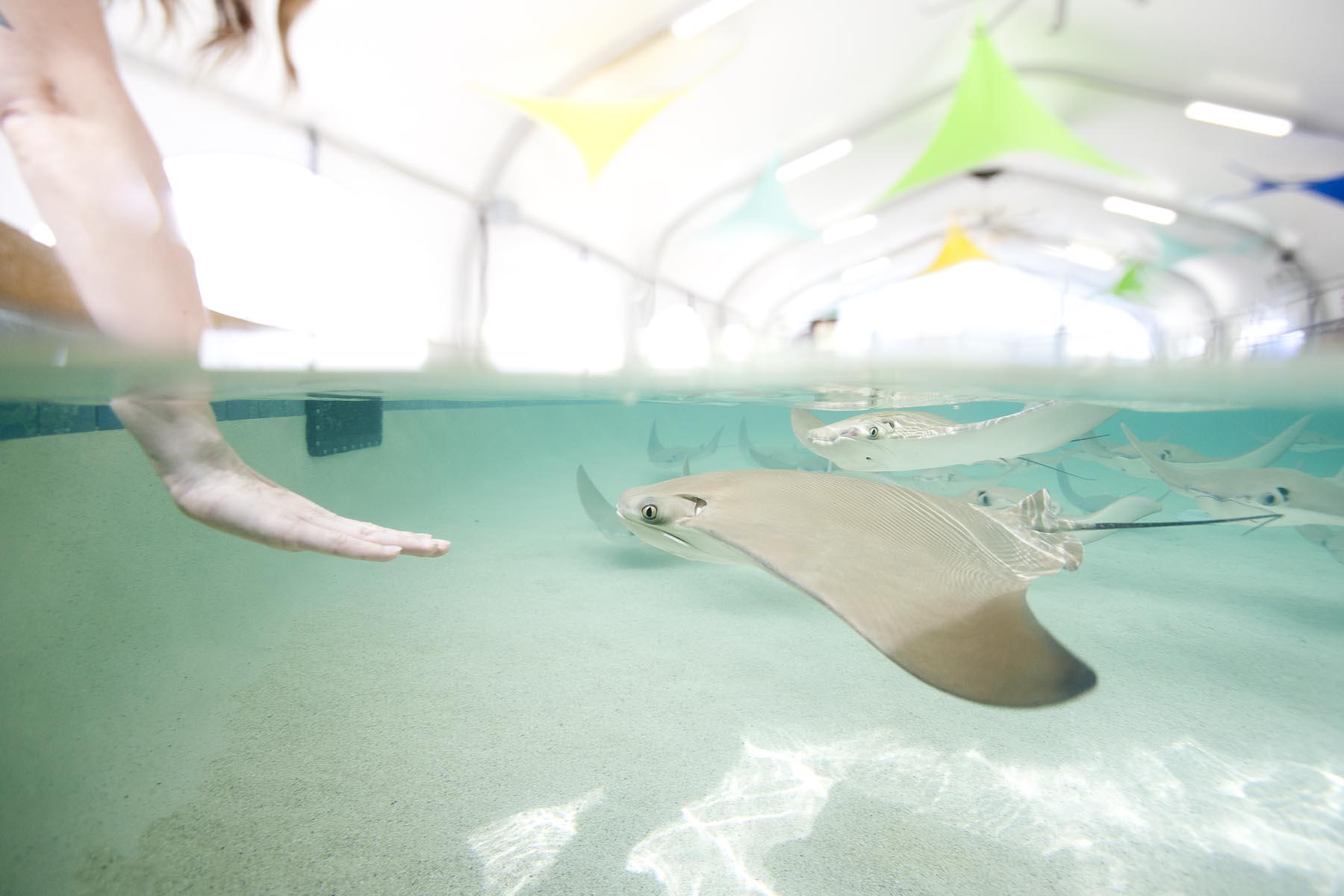 Visitors can get up close and personal with cownose rays at Shedd Aquarium's seasonal exhibit "Stingray Touch." (Courtesy Shedd Aquarium)
Roughly 400,000 visitors each year stop by Shedd Aquarium's "Stingray Touch" exhibit, where they can dip their hands into a shallow pool and feel the animals' unique texture.
The exhibit, which opened in 2013, is one of Shedd's most popular features, and similar exhibits are found at zoos and aquariums across the country.
But while touching a stingray might be neat for humans, such exhibits have been criticized by animal welfare advocates for allowing the animals to be "manhandled."
"We know that one of the big questions with these exhibits is, 'What does it mean for the animal?'" said Dr. Bill Van Bonn, Shedd's vice president of animal health. "And we know the animal's not going to tell us."
New research involving nearly 60 stingrays at the aquarium indicates that the animals do not suffer from their interactions with humans. And they might even like it.
Van Bonn said the stingrays frequently glide over to "elicit back rubs" from visitors to the exhibit, which is open seasonally from late May through October. 
"We think we have pretty strong evidence that they don't get anything negative out of it," Van Bonn said. "In fact, there's evidence that they do get something out of it and they seem to enjoy it."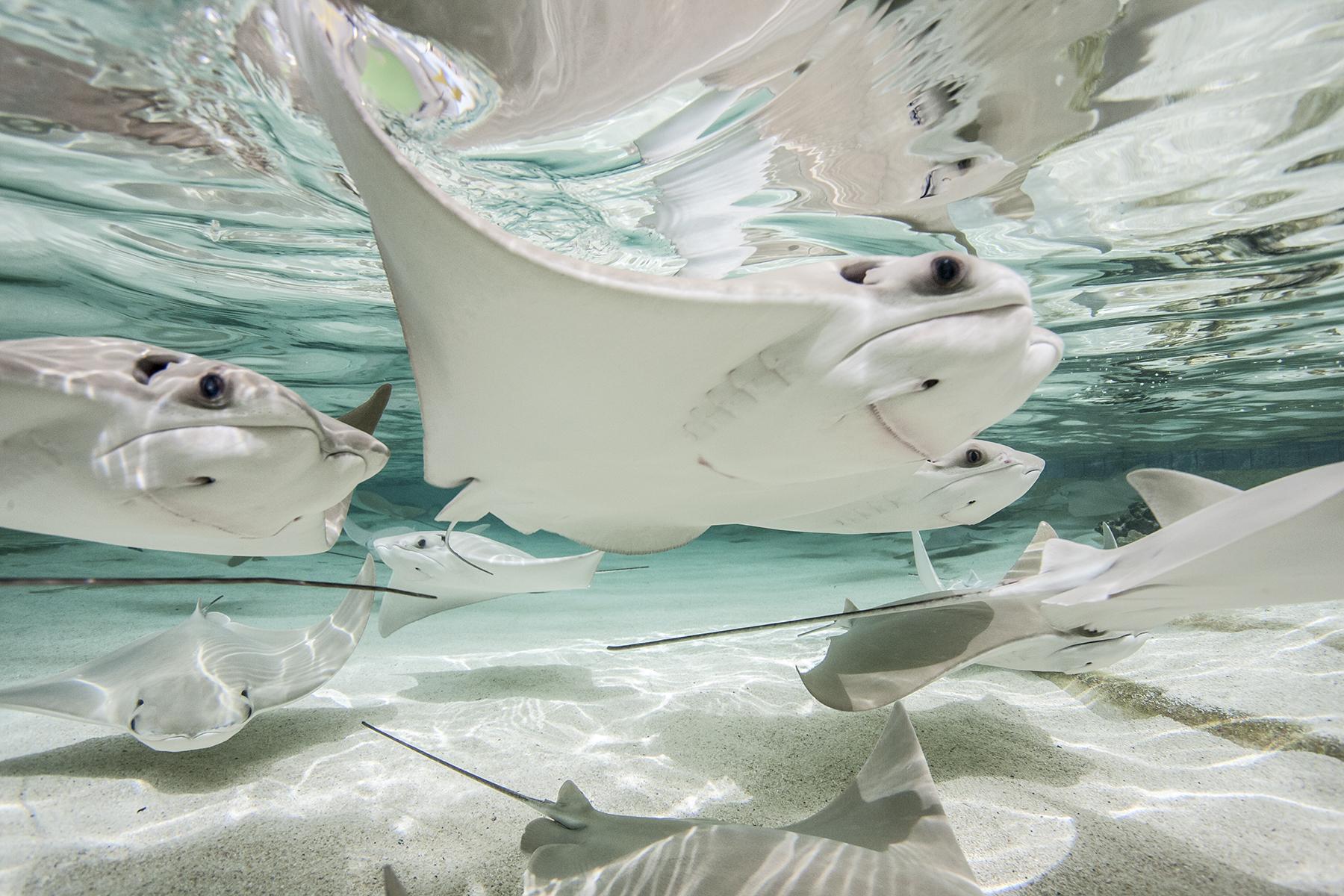 (Courtesy Shedd Aquarium)
For the study, the results of which were published recently in the Journal of Zoo and Wildlife Medicine, researchers examined 58 cownose rays (a type of stingray) living at Shedd – about two-thirds of them in the aquarium's seasonal outdoor pool and one-third in a separate off-exhibit habitat. (The rays in the outdoor exhibit have their barbs clipped, allowing humans to touch them without fear of coming in contact with the animal's sharp and potentially venomous tail spine, or stinger.)
Over the course of a year, researchers tracked 38 different health parameters to identify any changes indicating how the rays might be affected by living in the touch pool and engaging with visitors.
Van Bonn said the effort involved forming an "assembly line" of staff in the hallway of Shedd's on-site veterinary hospital, where special exam stations with wetted neoprene hammocks allowed researchers to evaluate the rays without putting them under anesthesia.
Researchers then collected data on each animal's weight, body condition, heart rate, blood cell count, cholesterol, plasma protein and more, including conducting an ultrasound to view internal organs.
The results indicated that the health of rays in the outdoor touch pool was comparable to that of the rays living in a separate habitat, with minimal differences in three areas (heart rate, blood lactate levels and low-density lipoproteins).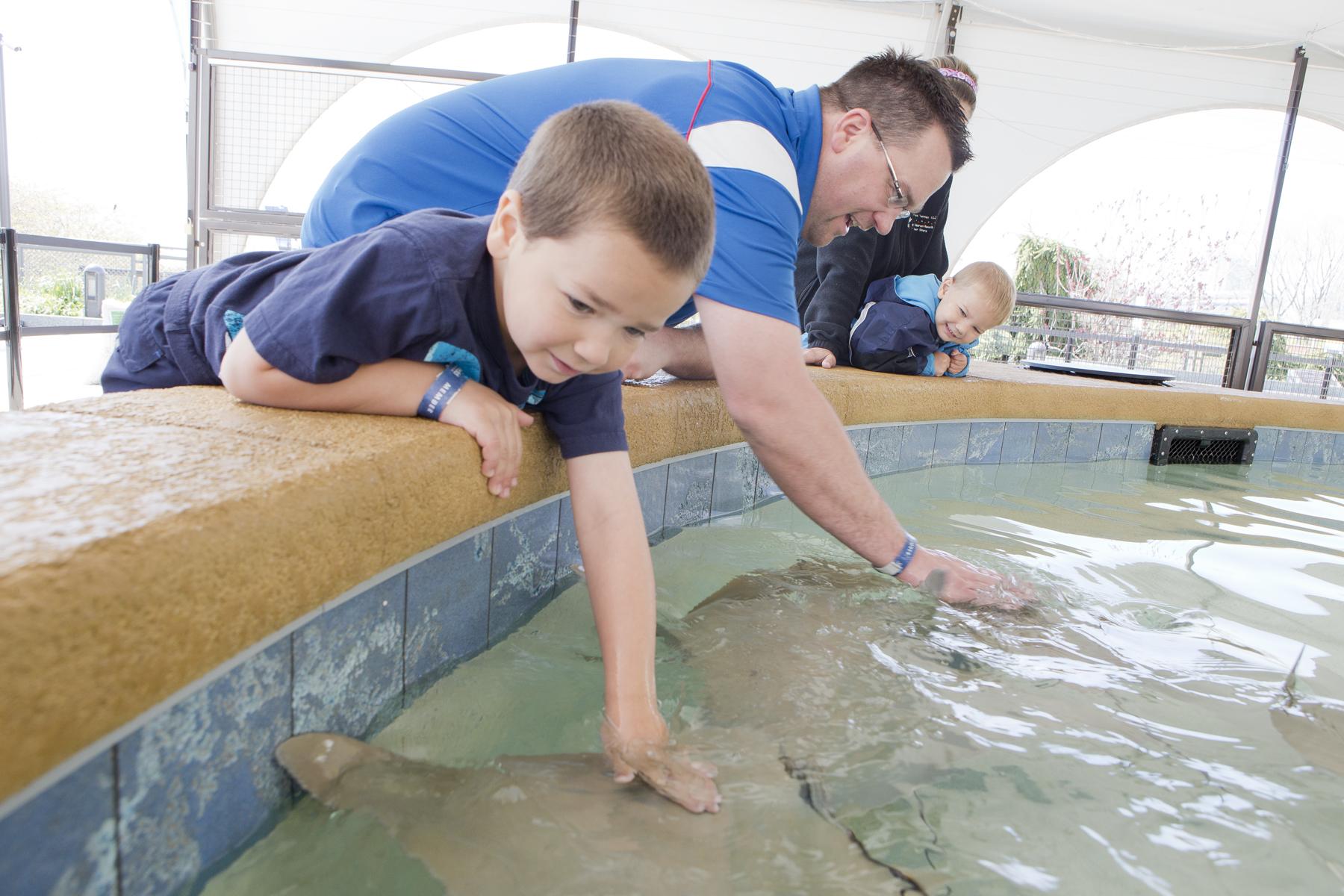 (Courtesy Shedd Aquarium)
Van Bonn said the study, led by Columbus Zoo and Aquarium staff veterinarian Jimmy Johnson, is the first to evaluate how a touch pool or similar exhibit might affect the health of the animals that live there.
The research was part of Shedd's Microbiome Project, a first-of-its kind effort to study how the bacteria, fungi and other organisms that make up an aquarium's ecosystem impact the health of animals.
"Our primary concern is the health and welfare of the animals, and we do look at them in very objective, scientific ways," he said. "That's why this was such an important study for us."
Contact Alex Ruppenthal: @arupp | [email protected] | (773) 509-5623
---
Related stories: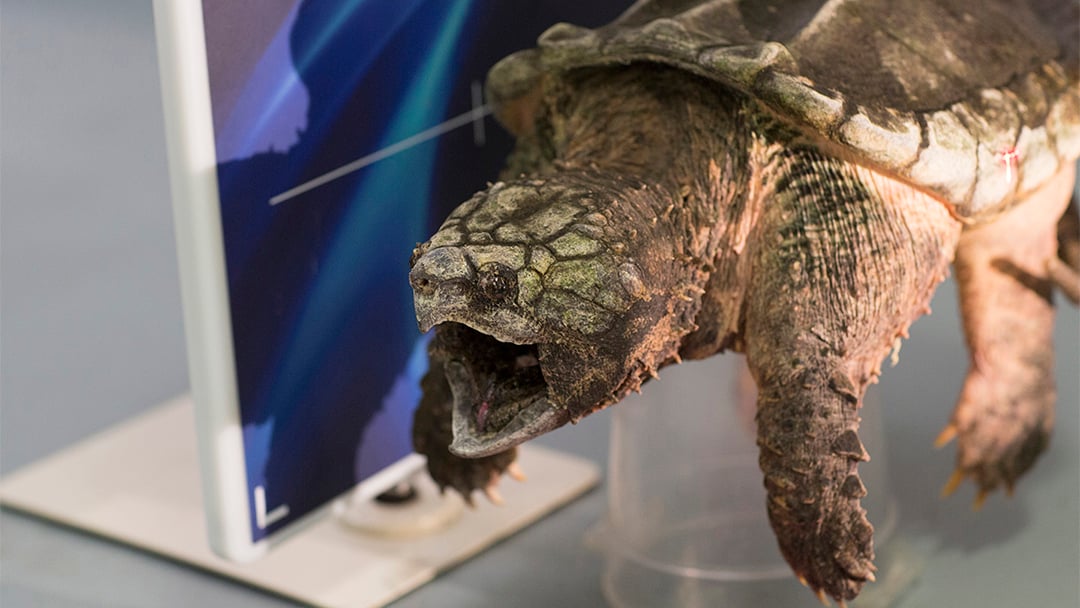 Shedd's New Alligator Snapping Turtle Debuts After Passing Physical
Aug. 28: Dante, a 30-pound alligator snapping turtle, made his public debut after passing a routine physical exam, which was actually quite similar to a human checkup.
---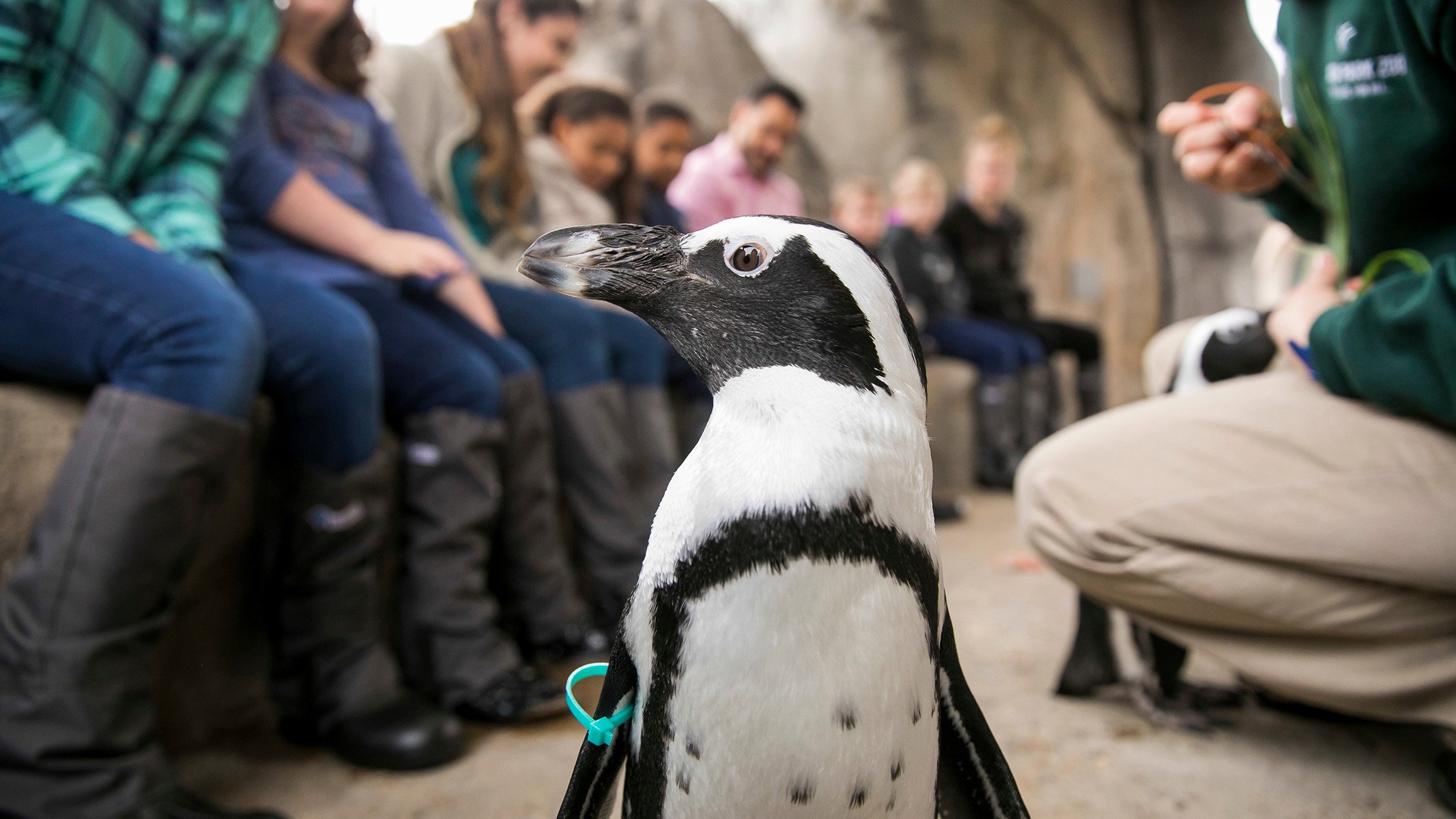 Behind the Scenes at Lincoln Park Zoo's New Penguin Encounter
July 24: For the first time, Lincoln Park Zoo is offering visitors a chance to get up close and personal with their African penguins. We meet three waddling, webbed-feet bachelors.
---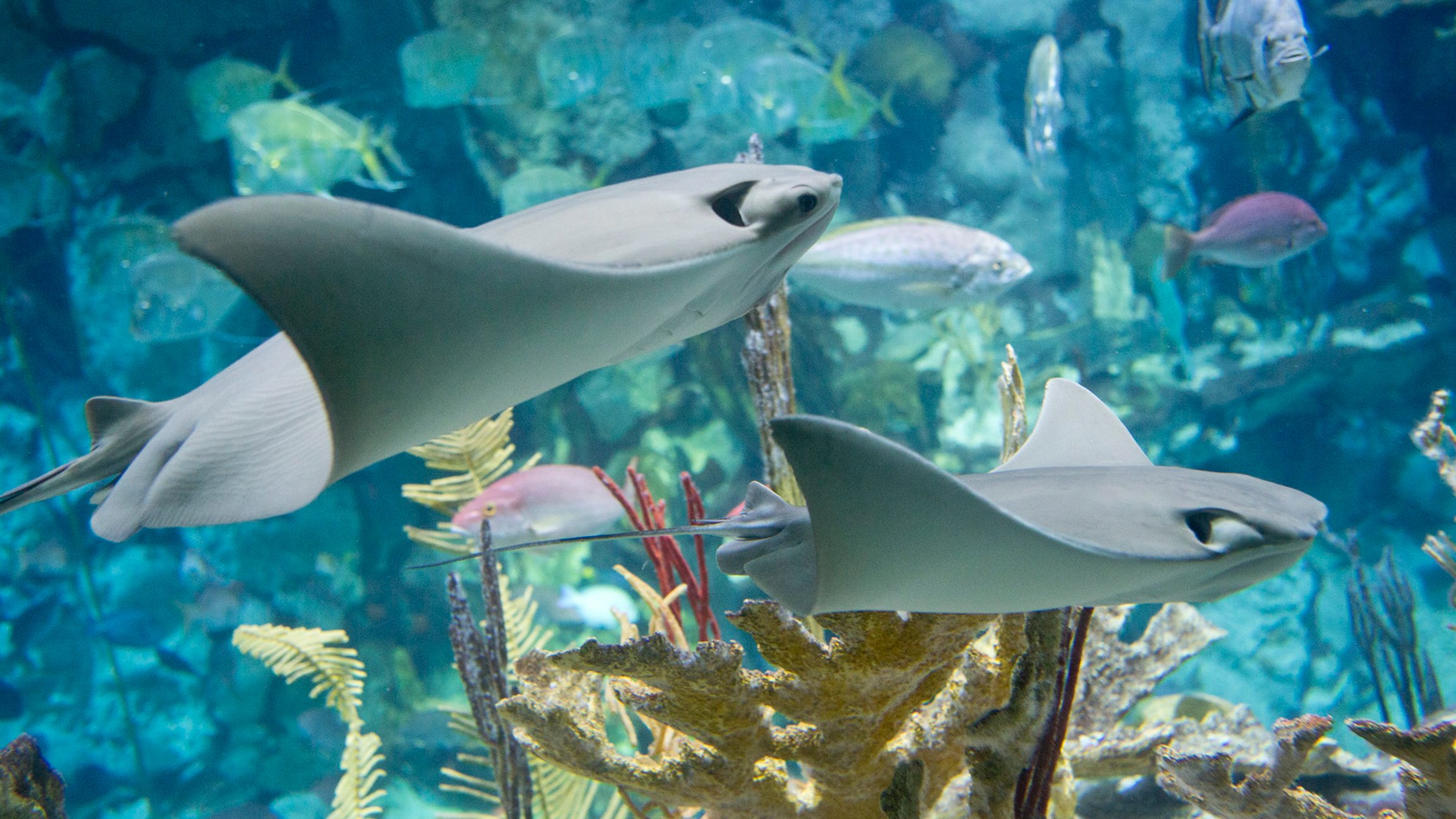 'Stingray Touch' Opens at Shedd Aquarium
May 31: Visitors to Shedd Aquarium's seasonal exhibit can dip their hands into a pool and discover the texture of this unique sea creature.
---