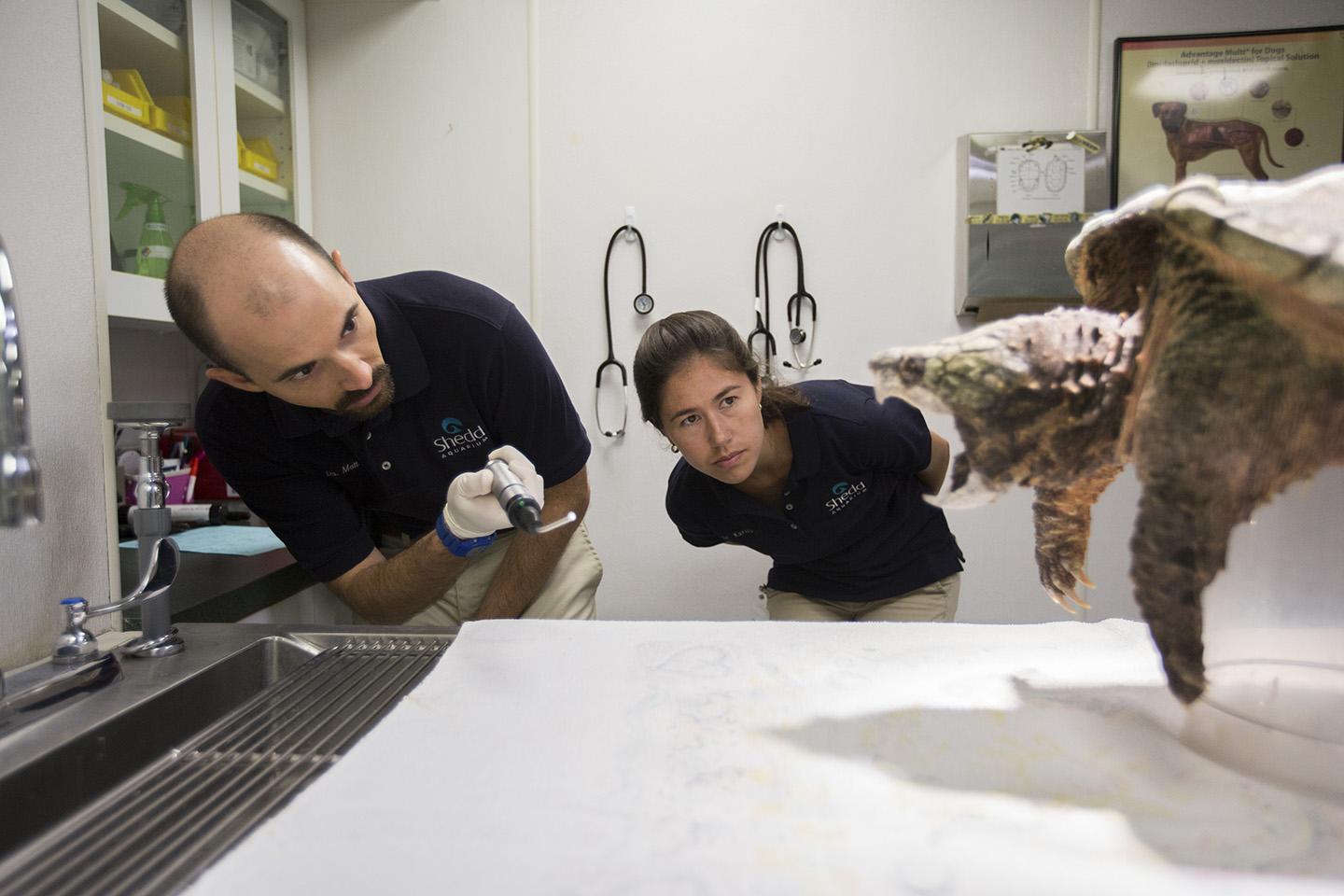 Shedd veterinarians examine Dante, a 13-year-old alligator snapping turtle. (Heidi Zeiger / © Shedd Aquarium)
A 30-pound alligator snapping turtle made his public debut at Shedd Aquarium this month after passing a routine physical exam, which was actually quite similar to a human checkup.
Dante, 13, recently went in for a wellness check at Shedd's on-site animal hospital. During a 30- to 45-minute appointment, Shedd veterinarian Dr. Matt O'Connor and his team performed the exam, documenting Dante's weight and length, checking his eyes and mouth, examining his shell for lesions or soft spots and collecting a blood sample.
"Dante's general checkup wasn't all that different from the care you and I receive, and he was a good patient, never snapping at any of the vets during the exam," O'Connor said in a press release. "Our commitment to preventive health care for the animals at Shedd Aquarium means most visits with the veterinary team are just regular checkups."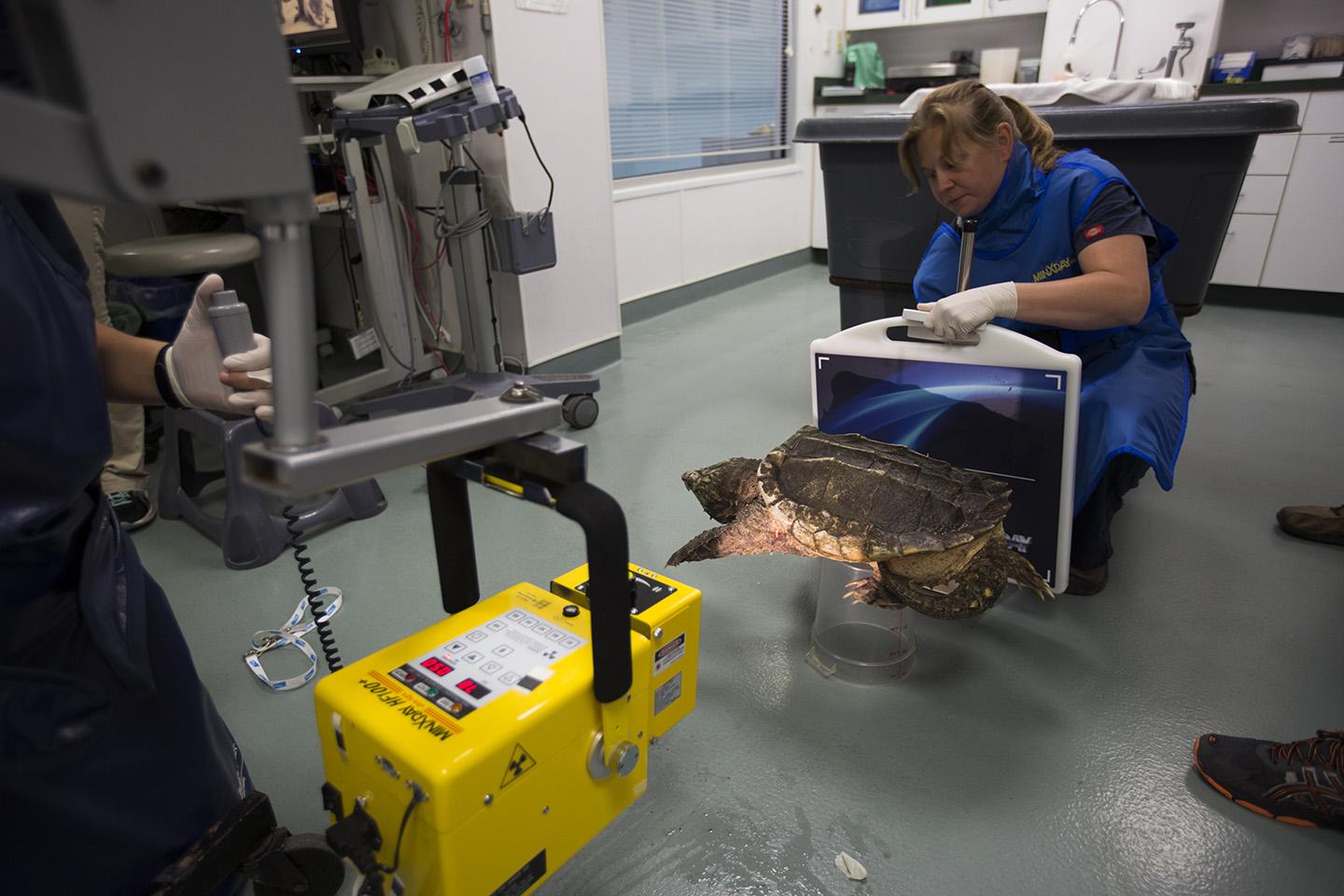 Dante, a 13-year-old alligator snapping turtle, undergoes a physical exam at Shedd's on-site animal hospital. (Heidi Zeiger / © Shedd Aquarium)
During the exam, experts also took X-ray scans of Dante using a new portable, wireless machine that allowed them to view the images on a laptop within five seconds. The radiograph images show the turtle's shell in structural detail and depict the bones that make up his powerful hooked jaw.
Known as ambush hunters, alligator snappers sit motionless with their mouths open, revealing a wiggly, wormlike appendage on their tongues to lure prey. Once a fish, frog or turtle is near, they snap their mouths on the target.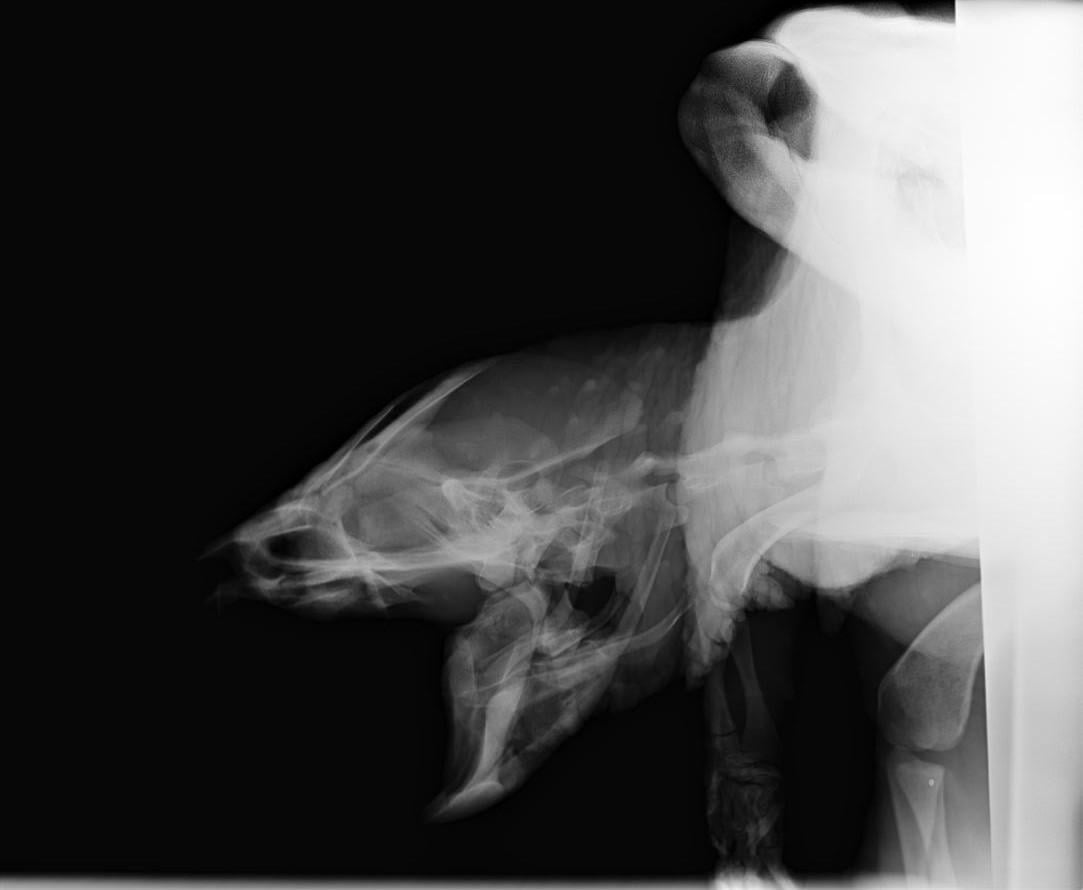 An X-ray image of Dante. (Heidi Zeiger / © Shedd Aquarium)
Alligator snapping turtles are the largest freshwater turtle species in North America but are endangered in Illinois and other states. Often referred to as the "dinosaur of the turtle world," alligator snappers do not have a natural predator but have become a delicacy for humans.
Because of the species' engendered status, it is illegal to hunt alligator snapping turtles in Illinois. But they still face various forms of habitat degradation, including the draining of wetlands, channelization of rivers and levying.
You can visit Dante at Shedd's "At Home on the Great Lakes" exhibit.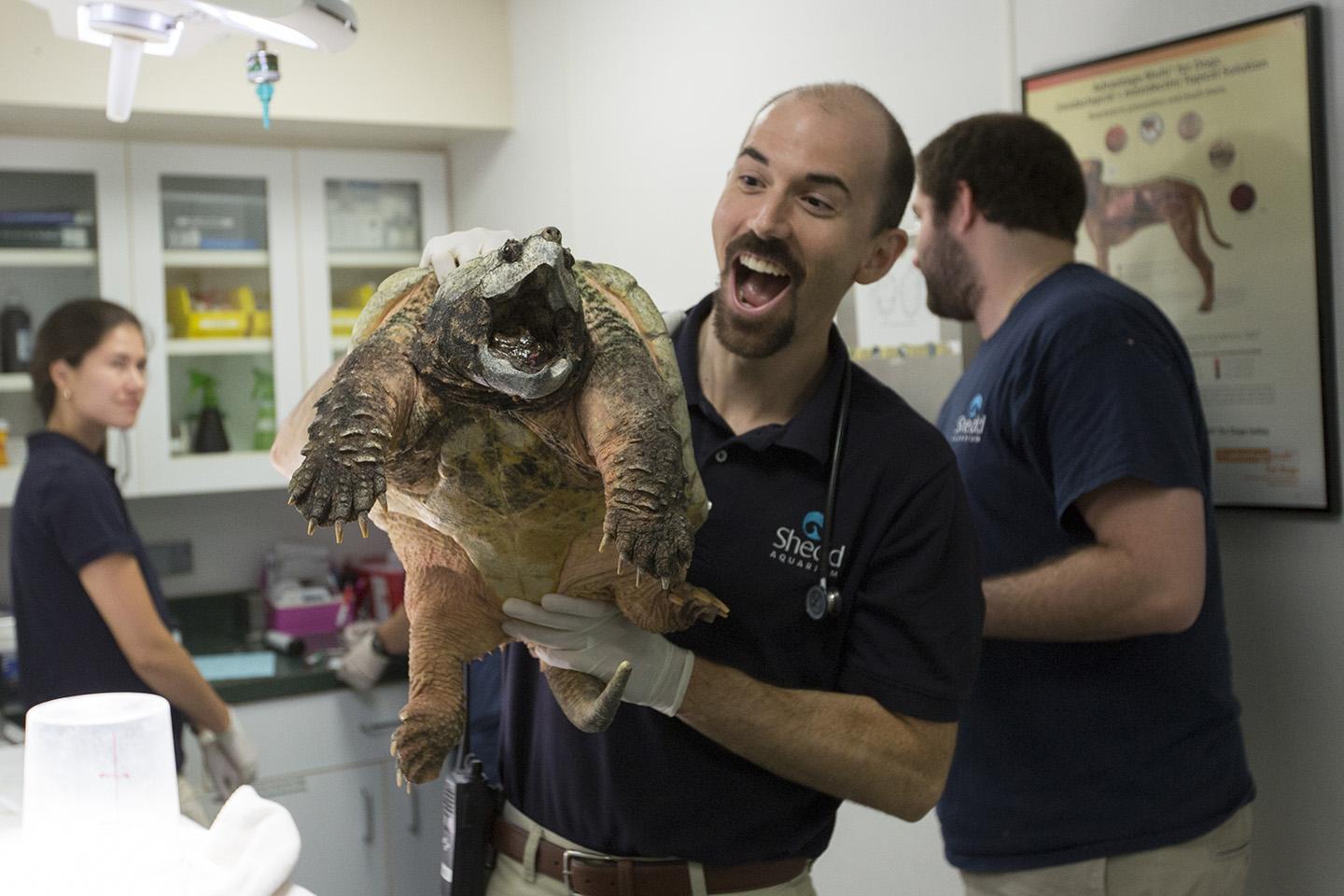 Shedd veterinarians examine Dante. (Heidi Zeiger / © Shedd Aquarium)
Contact Alex Ruppenthal: @arupp | [email protected] | (773) 509-5623
---
Related stories: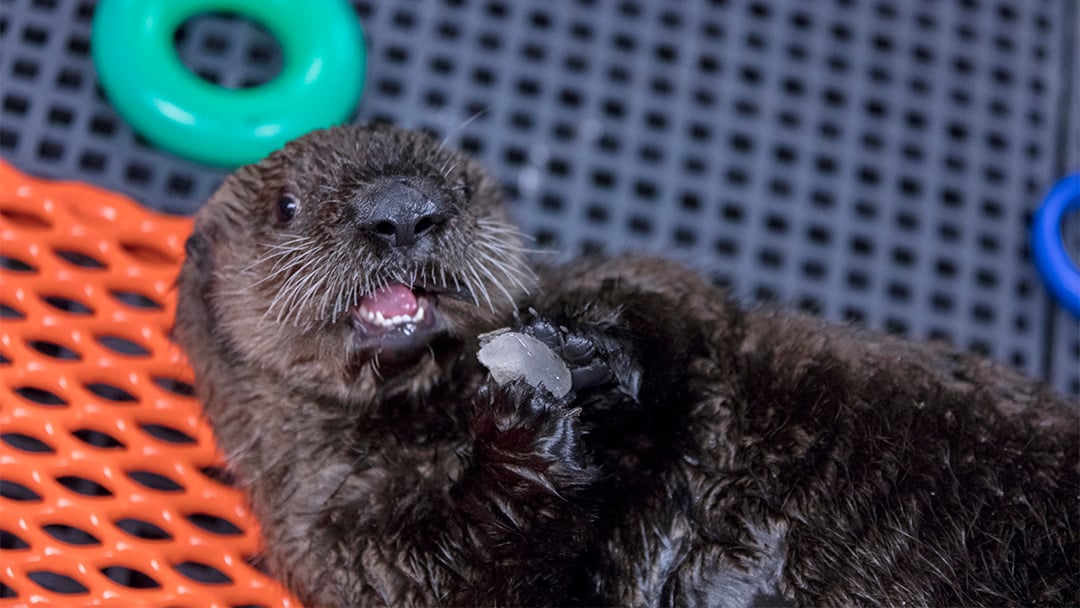 Shedd Aquarium Team Cares for Abandoned Sea Otter Pup in Alaska
June 2: On a mission from Chicago, two Shedd Aquarium staffers have been providing around-the-clock care for a sea otter pup rescued in Alaska.
---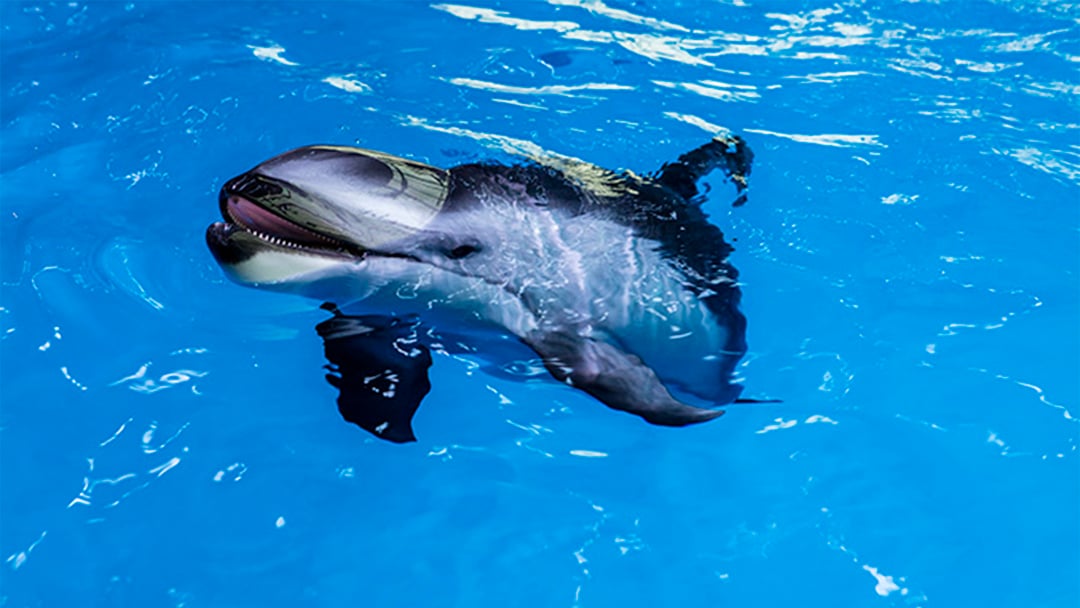 Shedd Aquarium's 1-year-old Dolphin Gets Checkup, Birthday 'Cake'
April 18: Shedd Aquarium's dolphin calf Kukdlaa celebrated his first birthday with positive results from a physical checkup. And with cake, of course.
---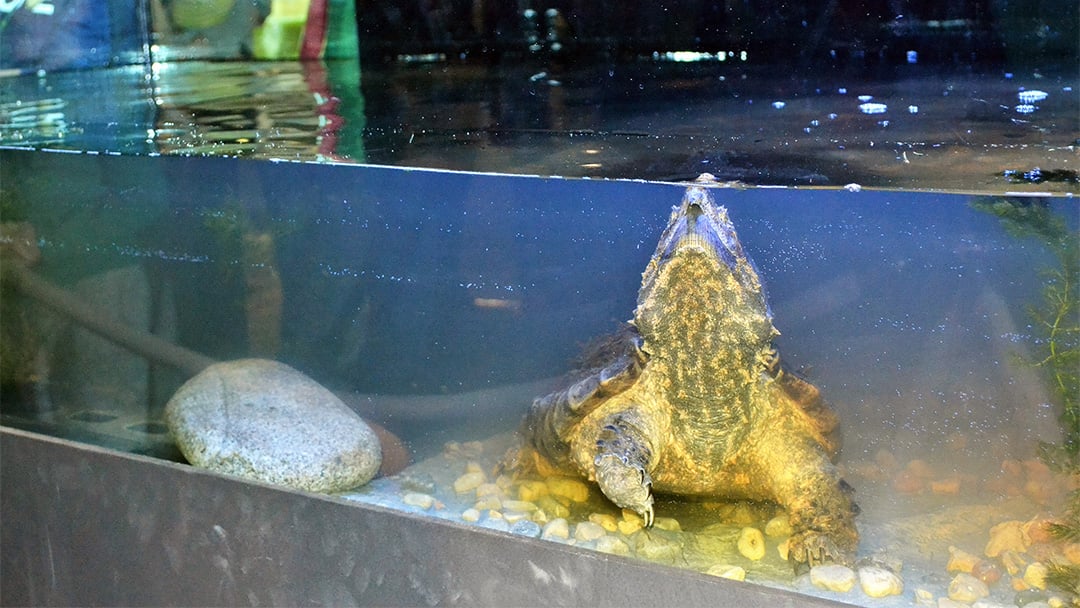 Meet Patsy McNasty, Notebaert Nature Museum's Alligator Snapping Turtle
Jan. 20: Alligator snapping turtle Patsy McNasty moved into a new 300-gallon tank this week at Chicago's Peggy Notebaert Nature Museum, where visitors attended a "housewarming" event for the 14-pound turtle.
---