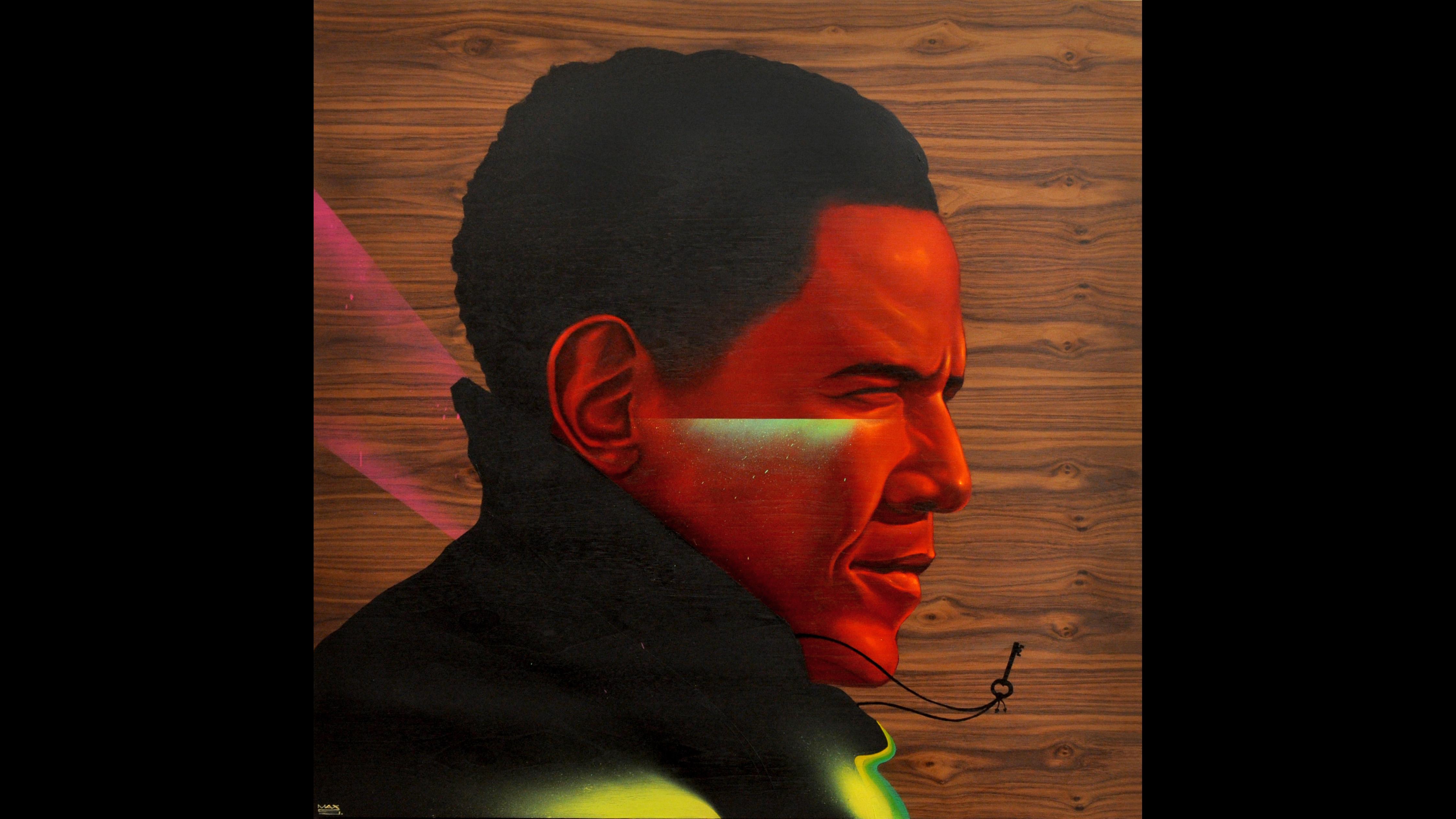 "Black Enough" by Max Sansing (Courtesy of Gallery 19 / SOFA Chicago)
Playing basketball at the local park was a routine activity for Max Sansing when he was growing up in the city's Avalon Park neighborhood.
"It's just what we did," he said. "It was an unconscious thing. It was fun and I got to hang out with my friends."
More than that, the game was a way to stay out of trouble, Sansing said. But one day, the basketball rims were gone. 
"It went from people being out there playing basketball, and local gangbangers and hotshots talking to each other and the girls on the side. We were all out there. No one was causing any trouble from what I knew," Sansing said. "People just hung out, then next thing you know it's tumbleweeds going by."
When the rims came down, so did the social fabric that kept some kids out of trouble.
"If you're no longer playing basketball with your friends ... gangs are still recruiting and it's easier for [youth] to go off and get into that," he said. "If you weren't involved in organized sports, Boy Scouts, Girl Scouts or church groups, the next local youth group would be gangs."
Sansing and his friends continued to play basketball where they could, creating hoops from discarded milk crates and plywood.
As Sansing got older his passion for sports evolved into a passion for art, which was cultivated from a young age by his family. His mother was an art teacher who painted pastels and water colors, while his father – who worked for the CTA – worked in oils. Both of his older sisters participated in Chicago Public Schools' Advanced Arts Program at Gallery 37, which Sansing later participated in while at Kenwood Academy.
Inspired by a photo posted on social media of a basketball hoop without a rim, Sansing created a series of portraits using basketball backboards as a canvas to tell the story behind the empty courts.
"[People] just think 'that's an abandoned playground,' but there used to be kids playing here. This had a purpose at one point. Why is this like this now?" Sansing said. "This was artwork before I even touched it. This had a story before I even touched it."
Sansing says people don't consider the artistic potential of backboards, which he often finds in alleys. "I'm putting them into a whole different context. Now this is fine art," he said.

"If you're no longer playing basketball with your friends ... gangs are still recruiting and it's easier for [youth] to go off and get into that."
–Max Sansing
---
Sansing's subjects include everyday Chicagoans, as well as public figures like former President Barack Obama, who Sansing recalls seeing distribute pamphlets and fliers at a train station during his days as a community organizer.
"I painted him when he was younger because I used to catch the train on 79th Street to go to school and I would see him. ... He was just a cool, regular guy and I definitely remembered that name," Sansing said. "I later saw him speak at the 2000 Kenwood Academy graduation, and it was like that's the same guy from the train station. Next thing you know, damn he's president."
Although Sansing saw the former president frequently, he never saw his life beyond the train station, or how those events influenced the trajectory of Obama's life.
"I just remembered I'd see people day-to-day every time I was going to the train station and you never know what happens in people's lives and where things take them," he said. "I thought about how when they took the rims off the backboards that changed the trajectories of people's lives. ... People stopped hanging out with us and died from the trouble they were getting into."
For many, when the rims came down "playtime" was over, Sansing said. "Now you're forced out into the real world." His portraits draw upon that theme, including one that depicts a young man headed to his first job interview.
"When you're on a train and you see some kid with an ill-fitting shirt and tie and a folder, you already know what he's doing: They're going to a job interview," Sansing said. "It's one of those things you're faced with where adolescence stops and you realize you're an adult."
The muralist and graffiti artist injects bright colors and symbolism into his works to illustrate the endurance of his subject matters.
"I use a lot of symbolism in my artwork. The paint swatches on the face, those are derived from when I played sports when I was younger. ... We put eye block on our faces to psych ourselves up to go out there and fall back on some of the performance anxieties we had," Sansing said.
"I use that same symbolism to fight the anxiety of having to go to a job interview or just the day-to-day things you have to grin and bear to kind of get through."
Many of his subjects are shown wearing a key around their necks—a symbol of the power they have to act on opportunities. Since the city is filled with things to do, people get stuck in their "bubbles" and don't realize there are opportunities beyond the city, Sansing said. "I see the key as access to different things."
Sansing's work will be on display at SOFA Chicago, which opens Thursday evening for a preview party. The art fair, which features nearly 80 galleries from around the globe, is open daily from Friday through Sunday at Navy Pier's Festival Hall.  
This is the first year Sansing is featured in the annual exhibition. He says he's excited to be included and hopes his work sheds some light on what's happening in South Side communities.
"Everything has a reason and I feel like this backboard story is just one of those small skirmishes in the war for the South Side. This helps people understand," he said. "It's not just there are people doing bad things. There are reasons and places. ... It's a systematic process that happened over generations. I want to talk about that with my work. I feel like that's an honest Chicago story."
Contact Kristen Thometz: @kristenthometz | [email protected] | (773) 509-5452
---
Related stories: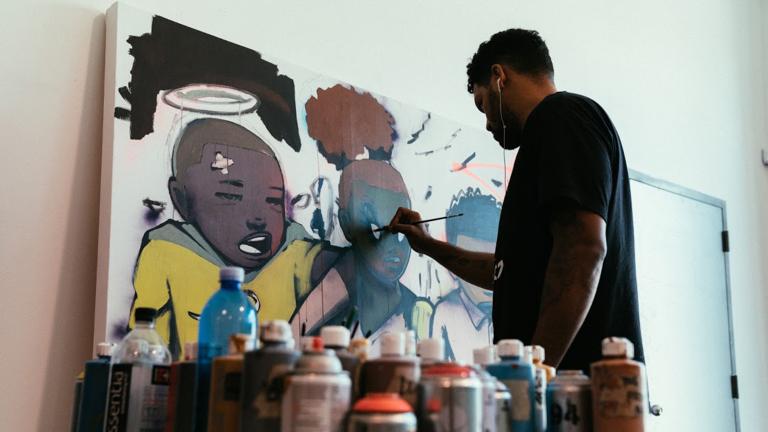 Hebru Brantley's New Art Show Takes Flight in Elmhurst
Sept. 20: His artwork is in the collections of George Lucas, Jay-Z and Mayor Rahm Emanuel. We get a preview of the show "Hebru Brantley: Forced Field" at the Elmhurst Art Museum.
---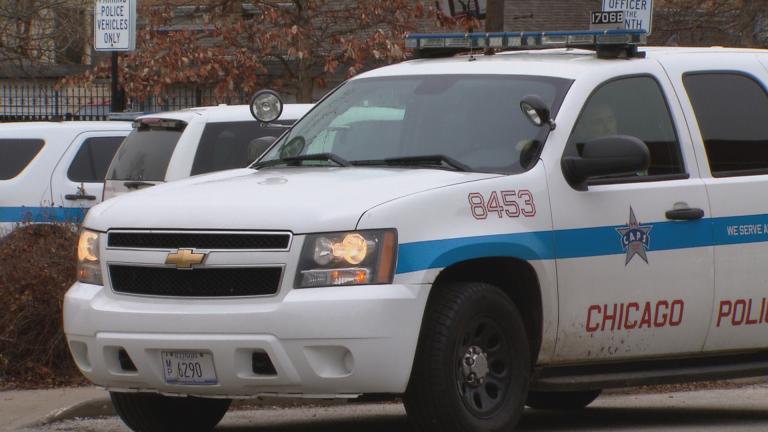 Study: Thrill, Lack of Recreational Activities Attract Youth to Gangs
May 31: Former gang members cited a lack of recreational activities and the rush of adrenaline they got from participating in gang violence as reasons for joining gangs, according to a new study.
---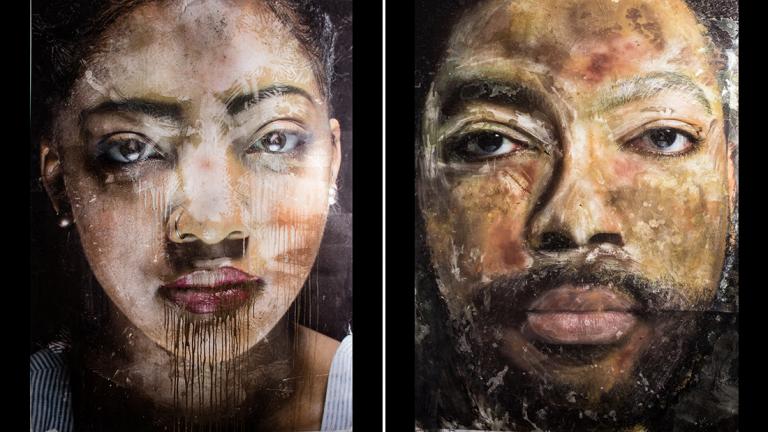 Chicagoan's Art a Celebration of Blackness, Tribute to Lives Lost
March 31: "I hope that when black people look at it they see how powerful and beautiful we are despite everything that's happened to us," said artist Ervin A. Johnson.
---