An artist in Chicago is soaring right now, and he has landed his new show in Elmhurst.
Hebru Brantley's artwork is in the collections of George Lucas, Jay-Z and Mayor Rahm Emanuel. And while his murals and sculptural works are playful and approachable, they often have serious undertones.
"Chicago Tonight" visited the Elmhurst Art Museum for a tour of the show before it opened to the public.
TRANSCRIPT
Brandis Friedman: The Elmhurst Art Museum has been taken over by youthful superheroes that emerged from the mind of Hebru Brantley.
John McKinnon, executive director at Elmhurst Art Museum: Hebru Brantley is a very young, exciting artist from the Chicago area. He has been known for his really upbeat murals, things that he's done throughout the city, also other cities and worldwide. He is also drawing on a lot of things that are very poignant and doing it very knowingly.
Friedman: The inspiration for his "Flyboy" characters are the Tuskegee Airmen – the African-American military pilots who fought in World War II.
Brantley, a Bronzeville native, rarely does TV interviews and he declined our request.
McKinnon: Hebru made new work specifically for this show with a lot of ideas in mind of how a visitor might walk through the exhibition. So while he made a lot of individual pieces, he built on a narrative as a whole.
There is a larger story about cultural boundaries.
Through this installation, Hebru is really trying to elaborate on some social boundaries. It's a physical boundary, and it's a little literal in that sense, but beyond where we look, we see his character Flyboy and a number of other characters in a bit of mourning.
Friedman: The artist has ambition to go with his talent.
McKinnon: He's talked about being a more handsome version of Walt Disney, and really having a kind of empire of sorts and really building on things, but also Jim Henson is a big influence as well.
Hebru's work is, again, a bit of a collage – of drawing in a lot of different things but making it his own and some of his influences might include some street art pioneers such as Keith Haring, even someone as contemporary as KAWS, but his work is also including some other cultural phenomenons that are historic and contemporary at the same time like Afro-Futurism, and then also a lot of pop cultural references and artistic, you see some references to Andy Warhol, specifically, in the show.
Friedman: The new work fills all three galleries at the museum.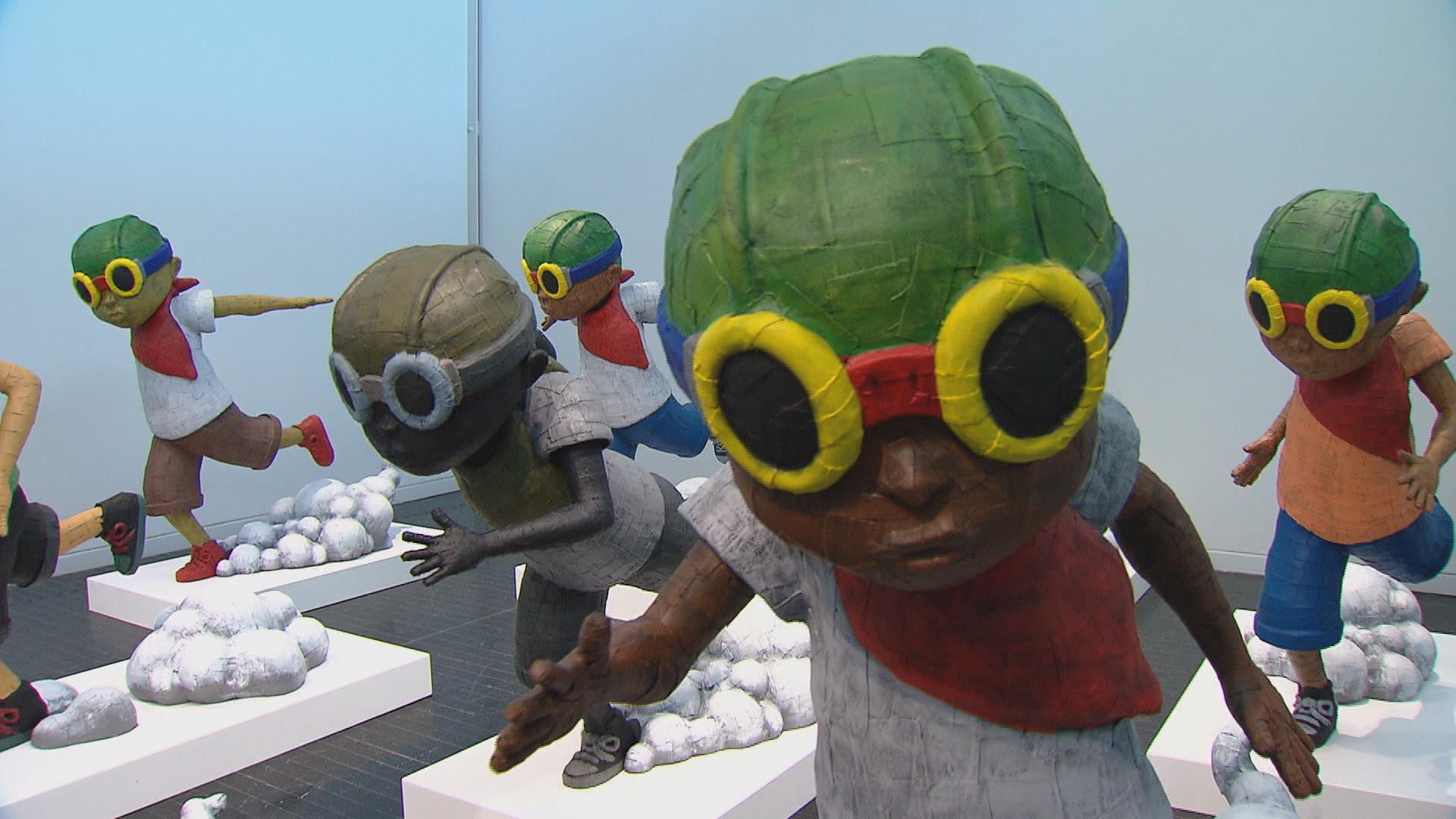 McKinnon: In the third gallery, Hebru's final gallery, he has his character Flyboy—and again, there are multiple Flyboys here. They're all multiple races, a sort of shifting ethnicity, and they're being emancipated from traditional views, traditional roles of an African-American in Chicago and now they're taking off with new flight, new ideas and new adventures.
Hebru is a phenomenon, and he thinks big.

More on this story
The exhibition is called "Hebru Brantley: Forced Field." It is at the Elmhurst Art Museum through Jan. 7, 2018.
---
Related stories: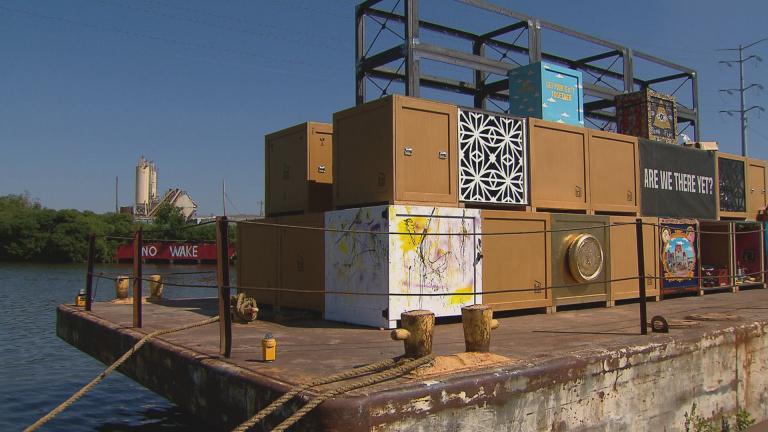 Floating Museum Begins its 3-Month Journey Up the Chicago River
Aug. 15: There's a new floating attraction along Chicago's Riverwalk. We go for a look.
---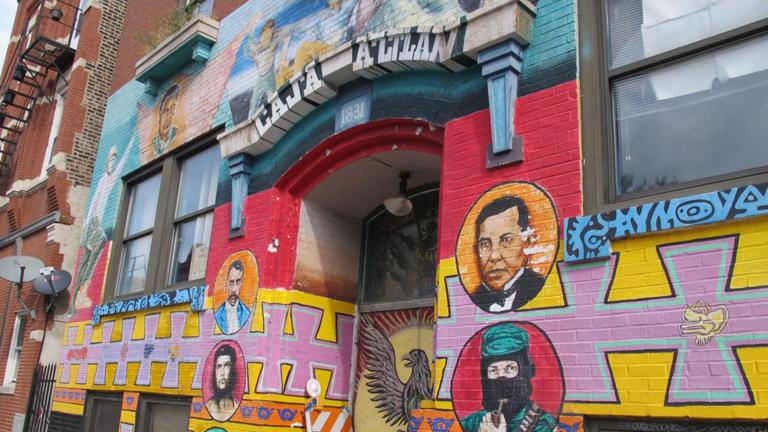 Loss of Iconic Pilsen Mural Sparks Outrage
July 6: When a developer painted over a beloved and iconic mural on a shuttered Pilsen community center last month, the response was swift and strong.
---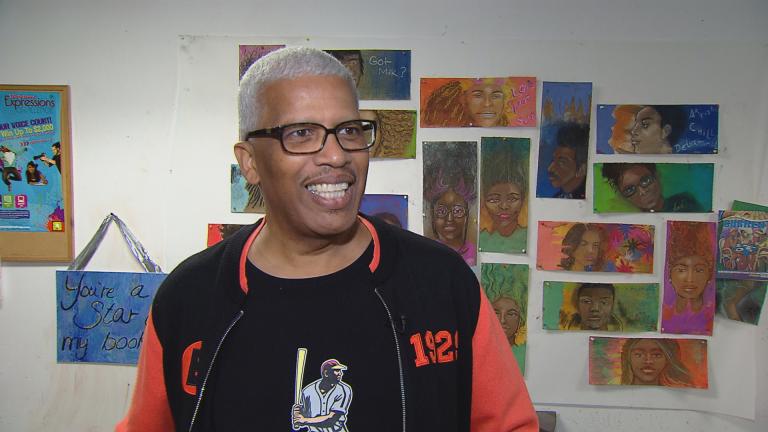 Graphic Artist Returns to Chicago to Inspire Next Generation
May 9: Craig Rex Perry grew up in Englewood and has studied and worked around the world. We catch up with him in Kenwood during a master class on cartooning – and careers.
---