From radio dramas to print journalism to political activism, Chicago writer Richard Durham celebrated the depth of black history and the nuanced lives of American people of color.
Motivated by a love of storytelling and passion for equality, Durham was responsible for groundbreaking programs on radio and TV. Author Sonja Williams first learned about Durham's radio series "Destination Freedom" chronicling notable African-American historical figures when she was researching a documentary for the Smithsonian Institution.
"I had never heard of (him)," said Williams, a Peabody-winning radio producer and a professor of media, journalism and film at Howard University. "I was fascinated by not just his work, but the more that I looked into him, his personal story was fascinating. There wasn't much written about him outside of the 'Destination Freedom' radio series that was on from 1948-'50. That was my introduction."
Durham's worked crossed media. He was the editor for Muhammad Speaks, the widely-read newspaper produced by the Nation of Islam. He helped Muhammad Ali write his autobiography. He wrote a groundbreaking soap opera produced by WTTW chronicling the lives of black Chicagoans. And he even served as an advisor to Harold Washington during his first campaign for mayor.
Williams traces the course of Durham's uncommon life in the book "Word Warrior: Richard Durham, Radio, and Freedom." To Williams, Durham had two key motivations. "He loved telling stories. As his consciousness developed, he knew he wanted to tell stories about black people, African-Americans, that really countered the prevailing stereotypes that existed."
And, Williams said, Durham came from a family that valued education highly. "He knew, or realized after a certain point, that he could not only tell stories, but in those stories help educate while entertaining people. He was really using media, whether it was radio or TV or print, to provide information, but do it in entertaining ways, so you're not knocking people over head with, 'This is important, you have to understand this!'"
Williams joins Chicago Tonight in discussion.
---
Upcoming event
Sonja Williams appears at an event honoring Richard Durham this Saturday at the DuSable Museum. Get details here.
Read an excerpt from "Word Warrior" below.
CHAPTER 1
Remembering
A. A. Rayner and Sons Funeral Home
Chicago, Illinois—South Side
Wednesday, May 2, 1984
The sanctuary buzzed with energy.
People staked out all available spaces, sitting or standing shoulder to shoulder in the funeral home's cream-walled, brightly lit, three-hundred-seat chapel. Ushers had to direct the rising tide of attendees into an adjacent chapel-a mirror image of the main sanctuary. When that room reached capacity, people claimed whatever space they could in the hallway between the two chapels.1
Everyone was there to honor Richard "Dick" Durham.
Some of the attendees came straight from work in their best business attire. Others dressed more casually, wearing light sweaters, jackets, and shawls in Chicago's mild, near-sixty-degree weather.2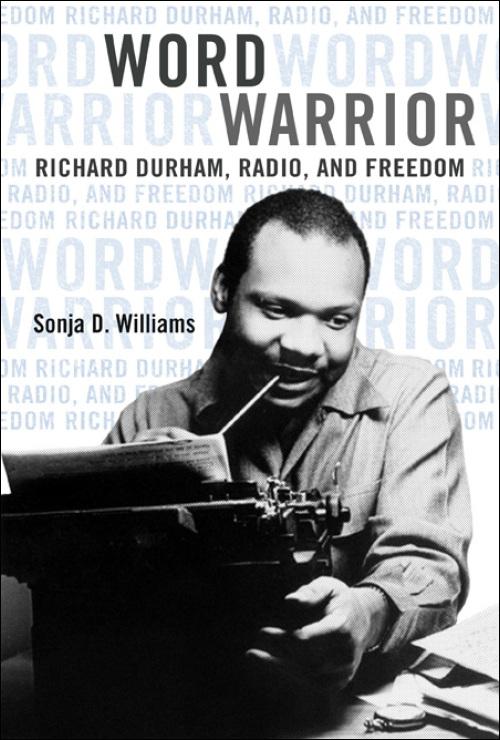 A few motorists parked in the funeral home's small lot. Other drivers pulled into whatever spots they could find in front of the middle- and working-class black neighborhood's modest single-family brick bungalows and smattering of apartment buildings. Still other attendees let city buses chauffeur them down either Seventy-First Street, Dr. Martin Luther King Jr. Drive, or State Street on their way to Rayner's two-story, red-brick building at 318 East Seventy-First.3
Many African American Chicagoans turned to this black-owned business to handle funeral arrangements for their loved ones. Nearly thirty years earlier, Rayner and Sons Funeral Home helped to galvanize the national civil rights struggle when a heartsick, defiant young mother asked owner Ahmed A. Rayner Jr. to prepare her murdered son's body for an open-casket funeral.4  Thousands of mourners walked past the horror of fourteen-year-old Emmett Till's bloated remains. Millions more were shocked by photos in the black press of the teen­ ager's mutilated body. Till had been tortured, killed, and dumped in a river for allegedly whistling at a white woman while on summer vacation in the hamlet of Money, Mississippi.
Through his writing and advocacy, Richard Durham sought to eliminate this kind of injustice. And as the director of the antidiscrimination unit of the United Packinghouse Workers of America (UPWA)-one of the most progressive labor unions in the country-Durham helped the union organize around the Till case.
Tonight however, Dick Durham would take his place in the spotlight.
In Rayner's main chapel, a huge bouquet of pastel carnations, green ferns, and multihued gladiolas released their sweet scents. This regal display sat in the center of the chapel's front alcove. A casket was conspicuously absent. The family had been clear; they had not wanted Dick's memorial service to be a solemn affair. And since he had not been a religious man, Clarice Durham did not ask a preacher to officiate. Instead, she recruited family members and friends to share their recollections about her husband.5
At about 7 P.M., ushers led Durham's family members to the main chapel's re­ served front row. Durham's thirty-four-year-old son, Mark, then stepped in front of the crowd. He brought a gold-colored mouthpiece to his lips and coaxed a melody from his tenor sax. Accompanied by organist Ron Scott and drummer Billy Leathers, Mark's interpretation of jazz pianist Horace Silver's Song for my Father elicited smiles.6 The song was an apt salute from a son who adored his father.
Mark fluidly improvised on Silver's simple yet elegant melody. Dick had loved his son's playing, and he was a big jazz fan. In some ways, Durham's life and career echoed the music and musicians he cherished. Like the unpredictable, innovative jazz trumpeter/composer Miles Davis, Durham was daringly outspoken in his storytelling and bravely improvisational in his approach to life and creative expression. Durham also may have channeled jazz  composer, pianist, and bandleader Edward "Duke" Ellington in his ability to fashion broadcast and print masterpieces that inspired fellow artists, colleagues, and even audience members who might not have known his name.
Dick Durham had been a soft-spoken man. Brown-skinned and heavyset, Dick had a receding hairline that left a pool of exposed skin on the top of his head. He stood just shy of 5'9". Yet Durham's influence had been long-limbed­ reaching into many aspects of life in Chicago. A virtual Who's Who of Chicago's political and cultural worlds populated Rayner's sanctuaries.7 City officials and congressmen, educators and social workers, labor leaders and artists, journalists and other writers were just a few of the hundreds who came to remember- and to say goodbye.
At age ten months, Maya Durham, one of Dick Durham's two granddaughters, may have been the youngest attendee.8 Other attendees had lived a lot longer than Richard Durham's sixty-six years. Whatever their ages, the crowd represented the diversity Durham championed throughout his life. There were blacks and whites; the wealthy and the struggling; the religious and the secular.
Most people were still in shock. Durham had died unexpectedly of a heart attack five days earlier, April 27, 1984, during a business trip in New York City.9 
As the last note of Mark Durham's poignant salute hung in the air, one of Mark's uncles, his mother's oldest brother, walked to the front of the room. Rob­ert Davis moved slowly. He had not felt well as he traveled with Dick's younger brother Caldwell from Los Angeles, where they both lived.10 Davis stiffly stepped up to the chapel's oak podium and leaned toward the attached microphone. He started talking about how he and Durham met and became friends more than forty years earlier.
Robert Davis and Richard Durham had much in common. They were born the same year, 1917, almost exactly six months apart, Robert on March 7, Richard on September 6. Both had trekked to Chicago with their families. Davis came by way of Mobile, Alabama, and Chattanooga, Tennessee. Durham was from rural Raymond, Mississippi. Both had literary dreams.11 Davis and Durham met as members of a writing group where they waxed poetic about "Bronzeville," their overcrowded, all-black South Side neighborhood.
Beginning in the late 1930s, these twenty-one-year-olds documented life in a cash-strapped, Depression-era Chicago while working as writers for the federally funded Illinois Writers' Project (IWP).12 Robert Davis smiled as he told the attentive crowd that he developed some level of trust and respect for Durham early on-since he introduced Dick to Clarice, his baby sister. Ever the protective big brother, Davis said that he approved when Dick and Clarice started dating in 1941. He also approved of their wedding a year later. For the next forty-two years Davis kept tabs on Clarice and her husband, his friend. Davis told the crowd he still couldn't believe that Dick was gone.13 He would sorely miss him.
Pulitzer Prize-winning author Louis "Studs" Terkel echoed Robert Davis's sentiments. Terkel reminisced in his deep, slightly nasal voice that listeners could readily identify because of his many years as a Chicago radio talk show host. The short, stout Terkel said that his friendship with Dick Durham also dated back to the Depression years. Terkel and Durham met while working as scriptwriters in the radio division of the IWP.14
In Terkel's eyes, his friend was one of those writers who had "a certain clarity of vision as well as clarity of style:' The best example of that, in Terkel's opinion, was Dick's Destination Freedom radio series. "There was nothing quite like it ever on radio," Terkel asserted. "It was a story of African Americans, but they were little-known stories, you know, of unsung heroes:'15 For two years starting in 1948, Durham penned lilting, opinionated scripts that profiled Negro leadership and courage while railing against injustice each week on Chicago station WMAQ.
A talented ensemble of local performers, including Studs Terkel and singer/actor Oscar Brown Jr., brought Durham's scripts to life. Terkel acknowledged that his friend was not as well known as black writers like Richard Wright, Ralph Ellison, or Toni Morrison. Yet Terkel noted: "Dick Durham was a very important figure in African American literature. . . . He took the medium of radio and used it for a series that was serious about life and history. For that alone,'' Terkel concluded, "he should be honored:'16
Nods and applause followed Terkel as he returned to his seat. A short, petite black woman then rose and placed three pages of typed comments on the podium. Her name was Margaret Burroughs, the talented visual artist, writer, and co-founder of the South Side's DuSable Museum of African American History.
Burroughs said that she first became aware of Richard Durham when his "beautiful and sensitive "poetry appeared in the Chicago Defender newspaper. Burroughs and Durham soon became friends, and she found out that her fellow artist's birth name actually was Isadore. Some family members and friends never stopped calling Durham by his childhood nickname, Izzy. Later, he sometimes used the name Vern Durham, Burroughs said, as "his poetic nom-de-plume." Durham eventually crowned himself Richard. Burroughs said that the fighting spirit and courageous exploits of England's Richard I, the twelfth-century king known as Richard the Lionheart, inspired Durham.17
What better name for a young man who saw himself as an increasingly muscular, creative force?
Long before the advent of the "Black is Beautiful" identity movements of the 1960s and 1970s, Burroughs indicated that Durham broke through "a thoroughly racist-ridden electronic media of radio and TV:' His dramatic creations, including Here Comes Tomorrow, Destination Freedom, and Bird of the Iron Feather, "were like an oasis in the desert or like a Balm in Gilead which strengthened and encouraged our sin-sick souls," Burroughs said."I can still remember how eagerly we looked forward to these programs which gave us something positive that we could identify with about ourselves:'18 She also praised Durham's work as a probing journalist, labor union organizer, and author of The Greatest: My Own Story, boxing  champion Muhammad Ali's autobiography.
Durham was, in Burroughs's estimation, "a people's artist,'' a man who "carved out his monument by the works and the legacy that he left to us:' She hoped that his life and writing would serve as "a role model for other young warriors who are surely coming on to follow the path that he cleared to carry on his message and his work:' 'Truly," she concluded, "Richard the Lionheart would be quite pleased:'19
To appreciative applause, Margaret Burroughs stepped aside as another artist took her place. This woman, singularly calling herself Chavunduka, faced the audience and let her voice soar between the high and low notes of the bittersweet ballad "Everything Must Change:'20 The tune's lyrics spoke about life's contradic­ tions and transformations, of life's grounded yet ethereal nature.
For a moment, Rayner's funeral home became church. Its congregants clapped and nodded and Amen-ed in encouragement. Tears left watery tracks on some people's faces. Others swayed to the gentle rhythms of the ballad and the beauty of Chavunduka's rendering. When the song ended, Chavunduka and her accompanists, Ron Scott on piano and Mark Durham on sax, humbly acknowledged the memorial crowd's enthusiastic praise.21
---
Related stories: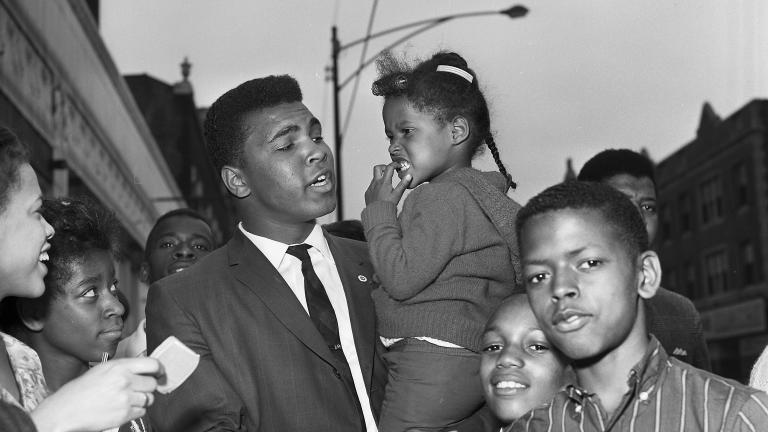 Jonathan Eig's 'Ali: A Life' Portrays Complex, Flawed, But Humble Icon
Oct. 10: A Chicago author tackles the complex life of Muhammad Ali in a new biography with some fascinating revelations.
---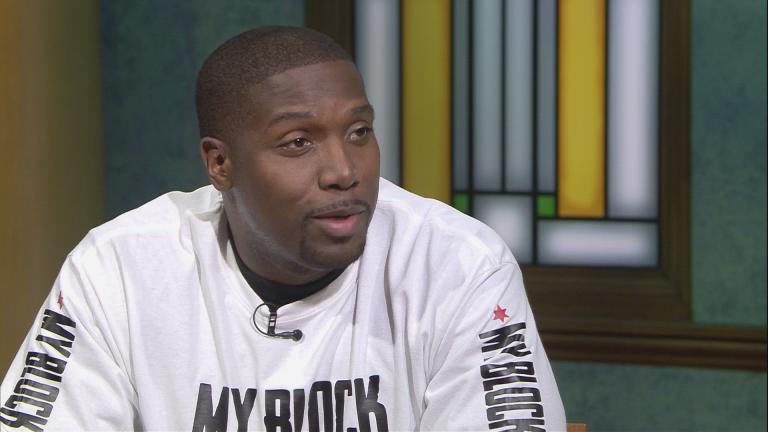 'My Block, My Hood, My City' Founder Jahmal Cole on Why 'Exposure is Key'
Oct. 4: A new book by a Chicago community activist and mentor explains how cities can become safer and more equitable, and why we all have a stake in our neighborhoods.
---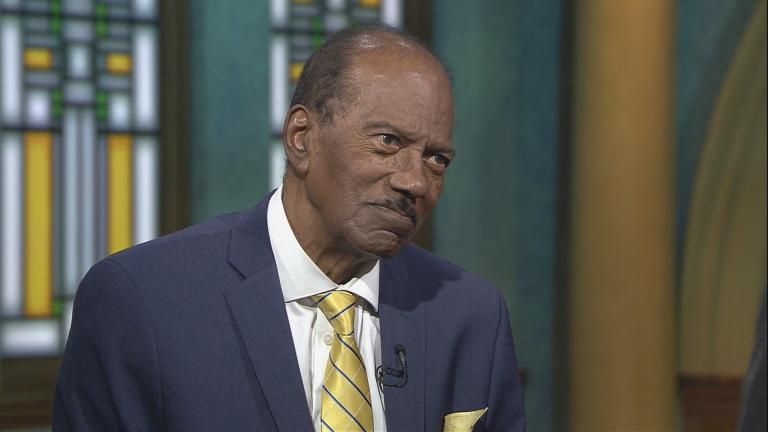 Jim Tilmon a Pilot and Pioneer Who 'Just Wanted to Fly'
Sept. 12: He has worn many hats throughout his extraordinary life. The Emmy Award-winning broadcaster and weatherman talks about his long and storied career.
---