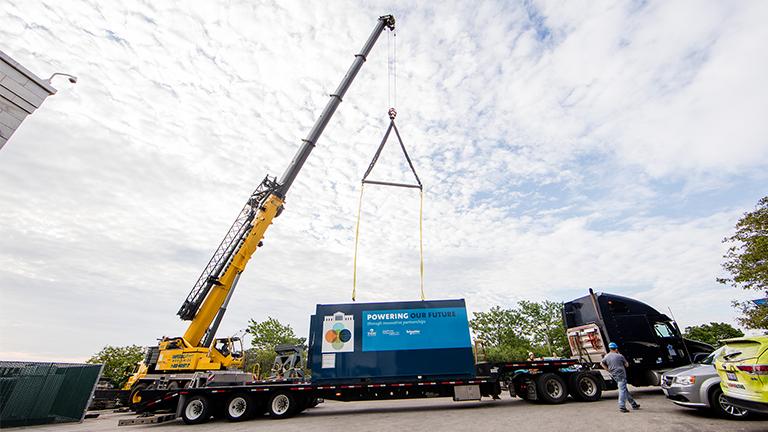 The Shedd's new 30-ton, one-megawatt lithium-ion battery was installed on May 26. (Shedd Aquarium)
The Shedd Aquarium has added a new source of power as part of its green initiative – and it isn't coming from the institution's electric eels.
The aquarium installed a one-megawatt lithium battery weighing 30 tons on May 26. It's the largest lithium-ion battery installed in any aquarium or zoo in the U.S.
"It's taken us about two and a half to three years to fully realize and install it," said Bob Wengel, vice president of facilities at the Shedd. "Because of the infrastructure we're putting in, we feel right now we're in a pretty good spot to reach our goal."
Specifically, that goal is to cut the aquarium's energy use in half by 2020. It's part of Shedd's Master Energy Roadmap plan, a green initiative started in 2012. In addition to the installation of the giant battery, the plan calls for replacing 75 percent of the aquarium's lights with high efficiency LED lights and implementing enhanced automation systems that can adjust electricity use based on real-time shifts in electricity pricing.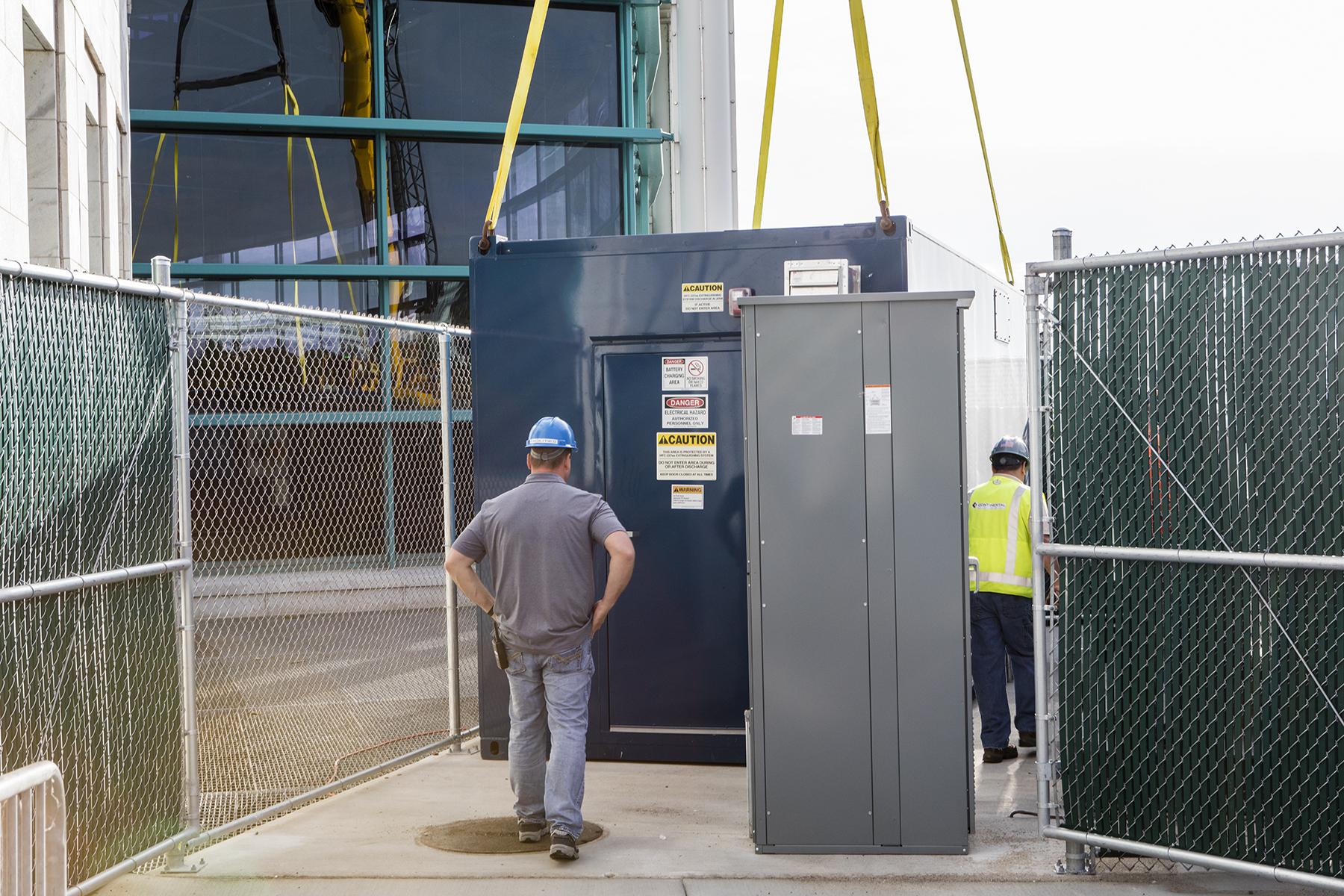 The Shedd hopes to become "the nation's first clean-energy-powered cultural institution," according to the aquarium's press release announcing the new lithium-ion battery. (Shedd Aquarium)
The $2 million battery will generate revenue for the Shedd by maintaining the area's electrical grid at a frequency of 60 hertz for the regional transmission organization PJM, which manages the grid. For example, if it's a cloudy day and the city's solar panels aren't generating enough electricity, the battery will distribute extra power. It will also serve as emergency back-up power for the Shedd. 
The massive battery is visible to visitors from the loading dock outside or through the south Abbott Oceanarium window inside.
The battery, along with an adjoining transformer and inverter skid, were funded in part by a $500,000 grant from the Illinois Department of Commerce and Economic Opportunity (IDCEO) and installed by Schneider Electric. The remaining $1.5 million cost was covered by the Missouri-based company EaglePicher, which built the battery.
Follow Evan Garcia on Twitter: @EvanRGarcia
---
Sign up for our morning newsletter to get all of our stories delivered to your mailbox each weekday.
---
Related 'Chicago Tonight' Stories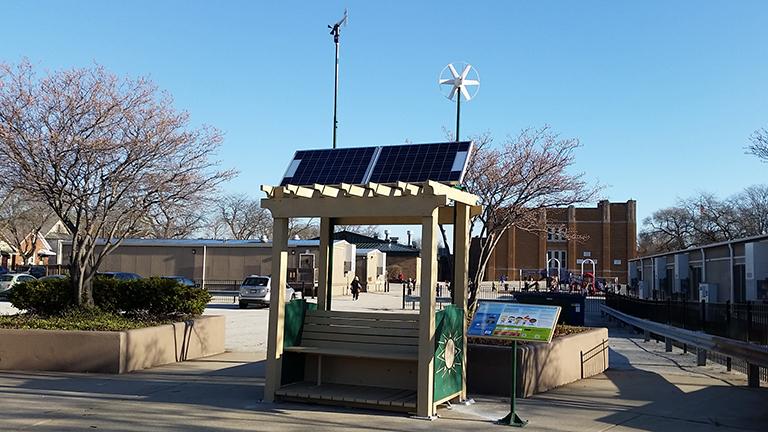 How a Park Bench Monitors Air Quality on Chicago's Southeast Side
June 2: The Environmental Protection Agency recently installed a park bench equipped with air pollution sensors at a CPS elementary school. It's one of just seven such benches in the U.S.
---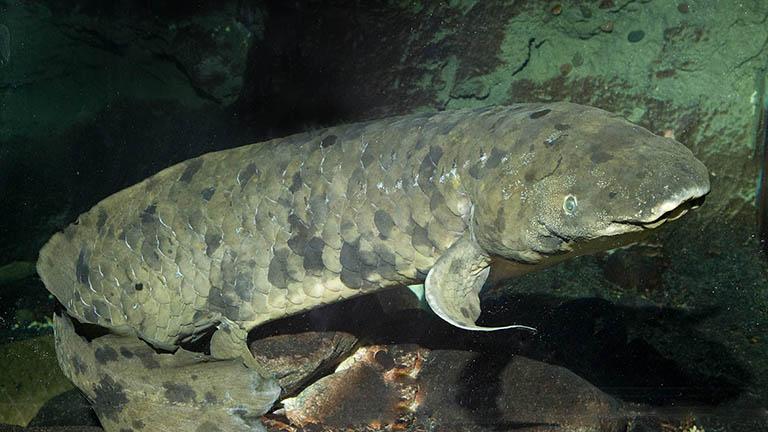 'Super Slimy' Granddad at Shedd the World's Oldest Aquarium Fish
May 19: Granddad is believed to be the oldest fish in captivity at any public aquarium or zoo in the world. The Shedd estimates he's at least a century old and that an "excess of 100 million visitors" have passed through the aquarium since his arrival.
---
Young Hospital Patients, Staff Help Name Shedd Penguin Chick
April 25: After Lurie Children's Hospital of Chicago patients, families, staff and volunteers took part in a voting contest last week, the 10-month-old penguin previously known as Chick No. 23 is now called Diego.
---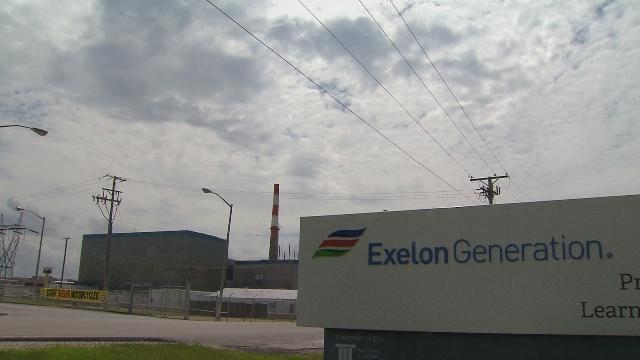 Debating Illinois' Energy Future
June 8, 2015: There's a lobbying and advertising war going on in Illinois. No, it's not related to the state budget. It pits the state's largest producer of energy, Exelon, which is asking for a rate hike to help its struggling nuclear power plants, against wind and solar energy groups that say Exelon is merely a billion dollar corporation seeking a bailout.
---