Driving in downtown Chicago is one thing, but imagine flying through a maze of Loop skyscrapers without actually being able to see them.
That's the challenge presented to millions of birds that pass through the city twice every year. Chicago's location on the Mississippi Flyway bird migration route and Lake Michigan make it a prime stopover for hundreds of species of birds heading to summer breeding grounds in northern U.S. states and Canada or, in the fall, to overwintering sites as far as South America.
But thousands of birds each year never make it to their final destinations.
During the day, birds are regularly killed or seriously injured after flying into windows or mirrored surfaces of buildings because they fail to see reflective or transparent surfaces. A hotel lobby's bubbling fountain, furniture or indoor plants may seem like welcome resting spots for birds that don't see the glass separating them from the objects inside.
Birds migrating at night, such as songbirds, guide themselves by the light of the moon and stars. According to the Audubon Society, the unnatural glow of the city's skyline throws these birds off their migratory flight path. The birds then circle these buildings until they either collide into them or die from exhaustion.
Each year, the Chicago Bird Collision Monitors recovers about 6,000 birds in a 1.5-square mile area of downtown Chicago. About two-thirds of recorded collisions are fatal.
"You're talking about hundreds of thousands of birds [at a time] that are migrating through these spaces, and for those that don't make it, it's unfortunate," said Sunny Nelson, the Hope B. McCormick Curator of Birds at Lincoln Park Zoo. "We're trying to do our best to make sure that birds are making it through our area safely."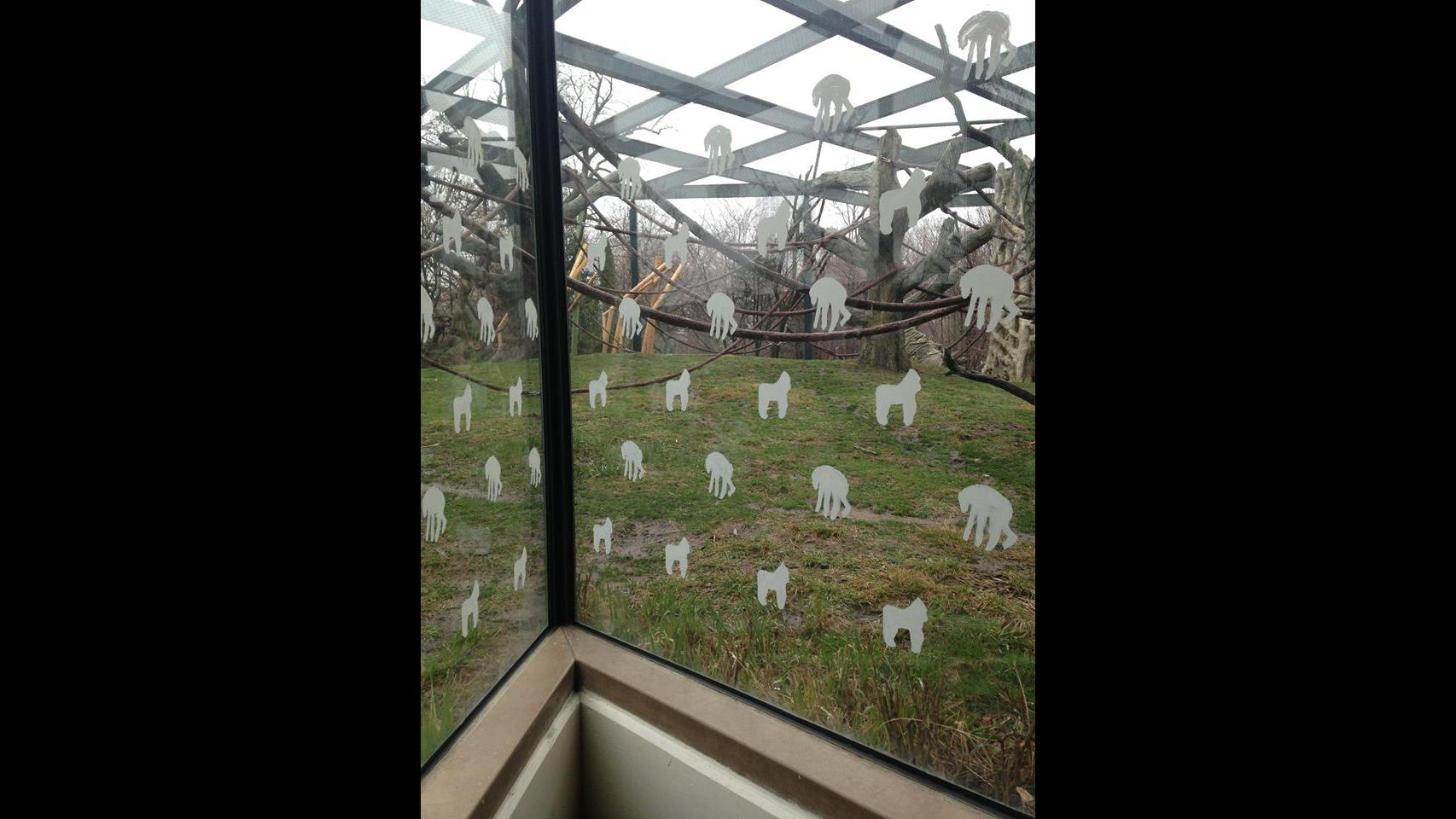 Decals of great apes cover a viewing wall at Lincoln Park Zoo. (Courtesy Lincoln Park Zoo)
Last month, the zoo prepared for the fall migratory season by applying soap or decals on windows to help birds avoid flying into the glass.
Nelson said there are other steps Chicagoans can take to help migratory birds, including:
Turning off lights in empty office buildings (artificial lights can disorient migrating birds)
Removing plants from windowsills (birds might try to fly through windows to reach the plants)
Closing blinds at least three-quarters to help birds see windows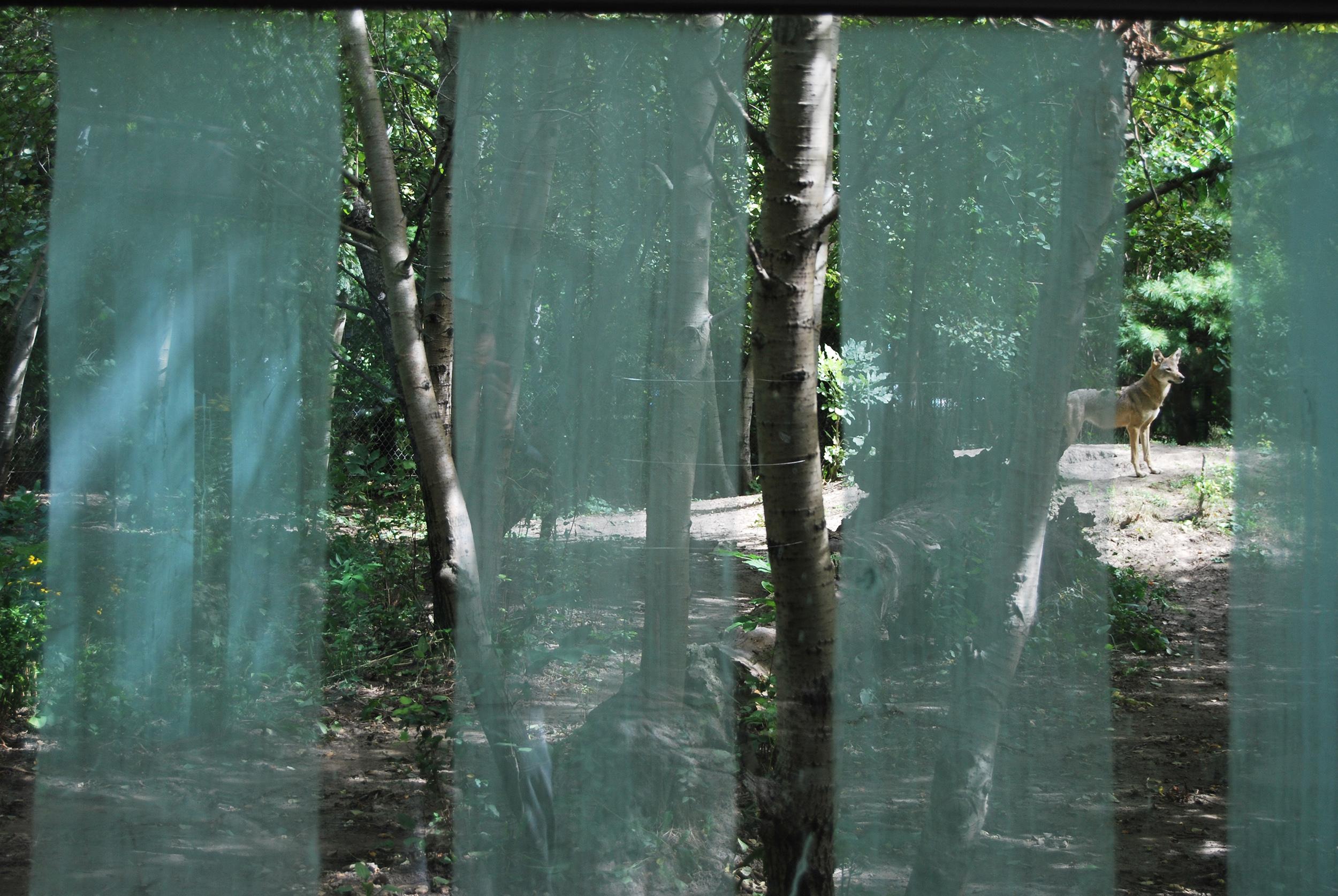 A soaped glass viewing wall at the Pritzker Family Children's Zoo red wolf exhibit. (Courtesy Lincoln Park Zoo)
More than 90 percent of downtown buildings 20 stories or taller now participate in Chicago's Lights Out program, which encourages building owners to turn off their lights from 11 p.m. until sunrise during bird migration seasons, said Annette Prince, director of Chicago Bird Collision Monitors.
Created in 2003, the organization's volunteers survey Loop streets each morning during migration seasons and collect birds that have been killed or injured after striking buildings. Injured birds are taken to the Willowbrook Wildlife Center in Glen Ellyn, and the dead birds are given to the Field Museum's bird division, which takes tissue samples from specimens and catalogues them for research.
Sightings of dead or injured birds can be reported via the organization's hotline (773-988-1867) which Prince expects to be busy soon.
"The next couple weeks will be peak migration," she said.
Visit Chicago Bird Collision Monitors' website for more tips on making windows safer for migrating birds.
Contact Alex Ruppenthal: @arupp | [email protected] | (773) 509-5623
---
Related stories:
Urban Nature: 'Building a Bird-Safe City'
May 1: For migrating birds, Chicago can be a dangerous place. But scientists, architects and volunteers are now teaming up to make the city a leader in bird-friendly design. The story is told in WTTW's online series "Urban Nature."
---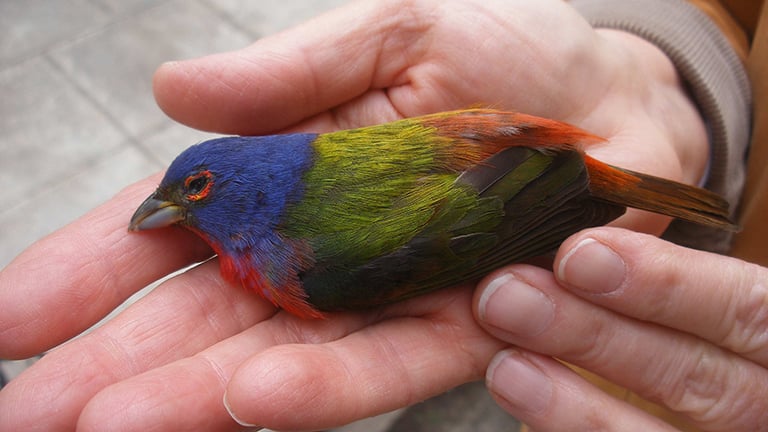 Volunteers Collect Dead, Injured Birds in the Loop
May 24, 2016: Since 2003, a group called the Chicago Bird Collision Monitors has made it their mission to collect birds that have been killed or injured after striking buildings and other structures.
---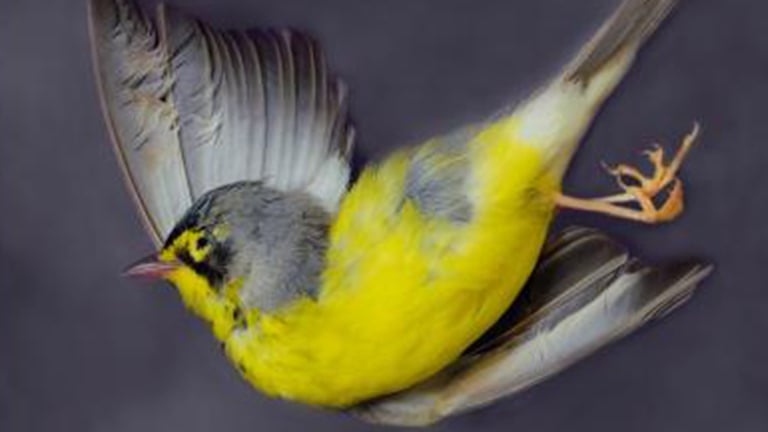 Photographer Art Fox Shares 'Broken Journey' of Migratory Birds
April 25, 2016: The long voyage of some migratory birds ends in Chicago. How photographer Art Fox is raising awareness of what's called "window kill" at the Peggy Notebaert Nature Museum.
---