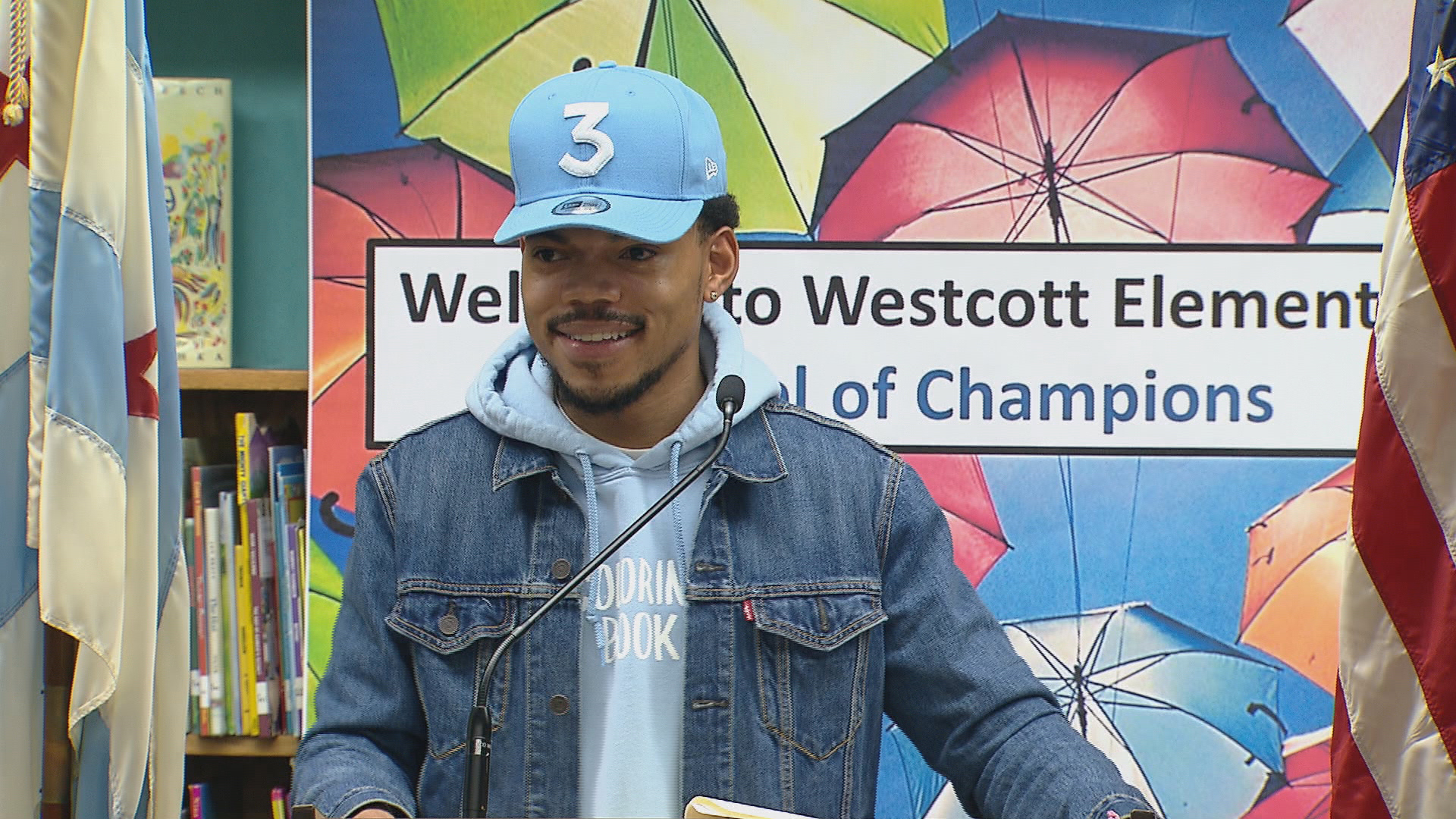 Chance the Rapper announces a $1 million donation to Chicago Public Schools on March 6 at Westcott Elementary School in the Auburn-Gresham neighborhood.
Chance the Rapper has already given $1 million out of his own pocket to Chicago Public Schools and kick-started a new arts advocacy fund for the district, but on Friday he announced another donation of more than $2 million.
The Chicago-born recording artist said $2.2 million raised through the "New Chance Arts & Literature Fund" will be split among 20 CPS schools to help boost arts programming and facilities.
"As a parent and proud product of CPS, I'm committed to helping Chicago's children have quality learning experiences that include the arts," he said in a statement. "Over the past month, I've crisscrossed the city, from Chatham to Chinatown, Humboldt Park to Hyde Park, visiting students and one thing is clear: if we invest in Chicago's children, we'll change the world."
In distributing the donations, Chance – real name Chancelor Bennett – said his own nonprofit, SocialWorks, worked with Ingenuity – the district's nonprofit arts advocacy group – to identify schools that have struggled to retain arts teachers or have not yet expanded arts education to all grade levels.
Each of the 20 schools will receive $100,000 over the next three years, according to SocialWorks, while CPS and Ingenuity will provide budgeting and staffing guidance. Bennett said each principal has also committed to finding the necessary funds to ensure fully staffed arts education programs at their respective schools.
See what schools are getting donations and how they'll be used below.
Site donation information courtesy of SocialWorks
---
Speaking at the Harold Washington Cultural Center on Friday afternoon, Bennett said he has been back in Chicago for about a month since finishing his latest tour, and said two things have weighed on his mind. First, he said in that time he has already had two people tell him they were going to shoot him.
"Both were small altercations," he said, "and I could tell immediately upon point of contact that these young people had a chip on their shoulder, that they felt undervalued or cheated."
But the second thing is his young daughter, Kensli, who will soon be starting her own education.
"These are the two most pressing things on my mind," he said, "Finally sending my daughter to school and the unease of the city she's entering into."
And it's because of that, he said, that he wants to use his position and his nonprofit to offer Chicago teens a path to education and engagement.
On top of expanding music and arts programming, the grants will also allow some schools to add additional learning space.
Burke Elementary is planning to add the Burke Innovation Space, which it says will serve as a "hub for art, design and creativity." Others, like Hughes and Aldridge elementary schools, plan to convert unused classrooms into dance and theater studios.
.@chancetherapper announces his selectes 20 @ChiPubSchools to share $2M in #arts funding! #SupportCPS pic.twitter.com/hHvqaUxZNR

— Ingenuity (@IngenuityChgo) September 1, 2017
Bennett grew up in West Chatham and attended Jones College Prep High School. Saying he felt "flustered" after an unsuccessful meeting in March with Gov. Bruce Rauner to discuss funding solutions for the cash-strapped school district, Bennett held a press conference at Westcott Elementary where he pledged to donate $1 million to CPS.
Later that month he announced both another $1 million donation from the Chicago Bulls and the creation of the new arts and literature fund. Bennett also served as the grand marshal of this year's Bud Billiken Day Parade, where he and SocialWorks distributed 30,000 backpacks with school supplies to kids.
Follow Matt Masterson on Twitter: @ByMattMasterson
---
Related stories: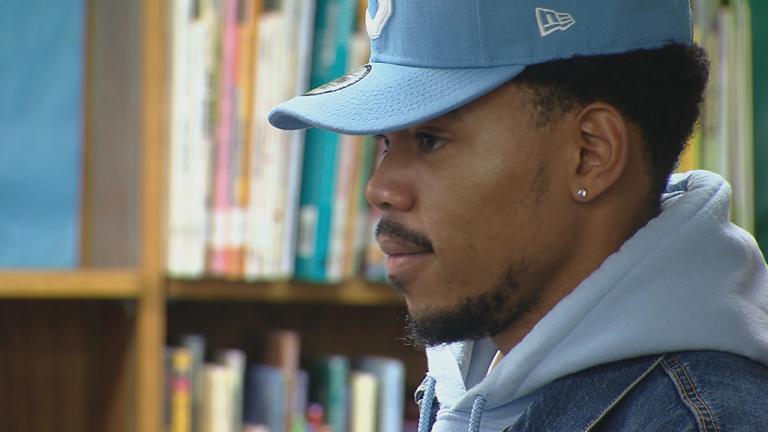 Chance the Rapper, Chicago Bulls Announce More Funds for CPS
March 31: The "New Chance: Arts and Literature" fund will provide Chicago students with new supplies beginning next school year, having already raised $1.2 million through philanthropic donations in just the last month.
---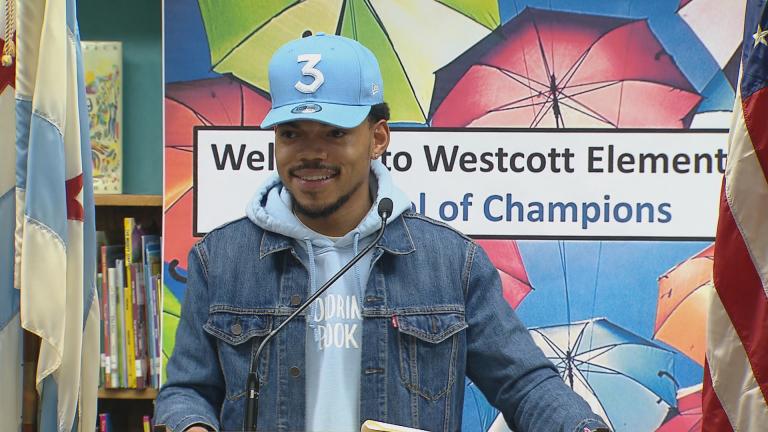 Chance the Rapper Donates $1M to Chicago Public Schools
March 6: The Grammy winner announced a $1 million donation to CPS, just as Gov. Bruce Rauner's office presented new ideas to rescue the cash-strapped district from its funding wreckage.
---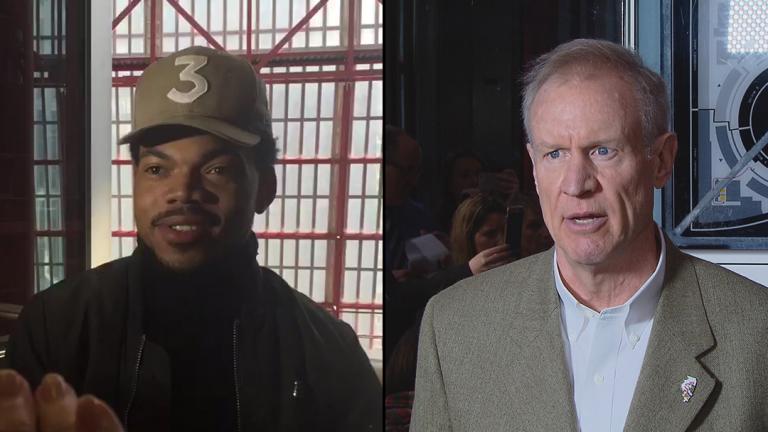 Rauner Gets a Rap After Taking a Chance
March 3: Fresh off of his Grammy glory, Chicago's 23-year-old Chance the Rapper used his celeb status to score a private meeting Friday with Illinois Gov. Bruce Rauner to discuss Chicago Public Schools.
---