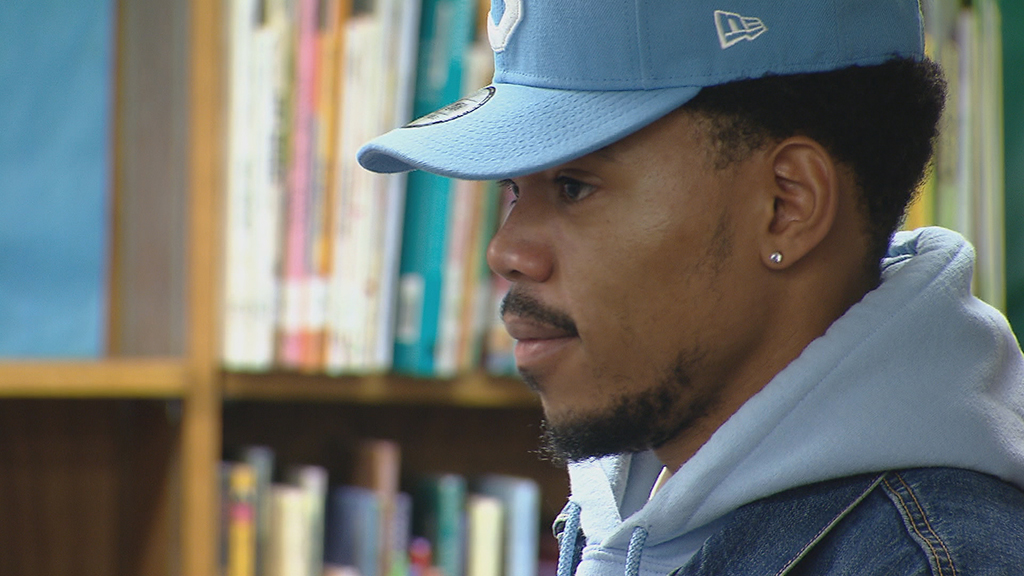 Chicago-born Chance the Rapper announced Friday the creation of a new arts and literature fund for Chicago Public Schools. (Chicago Tonight)
Less than a month after donating $1 million to Chicago Public Schools, Chicago native Chance the Rapper announced Friday he is creating a new arts and literature fund to help spread supplies across district schools.
The "New Chance: Arts and Literature" fund will provide Chicago students with new supplies beginning next school year, having already raised $1.2 million through philanthropic donations in just the last month.
"It's a long-standing conversation that's been going on about the detriment of Chicago and the betterment of the kids of Chicago ... but we can all get really involved here," Chance said Friday inside Robeson High School on the South Side. 
On top of that money, Chicago Bulls President and COO Michael Reinsdorf was on hand to announce his team will also donate $1 million to CPS.
"He cares about the community," Reinsdorf told media following the event. "I said to Chance, 'Are you going to be here long term?' And he goes, 'I'm not going anywhere. The city of Chicago raised me and I'm going to give back.' It says a lot about who Chance really is."
After a meeting last month with Gov. Bruce Rauner, the Chatham-born rapper announced he would donate $1 million to Chicago Public Schools through his youth-focused nonprofit, SocialWorks. Days later, he announced $10,000 donations to 10 individual CPS schools, and has said SocialWorks will continue donating $10,000 to a CPS school for every additional $100,000 raised for the cash-strapped school district.
That means 12 more schools will each receive that amount. Those schools are: Crane High School, Armour Elementary, Percy Julian High School, Revere Elementary, Harlan Academy, Gage Park High School, Solario High School, Azuela Elementary, Clark Elementary, Hyde Park High School, Steinmetz College Prep and Powell Academy.
Chance's nonprofit will partner with Ingenuity, a nonprofit arts advocacy group that has worked with CPS for years, to form the new fund, which will begin supplying resources at the start of next school year.
"There's literally thousands of arts programs we want to implement bell to bell," he said, on top of supplies for arts and general education courses. "Music is a big deal, but don't marginalize me, it's not just about arts and stuff."
Chance – full name Chancelor Bennett – previously said he's discussed donations with fellow Chicago rapper Common and other local businesses and organizations.
CPS has threatened to end the school year on June 1, almost three weeks early, unless it receives additional state funding. The district is suing Rauner and the state, claiming Illinois' education funding formula discriminates against Chicago's predominantly minority public school student population. The governor also vetoed $215 million in pension funding CPS had counted on in its 2017 budget, saying those dollars are tied to yet-to-be-achieved statewide pension reforms.
Following their meeting, Rauner offered up two funding plans of his own – using Chicago's surplus of tax increment financing, or having legislators pass a pension overhaul that would save the state money it could then direct to CPS. Rauner has continued pushing for statewide pension reforms in recent weeks, saying he will turn the $215 million over to the district if GOP-supported legislation is approved.
Chance had pointed words for Rauner during his previous press conference inside Westcott Elementary, telling the governor to "do your job." Rauner's name didn't come up during Friday's announcement until he was asked whether or not he had been in contact with the governor since their chat.
"No. Nope," he said. "This is a philanthropic effort and a charitable effort. The legal stuff, the election process, government – that's all you guy's choice individually. So I'd like to think that by constantly discussing it and you guys constantly reporting on it ... the other sides, besides the philanthropic, will get dealt with."
Follow Matt Masterson on Twitter: @byMattMasterson
---
Related stories: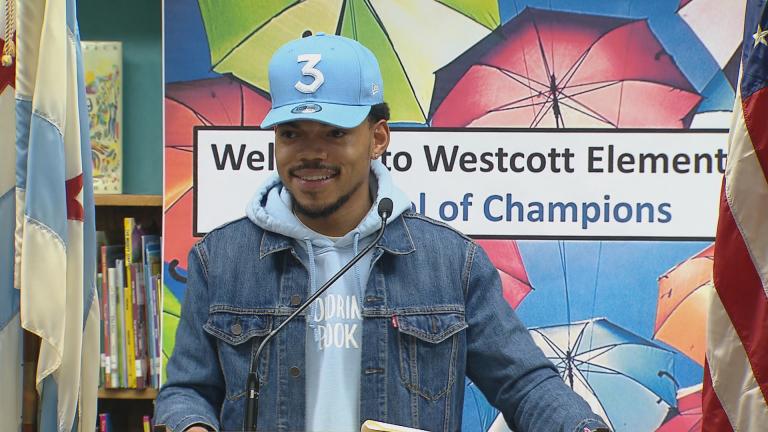 Chance the Rapper Donates $1M to Chicago Public Schools
March 6: The Grammy winner announced a $1 million donation to CPS, just as Gov. Bruce Rauner's office presented new ideas to rescue the cash-strapped district from its funding wreckage.
---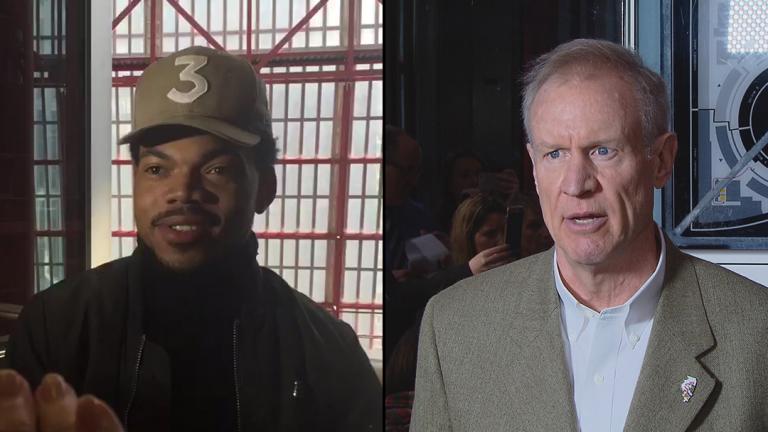 Rauner Gets a Rap After Taking a Chance
March 3: Fresh off of his Grammy glory, Chicago's 23-year-old Chance the Rapper used his celeb status to score a private meeting Friday with Illinois Gov. Bruce Rauner to discuss Chicago Public Schools.
---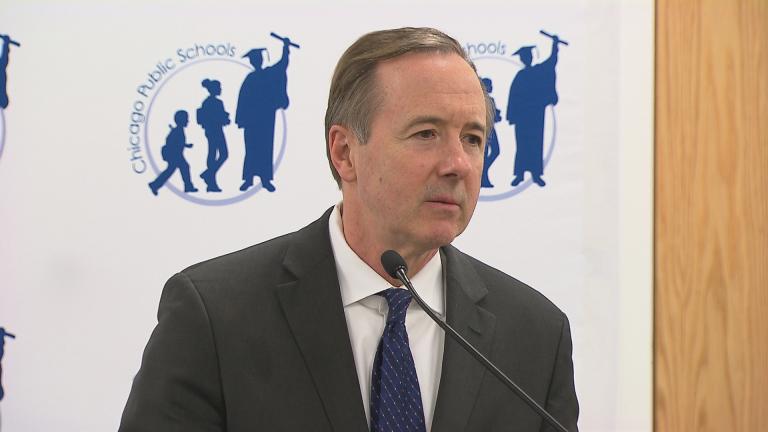 Cash-Strapped CPS Files Motion, Threatens Shorter School Year
Feb. 27: Chicago Public Schools students could be in for a shorter school year.
---