Illinois' top legislators will meet Thursday to continue hammering out a deal on education funding, even as a controversy continues to swirl over an editorial cartoon that backs one of Gov. Bruce Rauner's positions.
The Illinois House was supposed to have met Wednesday to vote on an override of Rauner's sweeping amendatory veto of Senate Bill 1—a plan that overhauls Illinois' school funding formula. School's state support is contingent on a new formula becoming law; already they've missed two payments.
However, House Speaker Michael Madigan announced late Tuesday that he was cancelling the session after "progress" in private negotiations that did not include Rauner.
Those talks will continue in Chicago on Thursday, but the partisan factions don't have much time. The House has until Aug. 29 to follow in the Senate's footsteps and override Rauner's veto, or both versions of the legislation will die.
Rauner calls the legislature's plan a "bailout" for Chicago Public Schools. Senate Bill 1 calls for all schools to keep level funding, and that includes roughly $200 million CPS receives as a grant that Rauner says it should not keep; the plan also takes on CPS employees' nominal pension costs, as well as some retirement fund debt.
Already, Illinois pays for every other districts' teachers' pensions.
"At the core of SB1 is that we're trying to make all kids matter. It's not a secret that the state of Illinois pays almost $5 billion for downstate pensions. Allowing Chicago's pensions to be included in that to us make sense. It's fair," said Chuck Lane, the Superintendent of downstate Centralia High School.
Lane is part of a "Fix the Formula" coalition that traveled to Springfield Wednesday in support of a Senate Bill 1 override.
"There's always going to be disagreement when money's involved. There's always going to be disagreement when politicians are involved," said Galesburg District 205 Superintendent Ralph Grimm said. "There's disagreement when groups of superintendents get together. But at the end of the day, we have to do what's best for all the kids in the state. We have to have faith in the system."
While CPS funding is a part of the ongoing negotiations, so too are issues that are part of neither the legislature's nor the governor's Senate Bill 1, such as the potential creation of a scholarship fund to help kids attend private and parochial school. The fund would be run by the state, but paid for by donations. In exchange, contributors would get a tax credit.
There's support for the concept in various corners: Rauner has long supported school choice. Each of the legislative leaders went to private, Catholic schools. Cardinal Blase Cupich is promoting it.
But central questions have to be settled if it's to be part of any deal, such as how large a tax credit would donors receive? Can Illinois afford it?  What will it mean for public school enrollment? Will it be a pilot or permanent program? 
Talks could also hinge on relief from state mandates like daily PE class, and drivers' education. Republicans say lifting state requirements like these could save schools money.
But downstate school administrators like Lane say it's not that simple.
"That's different for different parts of the state. When you're a large area, you have private businesses that can teach kids to drive. I can tell you that in Centralia, we don't have any of those. So, if we didn't offer driver's education, kids wouldn't get their licenses and wouldn't be able to drive," he said. "The irony of the PE mandate is that you know we're told by the federal government that all the cafeteria food needs to be healthy and nutritious and then we have our state saying we can eliminate PE. So that's the things we deal with." 
Further, drivers' ed and gym teachers and their unions will push back against lifting those mandates.
Heading into the leaders' talks, lawmakers' and media attention continues to linger on an incendiary cartoon published by the conservative Illinois Policy Institute depicting a black child begging for money for schools.
The cartoon supports Rauner's claim that Chicago is keeping money in a TIF slush fund instead of putting it into CPS classrooms.
Lawmakers on both sides of the aisle last week denounced it as racist, but Rauner largely avoided making comment—saying on Friday that he had yet to see it.
A new stream of backlash kicked off Tuesday when the governor's office put out a statement saying that he wouldn't weigh in on claims the cartoon is racist because he's a white man.
Late that night, he backpedaled and emailed a correction saying: "Earlier today an email went out from my office that did not accurately reflect my views. I can understand why some people found the cartoon offensive. And I believe we should do more as a society and a nation to bring us together, rather than divide us."
Critics weren't satisfied.
"How is it that Rauner's own words from an emailed statement released by his spokesperson do not reflect his own views? Though the wholesale takeover of the Governor's office by the Illinois Policy Institute was disturbing, citizens expected that the Governor was still the chief executive. Given the incredible power of the Illinois governorship, the people of Illinois deserve an answer to a simple question: Is Bruce Rauner in charge of his own office?" State Rep. Christian Mitchell, D-Chicago, asked.
Chicago Mayor Rahm Emanuel said, "It's unfortunate the governor did not see what everybody else can see. And then felt that he couldn't raise his voice because his entire leadership of his administration inside the governor's office is staffed from people from a very right-wing think tank that is out of the mainstream of not only Illinois but the entire Republican Party."
The governor's office has not responded to questions, such as whether Rauner approved Tuesday's first press statement, and what he thinks of the cartoon.
The IPI took down the cartoon last week, citing it as an accurate representation but a "distraction."
Thursday, the Institute released a statement from former WLS-7 political reporter Charles Thomas, who is now on WVON radio.
Thomas—who, like Mitchell, is black—calls the cartoon controversy a "bamboozle."
"It is an insult to the black community that a handful of politicians are trying to rile us up over a cartoon when they have done nothing to address the economic and educational injustices the state has perpetrated against us for years," he said in the statement. 
Follow Amanda Vinicky on Twitter: @AmandaVinicky
---
Related stories: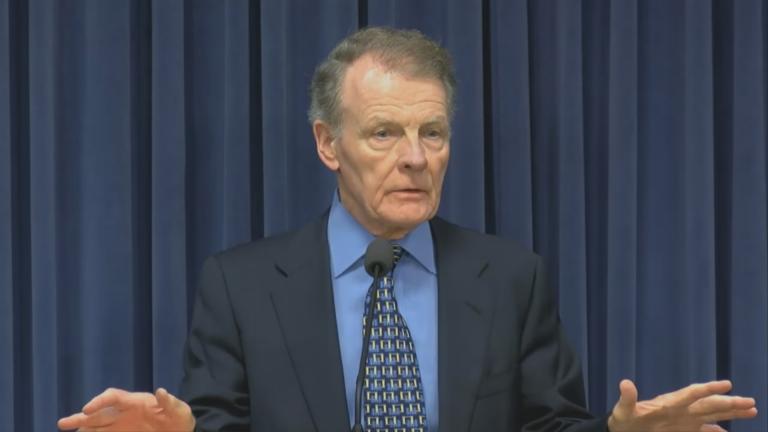 'Hopeful' Madigan Cancels Eduction Funding Vote 'In Light of Progress'
Aug. 22: A marathon private session between Illinois' top legislative leaders was evidently productive enough that House Speaker Michael Madigan is canceling the chamber's expected vote on a contentious education funding plan Wednesday as talks continue.
---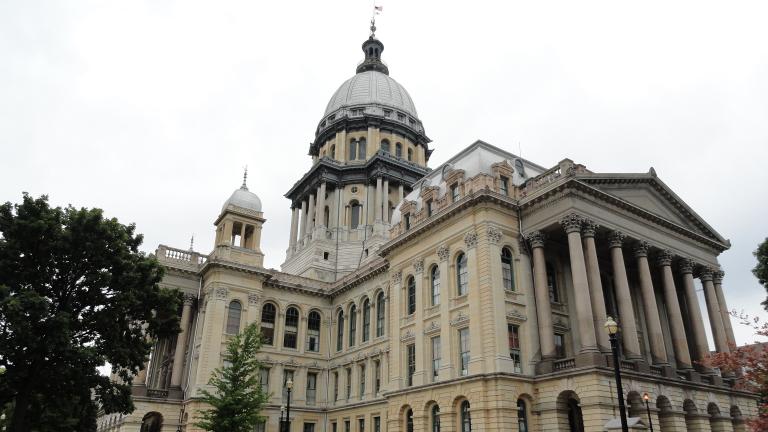 Legislators Condemn Rauner's Reaction to Political Cartoon
Aug. 22: Top legislators spent hours Monday working on an education funding package, and reaction to a political cartoon is still simmering.
---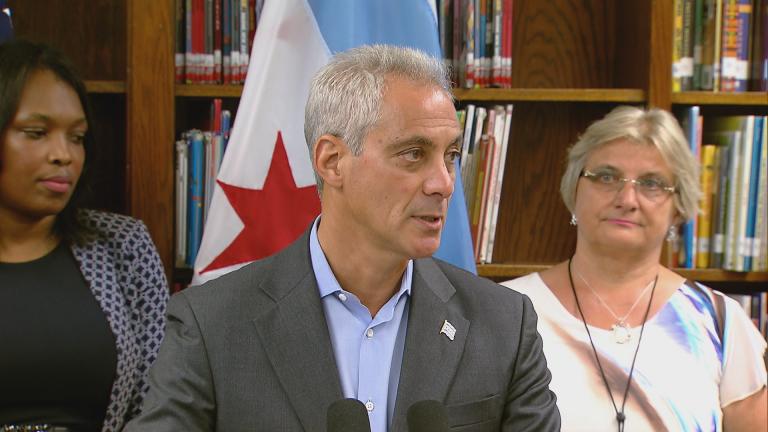 Emanuel, CPS Using Student Achievement in Fight for Funding
Aug. 22: Chicago Public Schools says its English language learners have significantly trimmed the achievement gap compared to native English speaking students – a data point Mayor Rahm Emanuel and district officials want to use in their ongoing fight for adequate funding from Springfield.
---