It's been a tumultuous couple of months in Illinois Gov. Bruce Rauner's office, but the former private equity investor rejects the characterization that his administration is in "turmoil."
"Change comes as part of any organization," he said Thursday.
Rauner's early July sudden dismissal of his former Chief of Staff Rich Goldberg kicked off a surge of firing and resignations within the upper echelon of his advisors inside government and on his re-election campaign. 
The governor replaced Goldberg with Kristina Rasmussen, the president of the Illinois Policy Institute, an organization that advocates for limited government and a free-market approach. Other IPI staffers were brought in to fill the rolls such as directors of legislation (former Republican state Rep. Darlene Senger), policy (Michael Lucci) and communications (Diana Rickert).
After less than 40 days, the governor's office announced Thursday morning that Rickert and three other members of the communications team—Laurel Patrick, Meghan Keenan and Brittany Carl—are out. 
Sources say that more changes are on the way, and though Rauner attempted in a press conference and on a morning conference call with staff to tamp down that speculation, another notice came out after close of business: Rauner's top attorney, General Counsel  Dennis Murashko—who is believed to have been a key architect in bringing the IPI employees to state government—will depart at the end of the month "to pursue opportunities in the private sector." 
"One of the most talented and creative lawyers, Dennis has been my trusted senior adviser for almost three years, and I have always valued his good counsel," Rauner said in a statement. "On behalf of the residents of our great state, I wish him well in his future endeavors."
The IPI, which is privately funded and is largely able to keep its donors under wraps, had no immediate comment as to whether Rickert or any of the others will be brought on to its payroll.
Rumors of upheaval had been swirling after Rauner's press office on Tuesday issued a statement that said that "the governor—as a white male—does not have anything more to add to the discussion" of an editorial cartoon published a week prior by the IPI which various legislators denounced as racist.
Rauner and the IPI say that Chicago siphons money from the city's classrooms by keeping property tax wealth in a Tax Increment Financing (TIF) slush fund; the cartoon features a black boy (a Chicago Public Schools student) begging a white man (showing off his empty pocket while concealing the other, overflowing with TIF cash) for money . 
By Tuesday night the governor had sent a new statement that disavowed the earlier one, though it did not explicitly say how the original email "did not accurately reflect (his) views."
Despite reporters repeatedly asking him Thursday whether he finds the cartoon racist, Rauner would only say he understands why "some people are upset by it." 
"I'm not apologizin' for anything that I have nothing to do with. Let me be crystal clear. And that organization (the IPI) that did that cartoon, they should talk to you about what their views are on it, and I'm not gonna," he said. "I have fought for racial justice, equality of opportunity, my whole life."
Despite being a previous donor to the IPI and close ties to John Tillman, the intitute's chief executive, Rauner denied the assertion that it's his "go-to think tank."
"A tiny fraction of our administration is from that organization," he said. "And they in no regard, in no regard, does that organization speak for me or our administration, and I do not lean on them for any particular issue or policy."
Follow Amanda Vinicky on Twitter: @AmandaVinicky

On the show: We discuss the latest Springfield news with Tina Sfondeles, political reporter for the Chicago Sun-Times; Charles Thomas, former political reporter for ABC7 who is now a political commentator for WVON radio; and our own political reporters: Amanda Vinicky and Paris Schutz.
Note: During our panel discussion, Brittany Carl was identified incorrectly as a former staffer at the Illinois Policy Institute. Carl did not work at the IPI.
---
Related stories: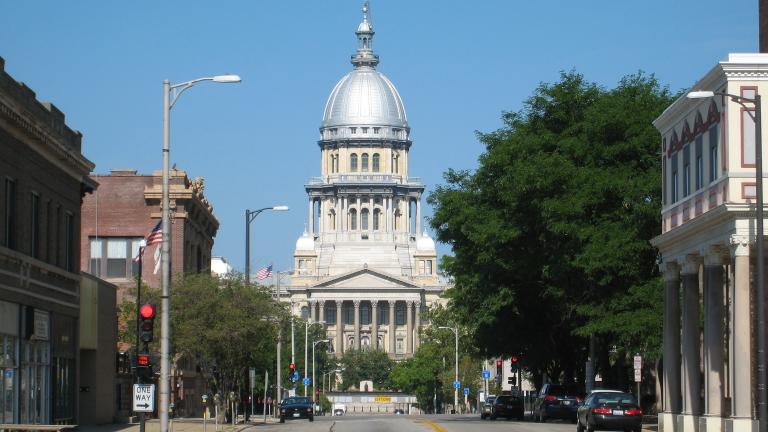 Legislative Leaders Reach Deal on Education Funding Reform
Aug. 24: After days of meetings and months of debate, an agreement has been reached on a new education funding reform in Springfield.
---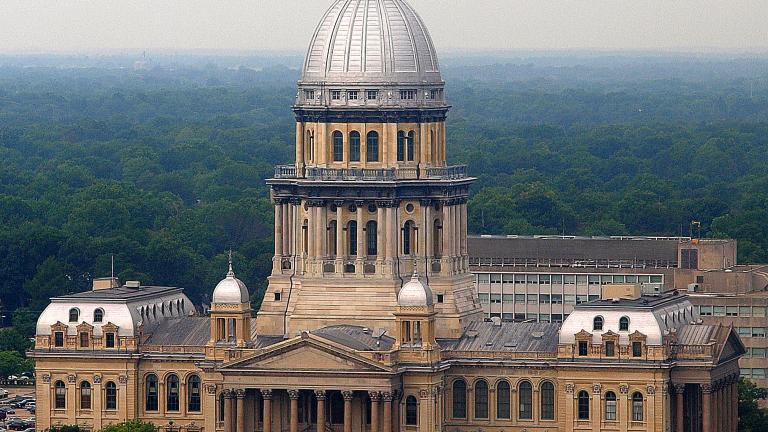 Education Talks, Cartoon Controversy Continue
Aug. 23: Illinois' top legislators will meet Thursday to continue hammering out a deal on education funding, even as a controversy continues to swirl over an editorial cartoon that backs one of Gov. Bruce Rauner's positions.
---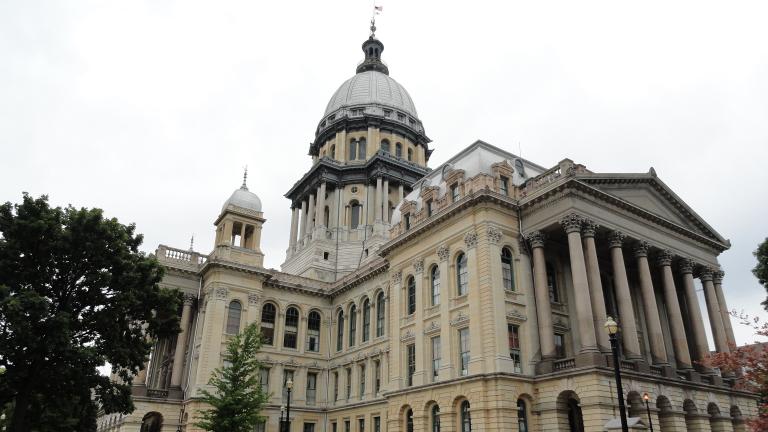 Legislators Condemn Rauner's Reaction to Political Cartoon
Aug. 22: Top legislators spent hours Monday working on an education funding package, and reaction to a political cartoon is still simmering.
---