As Gov. Bruce Rauner's supporters rally Wednesday for "Governor's Day" at the Illinois State Fair, representatives will be returning to the capitol to take an ax to his vision for education funding.
The state budget contains either a poison pill or a stroke of genius—depending on how you look at it—that will force a revamp of the state's formula for funding its 852 district. The budget says schools won't see their general state aid absent a new law that moves to a new, "evidence-based" formula.
"My kids start school tomorrow. They're going to walk through the doors of a school building, that I went to, that's 58-percent funded at what it should be today by any calculation. That's immoral. It's cruel it's happening everywhere in the state. Not just to white children in small towns downstate, but to children all over the state. Here in the city of Chicago and in suburban communities," said Sen. Andy Manar, D-Bunker Hill, who is a lead champion for an overhaul. "That rotten system is rotting as we sit here today. This calls for decisive action."
While Rauner and most lawmakers agree the formula needs fixing, they're tripped up on exactly how to fix it.
The 11th-hour potential crisis comes after Democrats kept their plan from Rauner for two months, and after Rauner then used his veto pen to drastically alter it.
Over the weekend, the Senate rejected Rauner's rewrite.
The House has about two weeks to do the same. If representatives likewise succeed in overriding Rauner's amendatory veto, the original Senate Bill 1 becomes law—but that's a tough hurdle in the House.
When it originally passed in late May, the measure got 60 votes of support; 71 are required for an override, meaning that even if every Democratic legislator switched to an "aye," four Republicans would still have to get on board. 
But if they don't override Rauner's amendatory veto, the entire package dies, and then no school will quickly be able to get money.
While House Speaker Michael Madigan is known as a powerful arm-twister, and while a dozen Republicans ultimately broke from Rauner to help Democrats pass a budget last month, it's unlikely at this point that they'll be willing to do the same.
Rep. Steve Andersson, R-Geneva, was a leader in the GOP faction that supported the budget, but says that he does not support Senate Bill 1 and won't vote to override the governor.
Neither will Rep. Bob Pritchard, R-Sycamore.
"I've based my career on looking at the facts, judging policies based on how it affects citizens in my district and across the state. That's why I ended up voting for the budget. That's why I'll continue to evaluate every piece of legislation, including SB1. My decisions it that we've skewed SB1 from what will help every student, and that we need to come up with a follow-up bill that will right those deviations," Pritchard said at a City Club of Chicago panel Tuesday.
Rather than making a botched attempt at an override, it's expected that Democrats will go another route Wednesday in the House—a move that will keep their original bill intact: They will take up a separate piece of legislation, with language identical to what Rauner pitched in his amendatory veto.
Though there's little chance it will pass, that's the point—it's a symbolic move, designed by Democrats to show that Rauner's plan lacks support.
That way, if enough Republicans change their mind as pressure builds, Senate Bill 1 is still in place for an override.
Alternative resolutions could include an override accompanied by a tandem piece of legislation that makes accommodations for Republicans and other critics, or a totally new measure.
Rauner said on "Chicago Tonight" Monday that he doesn't have any strict requirements for what a deal should encompass, though he's repeatedly criticized the original plan as a CPS "bailout."
Chicago is the only district whose teachers' pensions aren't paid for by the state, and though Rauner has agreed to the state taking on that cost, there are questions about what the state should cover and whether Illinois should help pay for any of CPS's unfunded pension liability. Republicans say the answers to those questions should be put into a separate piece of legislation, rather than baked into the education funding formula, as is done in Senate Bill 1.
"It's the largest school district in the state. It educates the most number of low-income children, the most number of special education children, the most number of bilingual children. We cannot, not deal with the city of Chicago in this conversation," said Rep. Will Davis, D-Hazel Crest.
No matter how it's done, giving CPS boatloads of funding is a political risk for downstate legislators.
While CPS issues are central to the debate, negotiations have also extended beyond that.
Republicans want schools to be freed from mandates, such as one that requires daily physical education classes, and they say that other school districts should be permitted to more easily hire private contractors for custodial and other services—something CPS can already do.
"We can't fix this fast enough, is the bottom line," said Sen. Jason Barickman, R-Bloomington. "The result needs to be a fair formula that's fair for every 852 school districts, it needs to be a formula that works for all school districts, it needs to be one that fixes the inequities of the system today." 
Follow Amanda Vinicky on Twitter: @AmandaVinicky 
---
Related stories: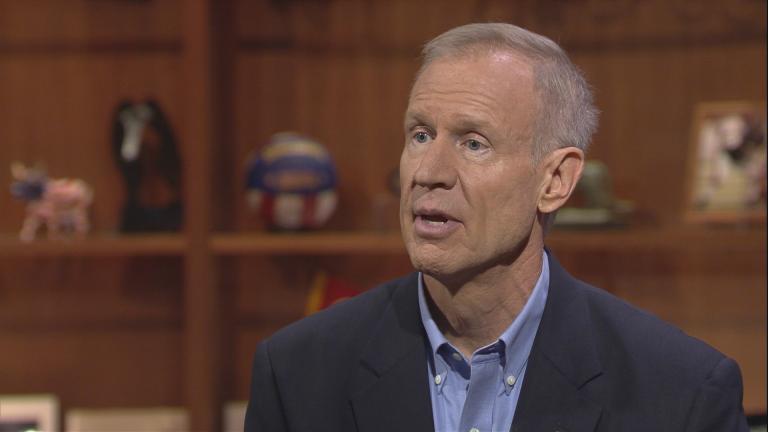 Gov. Rauner: 'Let's Compromise' on School Funding
Aug. 14: A day after the Illinois Senate killed his vision for a new method of funding Illinois schools, Gov. Bruce Rauner kept up hopes that legislators will come around to his way of thinking.
---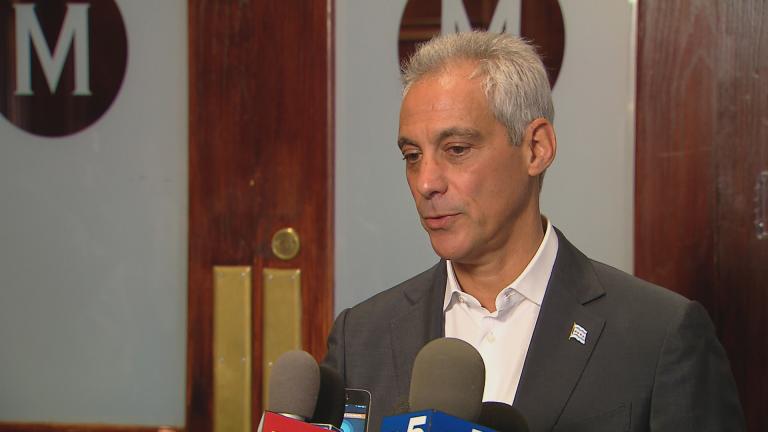 Mayor Mum on City Money for CPS
Aug. 14: The city of Chicago will need to come up with an additional $269 million to help Chicago Public Schools make it through the year, according to the schools' new budget. Where will this additional city money come from?
---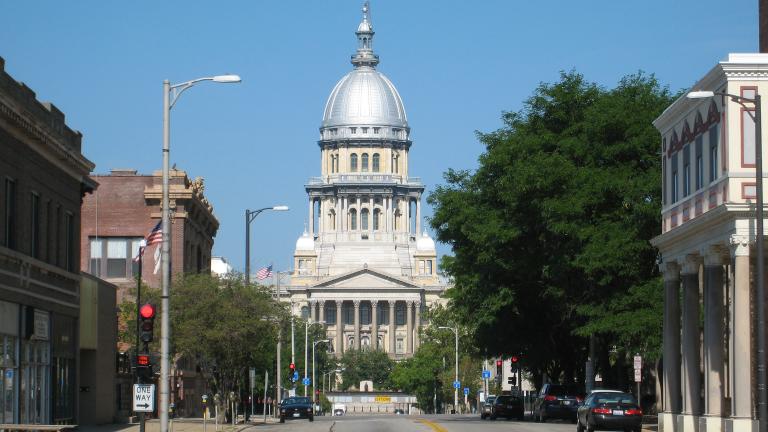 Rauner Loses School Funding Fight in Senate; Battle Moves to Illinois House
Aug. 13: Governor Bruce Rauner's attempt to put his stamp on school funding met its demise Sunday, when a single Republican senator joined with the chamber's 37 Democrats to reject Rauner's rewrite of a significant school funding measure.
---