Two years ago, Chicago Tonight visited an empty lot in an especially isolated part of North Lawndale. Neighborhood leaders have worked for years – getting the city to buy the property, and working with a Chicago nonprofit to create community-managed green space in an area with almost none. Now, that hard work is paying off.
The Lawndale Triangle is so named because it's bordered by three busy streets. At the corner of Kildare and Ogden avenues, land that once held apartment buildings had been vacant for years.
But neighbors had a vision. By 2015, neighborhood leader Alice Stallworth had spent years shepherding the project, and was excited to see their ideas finally come to life.
"I'm very excited! As tired as I am, every time somebody talks about a garden, the Triangle Garden, it just brings tears to my eyes, almost, because it's really going to happen," Stallworth said in 2015.
It was a long process – getting the community's input on design, getting approval from the state EPA, not to mention cleanup, excavation and construction. Two years later, the transformation is dramatic.
"When you sit here, you feel a sense of peace," said Stallworth's daughter Margarette Martin, who also helped organize the garden. "Even though we can hear the trucks driving in the background, and a lot of noise going on, but just being in this space is what we think we needed for this area."
A walking path winds among raised garden beds. Organizers are setting up a schedule for volunteers to water and weed. And community members voted on what they wanted to grow.
"Lima beans, and squash and carrots – things that people would actually eat. We didn't grow things that people were like, well, one person likes zucchini. But we all like tomatoes," Martin said. "I want to have collard greens and sweet potatoes for Thanksgiving, that's my goal. That's a lot of other people's goals!"
Another goal of the garden was to bring together age groups. The center of the garden features a so-called "nature play" area affectionately named "play island."
"(The kids') imagination is amazing," said block club Vice President Victoria Irvin. "They play house. And then we also have a boat! At first when I (saw) them building a boat, I was like, okay … But if you see the kids' faces when they get in that boat, and they take the oars, and – 'Oh, you're splashing water on me!'"
The nonprofit NeighborSpace helped organizers bring this garden to life. By next year, the group plans to have four sites mixing gardens and free play areas – a concept researchers say helps children work together, solve problems and learn to care about the natural world.
"Traditional playgrounds are fun, but you look at a slide – you can basically do one thing on a slide, you go down," said NeighborSpace Executive Director Ben Helphand. "Kid tries to go up, they get in trouble! They sometimes have signs that say you can't go up. It's a one-trick pony. With nature play, the only limit is their imagination."
And the new garden is already helping people of all ages get outside.
"We found out that 14 laps around is one mile. So every evening at 6 o'clock, you have about 15 or 16 – elderly, young people – and we walk," Irvin said. "Then we sit around and we have our meditation period. We pray, we pray over our little yard. … Now, starting Wednesday after next, we will probably be starting a little line dance. The elderly people want to work out and they want to exercise.
"I would like to see this park utilized every day of the week," Irvin said.
"If you're a neighbor, if you're not, I just want you to come and occupy the space," Martin said. "I don't, and I don't think our neighborhood wants the place to be barren, because it was already barren, and so now it's a place for us to be and I want us to be here often."
It's a relatively small corner of a big city, but one that took a lot of work to create, and one that's already being enjoyed. And it's the kind of green space studies show brings a wide range of benefits to neighbors and neighborhoods – not least of which, a sense of pride that they turned an empty lot into a thriving garden.
The Lawndale Triangle Garden's grand opening is this Saturday from 10 a.m. to 2 p.m.
---
Related stories: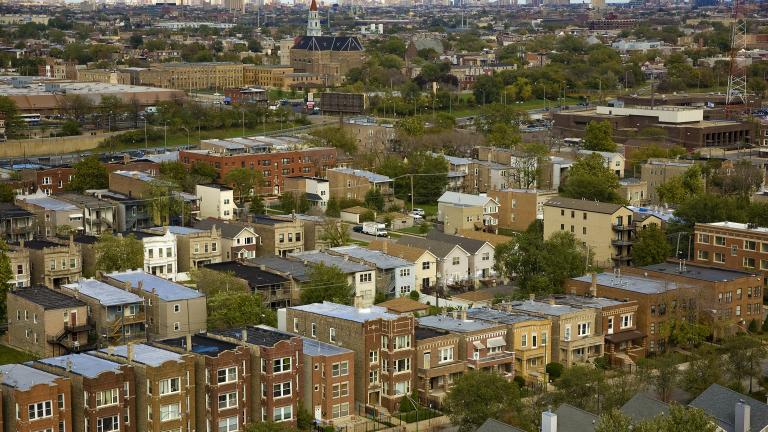 Plan for North Lawndale to Tackle Vacant Lots, Economic Development
May 23: How grassroots organizing is increasingly shaping the West Side community, which is looking to develop a shared vision for economic development.
---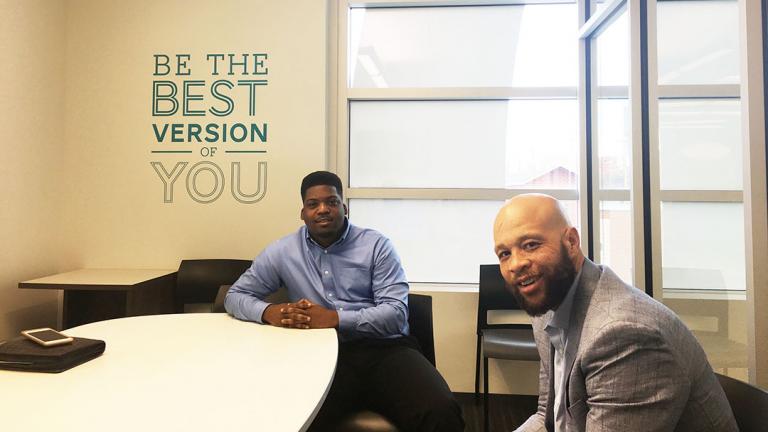 'Positive Vibes' in North Lawndale an Alternative to Crime Narrative
Feb. 21: North Lawndale native Patrick Daniels says his neighborhood is defined by more than violence, and he's working to change that narrative at UCAN.
---
Creating Green Space in the Lawndale Triangle
June 30, 2015: Neighborhood leaders and a local nonprofit have joined together to create a community park and garden on a lot that's sat empty for years.
---