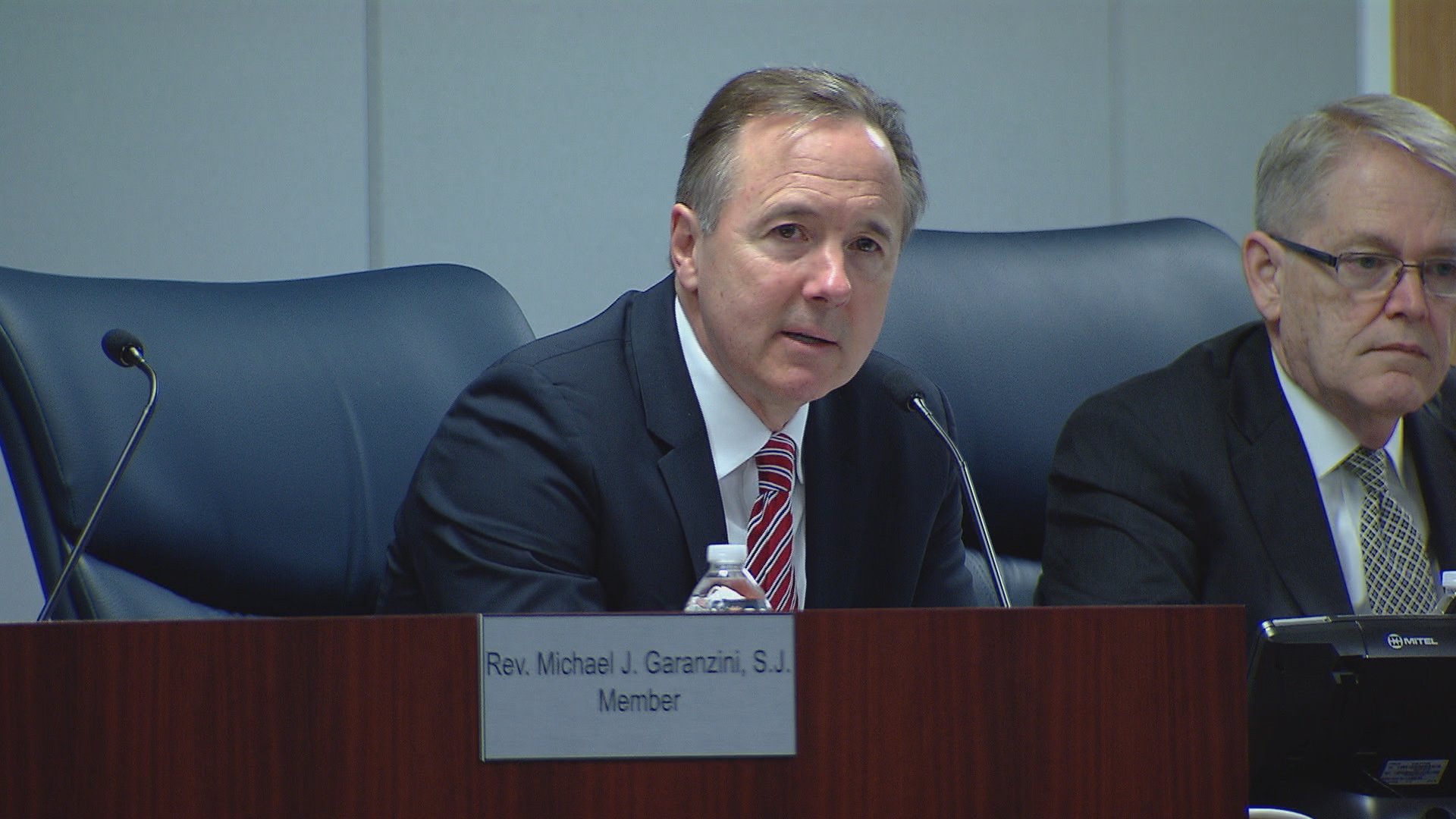 Chicago Public School CEO Forrest Claypool defended himself and the district Wednesday, a day after Chicago Teachers Union membership issued a no-confidence vote in the schools chief. (Chicago Tonight)
Embroiled in an ongoing fight for more funding from Gov. Bruce Rauner and the state, and facing calls for his termination from the Chicago Teachers Union, Chicago Public Schools CEO Forrest Claypool said Wednesday the criticism he's facing must mean the district is "doing something right."
A day after a union vote revealed a widespread lack of confidence in the school district chief from CTU membership, Claypool defended himself before the Chicago Board of Education, comparing objections from union critics to those coming from the governor.
"I think we can take some comfort in the fact that when you're criticized from the left and the right – from CTU leadership and Gov. Rauner – and they're using the same talking points, that we're probably doing something right," he said.
A month after a Cook County judge tossed the case, CPS amended and re-filed its lawsuit against Rauner and the state of Illinois late last week, claiming the statewide school funding formula discriminates against Chicago's predominantly minority student population.
Following a statement from CTU Recording Secretary Michael Brunson in which he repeated the union's call on the district to find a sustainable, long-term funding solution, Claypool highlighted comments from CTU leadership and Rauner, who have put blame for the district's fiscal crisis back on CPS.
He read off quotes from CTU President Karen Lewis and Vice President Jesse Sharkey in which they said it's unfair to ask the state for additional funding. He also noted that Lewis has called the district's suit "ridiculous" while Rauner has called it "frivolous." Sharkey also called on Mayor Rahm Emanuel to fire Claypool during a press conference Tuesday.
Responding to the union's no-confidence vote results announced Tuesday, Claypool asked Brunson to thank the 150 or so CTU members who said they do have confidence in him.
"If you give me their addresses, I'll send them thank you notes," Claypool said.
The teachers union says more than 14,000 members – or about 99 percent of respondents and roughly half of its full membership – issued no-confidence votes in Claypool.
Despite the results, a mayoral spokesman said Tuesday that Emanuel continues to support the district chief, as does Board of Education President Frank Clark, who repeatedly said he and his colleagues stand behind Claypool.
"While I respect your position, I respect your process – your outcome is your outcome – speaking as president of the board and I believe on behalf of the board, we don't share those conclusions," Clark told Brunson. "I respect the process. I don't have to agree with it, but I totally respect it."
As CPS continues working through its fiscal crisis, the board on Wednesday also approved hundreds of millions of dollars in new borrowing for the district – including $389 million in grant anticipation notes that's needed to keep schools open through June 20.
CPS says it's still owed $467 million from the state in late grant payments.
Additionally, the board approved a measure allowing it to increase its borrowing for the upcoming fiscal year, which begins July 1, by $215 million – up to a total of a half billion dollars.
"The consequences would be that we would be in dire financial shape in June, because the again the state owes us $467 million," CPS Senior VP of Finance Ron DeNard said, when asked what would occur if the board voted against the items. "And then this second bond deal bridges us in July until to get us to when property taxes come in … Both items are items very critical to our cash flow."
"Ron, in another way of saying this," Clark asked, "if the board were not to approve this … we will be facing the real likelihood of running out of money?"
"Yes," DeNard said.
Both items, along with new graduation requirements for high school seniors, were approved by the board on unanimous votes.
Follow Matt Masterson on Twitter: @ByMattMasterson
---
Related stories: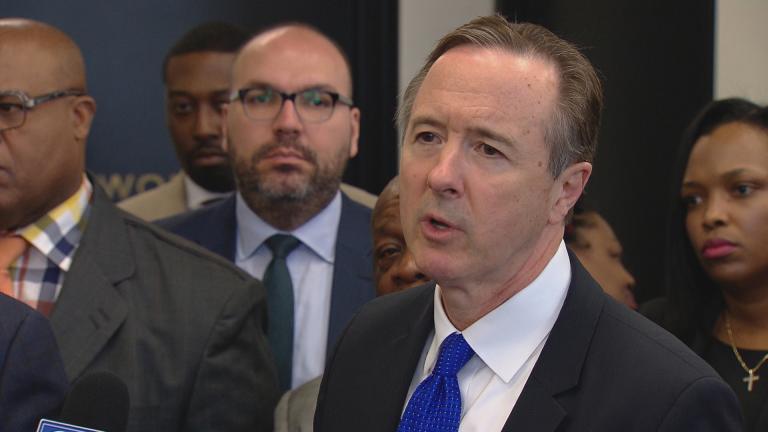 CTU Vote Reveals Little Confidence in CPS CEO Claypool
May 23: After a nearly unanimous no-confidence vote in Chicago Public Schools CEO Forrest Claypool, members of the Chicago Teachers Union took to City Hall Tuesday to push Mayor Rahm Emanuel to fire the school district chief.
---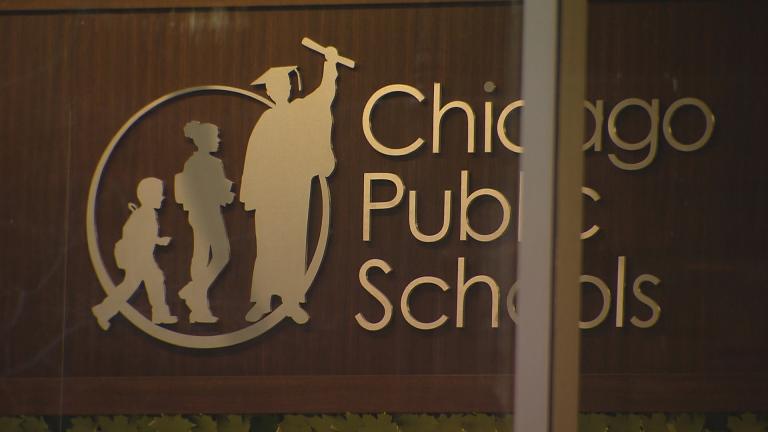 Chicago Public Schools to Borrow $389 Million to Stay Open
May 19: Chicago Public Schools is once again turning to its lenders, this time to keep doors open until the end of the school year on June 20.
---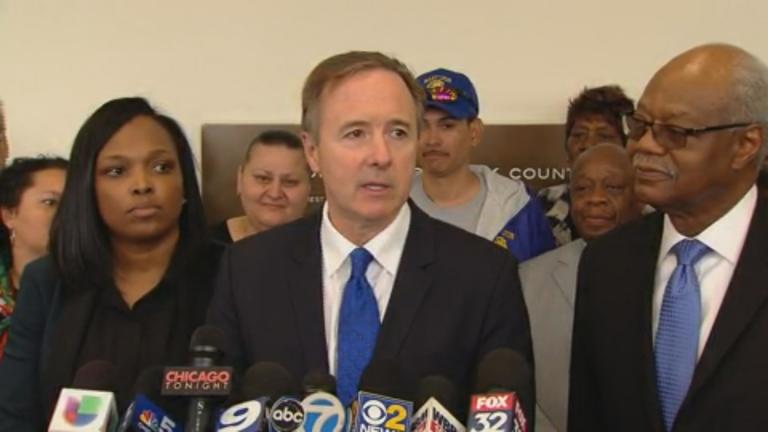 Court Tosses CPS Discrimination Lawsuit Against State
April 28: A Cook County Judge has dealt a financial setback to Chicago Public Schools – stating that the school district's complaint is "not the vehicle to address [the state's] inequity" in education funding.
---