When then-Sen. Barack Obama began his run for president a decade ago, historian and author David Garrow was disappointed by the quality of biographical journalism on the much buzzed-about candidate.
In the new book "Rising Star: The Making of Barack Obama," Garrow traces how Obama's life led him to the presidency – and paints a complicated, sometimes critical portrait of a polarizing and iconic figure.
"I first came here about the end of March 2009 – so six weeks after the inauguration – initially just to talk with his community organizing mentors from the 1985-1988 period," said Garrow, a professor of law and history at the University of Pittsburgh who won a Pulitzer Prize for "Bearing the Cross: Martin Luther King, Jr., and the Southern Christian Leadership Conference."
On his first day in Chicago, Garrow was referred to a lawyer who'd worked with Obama in his community organizing days and had a list of dozens of people who'd been part of his group. "So day two, I've got like 45 names of people to go track down, only three of whom ever made it into the press. That's sort of the beginning of the slippery slope."
The slippery slope eventually led Garrow to produce a book that comes in at nearly 1,000 pages, plus more than 300 pages of notes and an extensive bibliography. The book extensively details Obama's time as an organizer in Chicago – what Garrow calls "a profound transformation" and "the crux of the story." And Garrow not only adds significantly to the scholarship around Obama, but also calls into question key aspects of his background as he presents them and raises concerns about why Obama couldn't work collaboratively with congressional Republicans as president.
"I think if the journalism had been measurably better in 2007 and 2008, the expectation of what he would be as president would have been more modest and less starry-eyed. In Springfield, he did a great job of dealing with very conservative Republicans – Dave Syverson, Kirk Dillard, Steve Rauschenberger," Garrow said. "Given how relatively well Barack did in Springfield, I am disappointed that he didn't replicate that in a better way as president."
"To me, as a sort of progressive 'Chuy' Garcia Democrat, my hope is that people will appreciate how Barack was a more principled politician from about 1995 to 2001 – strongly endorsing gay marriage, really calling for universal single-payer coverage, very tough critic of the Patriot Act and the intelligence community," Garrow said. "Once he realizes the need to win, both in a Senate context and a presidential context, then he becomes a much more typical politician than to me the more winsome figure he had been earlier."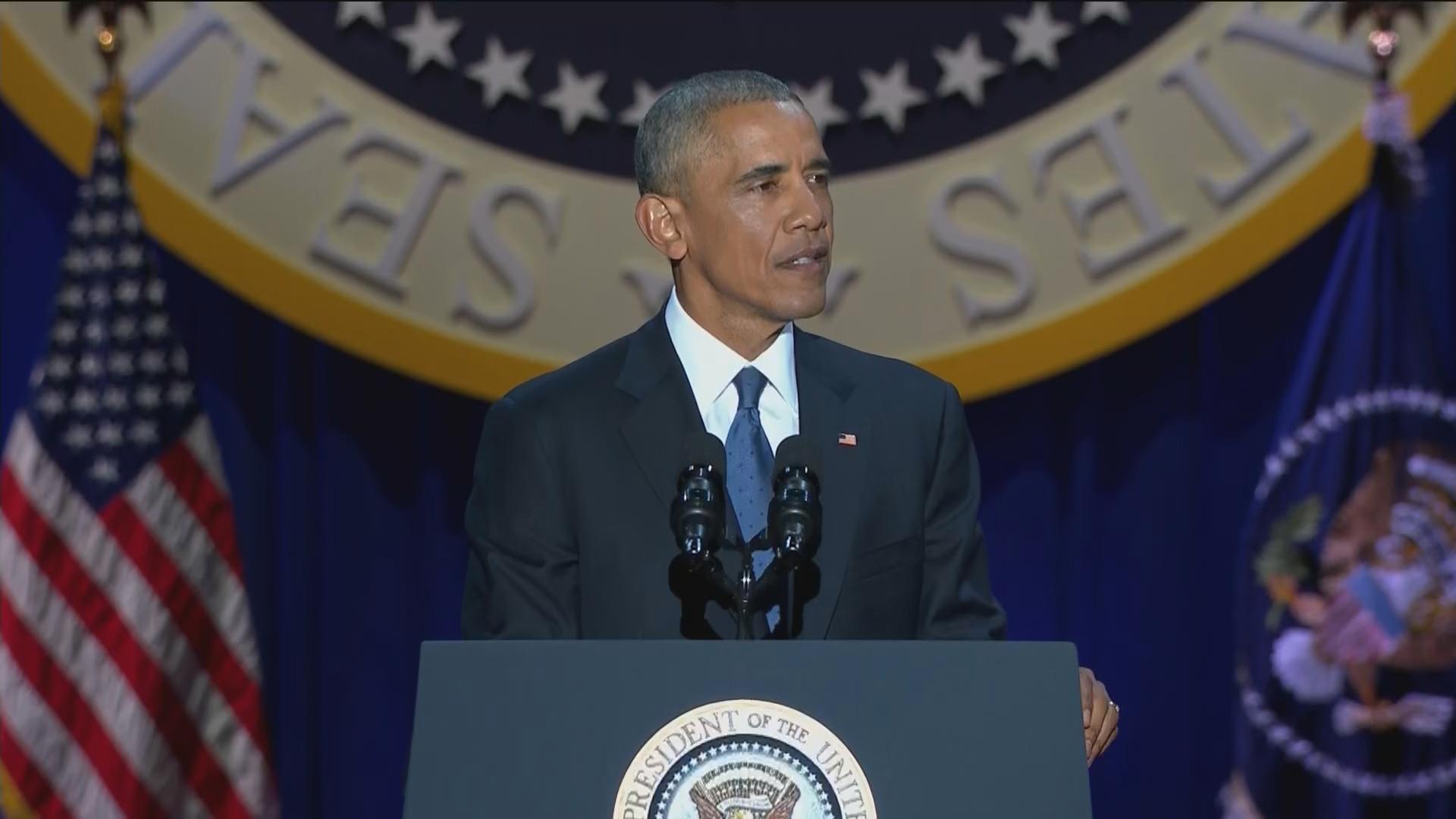 Former President Barack Obama delivers his farewell address in Chicago on Jan. 10, 2017.
Garrow joins Chicago Tonight for a conversation about "Rising Star." Below, an excerpt from the book.
Barack, Michelle, Nesbitt, and Jarrett headed to a nearby Italian restaurant for dinner. Plouffe left the meeting thinking that a race remained improbable, but Barack "was more serious about running than I had anticipated." David Axelrod agreed: "I think he wants to run," but "Michelle is the wild card." Atdinner, Michelle voiced her doubts and worries to Jarrett and Nesbitt, especially regarding Barack's physical safety plus the impact on their daughters. Eventually Valerie pushed back. "Let's try this from a different perspective. Michelle, let's say Barack answers all your questions to your full satisfaction,"that "he's got an answer for every one of them. Are you in?" Michelle's reply surprised her husband: "I'm in a hundred and ten percent," but she quickly turned to Barack. "You're going to be really specific with me. You're going to tell me exactly how we're going to work it out" before she would give her blessingfor a race.40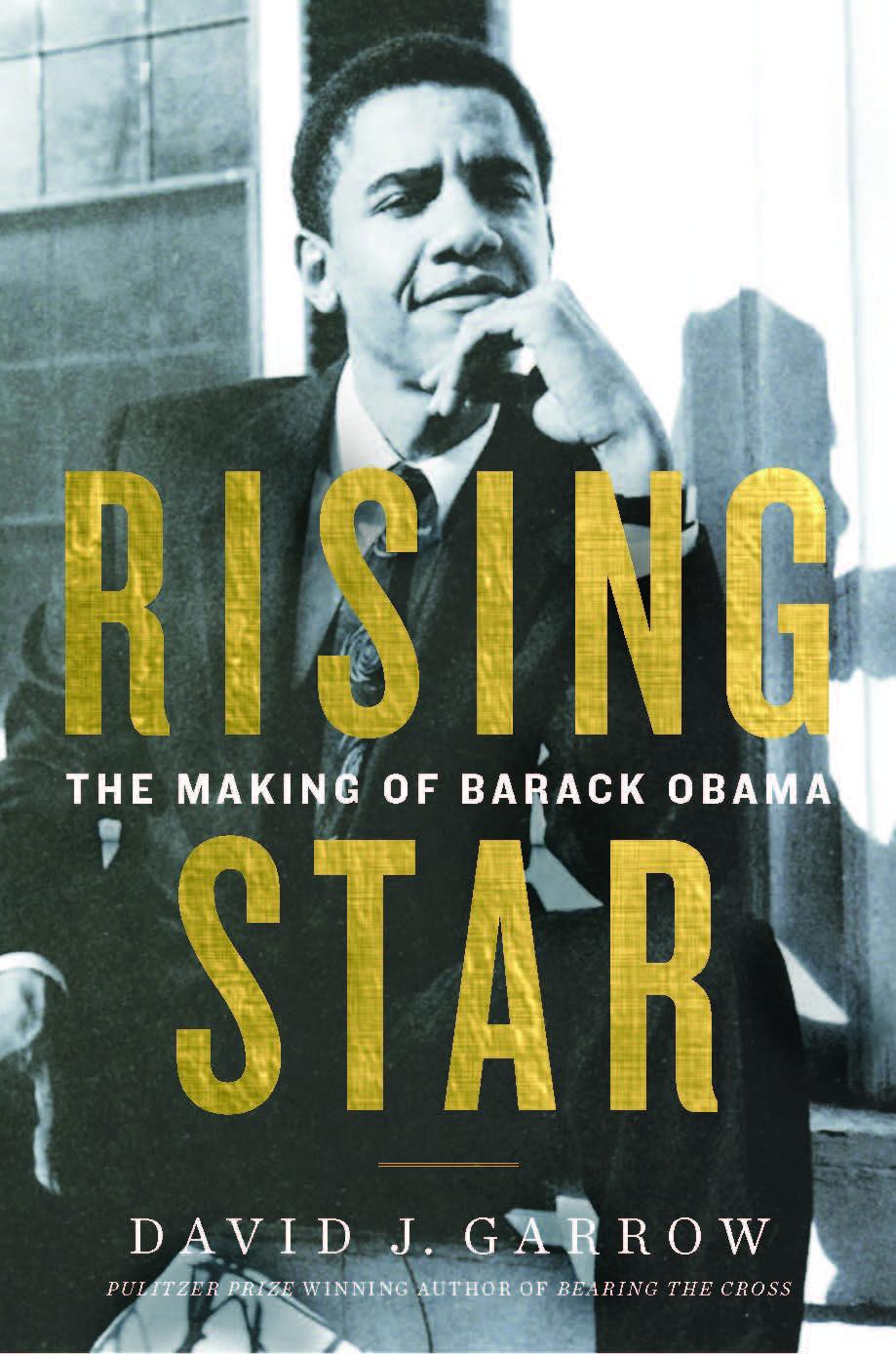 The next morning the New York Times reported that The Audacity of Hopewould be the number 1 hardback nonfiction bestseller in the newspaper's next Sunday rankings. Calling the book "something of a publishing stunner," the paper reported that to date Audacity had sold 182,000 copies. With 860,000 copies in print, the book's success promised to increase Barack's royalty income even further. But his focus was elsewhere. Buoyed by the previous afternoon's discussion, Barack was on the phone to Democratic activists in Iowa and New Hampshire, asking what John Norris, who had run John Kerry's 2004Iowa campaign, called "earnest" questions about the Democratic race. In New Hampshire, state party chairman Kathy Sullivan and Jim Demers, Dick Gephardt's former New Hampshire campaign chair, received calls. "Kathy, this is Barack Obama. I might be coming to New Hampshire." Sullivan had been thinking about holding a December event to celebrate Democrats' November victories, and she immediately invited Barack to address it.
Returning to Washington, Democrats' new Senate majority allowed Barackto trade in his membership on the Environment and Public Works Committee while adding two more appealing ones—Health,Education, Labor and Pensions, and Homeland Security and Governmental Affairs—while retaining Foreign Relations. Meeting privately with a dozen or so D.C. friends, many of whom he had known since Harvard, Barack found the group hesitant about his presidential prospects. One African American expressed doubt that the country was ready to elect a black president, and several comments obliquely touched on Barack's safety. Speaking with the Associated Press, Barack remarked that "the people who are most hesitant about this oftentimes are African-Americans because they feel protective of me."
Appearing on CNBC with Tim Russert, Barack said that "the way we gerrymander congressional districts now has a big impact on the inability of the parties to get together, because if every district is drawn 70 percent Republican or 70 percent Democratic, then the congressional representatives in those districts don't really feel rewarded by working with the other side" and instead fear a primary challenge. Barack favored "nonpartisan line-drawing" that would "make all these districts competitive." Similarly, "reducing the impact of money on politics would have an impact because I think that part of the incentive here in Washington is to please the best-organized and most vocal interest groups. And they oftentimes aren't representing the common good," m ost strongly backing legislators "who are most orthodox in how they approach problems."
When Russert asked about his family, Barack explained "this is probably the one area of my life where I feel the most nagging doubt because I'm gone from home a lot. I like to tell myself that it's worth the sacrifice," that "the good that I'm doing in public office offsets" missing his daughters' ballet recitals and soccer games. Describing Michelle as "a tough woman" who "constantly keeps me in line," Barack said, "she's not somebody who's naturally political" but "tolerates it." With "as much guilt as I already feel sometimes about being away, running for president" promised to be "extraordinarily stressful" for his family, "so that's at the center of my considerations." As he had told his aides in Chicago, seeking to be Americans' president would require "a particular message" as well as "a belief in how you can improve their lives that is unique" and that he could "execute better than anybody else out there." His newfound status, Barack emphasized, is "something that has happened very rapidly. It's not something that's gone according to my own internal clock and timetable." Russert asked, "Has it changed you?" "So far it hasn't, I don't think," Barack replied. "I ask my wife and I ask my close friends whether it has, and their estimation is that no, I'm still recognizably me."41
David Axelrod told an AP reporter that "if he decides to run," Barack "can put the money together, and he can attract the talent." In fact, Pete Rouse and Steve Hildebrand already had already reached out to Julianna Smoot, the finance director for Tom Daschle's unsuccessful 2004 reelection race, to ask her to head up Barack's fund-raising if he indeed ran. In a major speech to the Chicago Council on Global Affairs, Barack addressed "a way forward in Iraq," "a conflict that grows more deadly and more chaotic with each passing day. A conflict that has only increased the terrorist threat it was supposed to help contain." Noting that "al Qaeda is successfully using the war in Iraq to recruit a new generation of terrorists," Barack called for "a strategy no longer driven by ideology or by politics, but one that's based on a realistic assessment of the sobering facts on the ground." Any belief that Iraq would become a "flourishing democracy" was "an ideological fantasy," and "my deepest suspicions about this war's inception have been confirmed and exacerbated."
With Iraq now "quickly spiraling out of control," there are "no good options left in this war," and Barack called for a withdrawal of U.S. forces, to begin within four to six months. He also warned that Afghanistan was "backsliding . . . toward chaos" on account of "our lack of focus and commitment." Appearing live on CNN right after his address, Barack asserted that "almost every problem that we've confronted is one that I anticipated" in his October 2002 antiwar speech. "I seem to have gotten it right," Barack told correspondent Don Lemon, who then asked about 2008. "I don't have a particular timetable," Barack replied, but when Lemon said "Very soon?" Barack responded, "absolutely." Eight days later David Axelrod gave Barack a twelve-page memo making the case for why he should run. George W. Bush had been a "hyper-partisan, ideological, and unyielding" president, and voters were yearning for the opposite:
You are uniquely suited for these times. No one among the potential candidates within our party is as well positioned to rekindle our lost idealism as Americans and pick up the mantle of change. No one better represents a new generation of leadership, more focused on practical solutions to today's challenges than old dogmas of the left and right. That is why your convention speech resonated so beautifully. And it remains the touchstone for our campaign moving forward.
All told, "this is a splendid time to be an outsider. That's one of the principal reasons to run now." Hillary Clinton "is a formidable candidate," but "she is not a healing figure" and "will have a hard time escaping the well-formulated perceptions of her among swing voters as a left-wing ideologue." Then Axelrod turned up the volume. "History is replete with potential candidates for the presidency who waited too long rather than examples of people who ran too soon. . . . You will never be hotter than you are right now" and "there are many reasons to believe that if you are ever to run for the presidency, this is the time."
Axelrod warned that with Dreams, "the disarming admissions of weakness in your book will become fodder for unflattering, irritating inquiries," such as "How many times did you use cocaine . . . When did you stop?" Such questions will be 
more than an unpleasant inconvenience. It goes to your willingness and ability to put up with something you have never experienced on a sustained basis: criticism. At the risk of triggering the very reaction that concerns me, I don't know if you are Muhammad Ali or Floyd Patterson when it comes to taking a punch.
You care far too much what is written and said about you. You don't relish combat when it becomes personal and nasty. When the largely irrelevant Alan Keyes attacked you, you flinched.
In conclusion, Axelrod contended that "all of this may be worth enduring for the chance to change the world. And many, many people who believe in you are ready to march because we think the world so badly needs the change and leadership you have to offer. . . . If you pull the trigger, I am confident that we can put together a great campaign and campaign message of which we can all be proud."42
The next day, New Hampshire Democrats announced that Barack would visit the state to speak at their December 10 rally. Evangelical pastor Rick Warren invited Barack to join him and ultraconservative Kansas senator Sam Brownback for a World AIDS Day summit at his Orange County megachurch. When Brownback greeted Barack by saying, "Welcome to my house," Barack demonstrated his bona fides to the crowd: "Sam, this is my house too. This is God's house." Telling the audience, "I don't demonize other folks," Barack exclaimed that "faith is not just something you have, it's something you do." The crowd was impressed, with one Christian journalist explaining that Barack "almost speaks here like a pastor. That's why he gets a standing ovation from an ardently, ardently pro-life audience" despite Barack's prochoice position.
In a front-page New York Times story headlined "Early 'Maybe' from Obama Jolts '08 Field," Republican political consultant Mark McKinnon called Barack "the most interesting persona to appear on the political radar screen in decades." Barack was "a walking, talking hope machine, and he may reshape American politics." That evening liberal billionaire George Soros hosted a Manhattan session at which Barack met with a dozen top Democratic donors. In an editorial "Obama Should Run," Barack's hometown Chicago Tribune joined the chorus. "When a leader evokes the enthusiasm that Obama does, he should recognize that he has something special to offer, not in 2012 or 2016, but right now." Stating that Barack has "an approach that transcends party, ideology and geography," the Tribune declared, "no one else has shown a comparable talent for appealing to the centrist instincts of the American people." With "a voice that celebrates our common values instead of exaggerating our differences," Barack's "magnetic style and optimism would draw many disenchanted Americans back into the political process. . . . He and the nation have little to lose and much to gain from his candidacy."
Returning to Washington, Barack met privately with former secretary of state Colin Powell, who a decade earlier had refused to run for the presidency because of his wife's opposition. Barack also met former senator Tom Daschle for dinner at his favorite restaurant, Tosca, where they "took the kitchen table in the back where nobody could see us. We had a bottle of wine and a great meal and what was supposed to be a conversation that lasted about an hour I think went over three," Daschle recalled. "I told him that I thought his lack of Washington experience was one of his greatest assets" and "that windows of opportunity for running for the presidency close quickly, and that he shouldn't assume, if he passes up this window, that there will be another. I had that experience" and Daschle did not want "to see the same thing happen to him."43
As Barack prepared to fly to New Hampshire for his Sunday Democratic event, he told the Associated Press "the whole prospect of a presidential race for me is not something I've engineered. I was on a different internal clock," and "it's only been in the last couple of months that the amount of interest in a potential candidacy reached the point where I had to consider seriously" actually running. Barack told the state's largest newspaper that he believed people "are looking for somebody who is authentic," for "a pragmatic politician rather than an ideologue." David Axelrod told another journalist that Barack was doing "a lot of soul searching" in wrestling with multiple questions. "Some are very personal. Some are political. And some are the largest questions, about the contribution he thinks he can make." Just as he had in his memo, Axelrod stressed that "I think this country is very hungry for new leadership that will take us past the kind of hyper-partisanship and hyper-ideological kind of politics we've seen" over the last decade.
On Saturday evening, December 9, Barack stayed in Chicago to attend Malia's ballet recital before flying to Manchester and arriving close to midnight. A bookstore appearance in Portsmouth and a private reception at the state's top law firm were on Sunday's schedule in addition to the sold-out, two-thousand- person Democratic rally. New Hampshire governor John Lynch introduced Barack, telling the cheering crowd that "we originally scheduled the Rolling Stones . . . but then we canceled them when we realized Senator Obama would sell more tickets." More than 150 journalists and twenty-two camera crews covered Barack's remarks, with former Dover mayor Jack Buckley telling the Boston Globe that "I have never seen anything like this in my forty years of being active in politics." He added that "if I were Hillary, I would be more than a little concerned," and in Monday's New York Times, reporter Adam Nagourney wrote that Barack had received "the kind of reception typically afforded a movie star," one that was "nothing short of a spectacle." Taking questions afterward, Barack said, "I want to take my time" on making a decision and brushed aside an inquiry about "Hussein": "the American people are not concerned with middle names." One journalist observed that Barack was "a politician who happens to be black, not a black politician," and a conservative columnist warned that Barack was "an uncommonly opaque rock-star politician." But veteran political reporter Walter Shapiro stated "something is happening around Obama that we have not seen in American politics for decades."44
From RISING STAR: The Making of Barack Obama, © 2017 by David J. Garrow Reprinted by permission from William Morrow
---
Related stories: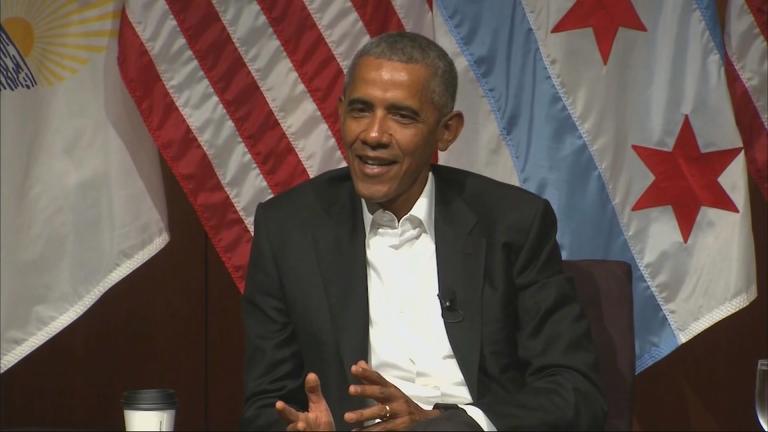 Barack Obama: 'I'm Always Optimistic' About Future of US
April 24: Former President Barack Obama was greeted with cheers on his home turf Monday at the University of Chicago as he convened a panel discussion with young leaders on the importance of civic engagement.
---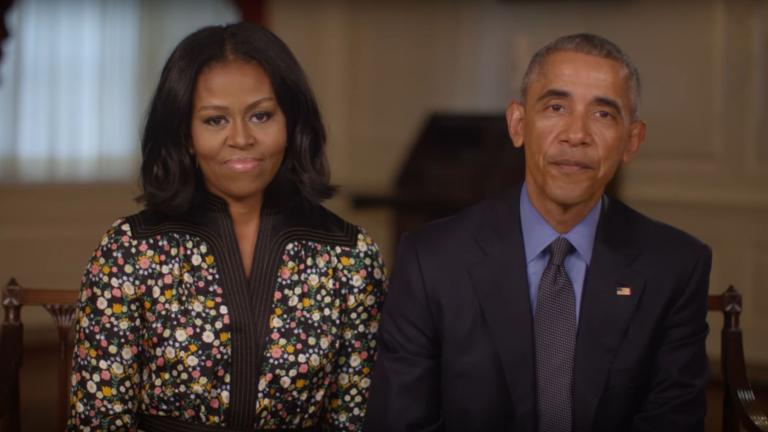 Obama Library to be 'Center for Citizenship'
Jan. 20: Hours before the inauguration of Donald Trump, President Barack Obama and first lady Michelle Obama released a video outlining their plans for the future Obama Presidential Center.
---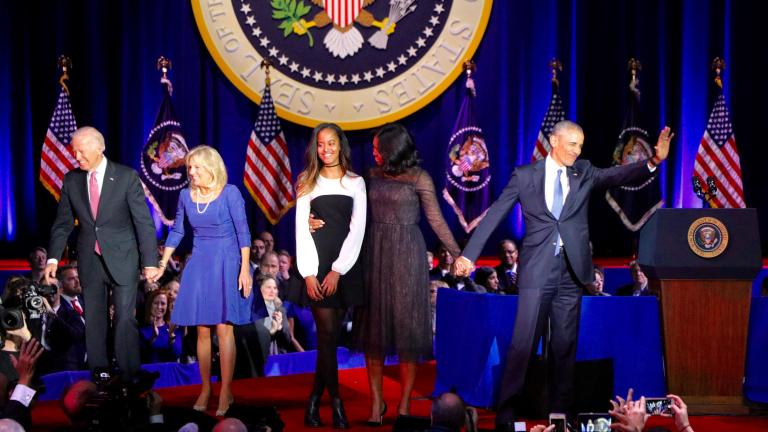 Obama's Farewell Address: Photos, Video from McCormick Place
Jan. 10: Thousands of spectators gathered at McCormick Place to watch President Barack Obama conclude his two-term presidency in the city where his political life began 20 years ago.
---