Former President Barack Obama was greeted with cheers on his home turf Monday at the University of Chicago as he convened a panel discussion with young leaders on the importance of civic engagement. It was his first official public appearance since leaving office.
Rather than make waves commenting on current events and President Donald Trump, Obama chose to focus primarily on how he and the panelists believe the country could improve on civic engagement, bridging the ideological gap and encouraging people to seek out information beyond sources they already agree with.
"Anything going on since I've been gone?" the president quipped before opening the discussion with six panelists, including a high school senior from Kenwood Academy, a pharmacist who graduated from Chicago State University and a University of Chicago student who is president of the college Republicans.
"The single most important thing I can do is help encourage the next generation of people to take up the baton," Obama said when discussing the issues he would focus on during his post-presidency career.
The crowd of about 450 was made up of students and administrators who were invited from area community colleges and universities.
"It was very impactful and emotional for me backstage when I shook his hand," said Kenwood Academy High School senior Ayanna Watkins, a panelist who talked about the need for more civics and social studies curriculum in school. "He came in cool, calm and collected, laughed, joked."
One of the lighter moments of the symposium came during a conversation about smartphones, social media and how to "own your story" as a political candidate.
"If you had pictures of everything I'd done in high school, I probably wouldn't have been president of the United States. So I would advise all of you to be circumspect about your selfies," Obama said.
"I'm pretty honest about the struggles I went through as a young man. When I ran for office and there was a big reveal: 'Obama smoked pot' – I said, 'Yeah I know, it was in my book.'"
The crowd of about 450 included invitees from area community colleges and universities, and longtime Obama cohorts like David Axelrod and Susan Sher, a senior University of Chicago official and leader of the bid to bring the Obama library to the South Side.
Follow Paris Schutz on Twitter: @paschutz
---
Related stories: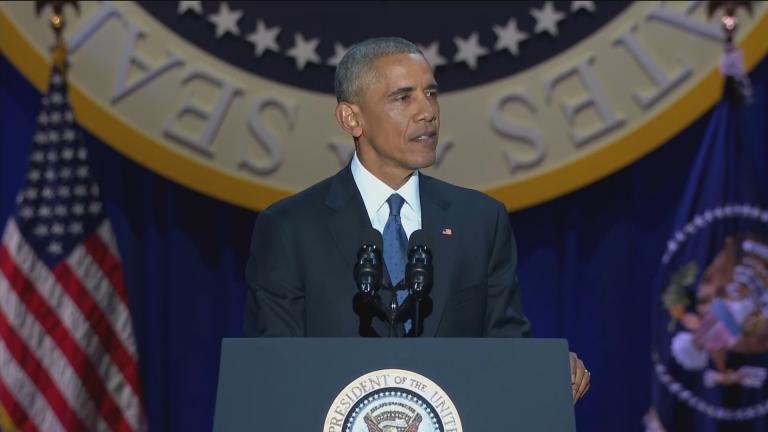 Obama to Speak on Civic Engagement at University of Chicago
April 21: Former President Barack Obama is scheduled to speak Monday in Chicago as part of his goal to "encourage and support the next generation of leaders," according to his press office.
---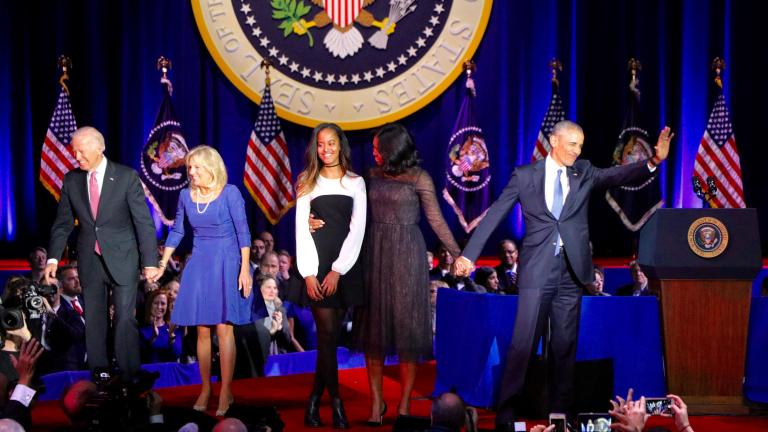 Obama's Farewell Address: Photos, Video from McCormick Place
Jan. 10: Thousands of spectators gathered at McCormick Place to watch President Barack Obama conclude his two-term presidency in the city where his political life began 20 years ago.
---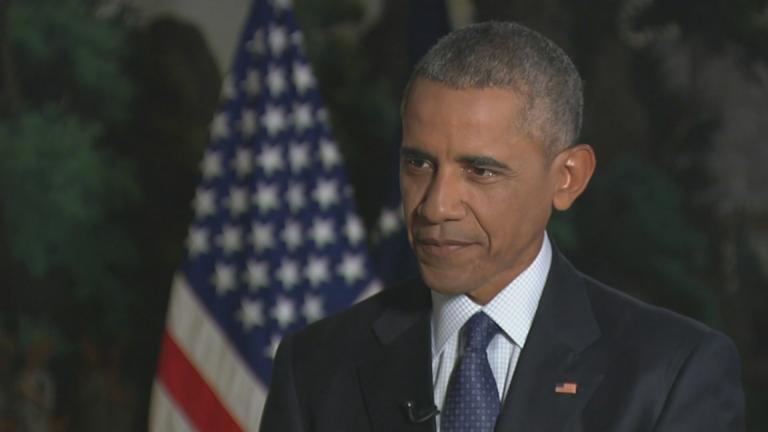 President Obama Joins Carol Marin for One-on-One Interview
Jan. 5: Chicago Tonight correspondent Carol Marin asks the president about his legacy, violence in Chicago and whether he would consider pardoning disgraced former Illinois Gov. Rod Blagojevich.
---