Starting next week, the Lakefront Trail will be closed for construction between Diversey and North avenues as the project to separate the bike and pedestrian paths continues.
Mayor Rahm Emanuel, Chicago Park District Superintendent Michael P. Kelly and Kenneth Griffin broke ground Sunday on the next phase of the project, which will include construction along two stretches of the trail, from Fullerton to North avenues and from Oak to Ohio streets. (The trail will not close between Oak and Ohio streets. Rather, a shared lane along that section will be open to commuters.)
"This is an important next step in continued efforts to make the Lakefront Trail safer and more accessible for the thousands of cyclists, runners and walkers that use the path each day," Emanuel said in a statement. 
The Lakefront Trail is one of the busiest pedestrian paths in the nation, attracting an estimated 100,000 commuters per day, according to a study by the Chicago Area Runners Association and the Active Transportation Alliance.
"Trail separation does more than address issues of overcrowding; it builds a better future for one of the city's greatest assets by ensuring Chicagoans and visitors are able to experience what the lakefront has to offer." Emanuel said.
Construction will begin Monday, May 22, according to a press release from Emanuel's office. A marked detour west of Lake Shore Drive will be available for trail users between North and Diversey avenues. (You can find a detour map here.) Construction updates are available on the city's website.
The project was made possible thanks to a $12 million donation from Griffin. Once completed, the split trail will provide separate paths for cyclists and pedestrians along the entire 18-mile trail.
Follow Kristen Thometz on Twitter: @kristenthometz
---
Related stories: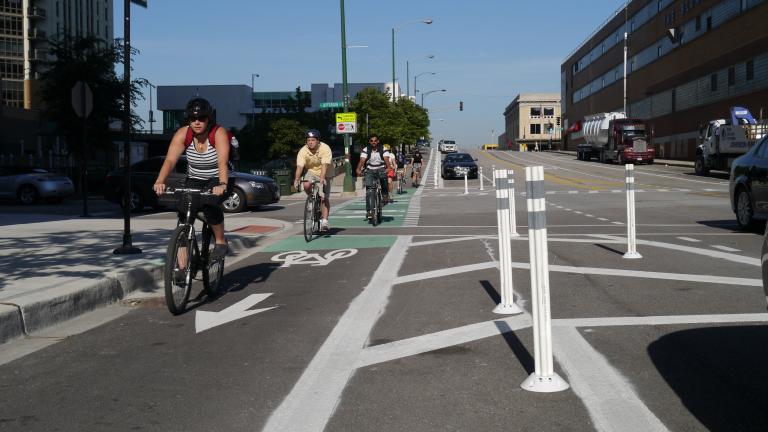 Chicago 'Dooring' Reports Saw Steep Increase in 2015, Data Shows
April 21: Crash data for 2015 released this week by the Illinois Department of Transportation shows a rise in the number of reported "doorings" in Chicago – collisions that occur when the door of a parked vehicle is opened directly in the path of an oncoming cyclist.
---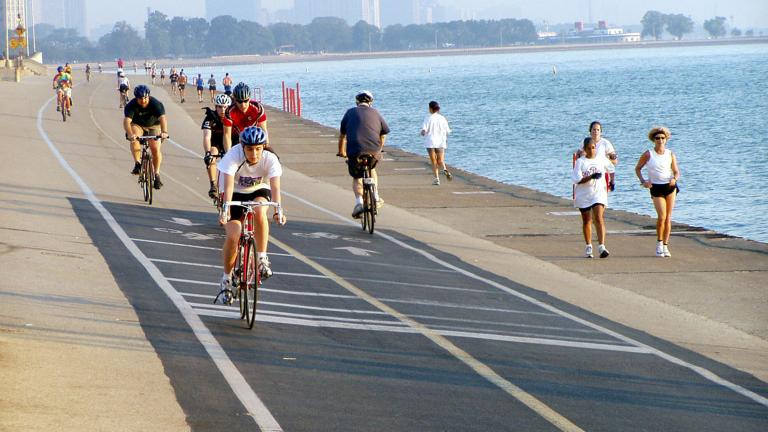 $12 Million Donation Will Fund Lakefront Trail Separation
Dec. 21, 2016: Thanks to a major donation from Chicago billionaire Ken Griffin, the 18-mile Lakefront Trail is getting a makeover that will ease congestion.
---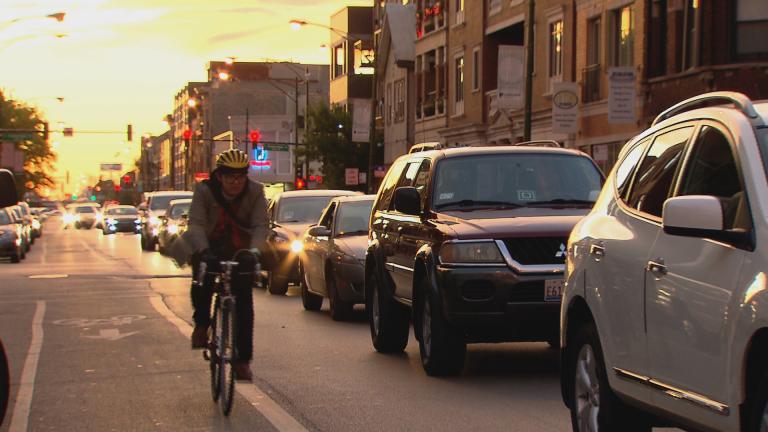 Study: 'Idaho Stop' Could Make Chicago Streets Safer for Cyclists
Dec. 14, 2016: A new DePaul University study suggests that it may be safer for bicyclists to roll through stop signs and red lights rather than coming to a full stop. The practice, legal in Idaho, is known as an "Idaho stop."
---