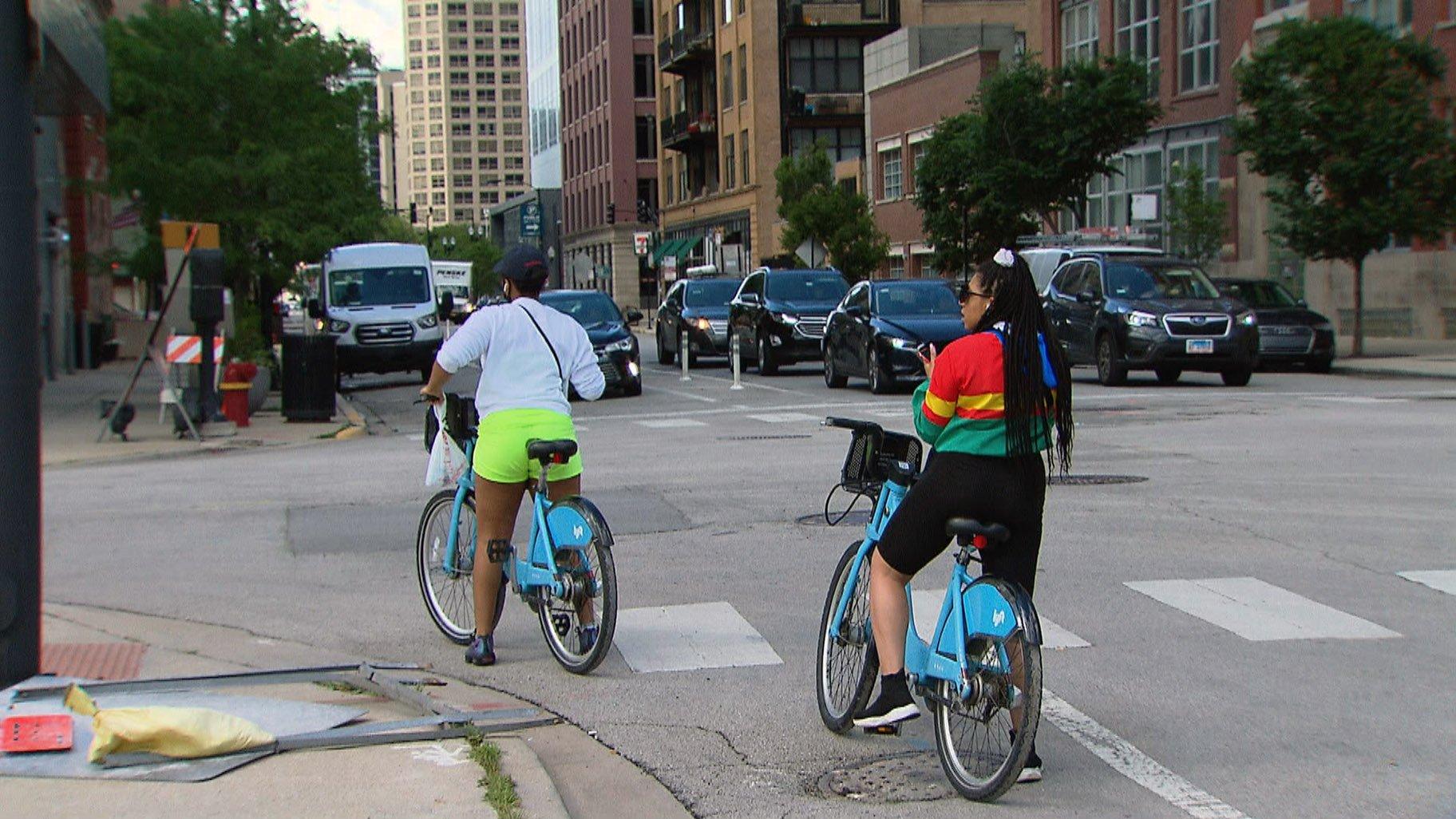 (WTTW News)
The owners of cars parked in bicycle and bus lanes downtown could get a ticket in the mail if a city camera snaps the infraction, as part of a pilot program announced Wednesday by Mayor Lori Lightfoot.
The Chicago City Council could vote on what the mayor's office called a "small scale" pilot program as soon as Feb. 1 – less than a month before Election Day. Bicycle safety advocates have been actively pressing candidates for mayor and City Council to make Chicago's streets safer for those on two wheels or on foot.
Designed to "create safer streets and a better transit experience," the new initiative is set to last two years, and would target scofflaws downtown, between the lake, Ashland Avenue, Roosevelt Road and North Avenue. The proposal has the backing of City Council members who represent those neighborhoods, which are some of Chicago's most dense, and often most dangerous, for pedestrians and bicyclists.
Lightfoot said she was spurred to act by an alarming increase in the number of traffic fatalities.
"We want to change driver behavior to make sure our streets are safer," Lightfoot told reporters after Wednesday's City Council meeting.
Drivers who park their cars in dedicated bicycle and bus lanes, as well as crosswalks, bus stops and no parking zones could be ticketed if the infraction is captured by city cameras mounted on poles and on the front of buses and other city vehicles, officials said.
After the incriminating photo is reviewed by city staff – much like the speed violations captured by cameras mounted near schools and parks – the registered owner of the vehicle would get a ticket in the mail. Violators would get a warning in the 30 days after the cameras are turned on, and the first ticket for each driver would also serve as a warning, officials said.
A separate effort would use digital license plate readers to enforce parking restrictions in loading zones downtown, and prevent drivers from parking in the spots too long – or without authorization, officials said.
"It'll discourage drivers from illegally parking in places that put our most vulnerable users at risk: folks on bikes, folks walking, folks in wheelchairs," said Chicago Department of Transportation Commissioner Gia Biagi. "These are the points of vulnerability."
If approved by the City Council, the measure would be the second effort by Chicago lawmakers to crack down on drivers who block bicycle lanes after the death of 3-year-old Lily Shambrook in June. After a ComEd truck parked in a bike lane forced her mother to go around the vehicle, a semi-truck struck the bike, killing the toddler, who was riding in a carrier on her mother's bicycle.
The City Council voted unanimously in December to give employees of the Department of Finance — not just members of the Chicago Police Department — the authority to order vehicles blocking the bicycle lane to be ticketed and towed.
City law also requires signs to be posted if a bicycle lane must be closed to allow permitted work to take place warning bicyclists about the closure and telling drivers they must yield to those on two wheels.
Violating that provision could trigger fines of between $500 and $2,000, according to the ordinance. The fines for parking in bicycle lanes without causing a crash is $250.
Contact Heather Cherone: @HeatherCherone | (773) 569-1863 | [email protected]