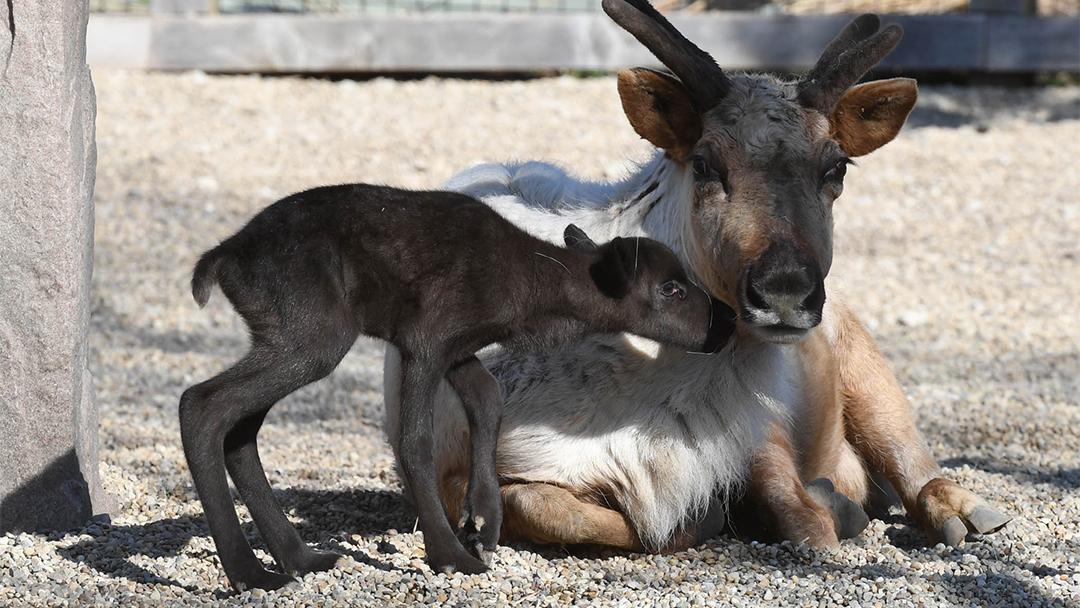 (Jim Schulz / Chicago Zoological Society)
Just in time for Easter, a reindeer named Bunny gave birth this week to a male fawn – the first reindeer born at Brookfield Zoo since 1980. 
Bunny and Karl, the sire, arrived at the zoo within the past two years and are among the animals featured in Hamill Family Wild Encounters, a 3-acre exhibit where visitors can touch and feed animals, including parakeets and goats.
Their new fawn, who has not yet been named, weighs about 7 pounds but will grow quickly from drinking Bunny's rich milk, the zoo said. The fawn was up and walking within an hour of his birth Wednesday morning and has progressed since – in fact, a day-old fawn is capable of outrunning a human.
After spending 6.5 to 8 months in their mother's womb, fawns are born with dark fur that acts as camouflage and absorbs heat from the sun. They begin to shed at about two to three months as lighter-colored fur grows in.
And those famous antlers? Antler buds begin developing a few months after birth. Relative to body size, reindeers have the largest and heaviest antlers of all deer species, according to the San Diego Zoo. A male's antlers can measure up to 51 inches and weigh 33 pounds.
In addition to fending off predators, males use their antlers to woo females, and females use theirs to clear away snow while searching for food.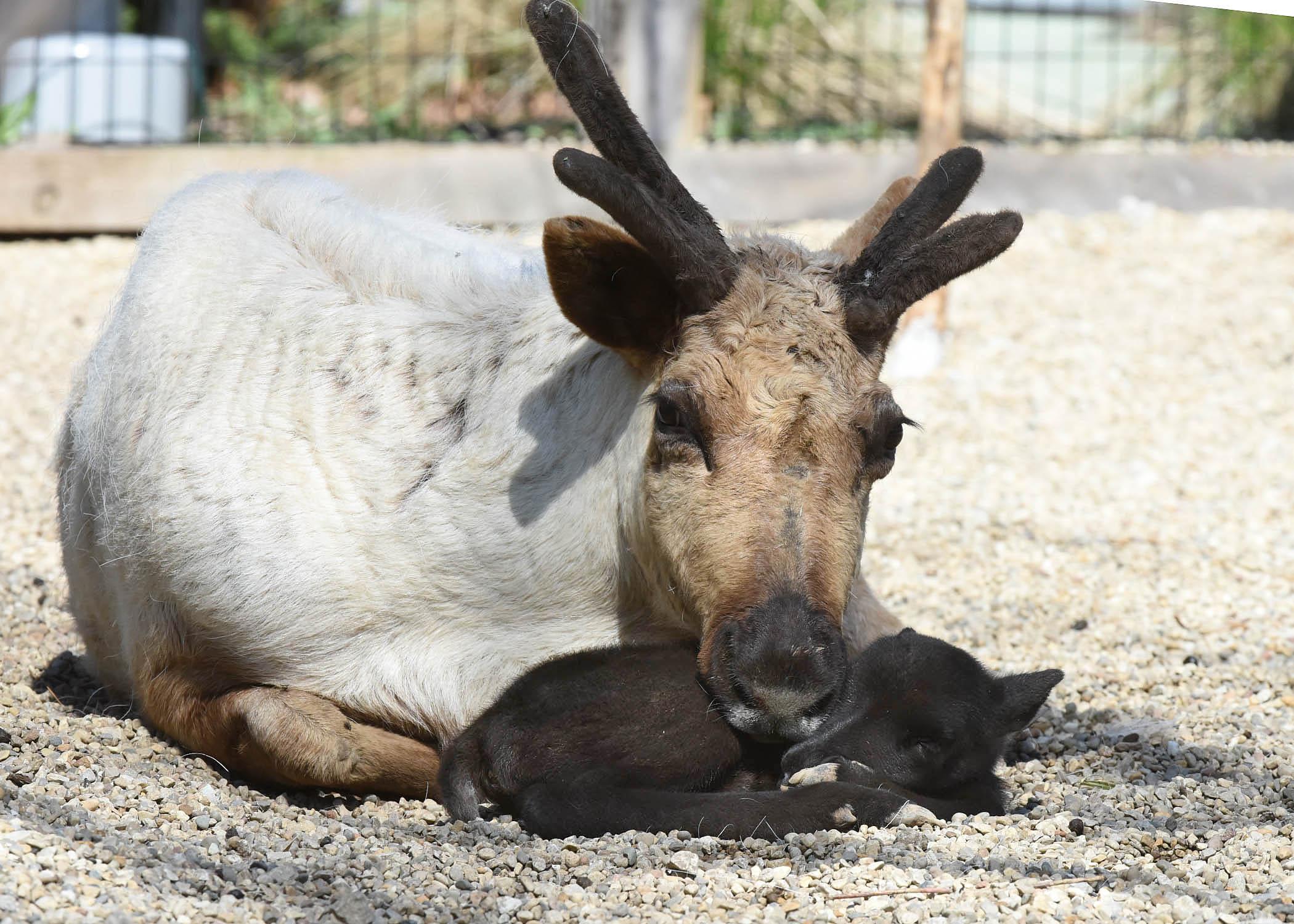 (Jim Schulz / Chicago Zoological Society)
Reindeers are equipped for cold temperatures, covered in thick hair from the tips of their noses to the bottoms of their feet. They can live up to 18 years.
Visitors can see Bunny and Karl, their new fawn and Crystal, another member of the reindeer herd, in their outdoor habitat at Brookfield Zoo.
Follow Alex Ruppenthal on Twitter: @arupp
---
Related stories: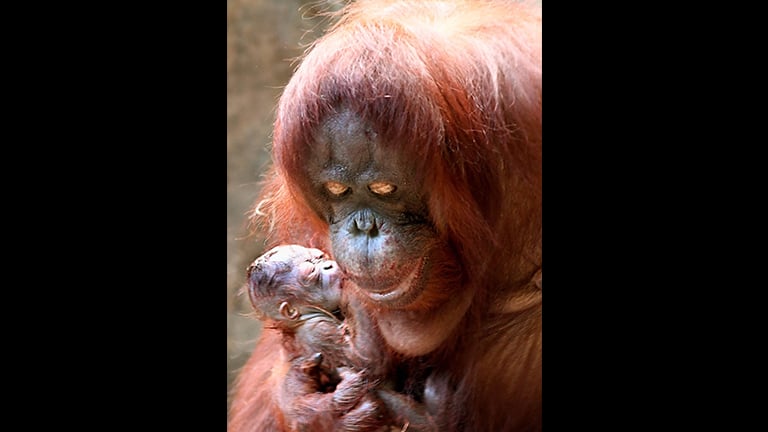 Critically Endangered Ape Born at Brookfield Zoo
Dec. 28: The newborn female Bornean orangutan joins five other orangutans living at the Brookfield Zoo.
---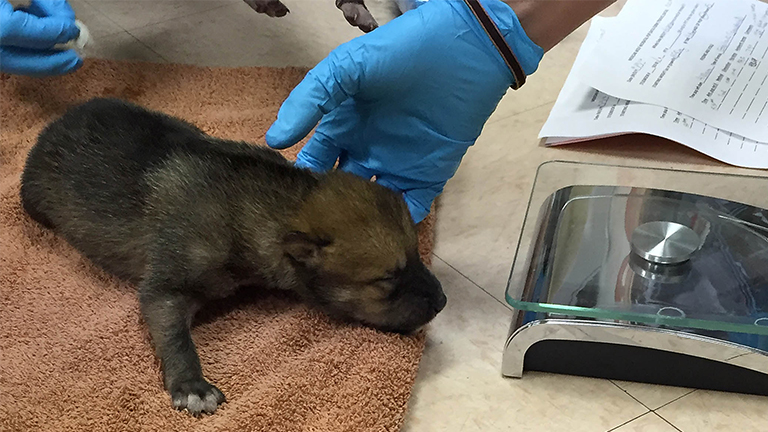 5 Endangered Gray Wolf Pups Born at Brookfield Zoo, 2 Sent to the Wild
May 13, 2016: Two Mexican gray wolf pups born at Brookfield Zoo last month were released into the Arizona wilderness as part of a carefully timed conservation effort. The species has been threatened by extinction for over half a century.
---
Brookfield Zoo Welcomes Baby Zebra
July 10, 2015: There's a new kid on the block at Brookfield Zoo. On Tuesday, a female zebra was born at the near west suburban zoo to mother Kali, 5, and father Nazim, 15. The birth marks the first addition of a zebra of this type at Brookfield Zoo since 1998.
---