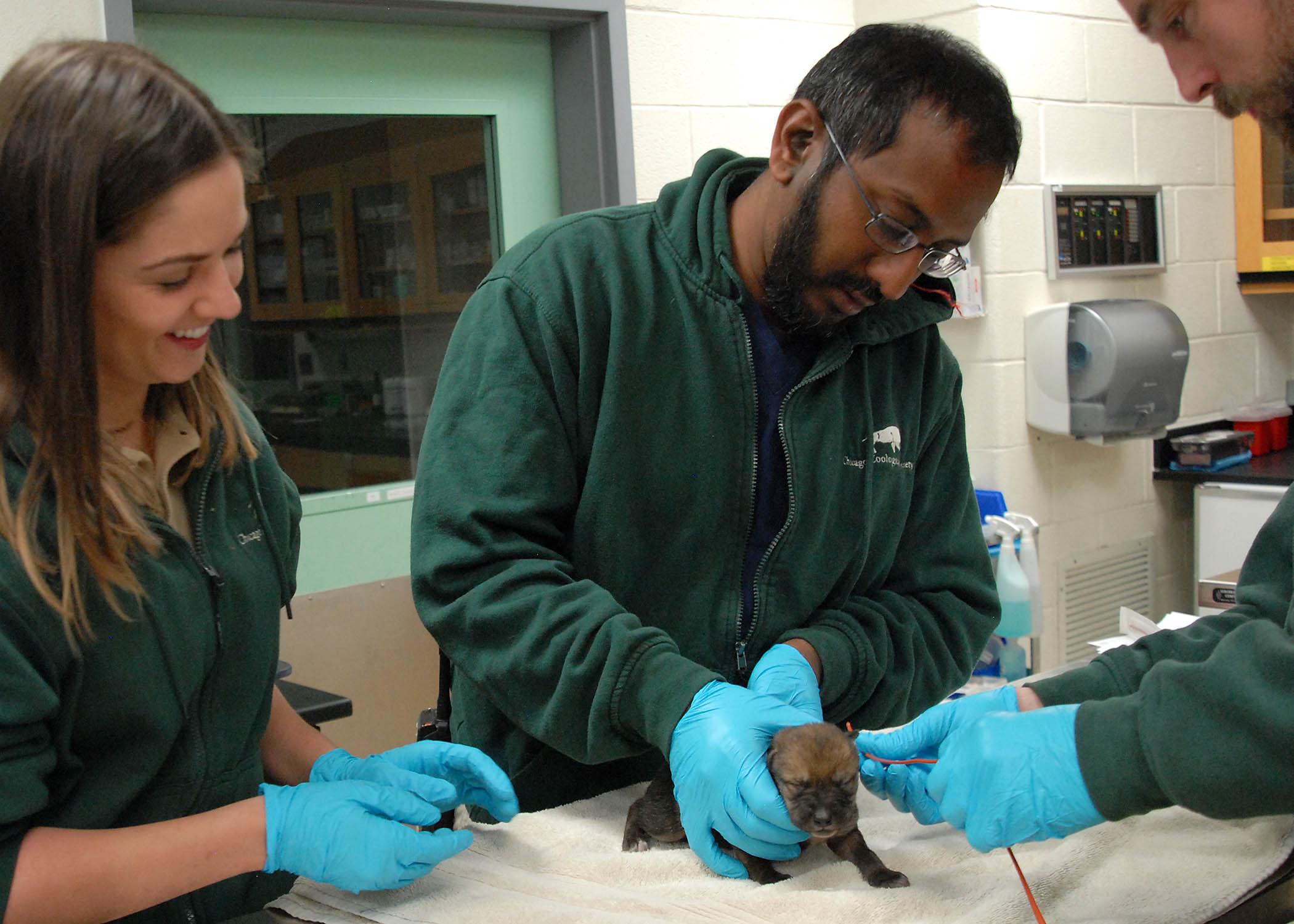 Brooke, a 5-day-old Mexican gray wolf pup born at Brookfield Zoo, undergoes a neonatal physical examination at the zoo's animal hospital prior to being placed with a wild wolf pack in Arizona. (Chicago Zoological Society)
Two Mexican gray wolf pups born at Brookfield Zoo last month were released into the Arizona wilderness as part of a carefully timed conservation effort. The species has been threatened by extinction for over half a century.
The pups, Blaze and Brooke, were selected out of a litter of five because they were the heaviest male and female of the litter, meaning they had better chances of surviving in the wild than their three siblings which will remain at the zoo.
While it may seem counterintuitive to release a threatened species into the wild, it's necessary for increasing the population's genetic diversity. Mexican gray wolves are the rarest subspecies of gray wolf in North America, with fewer than 100 in the wild, according to the Chicago Zoological Society (CZS), which operates Brookfield Zoo. There are 243 Mexican gray wolves living in captivity.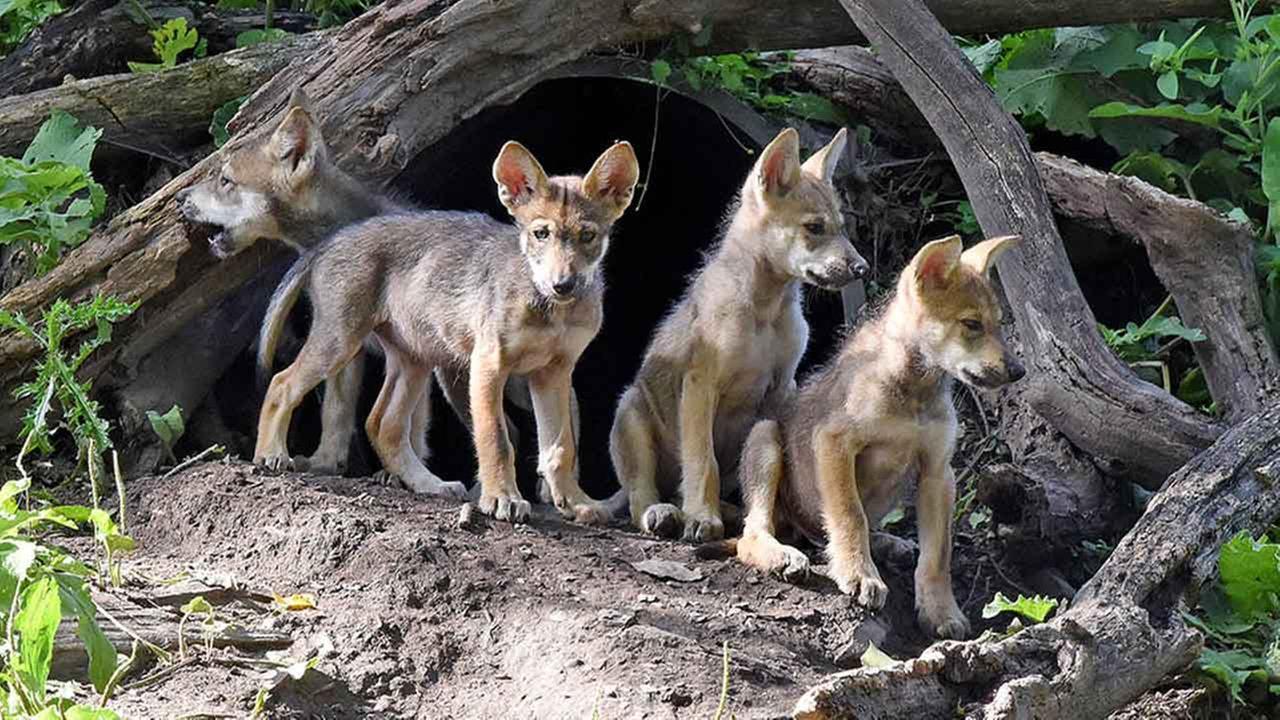 The first litter of Mexican wolf pups was born at Brookfield Zoo in 2015. The Regenstein Wolf Woods exhibit is now home to a pack of nine wolves – the most Mexican gray wolves living at the zoo since the species was first put on display in 2003. (Chicago Zoological Society)
The CZS collaborated with the U.S. Fish and Wildlife Service (USFWS) and other wildlife agencies on the project, which required finding a suitable foster family in the wild.
In order to move captive wolf pups into a wild pack, conservationists have a few hurdles to jump through. First, they have to find a pack in the wild that has given birth to a litter at the same time as the captive pack. In the case of Blaze and his sister Brooke, the Elk Horn pack of wild Mexican gray wolves in Arizona looked like a good match.
Second, they have to move quickly.
"There's a particular time in the development of wolf litters when it's appropriate to remove pups for fostering, which is when they're five days old," said Joan Daniels, the zoo's associate curator of mammals.
It's at that time when Daniels said "maternal bonding is strongest." The pups have begun nursing and suckling, so they have maternal antibodies, but their eyes haven't opened and their ears haven't unfurled yet. After about five days, it's late enough that mothers of both litters have established nursing patterns but early enough that a disturbance to the pack – such as the addition of two new pups – would go unnoticed.
"Wolves can't count," Daniels said with a chuckle. "They don't seem to perceive the added number of pups when they're fostered into a wild den. It's an extraordinary example of how instinctual motherhood is. They're very accepting of another wolf's litter."
While Blaze and Brooke were flown to Arizona, an interagency field team made up of biologists from the USFWS, Arizona Game and Fish Department and other wildlife agencies pinpointed the Elk Horn pack's den site and checked on its activity. The wild adult breeding pair, Blaze and Brooke's foster parents, are fitted with collars and tracked via radio telemetry.
Along with perfect timing, scent is another key to a smooth fostering process. Daniels said biologists were careful not to spread their human scent onto any of the pups by wearing gloves and freshly laundered clothing. The wild pups were removed from their den, examined and rubbed with the same milk formula Blaze and Brooke received on their flight to Arizona. To better increase the mother's acceptance of the two arrivals, debris and dirt from the site were applied to Blaze and Brooke, and urine and feces from both litters were rubbed on all the wolf pups.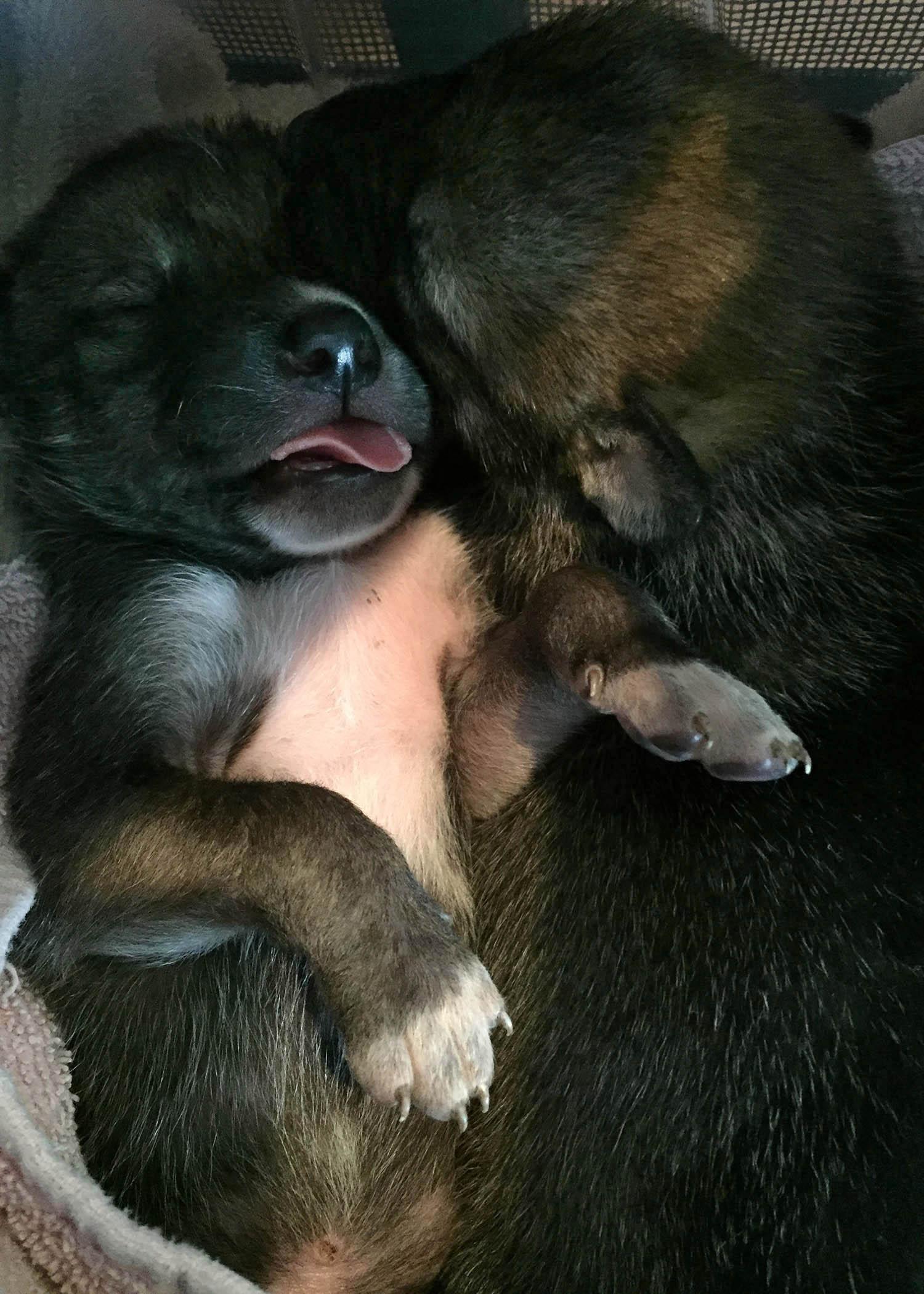 Brother and sister Blaze, left, and Brooke, right, keep one another warm during their trip from Illinois to Arizona. (Chicago Zoological Society) According to Daniels, the wild and captive-born pups got along just fine when they were returned to the den as a single litter.
"They all mixed together," Daniels said. "They cuddle and keep each other warm. They cooperate when they're taking turns nursing, so they roll right into the other litter's behavior."
Since Blaze and Brooke were added to the wild litter, the mother wolf has returned to the pups and relocated their den site a short distance away from the old one – a move the zoo said is "not unusual" in wolf pup fostering.
To monitor the survival of the wild litter, USFWS will place remote cameras throughout the wolf pack's home range, which stretches about 100 square miles (the area shaded turquoise on this map). According to USFWS spokesman Jeff Humphrey, the first year of survival is the most trying and telling.
"The first year is the real struggle year," Humphrey said. "That's when they're learning to be an animal on the landscape, to acquire prey and avoid threats. Typically, 50 percent of most animals don't make it through their first year."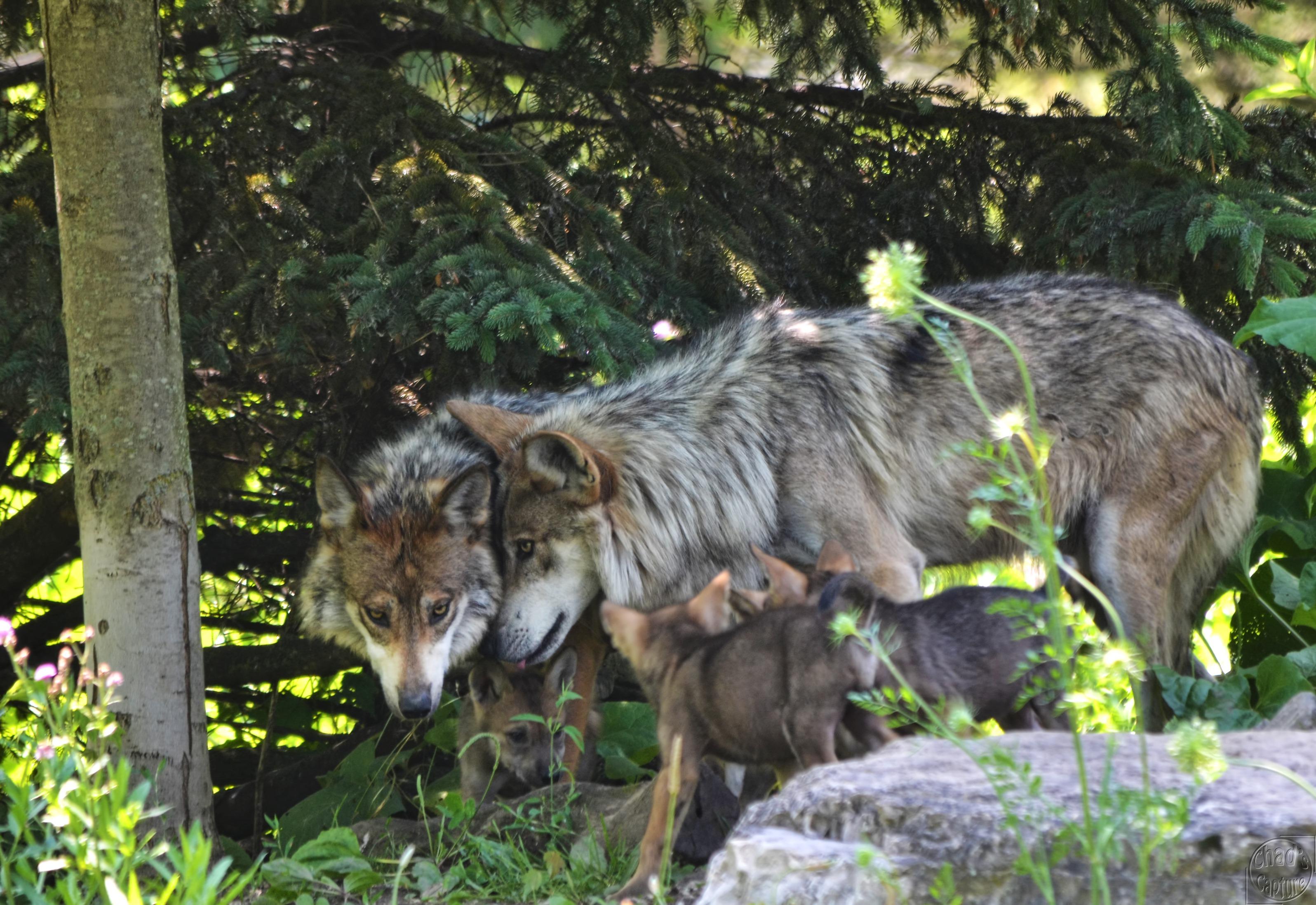 This is the second litter of Mexican gray wolves born to Zana, left, and Flint at the Brookfield Zoo. In May 2015, Zana gave birth to four pups. (Chad Horwedel / Flickr)
Back at Brookfield Zoo, the Mexican gray wolf pack has never been bigger. Nine Mexican gray wolves now live in the Regenstein Wolf Woods.
The three pups born last month are on display at the exhibit, but have not yet emerged from their den. Daniels said that will happen sometime next week, once the pups are more developed and able to walk freely on their own. 
The ultimate goal in boosting a captive Mexican gray wolf pack like the one at Brookfield Zoo is to increase the species' genetic diversity in the wild. By the time USFWS classified the Mexican gray wolf as an endangered species in 1976, the wild population was believed to be all but extinct. This was due to eradication efforts carried out by farmers in the Southwest, and later Mexico, during the early-to-mid 1900s. The canine predators were thought to be a threat to livestock.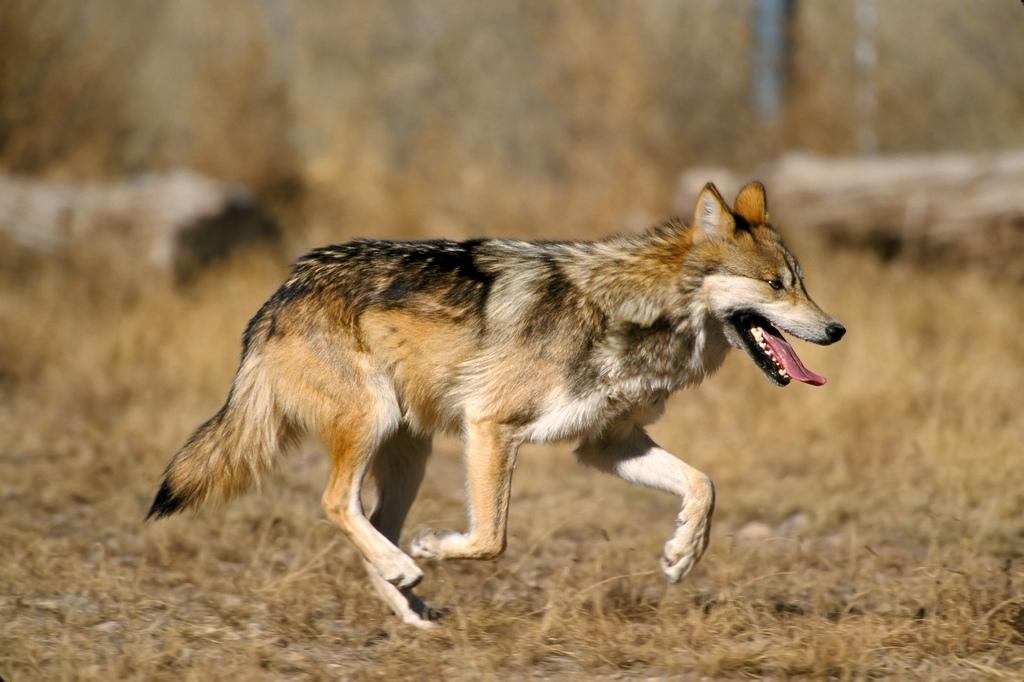 The Mexican gray wolf is the smallest and most genetically diverse subspecies of gray wolf. Their original population in the wild was believed to number around 4,000. (Jim Clark / USFWS)
The conservation outlook was so bleak by 1976 that USFWS claims the current global population is derived from seven individual Mexican gray wolves captured in Mexico between 1977 and 1980. These were thought to be the last remaining animals of their kind in the wild and formed the basis for a captive-breeding program started in 1980.
In 1998, USFWS released 11 descendants of these wolves into the wild for the first time within the Blue Range Wolf Recovery Area in Arizona and New Mexico. And just like that, the first "experimental population" of Mexican gray wolves introduced into the wild was established.
Watch a video taken by the Brookfield Zoo last year of Zana and her first litter of Mexican gray wolf pups:
Follow Evan Garcia on Twitter: @EvanRGarcia
---
Sign up for our morning newsletter to get all of our stories delivered to your mailbox each weekday.
---
Related 'Chicago Tonight' Stories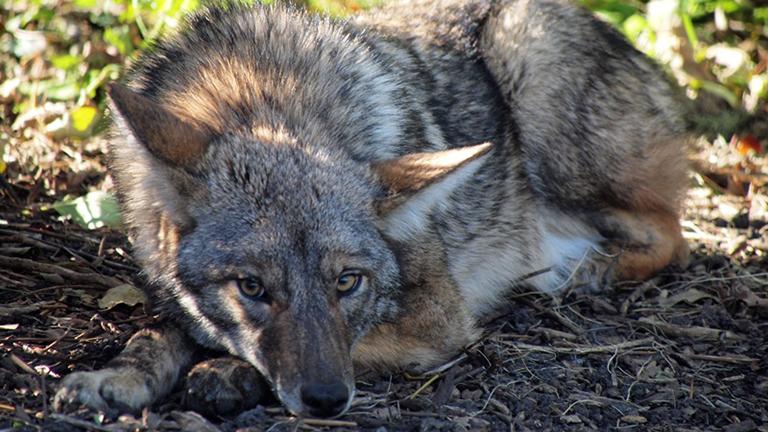 Urban Coyotes Pose a Threat to Pets During Mating Season
Feb. 5: A viewer's video, shared with "Chicago Tonight," shows his encounter with a coyote in Columbus Park while walking his two dogs. Coyote mating season has begun, which means the urban animals may behave aggressively.
---
Sept. 23, 2014: With wildlife sightings on the rise in Illinois, we discuss how residents can coexist with animals returning to the regions they once inhabited.
---
Brookfield Zoo Studies Mexican Gray Wolves
May 3, 2012: We show you how researchers are tracking cancer rates in the endangered Mexican Gray Wolf in tonight's Scientific Chicago.
---