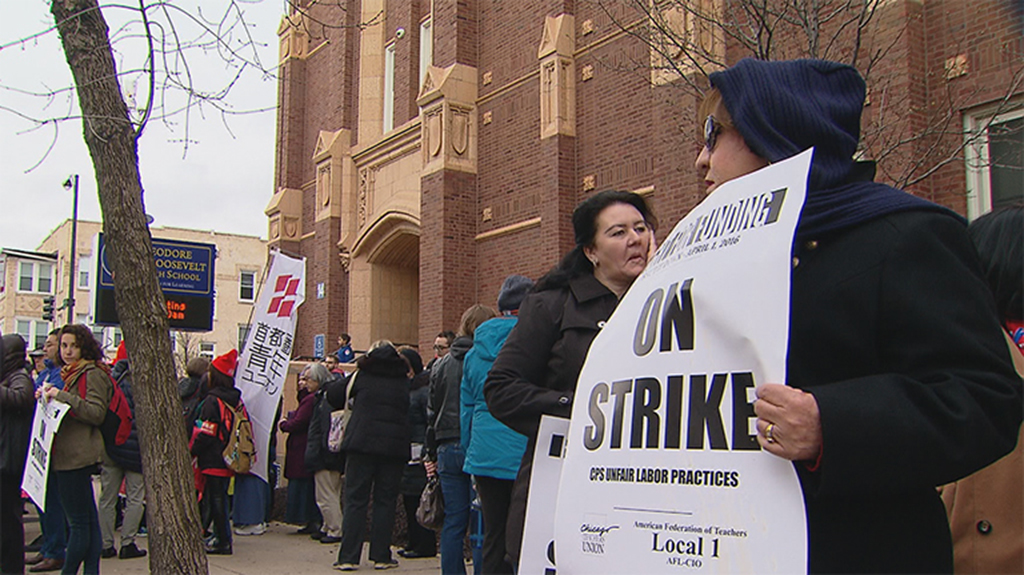 Chicago Teachers Union members picketing outside Roosevelt High School during a one-day strike last April. The union is considering a similar one-day walkout this May. (Chicago Tonight)
As the Chicago Teachers Union continues debate over a possible one-day strike in response to furloughs and cuts from Chicago Public Schools, some members have come out in favor of other options that wouldn't cost teachers another day of lost pay.
The roughly 800 members of CTU's House of Delegates have spent the last month discussing the one-day strike with rank-and-file union members, holding informal voting within schools. On Wednesday, delegates will meet to decide whether to officially recommend the May 1 walkout. But some delegates have spoken of pushback from teachers against the possible action if that move is directed solely against what CTU sees as repeated violations of its labor agreement by Chicago Public Schools.
Union members are already sitting out four unpaid furlough days and the district may trim nearly three weeks off the end of the school year in an effort to balance its 2017 budget. If teachers do walk out on May 1, it would mean yet another unpaid class day.
"I think most teachers feel that the time to strike was in the fall," Taft High School teacher Rachael Nicholas said, "and now that we have the contract, I think most people feel that we've been furloughed and if we do strike, it's another day without pay. It's going to be detrimental because we have AP and IB testing and basically I don't think there's a feeling that there's a justifiable reason to strike."
Teachers say those furloughs equal about a 2 percent pay cut, while a shortened school year could chop as much as 10 percent more from their salaries, and some feel that's reason enough to act on May 1. 
"It's very difficult right now to be a Chicago Public Schools teacher and there's a lot of mixed emotions," CTU delegate Natasha Carlsen said. "I think the conversations are very well received in the sense that we are a member-driven union, and what our members want to do is what we decide to do as a union."
When asked last week if there's been any dissent surrounding the upcoming vote, CTU Vice President Jesse Sharkey noted the union has had "a hard discussion internally," adding that this would be its third strike since 2012.
Conflicting opinions and debate within a union of nearly 30,000 members should not be a surprise, but some teachers believe their colleagues are less supportive of a walkout than in previous years where strike approvals flew through on near unanimous votes. 
That's been the case at Taft where Nicholas, who's in her 12th year teaching at the Northwest Side school, said she's seen almost zero support for the proposed walkout.
Rather than pushing this action strictly as a response to salaries and furloughs, Carlsen said union members have discussed taking May 1 off in solidarity with other demonstrations taking place on May Day in Chicago – a move that's been seen more favorably by rank and file. Immigrant rights groups and labor organizations are planning protests that day across both the city and the country.
Delegates have also said a strike is not the only option on the table for May 1. Union members could instead choose to attend rallies and demonstrations that day held around their normal school day.
"We do have solidarity, we do support undocumented students," Nicholas said. "We will do anything to protect them and be there for them and their families, but do we need to strike for that? Or can we go to protests and rallies and anything that's outside the school hours?"
'We have to be very serious on what we have as a response'
Unions in Illinois typically only need a simple majority vote in order to authorize a work stoppage. Under state law, though, CTU must garner support from at least 75 percent of its membership to do so.
Teachers have had no trouble clearing that high hurdle in the past.
About 80 percent of union delegates voted in favor of a one-day strike that was carried out on April 1 last year. In the fall, 95 percent of CTU's voting members authorized an indefinite work stoppage as the union worked through contract negotiations with Chicago Public Schools.
That strike was ultimately averted by a last-minute agreement between the two sides in October.
"They have been very serious about what they are threatening to do to not only our profession and our salary, but also our students," Carlsen said of CPS officials and Mayor Rahm Emanuel. "So as a union we have to be very serious on what we have as a response to that."
CPS enacted furloughs and school spending freezes earlier this year after Gov. Bruce Rauner vetoed $215 million in state funding the district had counted on. Rauner said those dollars were tied to statewide pension reforms that remain unfinished.
Even before the vote has been taken, CPS moved to halt any potential strike, filing a charge with the Illinois Educational Labor Relations Board earlier this month to have the work stoppage deemed illegal.
"The Governor's $215 million cut blew a hole in the CPS budget that is forcing painful choices, and we should all work to avoid students losing days of instruction and teachers losing days of pay," CPS spokeswoman Emily Bittner said. "We hope that all Chicagoans can stand united against Gov. Rauner's racially discriminatory funding, which is at the root of CPS' funding challenges."
CPS has said teachers who do not show up May 1 will not be paid.
The district successfully filed a similar charge last spring during the April 1 day of action. CPS argued that one-day strike was illegal because union organizers failed to follow conditions set forth under Illinois law and because the work stoppage wasn't related to CTU's labor negotiations.
Up to this point, the union has argued that there's nothing illegal about simply discussing a strike. But if they do decide to walk off the job in May, it's unclear how they'd be able to do so legally under state law. CTU officials justify the potential move by pointing to the furloughs and possible shortened school year as "massive" contract violations.
And with those issues not yet unresolved, union members appear open to the possibility, at least, of a more open-ended strike sometime down the road.
"When a contract is disregarded in the extreme nature that it has been by the unelected school board and our CEO, Mr. Claypool, I think a lot of different options are on the table," Carlsen said, "because they have shown very clearly that they do not respect or acknowledge this contract that we've signed that states very clearly the amount of work days that we have, the amount of salary we should be paid, and that's not being followed."
Follow Matt Masterson on Twitter: @ByMattMasterson
---
Related stories: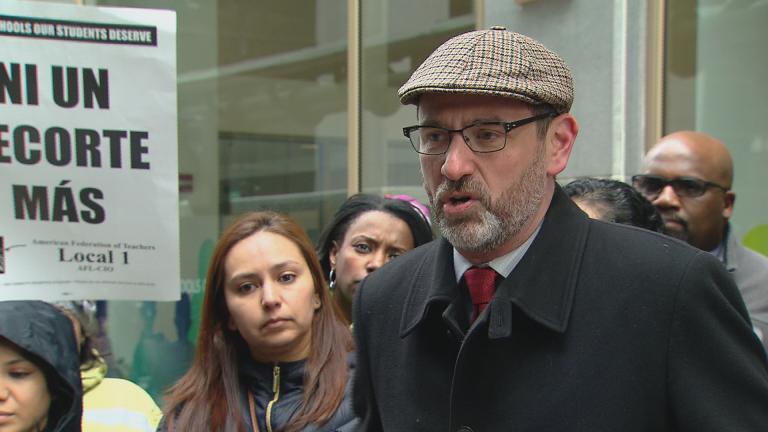 Chicago Teachers Having 'Hard Discussion' Before Upcoming Strike Vote
March 22: Chicago Teachers Union delegates are taking this month to discuss the possible May 1 strike with the union's rank-and-file members before a vote on the action, scheduled for April 5.
---
CPS Files Order to Halt Proposed 1-Day Teacher Strike
March 17: Chicago Public Schools is seeking to prevent a proposed teacher strike later this spring, claiming the move would be illegal under state law.
---
CTU Delegates to Consider 1-day Walkout
March 8: A union spokesman confirmed the union's 800-member House of Delegates will begin discussions Wednesday over a "possible May 1 action." No strike vote has yet been scheduled.
---