The Chicago Teachers Union has voted overwhelmingly to authorize another strike on the same day Chicago Public Schools announced its enrollment has dropped by almost 14,000 students districtwide and it may need to lay off 300 additional educators and support staff.
More than 95 percent of union members who participated in last week's three-day authorization vote said they were in favor of another work stoppage. CTU's Rules and Election Committee reported a 90.6 percent turnout.
"This should come as no surprise to the (Chicago Board of Education), the mayor or parents because educators have been angry about the school-based cuts that have hurt special education students, reduced librarians, counselors, social workers and teachers' aides, and eliminated thousands of teaching positions," the union said in a press release.
---
The teachers have worked without a contract since last school year. Negotiations have been stalled over the length of the deal and a proposal by Chicago Public Schools to phase out its annual pension pick-up.
CPS spokeswoman Emily Bittner issued a response to the vote outcome Monday morning that reads in part: "A strike can be averted, and CPS will work tirelessly to make sure children's education and progress is not interrupted. CPS teachers have helped propel Chicago students' remarkable academic gains – so even in a difficult financial environment, CPS is offering teachers a raise that was already supported by both the CTU leadership and an independent third party arbitrator."
Bittner believes an agreement can still be reached, noting that a deal had been "closed" once before during negotiations last winter.
In a separate release Monday, the district says its preliminary 10th-day enrollment numbers show a drop of 13,804 students over last school year. That change was steeper than the CPS officials expected and could lead to about 300 staff layoffs along with a reduction of nearly $25 million in funding across 300 schools.
CPS previously cited declining enrollment when it laid off more than 1,000 teachers and support staff just a month before the current school year began.
Impacted staff will be notified on Oct. 3 – the 20th day of school – as required by law. Total CPS enrollment will also be finalized on that date, but it currently it stands at 378,481 students. That figure has fallen steadily in recent years, dropping from 404,000 in 2011-12 down to 392,000 last year. Pre-K enrollment numbers will not be available until next month.
If a strike is indeed held, it would mark the third work stoppage under Mayor Rahm Emanuel. CTU members held a weeklong strike in September 2012, and a one-day walkout this past April.
Robert Bruno, a professor of labor and employment relations at the University of Illinois at Urbana-Champaign's School of Labor and Employment, called Monday's results "historically unprecedented."
"It's off the charts," he said.
Bruno – who has co-authored a book chronicling the 2012 teacher strike available later this year – believes that after the strike four years ago, negotiators on both sides should know where they are at in this process.
"(If) you set a strike date, you now have to be really prepared to act upon that. So what issues really are the strikeable issues? What do you need to say yes?" he said. "In many ways setting the strike vote is a helpful prod to some really creative, magical thinking that can happen when experienced bargainers decide to dig really deep and look for a way to say yes."
One distinct difference between the strike authorization votes of 2012 and 2016 is that this time around votes were collected on open petitions inside schools rather than on secret ballots.
That's led to some concerns over whether or not respondents were open and honest in their voting, knowing their choice could be seen by colleagues.
At least 75 percent of union members must approve any walkout for it to be legally authorized under Illinois state law. But that law does not define how unions are to hold that vote.
Even more than the near-unanimous authorization, Bruno said the reported massive turnout underscores a sense of discontent amount voting CTU members.
"So the 90 percent says these workers really want to have a voice, they want to say something," he said. "They're not comfortable, the status quo isn't sufficient and 90 percent is incredibly large. That's a lot of really engaged people."
As for the voting method, while he admits an open petition could affect "some elements," Bruno said it can't explain the overall turnout and pro-strike vote.
"Ninety-five percent – with a bargaining unit this big and a turnout this big – is just so large," he said, "that it can't be explained by the process."
The union's House of Delegates is scheduled to meet and discuss its next steps Wednesday, including whether or not to issue a 10-day strike notice to Chicago's Board of Education.
Also on Monday, Moody's again downgraded the Chicago Board of Education's credit rating and gave it a negative outlook. The company says the downgrade is based on the board's cash flow borrowing needs, the deepening deficit and budget built on expectations of financial help from the state, which also faces financial problems.
Strong employee bargaining groups which impeded cost-cutting efforts were also named among the district's challenges.
Follow Matt Masterson and Brandis Friedman on Twitter: @byMattMasterson / @BrandisFriedman
---
Related stories: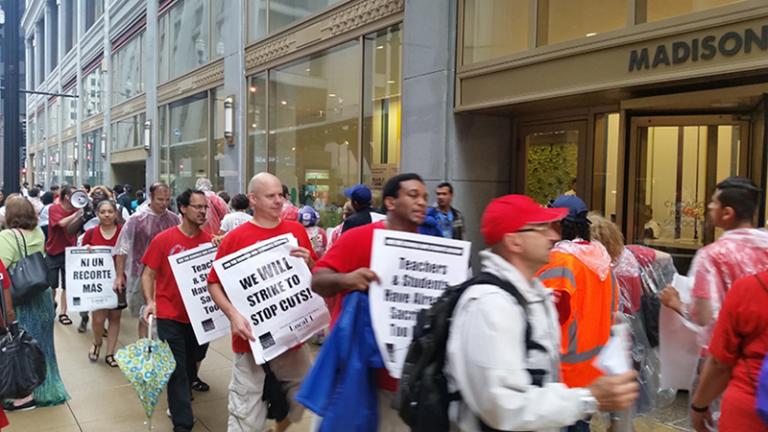 CTU Voting Underway to Authorize New Strike
Sept. 21: Teachers say they feel the Chicago Board of Education has forced them into a possible strike with repeated staff cuts.
---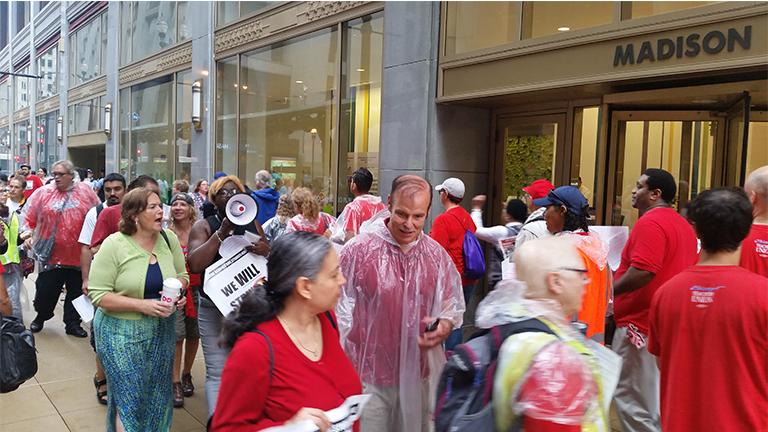 CTU Considers October Strike if New Deal Not Struck
Aug. 24: Without a new contract agreement with CPS, Chicago teachers are looking at their second work stoppage this year.
---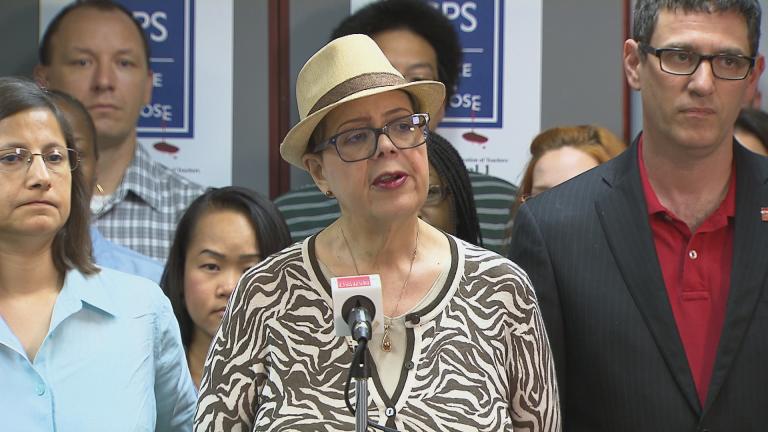 CPS Releases Budget for Coming School Year, Counts on CTU Contract
Aug. 8: Now that Chicago Public Schools has released its budget plans for the coming year, can the district and the Chicago Teachers Union finally nail down a contract agreement?
---