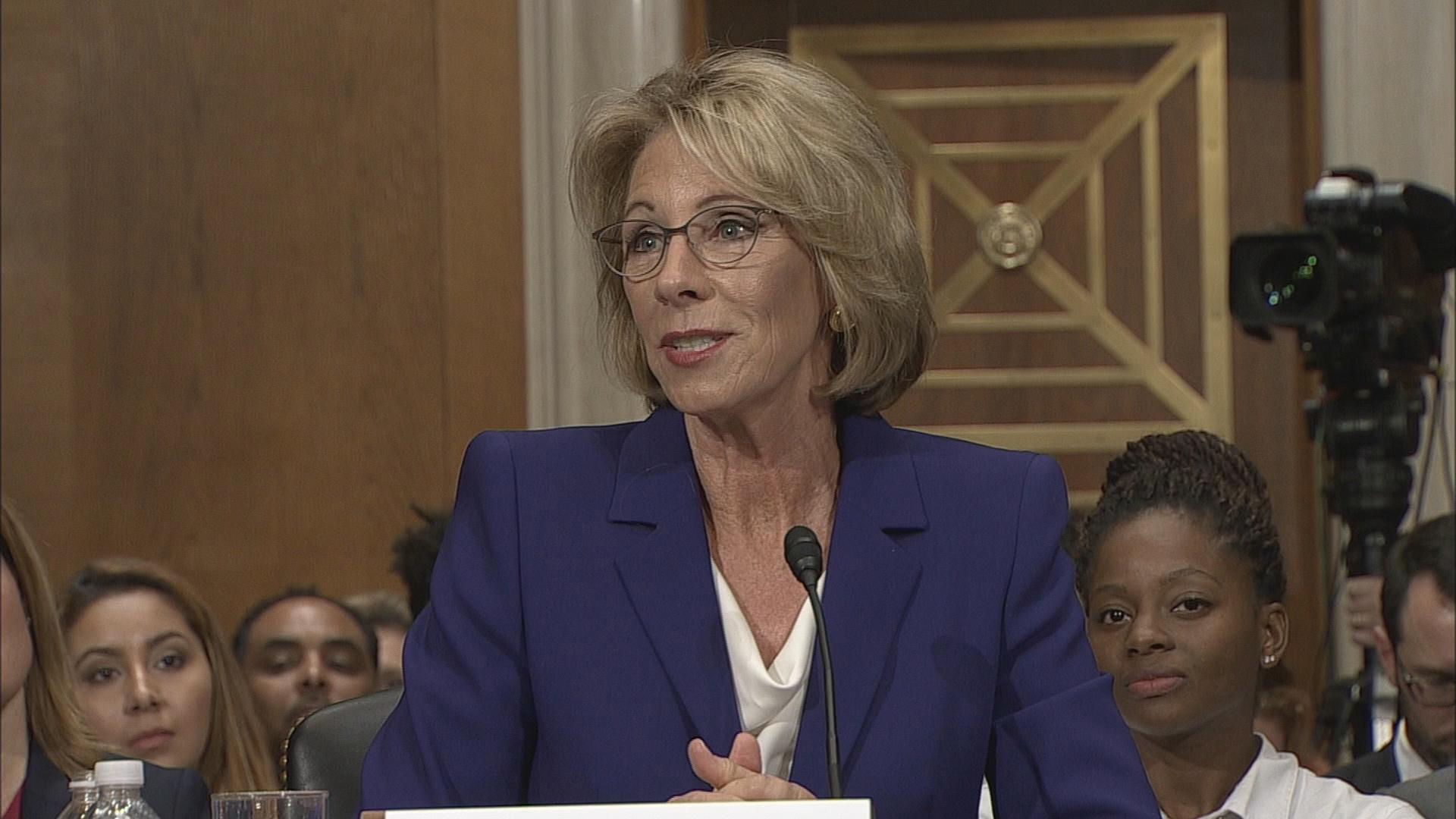 Michigan billionaire Betsy DeVos was confirmed as the new U.S. Education Secretary Tuesday following a split Senate vote. (Courtesy of CNN)
Despite a shaky confirmation hearing and significant pushback from the public, Republican donor and school choice advocate Betsy DeVos has been confirmed as the new U.S. Secretary of Education.  
As expected, a 50-50 tie in Senate votes was broken Tuesday by Vice President Mike Pence, who voted in favor of the Michigan billionaire.
"The vice president votes in the affirmative," Pence said, "and the nomination is confirmed."
Tie-breaking votes are historically uncommon, but Pence's vote marks the first time a vice president has ever been asked to decide a Cabinet nomination.
---
Senate Democrats met Monday afternoon and through the night into Tuesday during a 24-hour floor session held in hopes of swaying one more GOP senator to vote against President Donald Trump's department nominee.
Two Republicans – Sen. Susan Collins, R-Maine, and Sen. Lisa Murkowski, R-Alaska – each announced last week they would not support DeVos, splitting the Senate down the middle.
Murkowski told MSNBC her Alaskan constituents have little need for expanded school choice and said she didn't have the "confidence needed" to offer her support for DeVos.
DeVos also received no support from Illinois Sens. Tammy Duckworth and Dick Durbin, who voted against the school choice advocate. Durbin called DeVos unqualified for the position in a tweet Saturday, saying she "is not the person who should be leading our Education Department to make sure we have schools ready for the 21st century."
Parents, teachers and union officials reportedly spent the last week flooding GOP senate offices with phone calls and messages, pleading with them to reject DeVos and find a more qualified nominee.
A former chair of the Michigan Republican Party and the Alliance for School Choice, DeVos is seen by critics as being against public education, having previously called the system a "dead end." She never attended or worked at a public school. She and her husband, former Amway CEO Dick DeVos, have also spent millions advocating for school privatization causes.
Chicago Teachers Union President Karen Lewis previously called DeVos a "nightmare" and members of the Illinois-based parent-advocacy group Raise Your Hand marched in protest against the new secretary in downtown Chicago last week.
"The only reason Betsy DeVos is in this position is because her family has donated hundreds of millions of dollars to the Republican Party, and not because of any sincere commitment to public education, because she has none," Lewis said in a statement Tuesday. "It's no surprise that Illinois Gov. Bruce Rauner was among those who endorsed her because they have a lot in common – such as using their extreme wealth to buy their positions."
Illinois Federation of Teachers President Dan Montgomery called the confirmation "deeply troubling," saying voters here want fully funded public schools over expanded school choice.
DeVos has also been criticized by Democrats who feel the billionaire has not done enough to allay their concerns of potential conflicts of interest stemming from her vast source of wealth.
But what opponents have found most troubling is her apparent lack of knowledge on specific education issues and the overall role of the department she's been selected to run during her hearing before the Senate HELP Committee.
Duckworth addressed the Senate prior to the vote, saying DeVos "failed to study (and) showed up unprepared" for her confirmation hearing in January and failed to ease Democratic concerns over her qualifications for the job.
"It is a shame that someone who has never been a teacher or administrator, and who holds no degree in education policy, will now helm the agency tasked with educating our children and training our workforce," Duckworth said in a statement. "Unfortunately, our children and our nation will suffer the consequences of this decision for decades to come."
In January, Gov. Bruce Rauner and more than a dozen other Republican governors signed a letter supporting DeVos, calling her an "inspired choice" for the position.
Sen. Lamar Alexander, R-Tenn., also criticized Democrats for seemingly making up their minds on DeVos before she had a chance to answer the 1,400 follow-up questions asked of her, wondering aloud if they were truly surprised the president would nominate someone from outside the "education establishment."
"Would you be surprised that a Republican president would be for charter schools?" he said on the Senate floor Tuesday. "Are you really surprised a Republican president has appointed an education secretary who wants to give low income students more choices of schools? Are you really surprised a Republican president has nominated an education secretary who wants to reverse the trend of a National School Board and restore local control?"
Follow Matt Masterson on Twitter: @byMattMasterson
---
Related stories: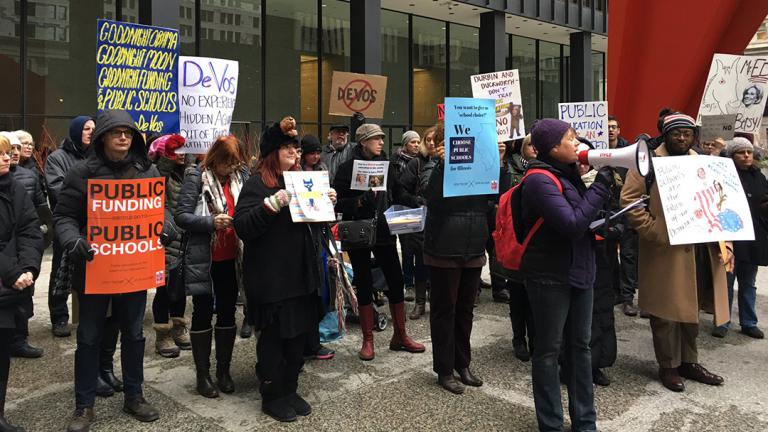 DeVos Approved by Senate Committee as Chicago Parents Protest
Jan. 31: In a split decision Tuesday morning, the U.S. Senate Committee on Health, Education, Labor and Pensions voted to approve education secretary nominee Betsy DeVos.
---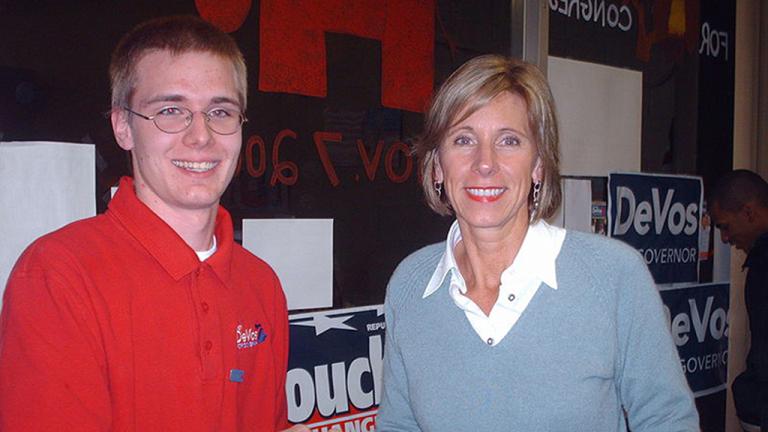 Trump's Education Pick DeVos Set for Senate Confirmation Tuesday
Jan. 16: Like many of President-elect Donald Trump's cabinet selections, his education secretary nominee Betsy DeVos, a Michigan billionaire and GOP mega-donor, has been met with controversy.
---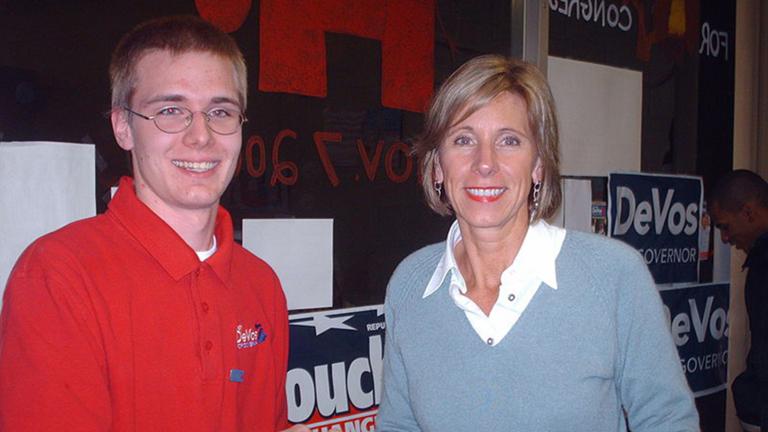 Teachers Union Leaders Blast Trump's Pick for Education Secretary
Nov. 23: President-elect Donald Trump on Wednesday tabbed billionaire donor and school choice activist Betsy DeVos as the next federal Secretary of Education, a move the head of the Illinois Federation of Teachers immediately called "hugely troubling."
---