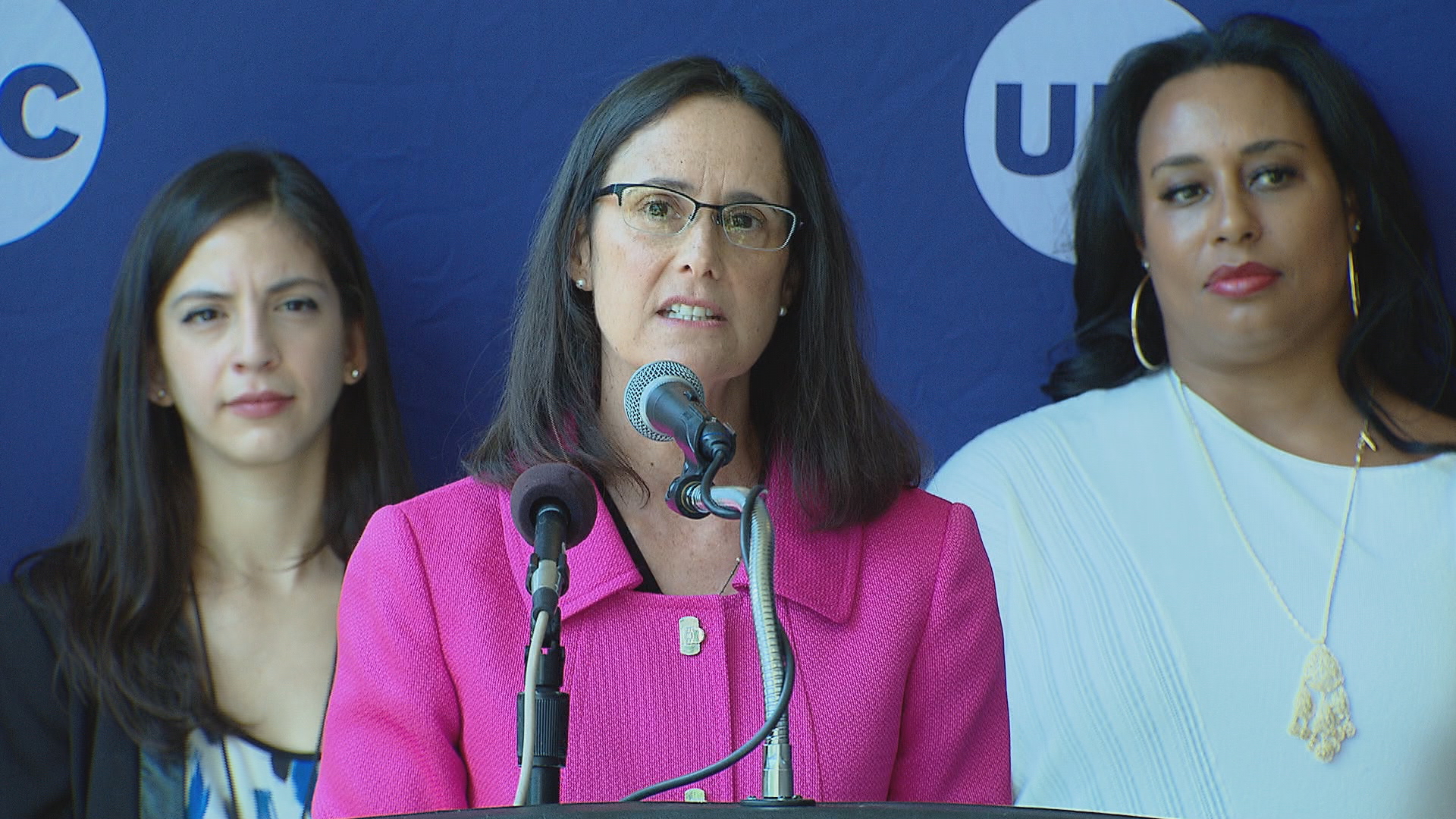 Attorney General Lisa Madigan and 18 other attorneys general announced Thursday they are suing Education Secretary Betsy DeVos over her decision to delay a student loan protection law. (Chicago Tonight)
Illinois Attorney General Lisa Madigan is joining more than a dozen other attorneys general in a lawsuit against Secretary of Education Betsy Devos after she suspended a federal law aimed at protecting students from fraud at for-profit colleges.
Madigan and 18 other Democratic attorneys general announced the suit Thursday, alleging DeVos and the Department of Education violated federal law and abandoned "critical federal protections" for students that were set to take effect this month.
The suit, filed in a Washington, D.C., federal court, specifically names DeVos and the Department of Education as defendants. The litigation comes after DeVos last month froze a law known as the "Borrower Defense Rule," which made clear the loan forgiveness process for student borrowers defrauded by for-profit colleges.
Document: Read the lawsuit filing
The rule was put into place last November following the collapse of Corinthian Colleges – a national for-profit postsecondary education firm that operated colleges across the country. Those included WyoTeach, Heald College and Everest College, which had six Chicago-area campuses.
"Students should not have to pay for student loans they obtained to attend fraudulent schools that promised education and training that they did not provide," Madigan said in a statement Thursday.
"The Department of Education has clear evidence of Corinthian's widespread fraud, yet it has delayed relief for thousands of these former students and others who are still on the hook for their student loan debt."
The suit seeks to have DeVos' delay notice declared unlawful and order her to implement the Borrower Defense Rule.
The law also allowed automatic relief for students who couldn't finish their degrees due to a school closure. Madigan says there are over 50 closed campuses in Illinois alone.
She joined a coalition of 45 attorneys general in April, notifying hundreds of thousands of students that they were eligible to cancel any federal student loans they had used to attend Corinthian-operated schools.
DeVos said last month the Borrower Defense Rule "missed an opportunity to get it right," and her department claimed it intends to "develop fair, effective and improved regulations to protect individual borrowers from fraud, ensure accountability across institutions of higher education and protect taxpayers."
She also cited pending litigation challenging Borrower Defense Rule regulations as a reason for the delay. But in their suit, the attorneys general argue that reference "is a mere pretext for repealing the Rule and replacing it with a new rule that will remove or dilute student rights and protections."
The education secretary was among the most controversial of President Donald Trump's cabinet selections, earning her confirmation in February only through a historic tiebreaking vote cast by Vice President Mike Pence.
Other states joining the lawsuit include: California, Connecticut, Delaware, Hawaii, Iowa, Maryland, Massachusetts, Minnesota, New Mexico, New York, North Carolina, Oregon, Pennsylvania, Rhode Island, Vermont, Virginia, Washington and the District of Columbia.
Follow Matt Masterson on Twitter: @byMattMasterson
---
Related stories: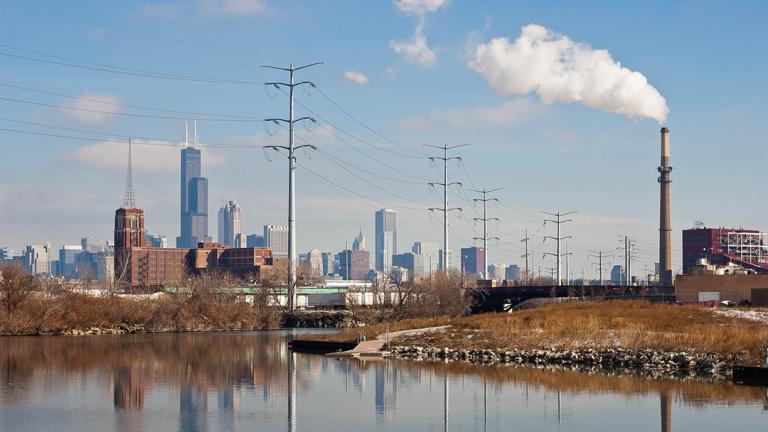 Lisa Madigan Among 16 AGs Opposing Rollback of Air Quality Standards
May 1: Illinois Attorney General Lisa Madigan joined a group of 16 attorneys general last week in urging Congress to reject the rollback of standards that combat pollution and protect air quality.
---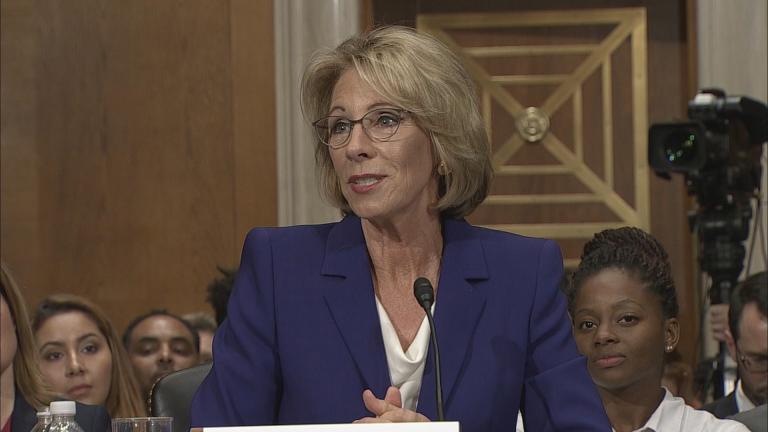 DeVos Confirmed as Education Secretary on Historic Pence Tiebreaker
Feb. 7: Despite a shaky confirmation hearing and significant pushback from the public, Republican donor and school choice advocate Betsy DeVos has been confirmed as the new U.S. Secretary of Education.  
---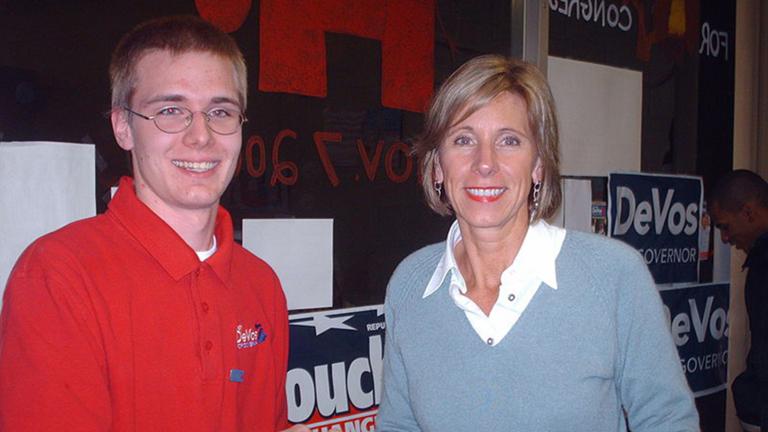 Teachers Union Leaders Blast Trump's Pick for Education Secretary
Nov. 23: President-elect Donald Trump on Wednesday tabbed billionaire donor and school choice activist Betsy DeVos as the next federal Secretary of Education, a move the head of the Illinois Federation of Teachers immediately called "hugely troubling."
---