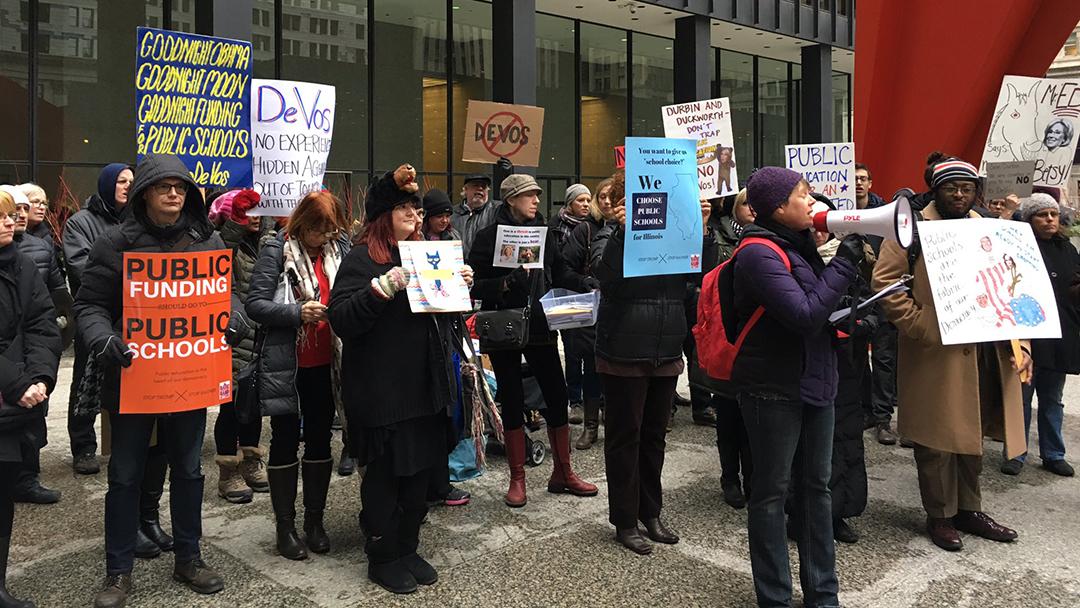 Members of Raise Your Hand Illinois demonstrate in Chicago on Tuesday. (Raise Your Hand Action / Twitter)
In a split decision Tuesday morning, the U.S. Senate Committee on Health, Education, Labor and Pensions voted to approve education secretary nominee Betsy DeVos.
By a 12-11 vote along party lines, DeVos was backed by the committee and will move on to a final confirmation vote before the full Senate following a contentious debate about the nominee's background and credentials.
"This is a committee of considerable difference of opinion," HELP Committee Chair Lamar Alexander, R-Tennessee, said. "But it is also a committee that has, on big occasions, been able to resolve those differences of opinion, usually in a cordial way. I am sorry to say that we are not able to do that this time."
DeVos has faced unprecedented pushback for an education secretary, with Alexander calling her "the most questioned" nominee in the history of the position.
He noted testimony during her confirmation hearing went on 90 minutes longer than previous education secretary picks Arne Duncan and John King. Senate Democrats also sent more than 1,400 follow-up questions to the Michigan billionaire following that hearing, compared to about 100 total sent by Republicans to Duncan and King.
At least one of Illinois' two Democratic senators spoke out against DeVos' confirmation Tuesday. Junior Sen. Tammy Duckworth issued a statement saying the nominee has failed in her commitment to public education and her understanding of civil rights laws.
"Both of these issues are personal to me," Duckworth, an Army veteran and a double amputee, said in the statement. "I would not be where I am today if it weren't for the quality public school education I received – and much of my life today has been made possible by civil rights protections like the Americans with Disabilities Act."
Members of Raise Your Hand Illinois – a parent advocacy organization – took to Federal Plaza in downtown Chicago following the vote to turn in letters demanding Duckworth and Sen. Dick Durbin each vote against DeVos.
Despite the committee's approval, DeVos' confirmation is not a sure thing.
A pair of Republican senators – Susan Collins, R-Maine, and Lisa Murkowski, R-Alaska – each backed DeVos at the committee level, but both said they were unsure whether they would support the nominee at the full Senate level, signaling a potential partisan break. They cited her apparent lack of knowledge on the Individuals with Disabilities Education Act and thousands of calls and emails received in opposition to her confirmation.
A simple majority vote from the GOP-led Senate is all that's needed for DeVos' confirmation.
A former chair of the Michigan Republican Party and the Alliance for School Choice, DeVos is seen by critics as being "anti-public education." She never attended or taught at a public school and, along with her husband, Dick, has spent millions advocating for school choice and charter causes.
But Sen. Richard Burr, R-North Carolina, said she has become the victim of a "character assassination" and should not be punished for spending her money on education efforts.
"Let's give her a little bit of credit," Burr said during Tuesday's committee meeting. "She lives in a state where she saw a need for somebody to take action and she tried. She tried a lot of different things. She's criticized today because she tried."
Earlier this month, Gov. Bruce Rauner and more than a dozen other Republican governors also signed a letter in support of DeVos, calling her an "inspired choice" for the position.
Alexander and Sen. Patty Murray, the ranking Democrat on the committee, also disagreed about whether DeVos had adequately fulfilled her ethics requirements. Murray claimed senators did not have enough background information on the nominee's financial holdings and potential conflicts of interest to hold a vote.
"The chairman is justifiably proud of his record of accomplishments on this committee over the years," Murray said.
"But by moving forward today, I consider this to be a massive break with that strong bipartisan record and it will dramatically impact our ability to work together in good faith going forward because the usual practices are being ignored here, the right thing to do is being ignored here, this nominee is being jammed through with corners being cut and with the minority being brushed aside, and I think that is absolutely wrong."
Follow Matt Masterson on Twitter: @ByMattMasterson
---
Related stories: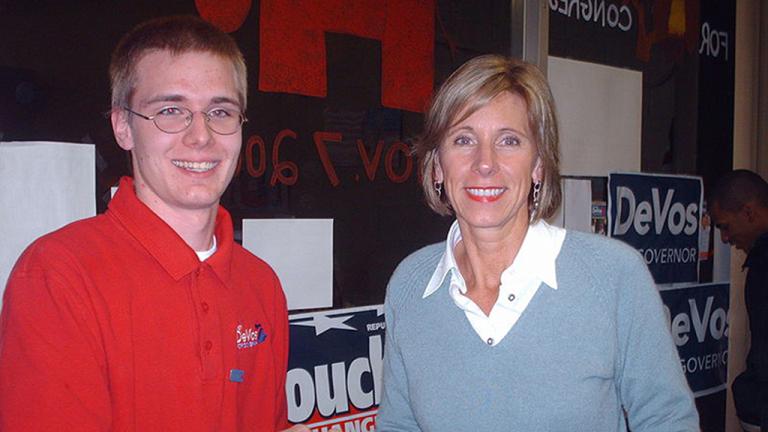 Trump's Education Pick DeVos Set for Senate Confirmation Tuesday
Jan. 16: Like many of President-elect Donald Trump's cabinet selections, his education secretary nominee Betsy DeVos, a Michigan billionaire and GOP mega-donor, has been met with controversy.
---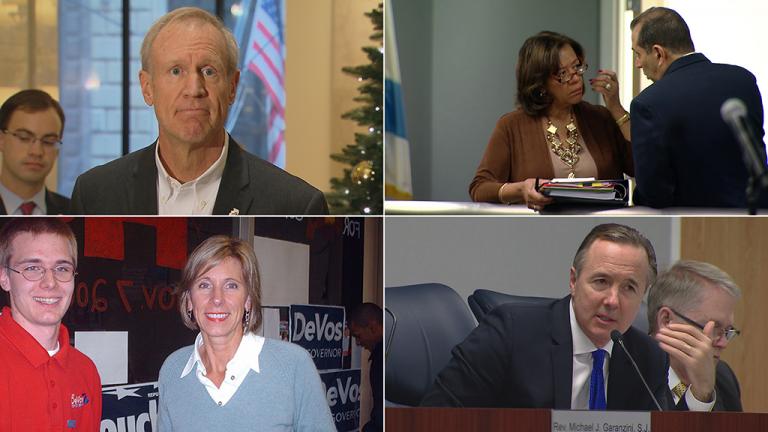 Education Issues to Watch in 2017
Jan. 3: A $215 million hole in Chicago Public Schools' budget and a sentencing date for its former CEO headline local education issues to follow in the coming year.
---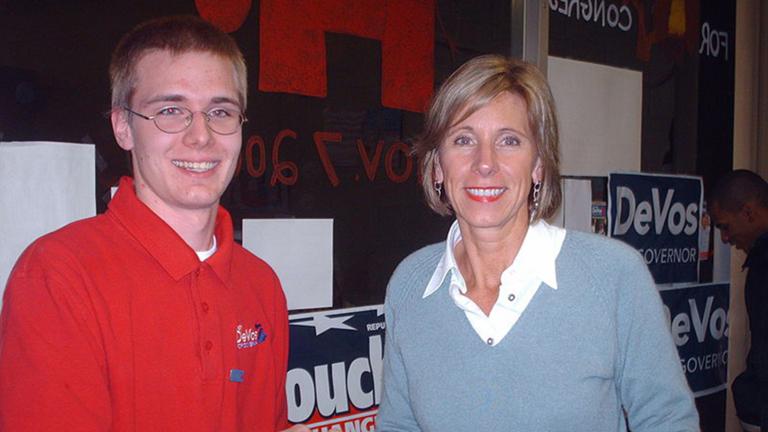 Teachers Union Leaders Blast Trump's Pick for Education Secretary
Nov. 23: President-elect Donald Trump on Wednesday tabbed billionaire donor and school choice activist Betsy DeVos as the next federal Secretary of Education, a move the head of the Illinois Federation of Teachers immediately called "hugely troubling."
---