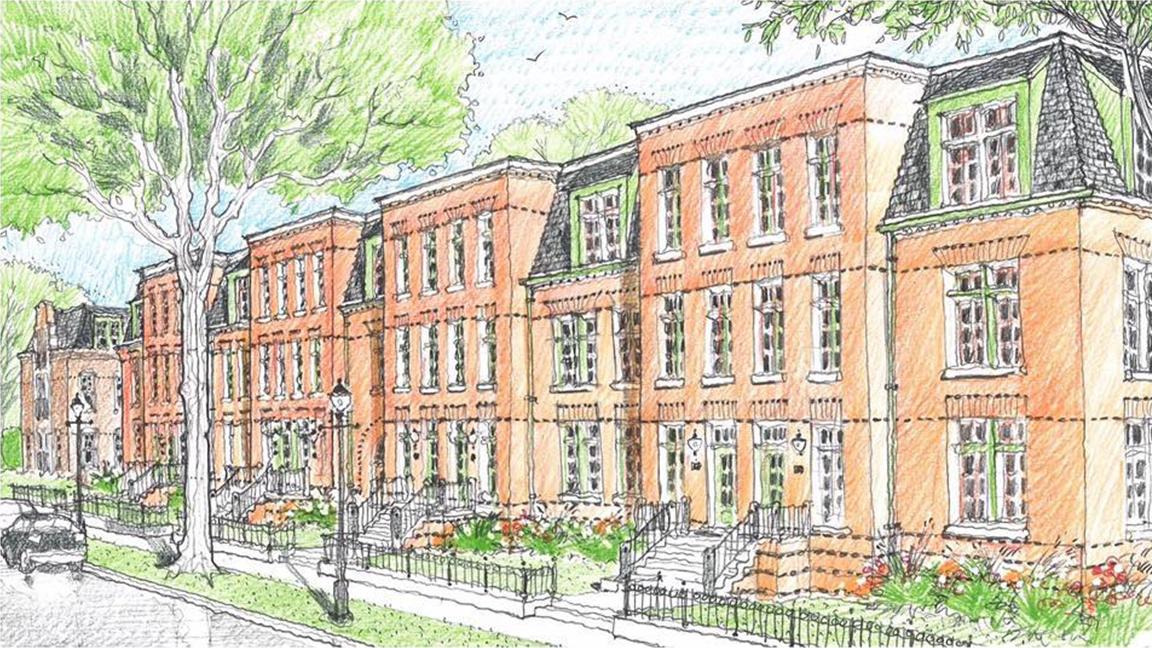 An artist's rendering of Pullman Artspace Lofts, a mixed-use housing development slated for construction in historic Pullman. (PullmanArts)
Plans to build an affordable, mixed-use housing development in historic Pullman are under fire from a small group of community members.
The project, called Pullman Artspace Lofts, will offer 38 units where artists and their families can live and work, in addition to a gallery and community spaces for meetings and art classes. An overview of the project describes the development site as roughly "18,500 square feet of vacant land." But the land is also located within the boundaries of Illinois' only national monument – a distinction that troubles some residents.
Dedicated by President Barack Obama on Feb. 19, 2015, Pullman National Monument encompasses more than 200 acres of the company town built by industrialist George Pullman that thrived during the late-19th and early-20th centuries.
The community takes pride in its rich history – there's an annual showcase of 1880s homes designed by architect Solon Spencer Beman – and they're not afraid to fight for it. When developers planned to demolish historic structures to make way for an industrial park in 1960, residents formed the Pullman Civic Organization and put a stop to it.
Fifty-six years later, another group has sprouted up to oppose development.
This time, the fight is over that vacant lot, once the site of a historic tenement building that housed the district's poorest laborers. The building was demolished in 1939, but remnants of the foundation are buried in the soil, and depending on whom you ask, these remains are described as insignificant or historical. The plot is flanked by two surviving tenement buildings which have stood vacant for several years.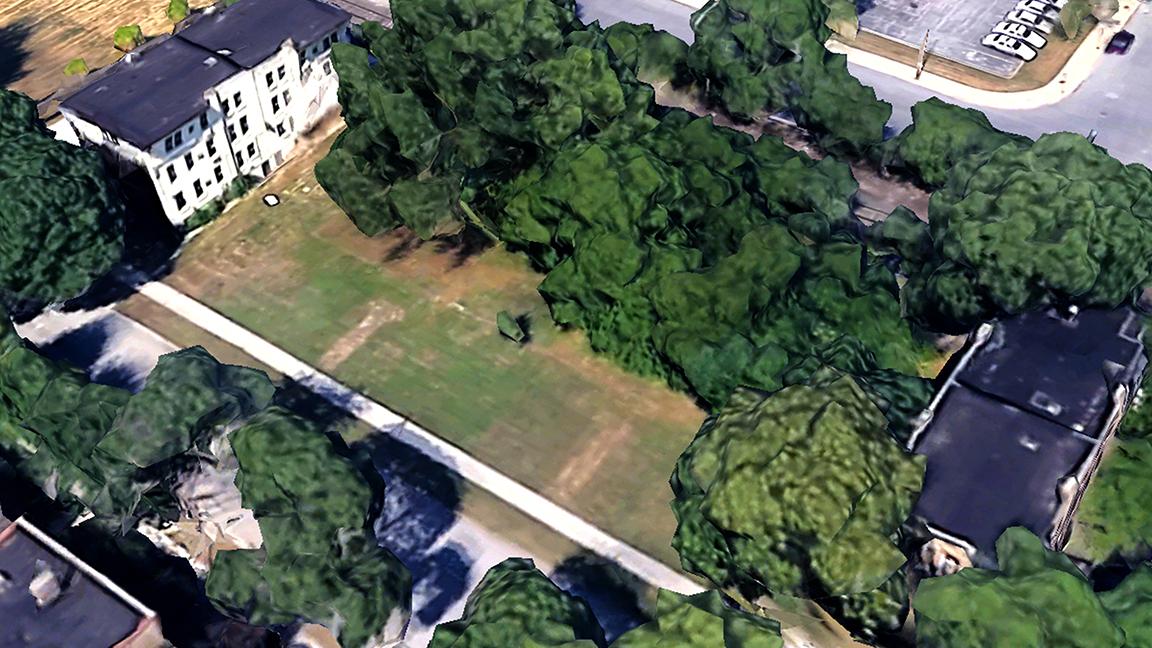 Remnants of the tenement building's original foundation in Pullman are visible in this Google Earth image.
The area is slated for development by Pullman Artspace LLC – a group comprising three entities: local developers Chicago Neighborhood Initiatives, arts nonprofit PullmanArts and Minnesota-based real estate developer Artspace Projects, Inc. – which plans to erect the tax-subsidized loft building in place of the former tenement and rehabilitate the two existing buildings.
Opposing the project is a group of about a dozen residents calling themselves the Pullman National Monument Preservation Society. They say archaeological remains will be destroyed as a result of the construction, and they're considering legal action to block it.
Mark Cassello, director of the preservation society, or PNMPS, said his group was "shocked" when developers unveiled the site-specific plans at a community meeting in October 2015.
"What they presented was essentially a devil's bargain by saying they'd restore these two buildings if we let them build this new one. They're allowing the destruction of archaeological items," Cassello said last week.
The plan to build the lofts in Pullman wasn't a secret prior to October 2015. In fact, a design competition funded by the Richard H. Driehaus Foundation selected Chicago architectural firm VOA Associates to design the project in August 2015.
But according to Cassello, who moved to Pullman three years ago, the location for the development was "not general knowledge in the community" before plans were announced.
The PNMPS contends that as a national monument, Pullman's historic resources are protected and the developers don't have the authority to build there without a formal assessment of the land – called a general management plan – something the National Park Service has yet to do. (An NPS spokeswoman said a general management plan is forthcoming.)
His group isn't opposed to the idea of development within Pullman. They even proposed an alternative location for Pullman Artspace Lofts – one that wouldn't compromise historic remains – but it was rejected by the developers.
Watching the watchdogs
Not everyone in the community believes that Cassello and his group are spurred by an altruistic desire to preserve history.
"Some people are concerned about subsidized housing," said Michael Shymanski, a 49-year resident of the community who supports the project and is president of the Historic Pullman Foundation.
"As soon as you talk about subsidized housing, they have all sorts of allusions and opinions. There are other people who think it will cause parking problems," he said.
Ellen Kaulig, a Pullman resident of one year, said developers are doing the community a service.
"They're preserving the two tenement buildings that are left," Kaulig said. "Those would become rubble if not for this project. And they're replacing a building that is not only gone, but the rubble itself – there have been kids playing with it for years."
She further criticized the PNMPS for not holding "open community meetings."
Cassello shrugs this comment off. He tried to schedule meetings in early 2016, he said, with two of the community's established groups (the Pullman Historic Foundation and the Pullman Civic Organization), but both groups had "lost his email."
"That was one of the incidents that led me to see the need for the PNMPS," Cassello said. "The foundation and PCO have a stranglehold on the community and there's no independent group that can watchdog the neighborhood."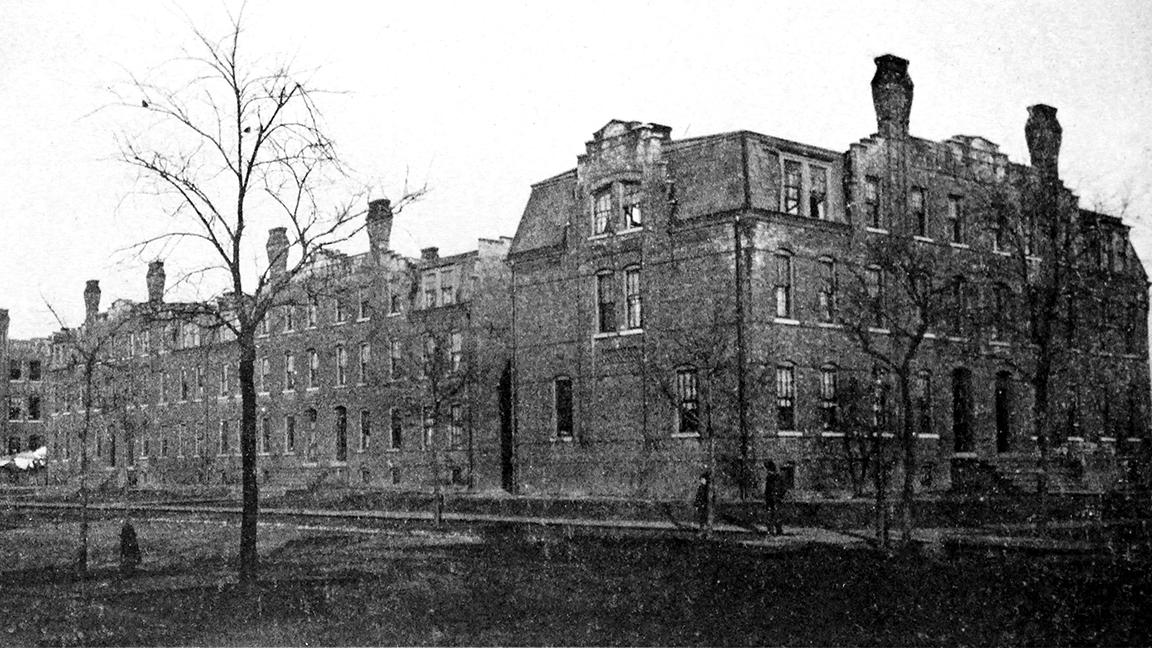 A historic photo shows the three tenement buildings in Pullman where a new loft development is planned. The middle building was demolished in 1939. ("Pullman: City of Brick," H. R. Koopman, 1893)
David Doig, the president of Chicago Neighborhood Initiatives, the local development company involved in the project, said the PNMPS doesn't fully represent the community's attitude towards Pullman Artspace Lofts.
"This group is not even formally incorporated," said Doig in reference to PNMPS. "We've had unbelievable community support and we're moving forward."
Indeed, Doig said the owner of the private lot where the lofts will be constructed has agreed to transfer the land to Pullman Artspace LLC and that they can close on the property "at any time."
Claims of violation, intimidation
In an effort to halt the project, Cassello's group retained a lawyer. Thomas Ramsdell has written letters in recent months to the Advisory Council on Historic Preservation and other government entities, expressing concern over the destruction of "archaeological resources of a unique Pullman building," and claiming that officials violated guidelines set up by the National Park Service as well as federal laws requiring the protection of archaeological items on public land.
It's unclear whether the letters will hinder the project. Cassello, an English professor at Calumet College of St. Joseph in Whiting, Indiana, declined to provide details on some of the claims as the matter, he said, is ongoing.
Local developer Doig said his team went "above and beyond" by commissioning archaeologists to survey the land for any remaining artifacts in May 2016.
"There's nothing remaining there," Doig said. "There may be a partial foundation, but not the full foundation."
Developers also claim the PNMPS may be under investigation itself for soliciting funds as an unregistered organization.
In an email sent to Chicago Tonight, PullmanArts president Ann Alspaugh wrote that the group's "PayPal account for donations is going to Mark Cassello's personal Etsy business named The Furniture Preservation.
"I have screenshots of all this to back it up," Alspaugh wrote.
Cassello said he has not been informed of any investigation and called Alspaugh's claim an "intimidation tactic."
He said the PayPal link to his Etsy was "a test" that he eventually took offline, and that his group has recently filed for incorporation as a nonprofit with the Illinois Secretary of State. According to Cassello, the PNMPS has not received funds from the public, only private donations from its members.
"This project is completely and wholly unacceptable," Cassello said. "If it does get built, it will be a brick-and-mortar monument to the failure of the National Park Service to protect the monument. It will set a precedent to drive commercial development into the heart of every other national park in this country.
"My hope is that officials take notice of the severity of this issue and investigate," he said. "We're going to see how things play out."
Developers plan to break ground on the project in the spring of 2017.

More on the story
Promotional video: The Pullman National Monument Preservation Society makes its case against the development.
Follow Evan Garcia on Twitter: @EvanRGarcia
---
Related stories: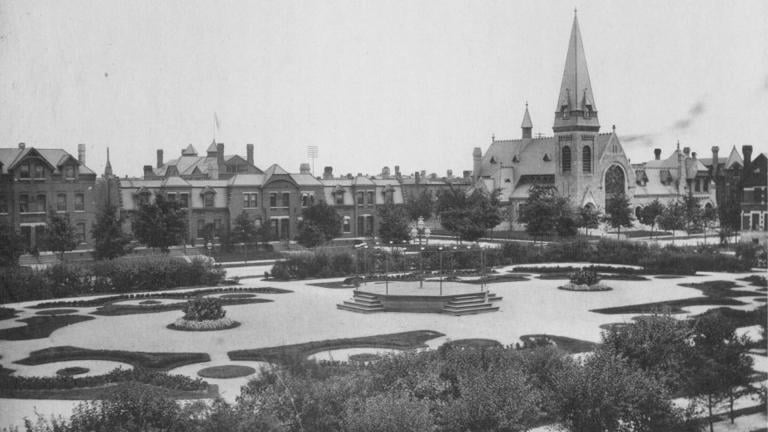 Blair Kamin on Pullman Historic District
Feb. 26, 2015: Chicago Tribune architecture critic Blair Kamin talks about the Pullman Historic District's designation as a national monument.
---
President Obama Names Pullman Historic District a National Monument
Feb. 19, 2015: The president visits the Pullman neighborhood to commemorate its new National Monument Designation.
---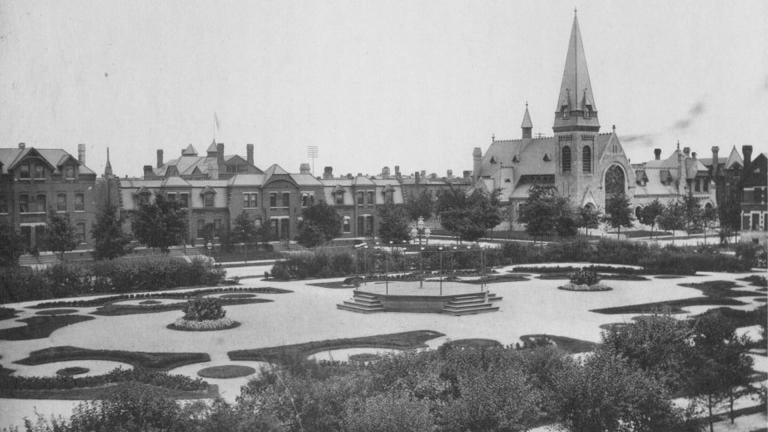 Pullman District to be Designated as National Monument
Feb. 10, 2015: President Barack Obama plans to visit Chicago next week where he'll reportedly declare part of the Pullman neighborhood on the far south side a national monument, Chicago's first.
---