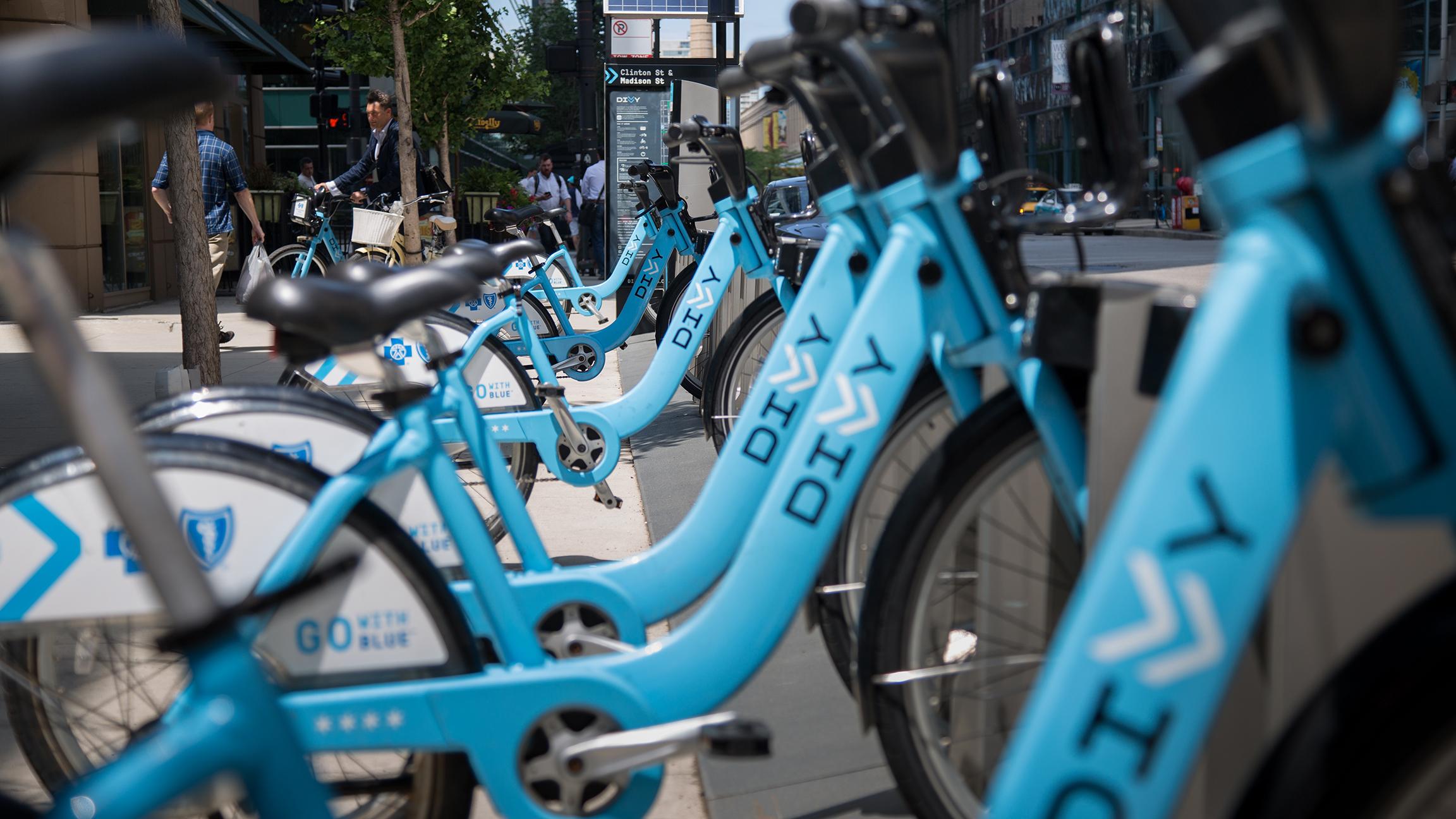 Divvy riders may soon be able to use the Ventra app to pay for bike rentals, thanks to a grant from the Federal Transit Administration. (Tony Webster / Wikimedia Commons)
Just weeks after Chicago was named the best U.S. city for biking, plans are underway to make the bicycle sharing program Divvy more convenient for CTA riders.
Last week, U.S. Rep. Dan Lipinski (D-3rd District) announced a $400,000 grant from the Federal Transit Administration that will go towards developing the Ventra app to allow better access to Divvy bikes.
According to a press release, the upgrades will give users of the Ventra app the ability to "more easily locate Divvy bike share stations, view bike and dock availability, and seamlessly pay for Divvy bike rentals through the app using Ventra transit value."
"One of the biggest issues all the time with public transportation is the last mile of getting from your home to the station or from the station to wherever you're going," said Lipinski, who serves on the U.S. House Transportation Committee and describes himself as an "avid cyclist." "Having an easier way to use Divvy with public transportation will help encourage more people to use the CTA," he said.
The grant will create a partnership between the CTA and the Chicago Department of Transportation, which operates the 580 Divvy bike sharing stations across the city. 
"As we noted when the Ventra app was launched nearly a year ago, CTA will look for ways to expand and partner with other entities," said CTA spokeswoman Irene Ferradaz in an email. "We look forward to working with Divvy on this project and will collaborate with them on the development and launch of this new functionality."
The partnership is part of a series of nationwide projects by the U.S. Department of Transportation's Mobility on Demand initiative, in which $8 million in grants were awarded to 11 cities in an effort to make public transportation more "effective, efficient, and equitable" by incorporating new technology. 
"From automated vehicles to connected infrastructure to data analytics, technology is transforming how we move around our country, and some of the most exciting innovation is happening at the local level," said U.S. Transportation Secretary Anthony Foxx in a press release. "These grants will enable cities and rural communities to harness new technologies to tackle hard problems like reducing congestion, connecting people to mass transit, and enhancing safety." 
Michael Claffey, a spokesperson for CDOT, said Divvy and the CTA will be working on the details of the plan, including a timeline for the rollout, in the coming months. 
Follow Reuben Unrau on Twitter: @reubenunrau
---
Related Stories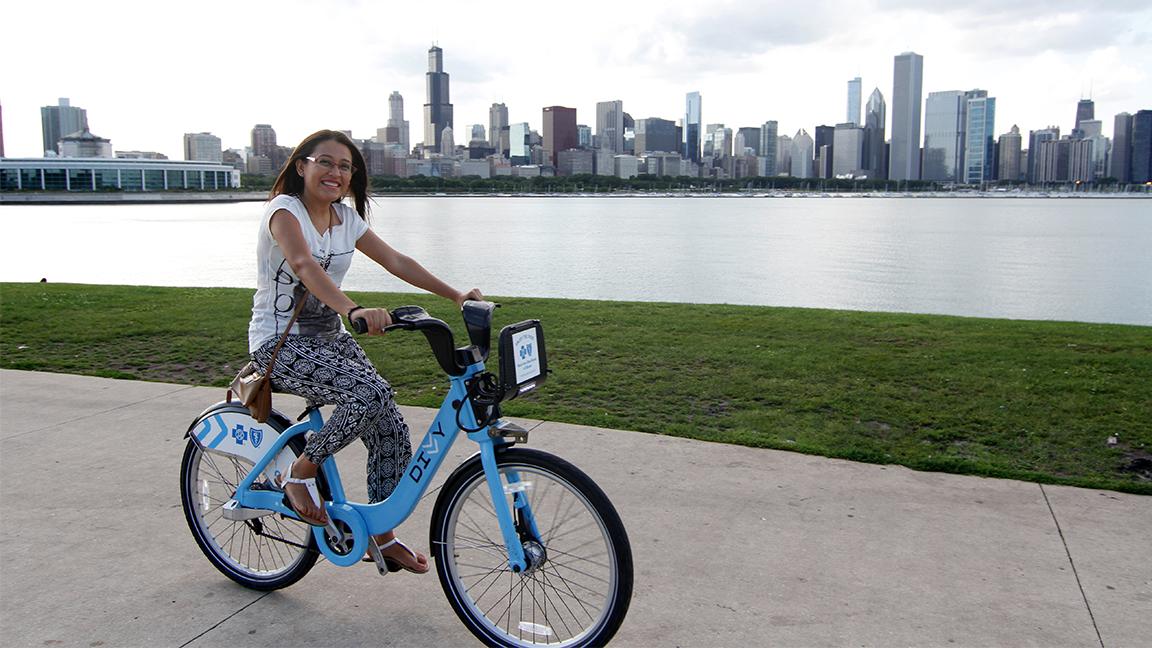 Chicago Ranked Best US City for Biking
Sept. 19: In its rankings published Monday, Bicycling magazine applauded the city's commitment to adding new bike lanes and improving access to bike-share resources for underserved communities.
---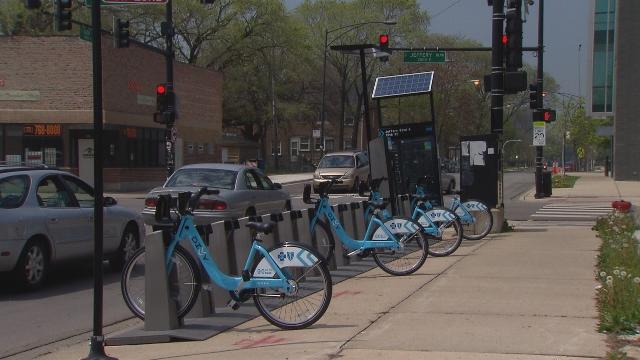 A grant from the Federal Transit Administration will help fund the development of the Ventra App so Divvy members can access and pay for rides with the bike sharing program. (Chicago Tonight) Divvy Expands
May 7, 2015: Chicago's Divvy bike sharing program is expanding this spring. Where are the new stations? And where aren't they?
---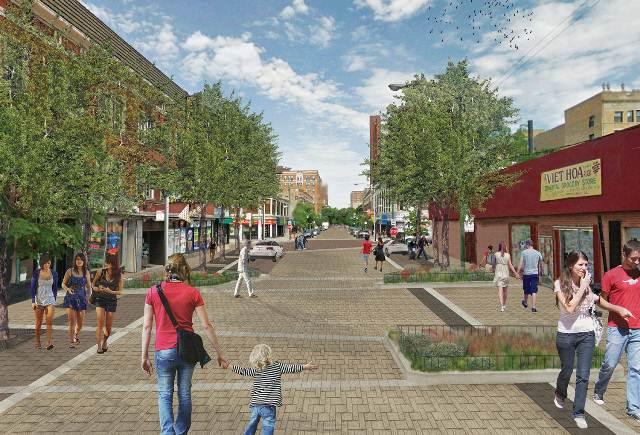 Chicago's Shared Streets, Efforts to Booth Biking
July 8, 2015: Construction gets underway this week on the Argyle Streetscape project in Uptown, which will create a first-of-its-kind Chicago street that's shared among bikes, cars, and pedestrians. The city has also announced a discounted Divvy bike share membership rate for lower-income Chicagoans, and it's currently adding protected lanes to encourage more bicycling. We'll take a closer look.
---