Chicago Public Schools' new multibillion-dollar budget received unanimous approval Wednesday from the city's Board of Education, just as the Chicago Teachers Union continues preparing its members for a work stoppage with another possible strike on the horizon this fall.
In a CTU contract bulletin published this week, the union says its "rank-and-file Big Bargaining Team has said that the Union's membership should consider going on strike if (Mayor Rahm Emanuel) and his handpicked Board do not provide the revenue and the contract that our members and our schools deserve by October."
CTU says it hopes to finalize a new contract without the need for strike, but its delegates are expected over the next week to receive strike preparation materials – including an informational flyer for parents, "contract action team" training info and an FAQ – according to the bulletin. Union members picketed outside the school district's downtown office Wednesday morning, where the Board of Education voted 6-0 in favor of the district's $5.4 billion budget for fiscal year 2017.
Many CTU members are prepared to strike before the new school year begins Sept. 6, according to the bulletin, which states that "anger needs to be married with strategy in order to win the best possible outcome."
Negotiations between the two sides remain ongoing, but CTU Finance Secretary Maria Moreno made clear Wednesday the union will not go another year without a contract.
"We are open to discuss solutions, but then again, teachers will be prepared to do what's necessary to protect our classrooms," she said. "And we've said it already, we've already had too many cuts. Somewhere you have to draw the line and say enough is enough, especially when you don't have to (make cuts)."
CTU leaders say a strike could be avoided if the district would support a City Council ordinance introduced by Ald. Susan Sadlowski Garza (10th Ward), a former teacher and CTU member, and Ald. George Cardenas (12th Ward). CTU coordinator Norine Gutekanst says Ordinance #O2016-5666 has 39 sponsors in the City Council and would release up to $400 million in TIF surplus funds to immediately stabilize the district's finances.
But during a budget presentation Wednesday, board chair Frank Clark asked the finance and budget team to explain why that's not a reliable option.
"We've heard people that have come up and talk about old potential TIF surplus balances from prior years," said CPS Senior VP of Finance Ron DeNard. "The $140 million is 2016's estimated TIF surplus, of that, $113 (million) is the only amount that's non-restricted. Of that $113 (million), we received $60 million of ... surplus dollars for 2016. Of the estimate for 2017, we're going to receive $32 million and we get $54 million for our capital budget."
The union's previous contract with CPS expired in June 2015. Earlier this month, the district announced it had laid off more than 1,000 educators and support staff.
The bulletin goes on to say educators will spend the coming weeks "building the power that may be needed to win a strike" while CTU leadership presses for a "just solution."

"We always are hopeful that we don't have to go on strike. Teachers want to be in the classroom teaching."
–Maria Moreno, CTU
---
Last weekend, the union sent out an email to teachers advertising a daylong strike training session featuring workshops with titles such as "workplace tactics to stick it to the boss" and "planning and winning strikes."
Contract talks between the two sides have stalled on CPS' desire to stop picking up 7 percent of the teacher's annual contribution to the employee pension system.
A contract offered and nearly agreed to in January proposed to phase that out over two years, and CPS CEO Forrest Claypool said he still hopes to reach an agreement comparable to that.
"Our teachers work hard, which is why we are trying to give them the best raise that we can, and we will continue to operate within the framework we can afford," he said. "We remain at the negotiating table in the hopes of signing an agreement similar to the one we reached last January that offered teachers a healthy raise over the life of the contract."
Claypool has said other raises included in that offer more than equal out the loss in take-home pay caused by phasing out the pension pickup.
Along with the budget, the Board of Education unanimously approved district requests to issue up to $945 million in bonds for capital projects, and to raise CPS' line of credit up to $1.55 billion for the upcoming year.
Despite Claypool's claims that the fiscal year 2017 budget is balanced, CPS still awaits the new union contract and approval of $215 million in state funding toward the teacher pension fund that has not yet been finalized. And with no deal in place, Moreno said that budget could increase tensions between the sides by assuming CTU will approve additional classroom cuts.
"In the budget, it's built in that there are labor concessions, so I mean, if they approve it, they're still expecting that we're going to concede and accept more cuts," Moreno said, prior to the board's budget vote. "We always are hopeful that we don't have to go on strike. Teachers want to be in the classroom teaching."
Follow our reporters on Twitter: @ByMattMasterson / @BrandisFriedman
---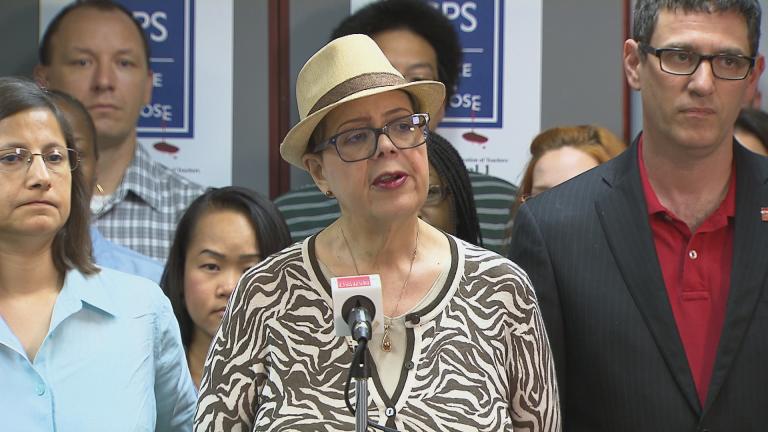 CPS Releases Budget for Coming School Year, Counts on CTU Contract
August 8: Now that Chicago Public Schools has released its budget plans for the coming year, can the district and the Chicago Teachers Union finally nail down a contract agreement?
---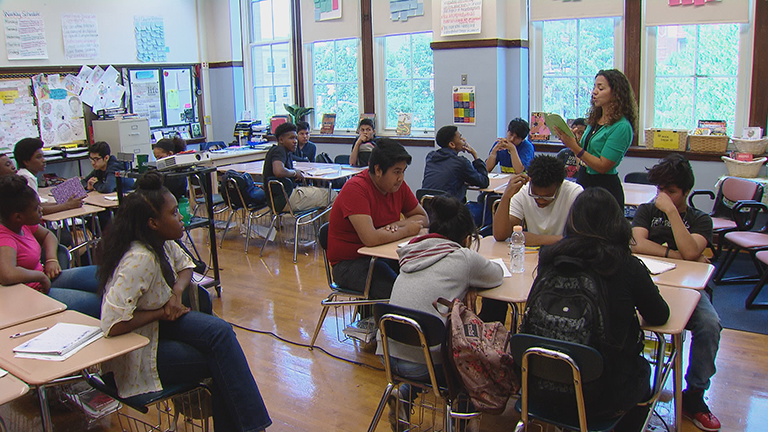 CPS to Cut More Than 1,000 Teaching, Support Staff Positions
August 5: Declining enrollment and vacancies at other schools cited as Chicago Public Schools announces layoffs for hundreds of educators.
---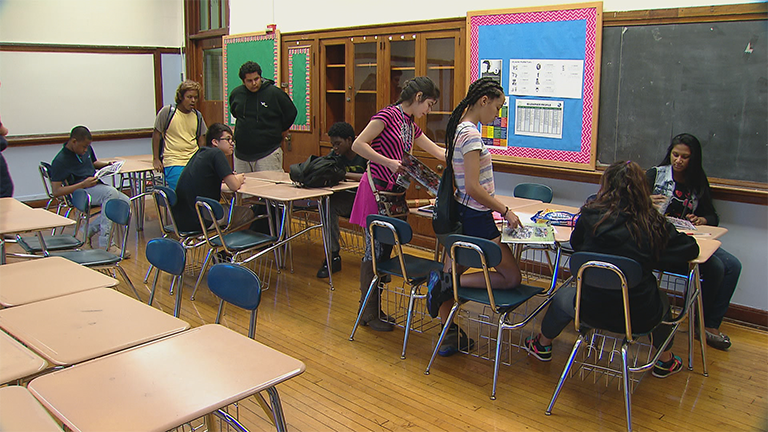 CPS Principals Finally Get Draft Budgets for School Year
July 13: Though the school year has been rife with fiscal crisis, Chicago Public Schools' principals now know that the cuts to their school budgets will not be as deep as threatened in recent months.
---