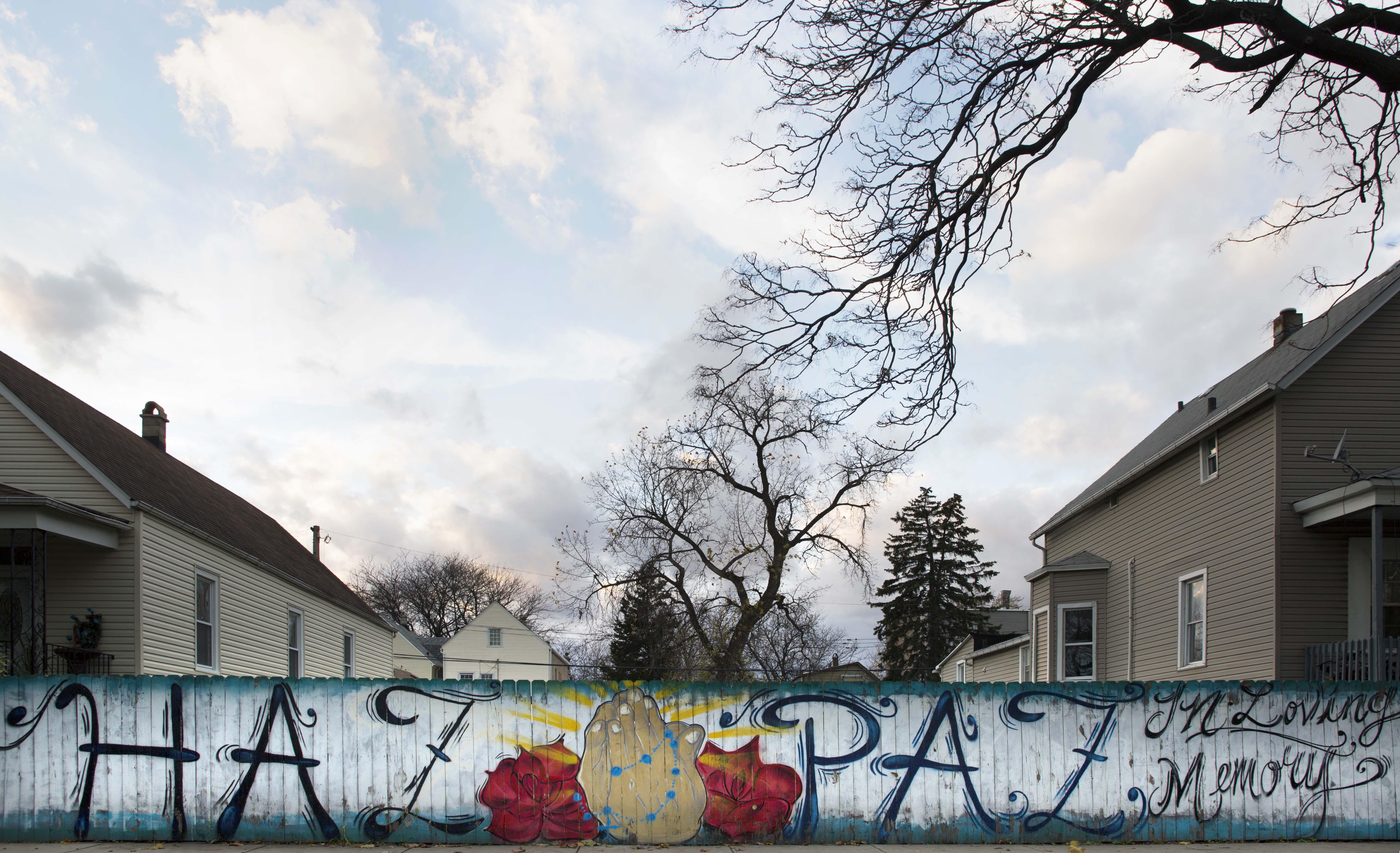 A mural memorial in South Lawndale is featured in the exhibition "Not Forgotten: Chicago Street Memorials." (Courtesy of Thomas Ferrella)
Teddy bears, poems, liquor bottles. These are just a few of the items serving as memorials along sidewalks and fences across the city for the hundreds who have died in recent years on Chicago streets. As the number of homicides in 2016 surpasses that of 2015, these monuments have become even more common. An upcoming photography exhibition at the Gage Gallery at Roosevelt University shines a light on these organic works of art and the stories behind them.
The exhibition "Not Forgotten: Chicago Street Memorials" is a collaboration between Wisconsin-based photographer Thomas Ferrella and Roosevelt University journalism professor Anne-Marie Cusac. It consists of roughly 35 large-scale photographs of memorial sites along with quotes and stories from friends and family members of the deceased. The memorials mark deaths caused by shootings and other causes, such as traffic accidents.
Ferrella came across his first street memorial in 1991. At the time he was working as an emergency physician in Madison, Wisconsin – a job he held for 30 years before retiring in 2013. Plastic flowers were woven onto a fence in his neighborhood, accompanied by hand-written letters and stuffed animals. The memorial had been created for two high school girls, one of whom Ferrella had treated in the ER. He began noticing other memorials pop up along highways and street corners and became fascinated by these public displays of grief and how they developed organically over time.
"These are free-form art installations and nobody is curating them," he said. "They are being built in a very innate, inner passion that comes from grief. It's a pure art form and I think a lot of really good art comes from that feeling."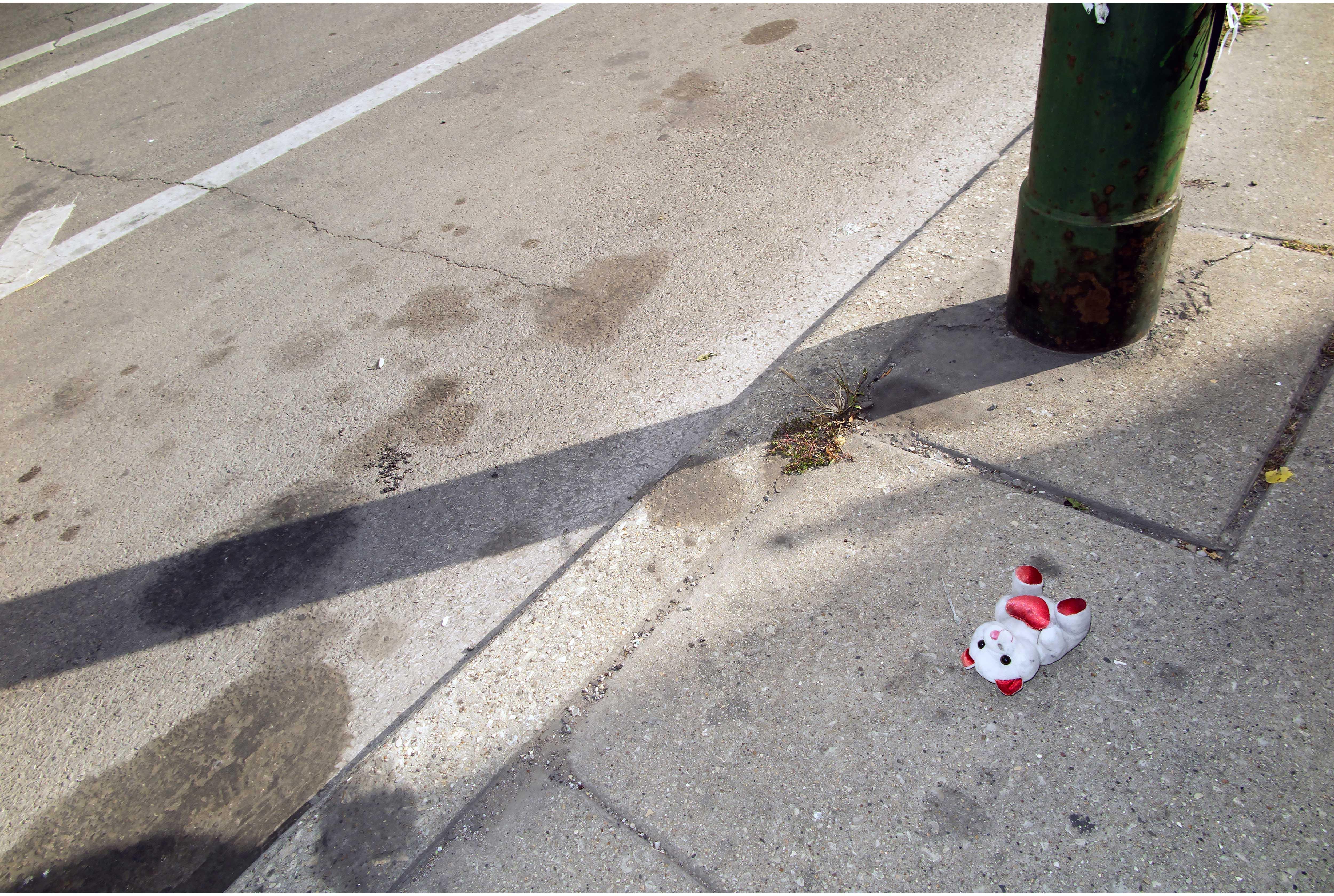 A teddy bear placed at the memorial for a man killed in West Englewood. (Courtesy of Thomas Ferrella)
For the next 20 years, it became Ferrella's mission to document memorials throughout Wisconsin. His work is presented on his website Wisconsin Roadside Memorials, which features a map of the 84 sites he has visited along with a section for public comments.
But Ferrella felt that the photographs alone weren't telling the full story. There were so many lingering questions: Who were these people? Who is building these memorials? What do they mean? How do they explain the process of grieving?
He turned to Chicago-based journalist Cusac for help.
Cusac was equally curious and immediately agreed to collaborate on the project. She visited Wisconsin a few times, but in conversation with Michael Ensdorf, founder and director of the Gage Gallery, it became clear that Chicago should be the focus for the series. Ferrella agreed to the move, but as he began taking photos, he was shocked by what he was seeing. He had photographed memorials for homicide victims in Milwaukee and Madison, but nothing could compare to Chicago.
"I would read the occasional story here and there and I knew Chicago was this sort of battleground," Ferrella said. "But it wasn't until I got engrossed in this that I realized how horrible this murder scene was. I just had no idea."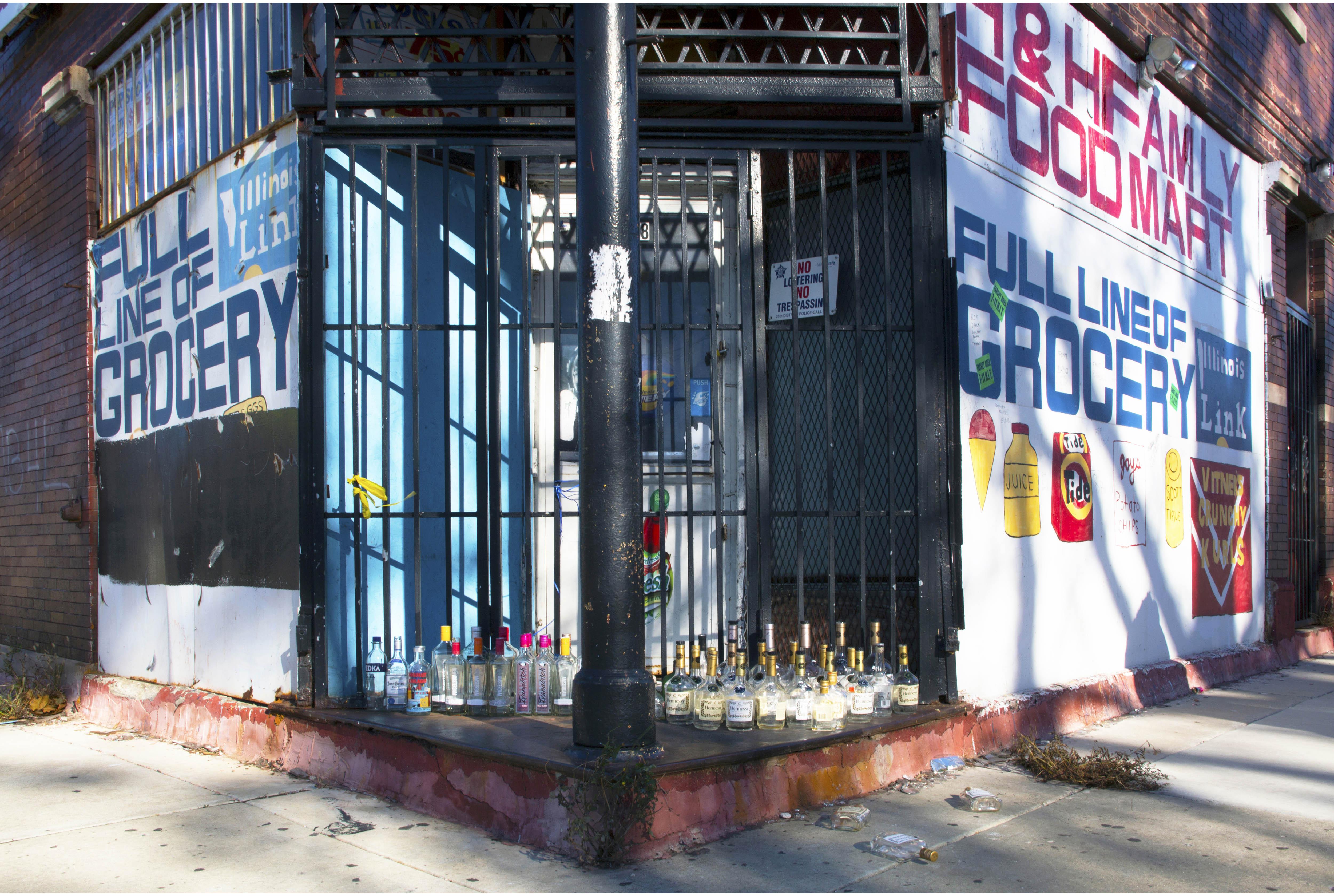 Rows of liquor bottles pay homage to a man killed in Englewood. (Courtesy of Thomas Ferrella)
From fall 2015 through spring 2016, Ferrella and Cusac toured neighborhoods throughout the city, documenting memorial sites and speaking with those who knew the victims. For help finding sites and connecting with community members, they looked to Brother Jim Fogarty, a Catholic minister who works to create peace in gang-infested areas, and members of the anti-violence group CeaseFire Illinois. Ferrella and Cusac visited more than 40 street-side memorials in Gresham, Back of the Yards, Little Village, Pilsen, Englewood, Rogers Park, Uptown and other neighborhoods.
The two came across a variety of memorial sites and unique objects. They found candy wrappers, stuffed animals, crosses, jerseys, baseball caps and notepads for leaving messages. Cusac recalls one site on the West Side where a mother is said to bring a full plate of food every Thanksgiving and candy on Halloween for her deceased son. In Uptown, diapers served as a remembrance for a baby who was killed. Ultimately, Cusac says she has noticed more similarities than differences between the sites.
"One of the things memorials do is they create new symbols and turn a place of trauma into a place of love," Cusac said. "They are contributing to a kind of healing, both individually and for the community. I think things are better in some ways because they allow families to talk to young people and process the grief."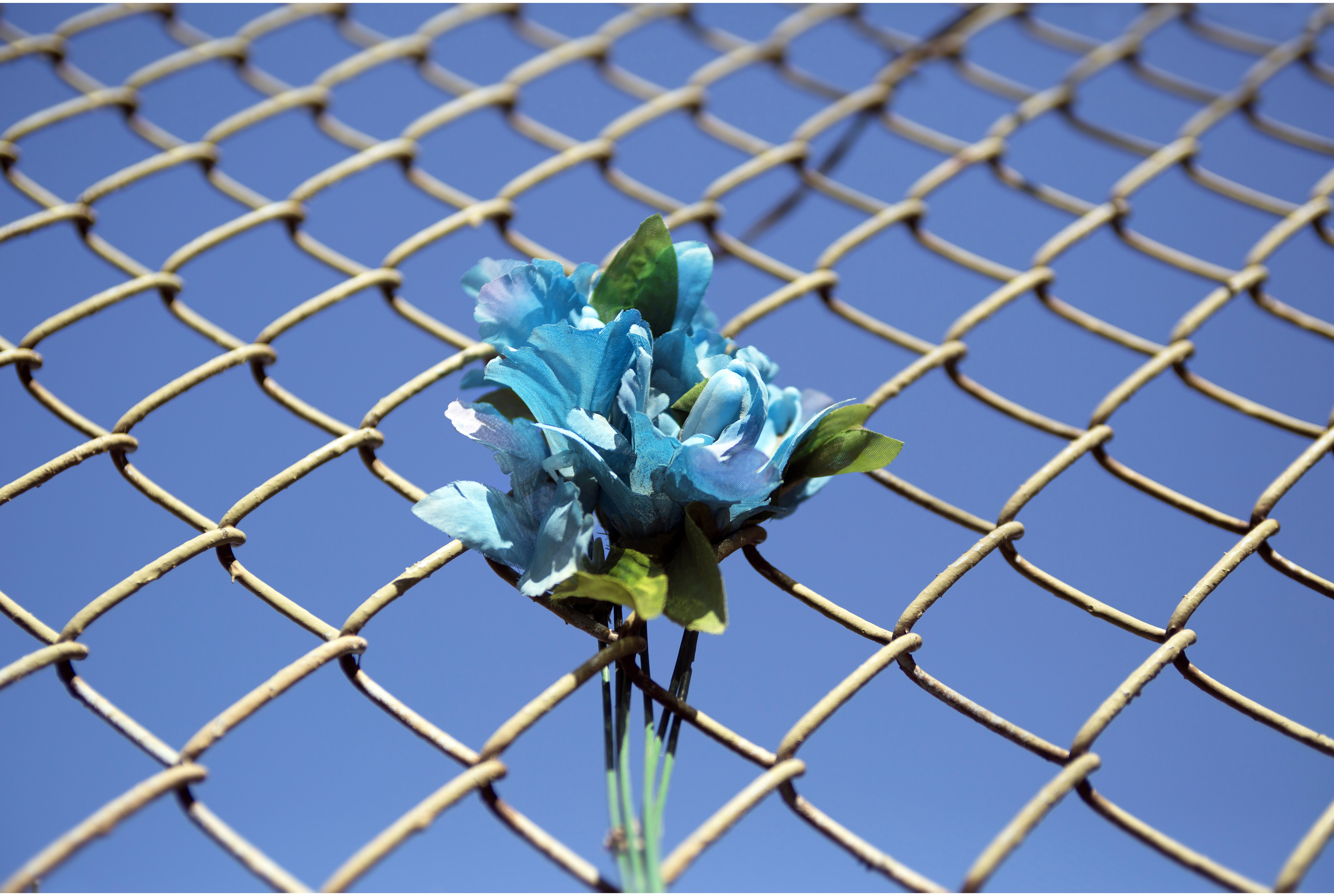 A blue flower placed in a fence in memorial of a man killed in Pilsen. (Courtesy of Thomas Ferrella)
Ferrella says his job in the emergency room, where he often came face to face with death, wasn't enough to prepare him for these encounters.
"In the ER, I control the territory and environment," he said. "In Chicago, I'm meeting the same people, but now I'm on their territory – on their streets, front yards, corners and alleyways. I'm still very touched by these sites and the deaths that have occurred and I knew there was a story to be told."
"Not Forgotten: Chicago Street Memorials" is on display Sept. 29 through Dec. 3 at the Gage Gallery at Roosevelt University. An opening reception on Sept. 29 includes a talk with Ferrella and Cusac from 5-7 p.m. For more information visit the Gage Gallery website.
Follow Reuben Unrau on Twitter: @reubenunrau
---
Related Stories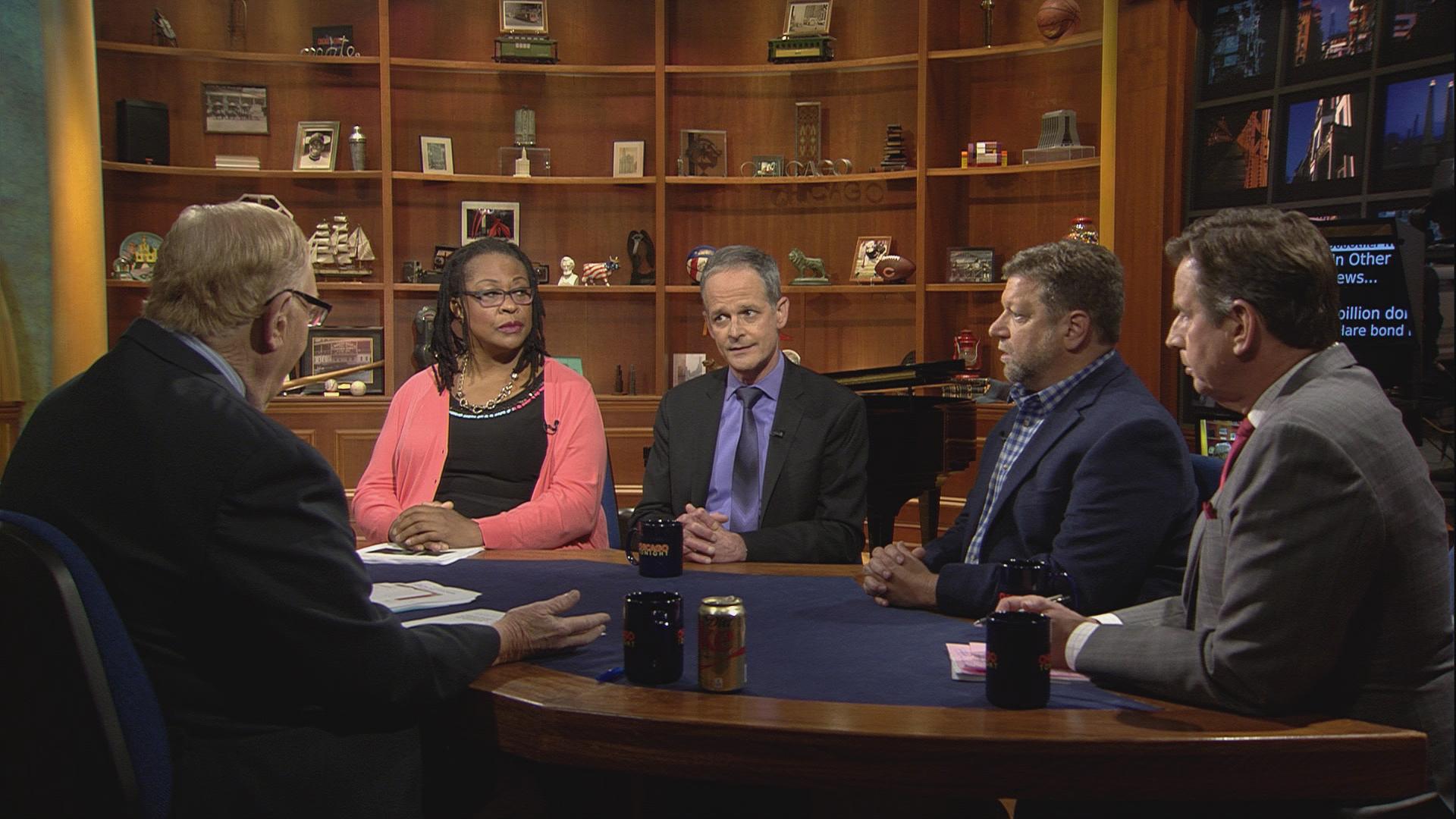 The Week in Review: 3,000 Gunshot Victims in Chicago This Year
Sept. 16: City water bills soar. Sen. Mark Kirk's health report is released. Chicago shooting victims now total 3,000. The Chicago Cubs plan for the playoffs. These stories and more with Joel Weisman and guests.
---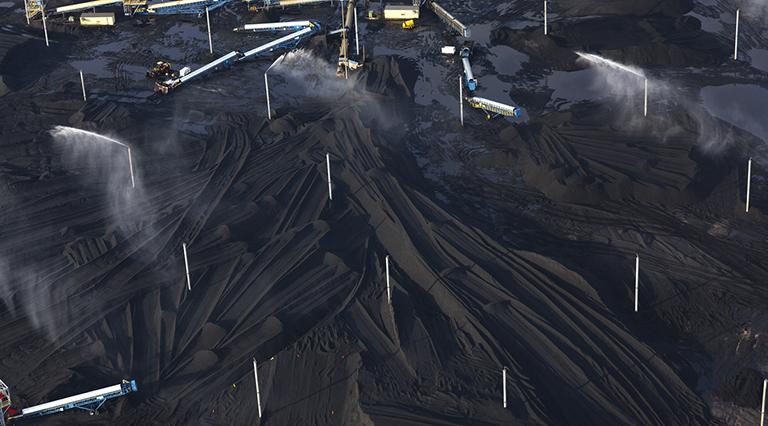 Photography Exhibition Looks at Effects of Petroleum Coke in Chicago
July 26: For years, petroleum coke – the black, powdery byproduct of tar sands oil refineries – plagued the Southeast Chicago area along the Calumet River. Community and environmental activists protested and eventually influenced legislation regulating how the dusty byproduct is stored locally.
---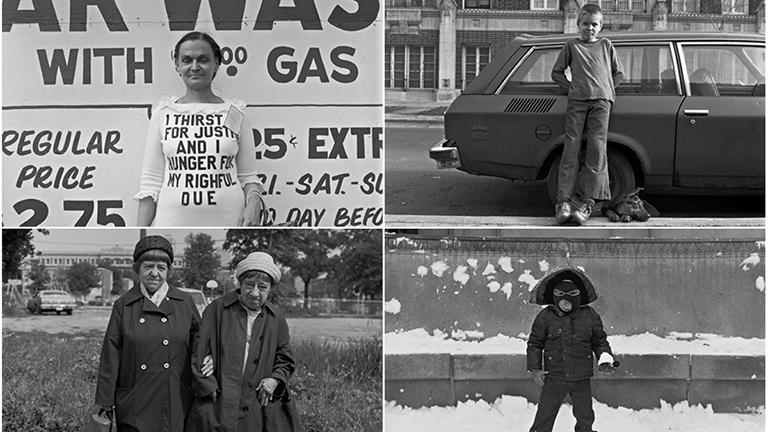 Photos Reveal Snapshots of City Neighborhoods in Late '70s
April 4: In 1978, photographer David Gremp spent a year documenting 14 Chicago libraries, their neighborhoods and their patrons. Gremp snapped hundreds of images, giving his subjects a simple directive: look straight into the camera.
---