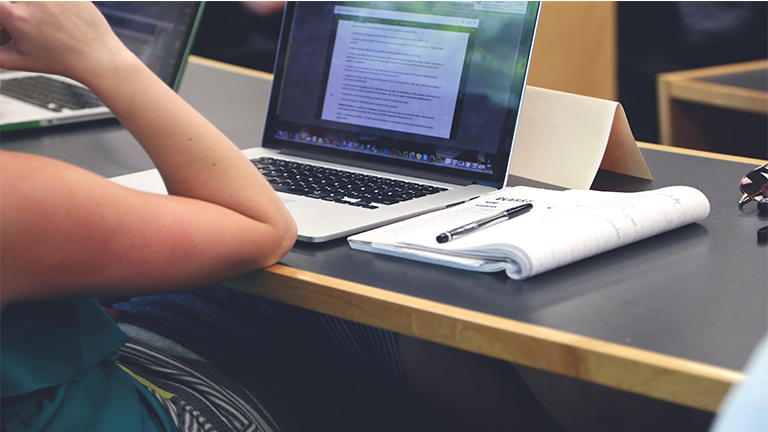 Preliminary results from the PARCC assessment show Illinois students need significant improvement in math, English language arts. (Pexels)
Two-thirds of Illinois students failed to meet proficiency standards in math and English language arts in 2016, according to new results from a statewide standardized test.
Preliminary data from the Partnership for Assessment of Readiness for College and Careers (PARCC) assessment released Thursday shows fewer than 40 percent of elementary and high school students are on track to succeed in higher education or the workforce.
"We have a lot of work to do across Illinois," State Superintendent of Education Tony Smith told reporters during a conference call Thursday. "The work to really have kids ready to engage meaningfully and successfully in the workforce, in higher ed, we have got a long way to go. I think this is the part that is sobering – there is considerable distance to travel to have every single one of our young people ready. And currently that's not the case."
In their second year taking the assessment, Illinois students in grades three through 12 saw a slight improvement in math scores as 30.5 percent met or exceeded expectations in 2016, compared to 28.2 percent last year. English language arts results, however, trended in the other direction, falling from 37.7 percent in 2015 down to 36.2 percent this year.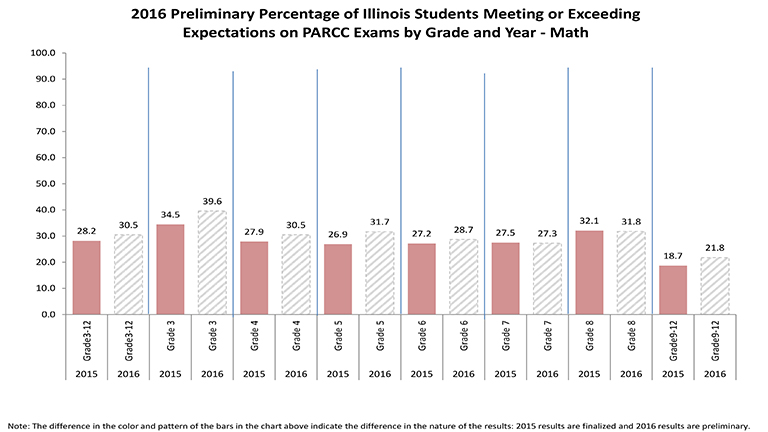 Preliminary results from math portion of PARCC assessment (Illinois State Board of Education)
Those figures align with data from the other states currently using the PARCC assessment, according to Smith, who said these results signal a "shift in the conversation" in working to make sure students are ready for life after high school.
"(There was a) really intense focus just on graduation until people started to realize that just getting a kid across a stage wasn't sufficient," he said, "and were they, in fact, ready to participate in the world?" 
Last month, state lawmakers took aim at cutting back college remediation after finding nearly half of Illinois high school grads who enrolled as full-time freshmen in state public community colleges in 2013 needed remedial education.
The assessment results are not yet finalized, according to Illinois State Board of Education Division Administrator Angela Foxall, who said school districts are still working to "clean up" the data to figure out participation and demographic numbers.
The PARCC assessment focuses on students' understanding of key concepts along with critical thinking and writing skills, providing information about whether students are gaining the knowledge and skills needed for postsecondary success.
The assessment can be administered either online or in a paper-and-pencil format, though nearly 85 percent of Illinois participants took the exam on a computer this year.
Smith said the state's current contract with PARCC extends through 2018. Illinois is among eight states and the District of Columbia which use the PARCC assessment, but beginning in 2017, the test will only be administered to students in grades three through eight.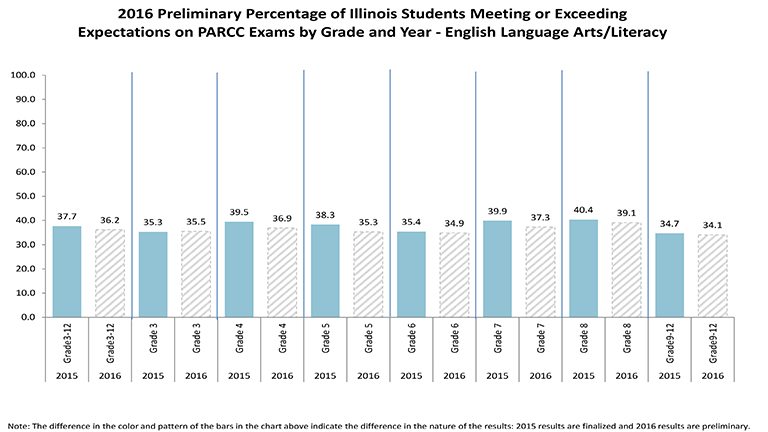 Preliminary results from the English language arts portion of PARCC assessment (Illinois State Board of Education)
Starting this year, high school juniors will instead be given the SAT exam. Questions have arisen about just how seriously high schoolers were taking the PARCC compared to other college-entry and standardized exams after a significant drop-off in scores was seen between eighth-grade and high school proficiency levels.
"There is so much that is not known right at this moment about that question," Smith said, "but that's one of the things we want to talk about and think about – what's actually represented here."
More than 32 percent of eighth-graders met or exceeded state math standards on the latest PARCC assessment, compared to less than 19 percent of high school students. Eighth-graders also outpaced their high school counterparts by almost six percentage points in English.
The assessment results were released one day after ISBE announced ACT scores had improved one-tenth of a point over last year and now match the national average. While it's no longer required, high school districts across the state may still choose to administer the PARCC.
Finalized statewide, district- and school-level results will be released in October along with the annual Illinois Report Card. 
Follow Matt Masterson on Twitter: @ByMattMasterson
---
Related stories: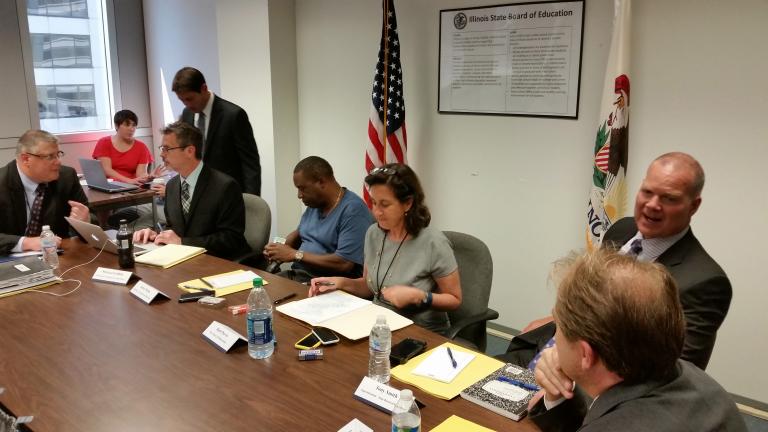 Reform Commission Takes 1st Look at New School Funding Model
August 3: Illinois may become the ninth state since 2000 to adopt a new education funding system, and state leaders are hoping a new reform commission can figure out how its current formula can be fixed.
---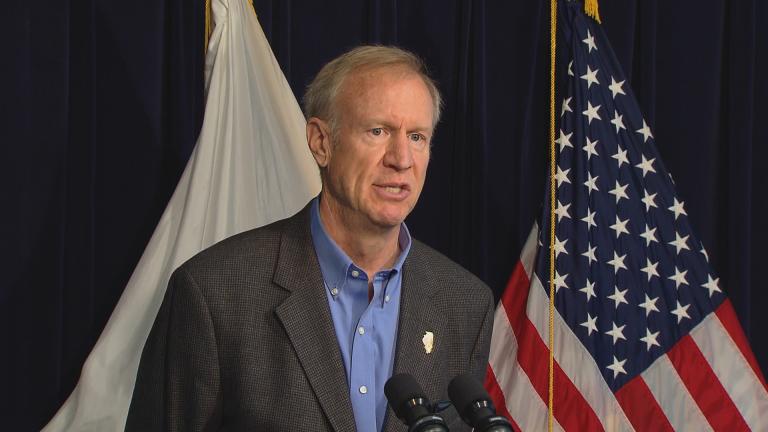 New Commission Forms to Solve Old Problem: Education Funding
July 12: It's not the first education funding reform committee in Illinois, but the governor says he's hoping this one will be the one to get the job done.
---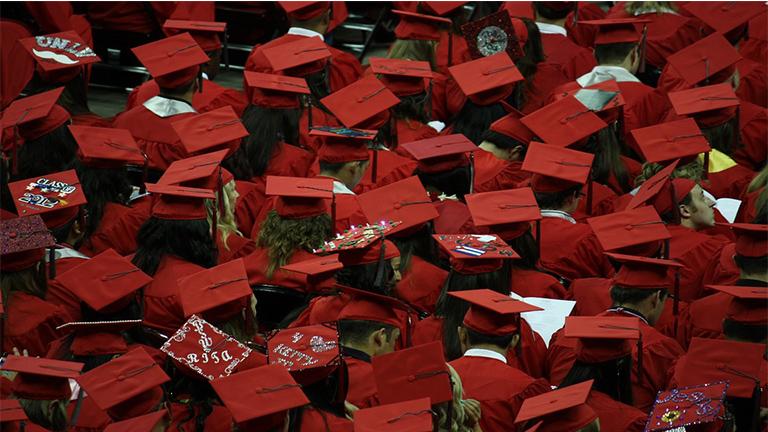 New State Bill Seeking to Cut Remediation in Higher Education
August 9: State lawmakers hope newly passed legislation will help better prepare Illinois high schoolers for the rigors of a college education.
---